Vietnam Covid-19 Updates (June 19): 274 new Covid-19 cases, one more related death
Among active patients undergoing treatment, 415 have tested negative to coronavirus SARS-CoV-2 once, 100 twice and 71 thrice.
Photo: VNA
274 new Covid-19 cases
Vietnam confirmed 121 new cases of Covid-19, including two imported ones, in the past six hours to 12 pm on June 18. Among the 119 domestic infections, 59 were found in Ho Chi Minh City, 36 in Bac Giang, 12 in Binh Duong, ten in Bac Ninh, one in Hoa Binh, and one in Lao Cai. Of them, 110 were detected in quarantine or blocked areas.
62 new cases were confirmed on June 18 afternoon, including three imported ones. The three imported cases were quarantined upon arrival in Tay Ninh and Quang Nam provinces. Among the 59 domestic infections, 30 were found in Ho Chi Minh City, 19 in Bac Giang, six in Bac Ninh, three in Ha Tinh, and one in Hoa Binh. Of them, 46 were detected in quarantine or blocked areas.
The Ministry of Health announced 94 more Covid-19 community transmissions in Vietnam Saturday morning, with nearly half in Ho Chi Minh City. The new patients were recorded in HCMC (40 cases), Nghe An (13), Binh Duong (12), Bac Giang (9), Tien Giang (3), Ha Tinh (1), and Da Nang (1).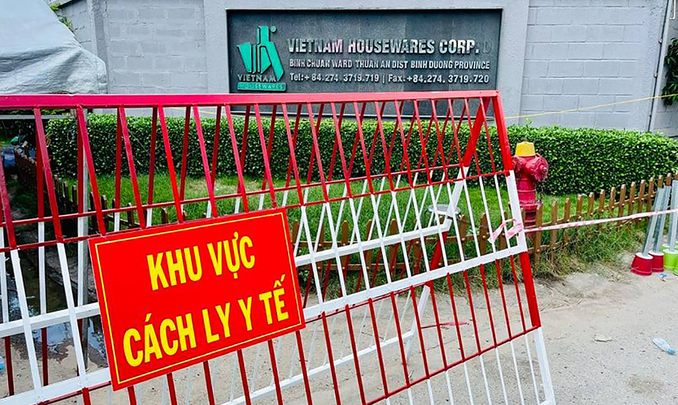 Photo: VN Express
Vietnam recorded 62nd Covid-19-related death
A 71-year-old woman with underlying health condition in the southern province of An Giang has become the 62nd COVID-19 related death in Vietnam.
According to the National Steering Committee for Covid-19 Prevention and Control's Treatment Subcommittee, the woman, who lives in Chau Thanh district, had contracted tuberculosis, suffered from high blood pressure, and had been a type 2 diabetic for more than 10 years.
On June 2, the woman returned from Cambodia to Vietnam together with her daughter and grandchild via the Moc Bai International Border Gate in the southwestern province of Tay Ninh, where they were all quarantined on arrival. After testing positive for the coronavirus two days later, she was hospitalized at Ben Cau medical center in a state of exhaustion and with chest pain. Then, she was diagnosed with tuberculosis resulting from acute respiratory distress syndrome associated with Covid-19.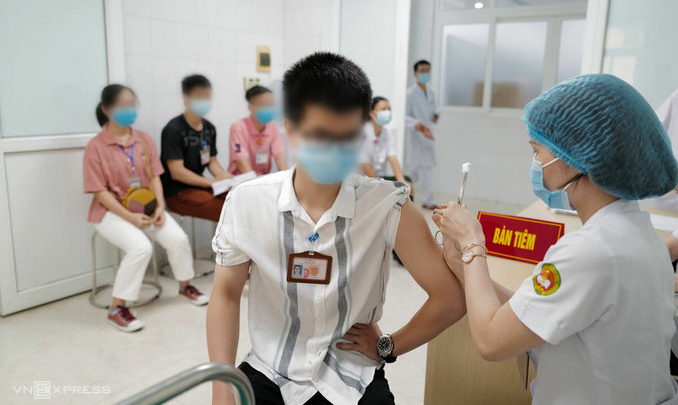 Photo: VN Express
Hanoi conducts random testing for 1,000 people at Noi Bai airport
The Hanoi Department of Health has directed relevant units to conduct random COVID-19 testing for between a week and ten days targeting about 1,000 people at the Noi Bai international airport.
Director of the Department Tran Thi Nhi Ha said amid the complicated developments of COVID-19 in a number of localities, the department has organized a separate section at the airport for people traveling from Ho Chi Minh City to Hanoi and taken random samples for SARS-CoV-2 testing from them.
On June 16, 97 random samples were collected, all turning out negative. The quick screening is expected to help the city decide suitable prevention and control measures regarding people arriving from pandemic-hit areas as well as take prompt actions when detecting COVID-19 cases. Apart from the airport, similar tests are also underway at local industrial clusters.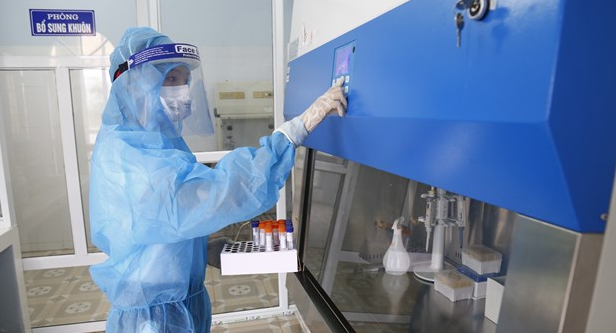 Photo: VNA
924 volunteers get made-in-Vietnam final trial vaccine jabs
924 volunteers had participated in the third phase of human trials for the homegrown Covid-19 vaccine Nanocovax. At least one of the persons experienced anaphylaxis at the Vietnam Military Medical University in Hanoi on June 12, according to the research team running the trials. The person has since recovered and been discharged from the hospital, the team said.
Nanocovax, produced by Nanogen, is currently the most promising candidate among four domestic Covid-19 vaccines being developed by Vietnam. The others are Covivac by the Institute of Vaccines and Medical Biologicals (IVAC) and two other vaccines by the Vaccine and Biological Production Company No. 1 (Vabiotech) and the Center for Research and Production of Vaccines and Biologicals. The third phase of Nanocovax's human trials would require around 13,000 volunteers split into two groups: one injected with the 25 mcg doses and the other receiving placebos.
Throughout the trials, Nanocovax has proven to be mostly safe, having minor side effects such as fever and pain at the site of injection. Once the trials are completed, Nanocovax could be approved for emergency use immediately. Production could begin as soon as the vaccine is approved, at 20-30 million doses a year, and more could be produced with greater investments.
The new cases brought the total number of infections in Vietnam to 12,508, including 10,836 domestic and 1,672 imported. The number of local infections since the fourth wave of outbreaks hit the country on April 27 was 9,266.
According to the MoH's Medical Service Administration, as of June 19 morning, 4,733 patients had fully recovered from the disease, while the number of death related to COVID-19 had amounted to 62.
Among active patients undergoing treatment, 415 have tested negative to coronavirus SARS-CoV-2 once, 100 twice and 71 thrice.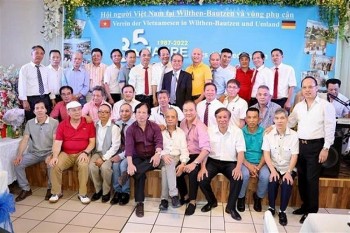 Economy
The Overseas Vietnamese Association in Wilthen - Bautzen and surrounding areas in Germany held a get-together on the occasion of the 35th anniversary of Vietnam - Germany labour cooperation.