Vietnam Covid-19 Updates (June 15): 245 new case, 2 new deaths reported
The figure raised the national tally to 10,881, including 9,238 local infections and 1,643 imported cases. 23 provinces have gone through 14 consecutive days without new cases.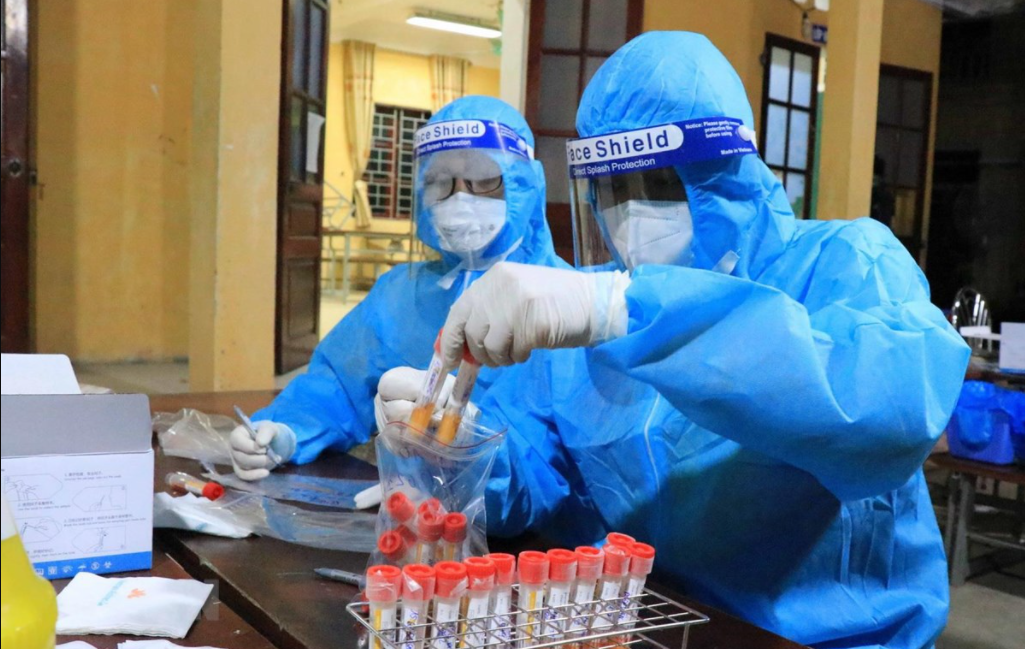 Photo: VNA
245 new case reported in the last 24 hours
Vietnam logged 100 new Covid-19 cases, all domestic ones from 6 am to 12 pm on June 14, according to the Ministry of Health. Among the new cases, 69 are in Bac Giang province, 26 in HCM City, four in Hanoi, and one in Ha Tinh. Of them, 94 infections were detected in quarantine sites and sealed-off areas.
A total of 80 Covid-19 cases, including 75 domestically transmitted and five imported, were recorded in the next 6 hours on June 14. Of the cases, 29 were detected in northern Bac Giang province, which is the country's current largest pandemic hotspot, 26 in Ho Chi Minh City, 11 in Ha Tinh, eight in Bac Ninh, and one in Nghe An.
70 more cases were added to Vietnam's domestic Covid-19 count Tuesday morning, bringing the ongoing wave's tally to 7,669 in seven weeks. The new patients were recorded in Ho Chi Minh City and the northern provinces of Bac Giang and Bac Ninh.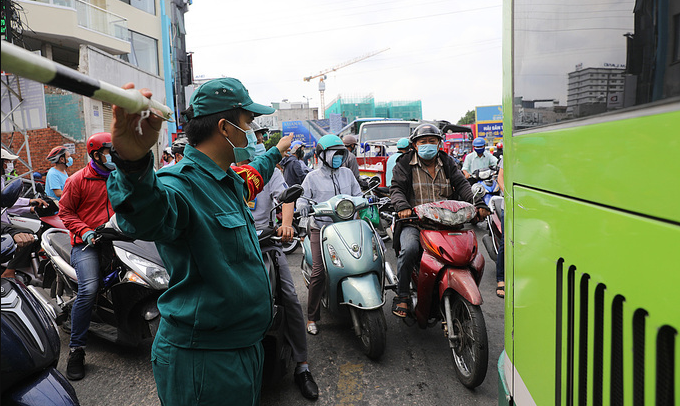 Photo: VN Express
Two more Covid-19 related deaths reported in Vietnam
Health authorities on June 14 afternoon reported two more deaths relating to COVID-19 – two female patients with critical underlying health conditions, according to VNA.
The country's 60th death was Patient No 8,512 in northern Bac Ninh province. The 87-year-old woman tested positive for SARS-CoV-2 on June 4 and received treatment at Bac Ninh Province General Hospital's Intensive Care Department for high blood pressure, heart failure, and Parkinson's disease. Due to the rapid progression of her infection plus her serious underlying medical conditions and poor health, the patient responded very poorly to treatment. She reportedly died on June 13.
The 61st death was patient No 4,731 in Hanoi's Dong Da district. The 60-year-old woman suffered from Non-Hodgkin's lymphoma since 2019. She received treatment at National Cancer Hospital's Tan Trieu Facility in April 2021. After she was tested for SARS-CoV-2 on May 19, she was transferred to the National Hospital of Tropical Diseases. Since May 31, she needed endotracheal intubation because of lung damage. She died on Sunday with the cause of death registered as septic shock, pneumonia caused by SARS-CoV-2, and invasive Aspergillus infection.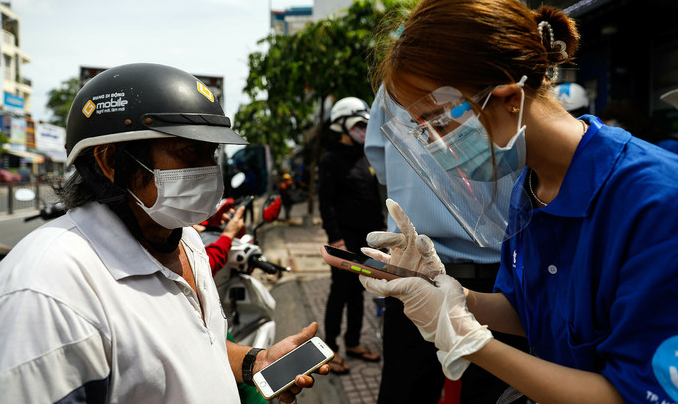 Photo: VN Express
Ho Chi Minh City extends social distancing order by two more weeks
Ho Chi Minh City government has decided to extend its current social distancing period by another two weeks due to ongoing coronavirus concerns, following a proposal by the municipal health department Monday. The extension is justified as the coronavirus still lurks inside the community, and premature lifting of the social distancing order may give it a chance to proliferate further, said director of the HCMC Department of Health Nguyen Tan Binh, VN Express cited.
The city-wide social distancing measure means social events are suspended while gatherings of 20 people or more in one place and of 10 people or more outside workplaces, schools, and hospitals are banned. A minimum distance of two meters between people in public places should be ensured. Go Vap and District 12 now apply the same restrictions as other places in the city.
A previous two-week social distancing period for the city began on May 31 and was supposed to end on Monday, where a similar ban on social events, gatherings of 20 people or more in one place and of 10 people or more outside workplaces, schools, and hospitals was in place. Go Vap District and District 12's Thanh Loc Ward, the center of a major cluster emerging from a Christian mission, underwent a stricter social distancing order, where gatherings of more than two people in public are banned and people are requested to leave home only for emergencies, buying food and medicine, and working in factories, production facilities and businesses that involve "essential" goods and services.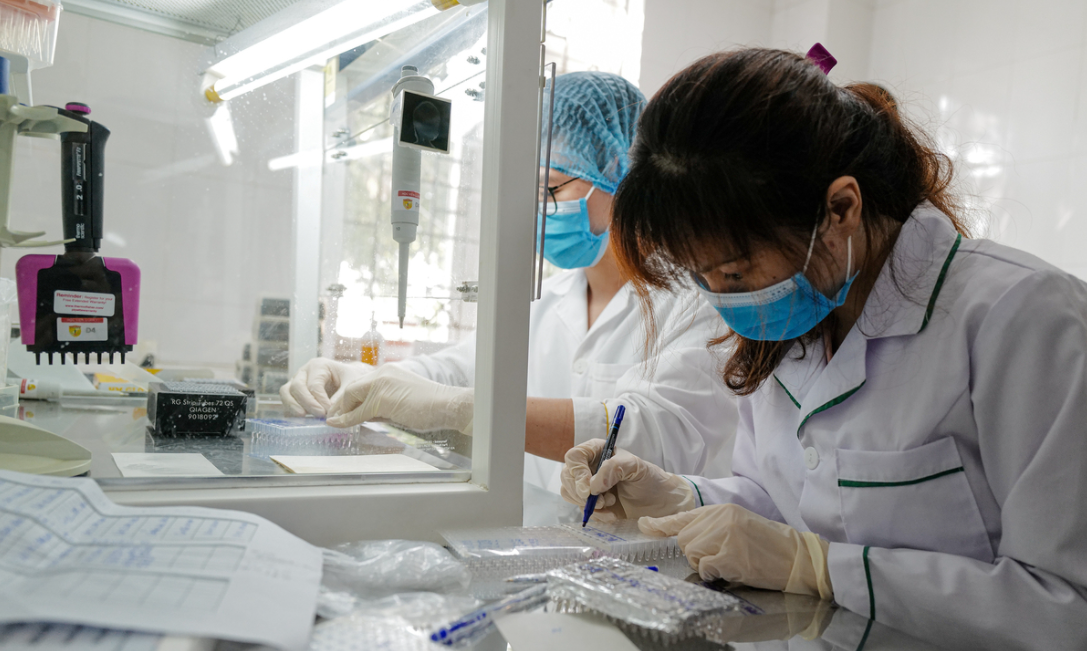 Photo: VN Express
Ministry of Health orders speeding up COVID-19 vaccinations
The Ministry of Health on June 14 sent a document to major epidemiological institutes, urging them to speed up Covid-19 vaccinations. The document was sent to the National Institute of Hygiene and Epidemiology, the Pasteur Institutes in Ho Chi Minh City and Nha Trang city, and the Tay Nguyen Institute of Hygiene and Epidemiology.
According to the ministry, all localities and relevant units have received Covid-19 vaccines for the third phase of the vaccination program and carried out the inoculation. Under the Prime Minister's instructions on speeding up Covid-19 vaccinations, the ministry has asked the units and localities to complete the work before June 18. The ministry has also requested the institutes to send technical groups to cities and provinces to supervise vaccinations there.
The same day, the ministry sent another document to the Ministries of National Defence and Public Security, and People's Committees of cities and provinces to speed up the program.
The figure raised the national tally to 10,881, including 9,238 local infections and 1,643 imported cases. The number of cases since the fourth Covid-19 wave hit the country on April 27 was 7,668. 23 provinces have gone through 14 consecutive days without new cases.
The ministry said as many as 4,236 patients have been given the all-clear from coronavirus SARS-CoV-2 so far, while the death toll was 61. Among active patients undergoing treatment in hospitals, 431 have tested negative for SARS-CoV-2 once, 72 twice and 73 thrice.
As many as 182,462 people who had close contact with Covid-19 patients or entered Vietnam from pandemic-hit regions are currently quarantined across the country, including 2,045 in hospitals, 36,846 in concentrated quarantine establishments, and the remainders at their places of residence.
On June 14, an additional 45,328 people in 19 provinces and cities were vaccinated against Covid-19. Over 1.5 million doses of Covid-19 vaccines have been injected to date. The number of people fully got two shots was 59,608.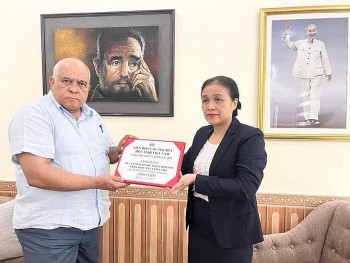 Focus
According to Cuba's News Agency Prensa Latina, on August 16, President of Vietnam Union of Friendship Organizations Nguyen Phuong Nga said that Vietnamese people will always stand by and support Cuba no matter what difficulties our friend is facing.