Vietnam Covid-19 Updates (May 24): 154 new cases in the last 24 hours
The leader affirmed that Vietnam has basically controlled the pandemic, with the number of infections accounting for only 0.004 percent of the population – one among the lowest in the world. He
Photo: VN Express
154 new cases in the last 24 hours
98 new cases found on May 23, all of them were locally-transmitted infections, announced the Ministry of Health. Of the new cases, 57 were logged in Bac Giang province, 11 were recorded in Bac Giang province, three in Hai Duong, one in Da Nang, seven in Hanoi's locked-down K Hospital, and the remainder in neighboring Bac Ninh province.
The number of domestically-transmitted COVID-19 cases in Vietnam has risen to 3,790 cases, with 56 patients confirmed in the past 12 hours to 6 am on May 24, according to the Ministry of Health. Of the new cases, 33 were recorded in Bac Giang province, eight in Hanoi, seven in Bac Ninh, five in Lang Son, two in Dien Bien, and one in Hai Duong. Meanwhile, Yen Bai, Quang Ngai, Dong Nai, Nghe An, Quang Ninh, and Quang Nam provinces went through 14 straight days without any new infections.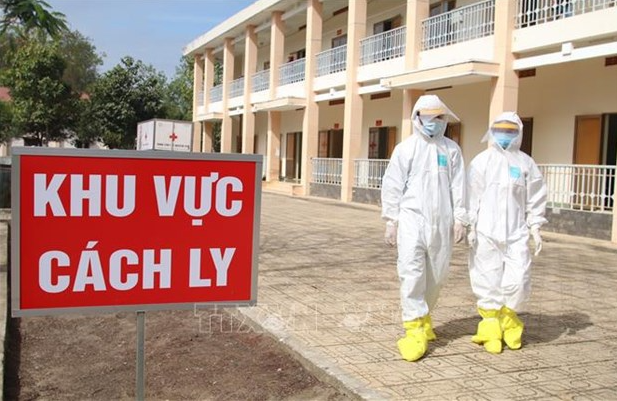 Photo: VNA
COVID-19 quarantine policy demonstrates humanitarian spirit
The quarantine policy in the fight against the COVID-19 pandemic shows the spirit of the humanity of the Vietnamese Party, State, and people, Prime Minister Pham Minh Chinh has stated. Chinh made the statement while visiting officers and soldiers on duty at a concentrated quarantine facility of Regiment 926 of the Military High Command in the Mekong Delta province of Tra Vinh on May 22.
He said that after each wave of the pandemic, Vietnam has learned from experience to carry out better prevention and control measures, in which quarantine has played an extremely important role with the motto of quickly tracking, detecting, and quarantining positive patients and those in contact with them, as well as actively treating confirmed patients, thus quickly stabilizing the situation.
The leader affirmed that Vietnam has basically controlled the pandemic, with the number of infections accounting for only 0.004 percent of the population – one among the lowest in the world. He, however, asked localities and units to maintain strict implementation of regulations on quarantine and post-quarantine management.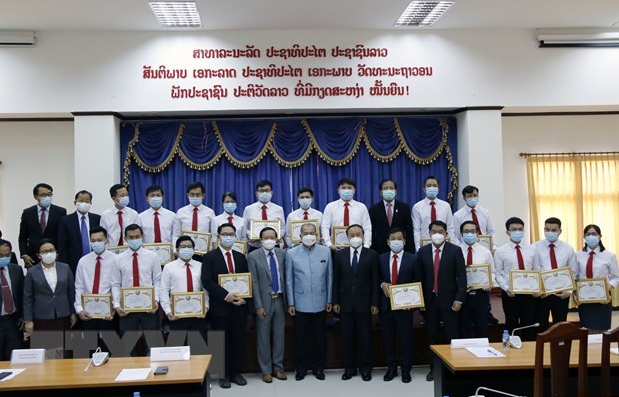 Photo: VNA
Vietnamese medical experts lauded in COVID-19 fight in Laos
Lao Deputy Prime Minister Kikeo Khaykhamphithoune on May 23 highly valued the timely and effective support of the Vietnamese Party, State, and people to his country in the COVID-19 fight. He was speaking at a ceremony held by the Lao health ministry in Vientiane to honor Vietnamese health experts who have been sent to help the neighboring country combat the pandemic.
Kikeo Khaykhamphithoune, who is also Chairman of the National Taskforce Committee for COVID-19 Prevention and Control, described the assistance as a vivid demonstration of the great friendship, special solidarity, and comprehensive cooperation between the two Parties, States, and peoples.
He lauded the achievements the Vietnamese medical experts gained during the past more than 10 days in Laos, saying with their assistance, Laos has been able to better curb the pandemic spread and reduce COVID-19 cases. The Deputy PM expressed his belief that the bilateral relationship will further prosper in the time ahead.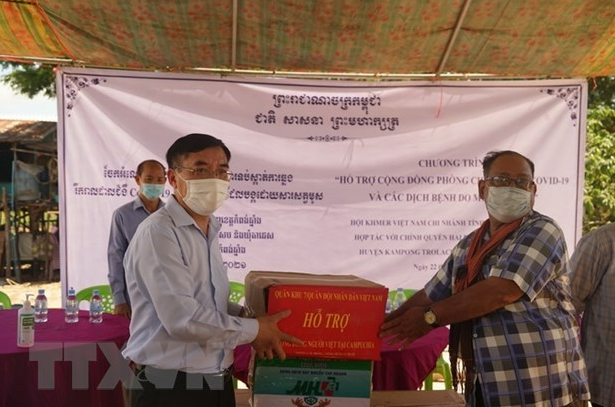 Photo: VNA
COVID-19 relief aid handed over to Vietnamese Cambodians
Dozens of boxes of medical supplies and mosquito repellents have been delivered to Vietnamese-Cambodian families in Saeb and Ta Ches communes of Cambodia's Kampong Chhnang, to support them in the fight against COVID-19.
The aid was donated by Vietnam's Military Region 5, Military Region 7, and budget carrier Vietjet Air through a program launched by the Khmer-Vietnamese Association in Kampong Chhnang province in collaboration with Kampong Trolach district's authorities to help locals combat COVID-19 and Chikungunya fever. Representatives of the Vietnamese Embassy in Cambodia handed over the assistance to local authorities and households, including more than 10,000 face masks, 400 bottles of hand sanitizer, and 400 mosquito nets.
The two communes are home to 340 Vietnamese-Cambodian families moving from the Tonle Sap since October 2018. Last year, the localities were hit by dengue fever and Chikungunya fever, with nearly 200 cases.
The country has recorded 1,485 imported cases so far. As many as 2,220 domestic cases have been logged since the nation was hit by the fourth COVID-19 wave on April 27. According to a report from the ministry's Medical Examination Administration, the country has seen 2,721 recoveries and 42 deaths related to the disease.
Among active patients undergoing treatment, 56 tested negative to coronavirus SARS-CoV-2 once, 31 twice, and 31 thrice.
A total of 173,440 people who came in close contact with COVID-19 patients or arrived from pandemic-hit areas are being quarantined nationwide, including 4,356 in hospitals, 36,126 in other quarantine sites, and 132,958 at their places of residence.