Vietnam Covid-19 Updates (Nov. 24): Daily Caseload Surpasses 11,000, 167 Deaths Recorded
As of 6 pm on November 23 Vietnam has documented 1,143,967 Covid-19 cases since the start of the first outbreak in January 2020, ranking 37th out of 223 countries and territories worldwide.
Photo: Suc Khoe & Doi Song
Daily Covid caseload surpasses 11,000 mark, 167 deaths recorded
Vietnam has confirmed 11,132 new coronavirus infections in 61 out of 63 cities and provinces across the country during the past 24 hours, an increase of 827 cases compared to the previous day, according to the Ministry of Health (MoH) in its coronavirus update on Nov. 23. Official data from the MoH showed an additional 167 people have died and 1,034 more patients have recovered from the disease. Of the newly-detected infections, 6,010 cases were diagnosed in the community through random testing or test screening.
Most of the new cases were recorded in southern Vietnam, with Ho Chi Minh City registering the highest number of new infections at 1,204. It was followed by Ba Ria – Vung Tau, Binh Duong, Tay Ninh, Dong Thap, Dong Nai, Binh Phuoc, and Vinh Long that reported between 500 and 700 cases each.
The outbreak remains complicated in the north where hundreds of community cases of unknown sources were found. Hanoi capital topped northern localities with 260 new cases, followed by Bac Ninh, 99, Ha Giang 79, Vinh Phuc 70, Thai Binh 50, Quang Ninh 44, Nam Dinh 40, and Hoa Binh 35.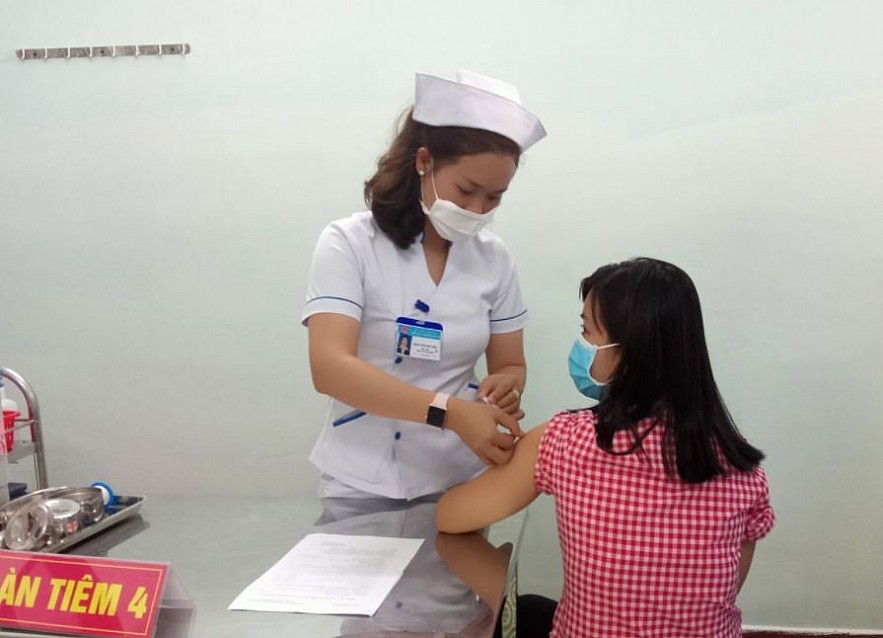 Photo: VGP
Hanoi starts Covid-19 inoculation for children aged 15-17
Hanoi began vaccinating children aged 15-17 against Covid-19 from Nov. 23 morning, using the Pfizer-BioNTech vaccine. The municipal Health Department allocated 304,140 doses to 30 districts to give the first jab to children aged 15-17 studying and living in the city. This inoculation drive is expected to be completed by Nov. 25.
The vaccination locations are schools for their students or health stations for children who do not go to school or study in other localities. Children with congenital diseases or chronic diseases will receive jabs at hospitals.
In the fourth quarter of 2021 and the first quarter of 2022, Hanoi will conduct vaccinations for all children aged 12-17. It is expected that 791,921 children will receive vaccine shots.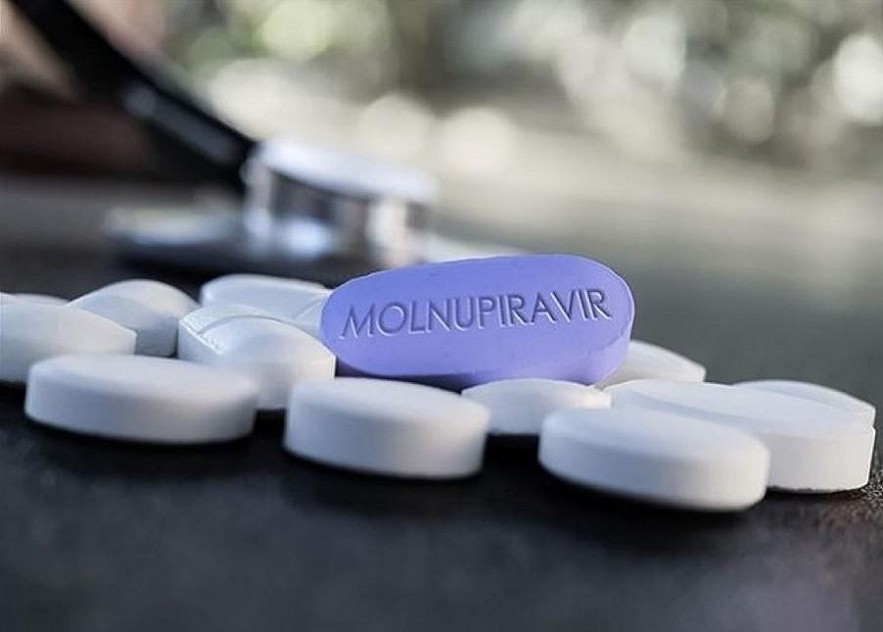 Photo: VOV
Vietnam produces antiviral Molnupiravir for Covid-19 treatment
Three Vietnamese pharmaceutical companies have drawn up plans are in the process of producing Molnupiravir, an antiviral drug for Covid-19 treatment, according to the Ministry of Health. Molnupiravir has been used globally for mild and asymptomatic Covid-19 patients. The medication has proved to be safe and effective at reducing the risk of hospitalization and death in people with mild to moderate patients who are at increased risk of developing severe disease.
As Molnupiravir is yet to be granted a circulation registration number in Vietnam, the Ministry of Health is requesting the Government to approve the medication for emergency use in the country. If approved by the Government, three local pharmaceutical companies are expected to get the nod to produce Molnupiravir in Vietnam.
Since late August, the Ministry of Health has implemented a pilot scheme to use Molnupiravir for mild and asymptomatic cases at home. The scheme was first deployed in Ho Chi Minh City and has so far been replicated in 34 cities and provinces.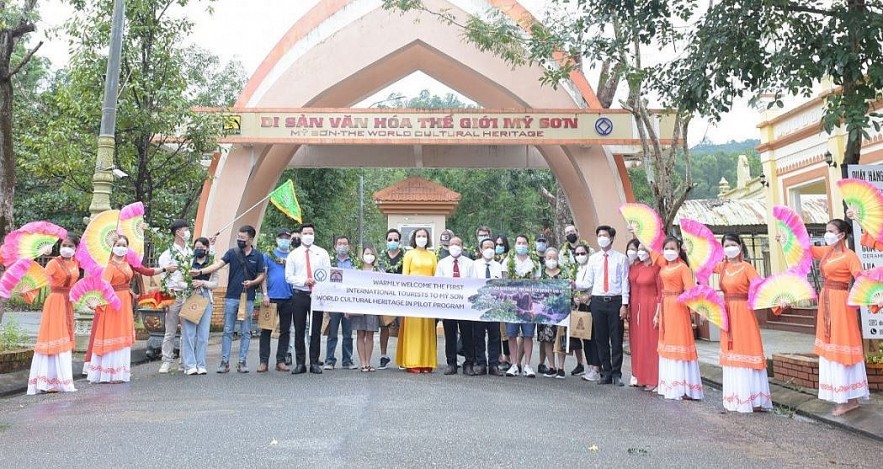 Photo: Vietbao
International tourists return to UNESCO-recognized My Son Sanctuary
UNESCO heritage site My Son Sanctuary in central Quang Nam Province welcomed its first batch of over 40 foreign tourists Monday after nearly two years due to Covid. The tourists were among 159 visiting Quang Nam under a vaccine passport trial program, the first international visitors to touch down in Vietnam after the country closed its borders in March last year due to Covid-19.
They had their body temperature checked at the entrance gate and were required to submit health declarations and wear face masks during their trip. Then, they were taken to the core zone of the sanctuary by an electric shuttle bus where they enjoyed art performances featuring Cham culture and participated in folk games. They were also treated to traditional dishes.
My Son Sanctuary in Duy Xuyen District, around a one-hour drive from Hoi An ancient town, is a complex of abandoned and partially ruined Hindu temples constructed between the 4th and 14th centuries by the Champa, a united kingdom of various groups of the ethnic Cham. The My Son cluster is regarded as one of the foremost Hindu temple complexes in Southeast Asia.
As of 6 pm on November 23 Vietnam has documented 1,143,967 Covid-19 cases since the start of the first outbreak in January 2020, ranking 37th out of 223 countries and territories worldwide. Of the total, 911,310 patients have been discharged from the hospital after making a full recovery from the disease.
As many as 24,118 patients have died of the virus, making up 2.1% of the total number of infections. Nearly 111 million vaccine doses have been administered nationwide, with 43.6 million people getting their second shot.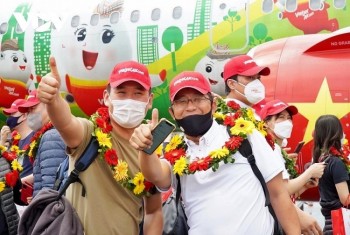 National
Vietnam News Today (Jan. 26): Vietnam reports 15,699 more domestic Covid-19 cases; Vietnam told to reopen to international tourism ahead of SEA Games 31; Germany donates four million more vaccine doses to Vietnam; Vietnam has opportunity to become global leader in renewable energy.