Vietnam donates 550,000 masks to five European worst affected by coronavirus
Vietnam is going to donate 550,000 Vietnamese-made anti-bacterial face masks to the UK, France, Germany, Italy and Spain – five European countries considered hardest impacted by the COVID-19 pandemic on a critical shortage of medical supplies suffers.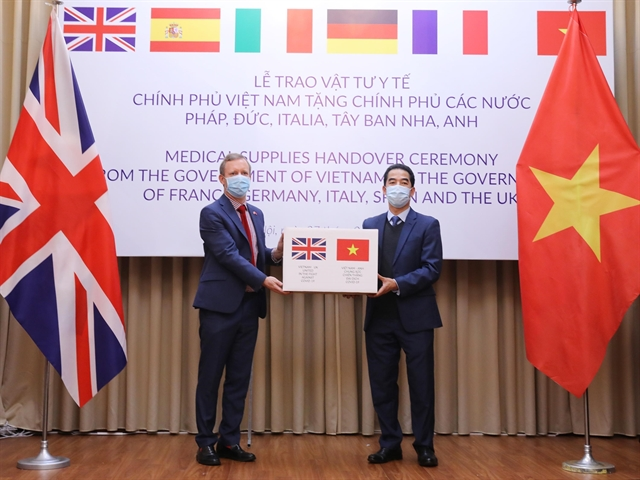 Vietnamese deputy foreign minister To Anh Dung (right) presents 100,000 face masks as a donation from Vietnam to the UK ambassador to Việt Nam Gareth Ward. — VNA
It was reported on April 7 that Vietnam plans to donate 550,000 Vietnamese-made anti-bacterial face masks to the UK, France, Germany, Italy and Spain – five European countries hit hardest by the COVID-19 pandemic who are suffering from a critical shortage of medical supplies.
Speaking at the symbolic handover ceremony in Hanoi on Tuesday, Vietnamese deputy foreign minister To Anh Dung said that Vietnam understood the toll the coronavirus pandemic was taking all over the world, including the European nations.
Given the two sides' traditional ties and strategic partnership, and the spirit of mutual support during challenging times, the Vietnamese Government has decided to do its part to help EU countries' in their anti-pandemic efforts, and assist European people to protect their health and pull through this tough time, Dũng said.
The Vietnamese diplomat stressed that during this global pandemic, no country alone could deal with the spread of the virus.
"Strengthening international cooperation and unity is an important factor in the protection of people's health and well-being and in efforts to minimise the impacts of the novel coronavirus," deputy minister Dũng said.
Vietnam was always "committed" and stood ready to co-ordinate, share experience and collaborate with all countries and the international community in deploying necessary measures to fight the pandemic, within bilateral and multilateral frameworks such as ASEAN-EU, the G20, and the UN.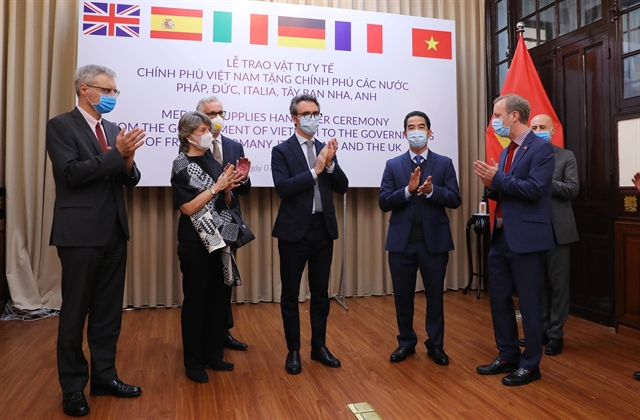 French, UK, Spanish, Italian and German ambassadors and Vietnamese deputy foreign minister To Anh Dung. (Photo: VNS)
The EU ambassadors highly appreciated the valuable gifts and extended their profound gratitude to the Government and people of Vietnam for their help during this difficult time, especially when Vietnam itself was also grappling with the outbreak.
They have also expressed thanks for Vietnam in its care and treatment of European citizens found to be infected by SARS-CoV-2.
They considered the medical supplies a great testament to solidarity between the two sides, and pledged to closely co-ordinate and further boost cooperation with Vietnam in healthcare as well as maintain trade, commerce and information exchanges to support each other.
British ambassador to Vietnam Gareth Ward tweeted that the move represented "A real sign of friendship", thanking deputy minister Dung and wishing the best of luck to Vietnamese healthcare workers.
On April 4, 88,000 masks and medical supplies donated by institutions, associations and businesses and citizens from Việt Nam were shipped from Hanoi to Italy, one of the countries with the highest number of cases and death reported during the pandemic, according to the Italian embassy in Vietnam.
Vietnam has recorded nearly 250 COVID-19 cases, mostly imported ones, with zero deaths so far. France, Germany, Italy, Spain and the UK in the meantime have reported over 500,000 cases in total while the number of casualties have surpassed 46,000.
Previously, Vietnam had sent medical supplies as gifts to China during the peak of COVID-19 outbreak in Wuhan, and to Laos and Cambodia last week to support their combat against the virus spread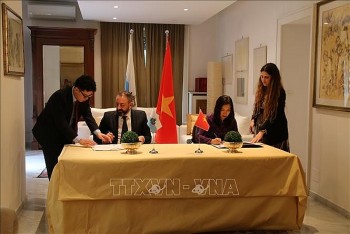 Friendship
The two countries will continue promoting cooperation to enhance growing ties between the two countries based on the good friendship since they established diplomatic relations in 2007.