Vietnam expected to export Covid-19 vaccine
With the promising initial trial results, Vietnam is expected to take initiative in the Covid-19 vaccine source and export overseas by late 2021, early 2022.
On March 15 morning, 6 first volunteers participated in the first phase of the human trial of Covivac vaccine, the second Made-in-Vietnam Covid-19 vaccine at the Hanoi Medical University. The initial test results showed positive signals, Nguoi Lao Dong reported.
Covivac vaccine meets the international standards, reasonable price
The Covivac vaccine is developed and manufactured by the Institute of Vaccines and Medical Biologicals under the Ministry of Health. The first phase of the human trial, lasting from March 15 to April 20, involves the participation of 120 volunteers, ages 18-59, divided into 5 groups including one receiving placebo.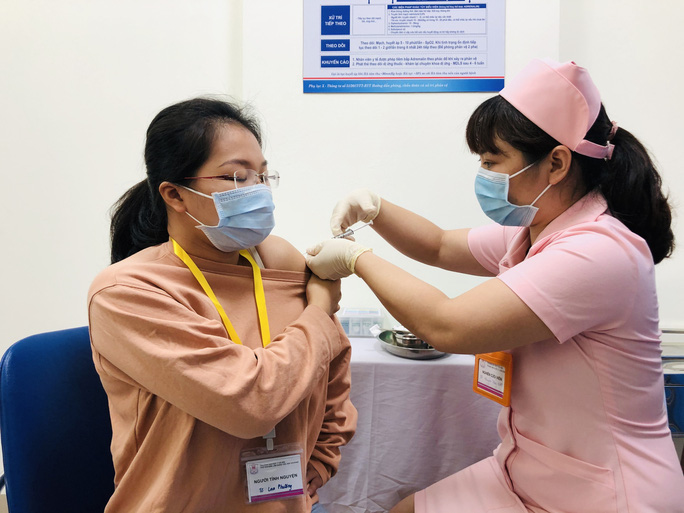 A person receives the Covivac vaccine as part of the first phase of the human trial. Photo: NDO
Covivac is the second Vietnam home-grown Covid-19 vaccine. The first one is Nano Covax which is produced by Nanogen Pharmaceutical Biotechnology JSC and entered the second phase of human trial. The Ministry of Health said that it purchased insurance worth VND 40 billion (US$ 1.7 billion) for all volunteers taking part in the Covivac vaccine trial.
Deputy Health Minister Tran Van Thuan said that Vietnam always fully complies with the scientific, strict, and safe principles in vaccine testing.
"Covivac is a promising vaccine as it's developed and produced by the dedicated Vietnamese scientists domestically and overseas. The pre-clinical trial studies in Vietnam, the United States, and India showed that the vaccine is effective against the virus strains found in the U.K and South Africa", Thuan added.
According to Thuan, if Covivac is successfully produced, along with the Nano Covax vaccine, Vietnam could take the initiative in COVID-19 sources and export abroad in late 2021, early 2022.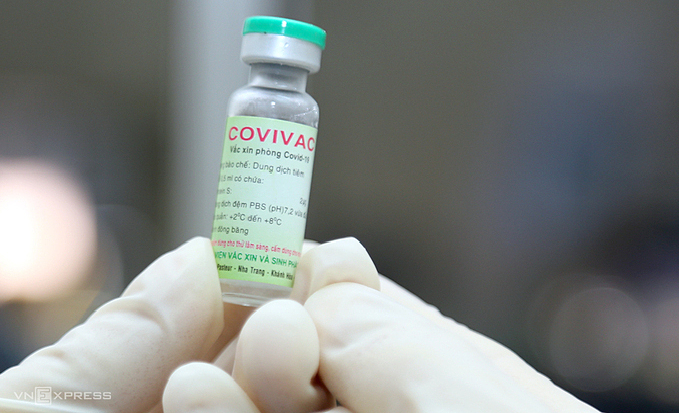 A vial of Covivac, Vietnam's second Covid-19 vaccine. Photo: VnExpress
Prof. Dr. Dang Duc Anh, Director of the National Institute of Hygiene and Epidemiology highly appreciated the effectiveness of the Covivac vaccine. With generating a good immune response in the animal trials, Anh expressed his hope that Covivac would show its efficacy on more virus variants.
Dr. Duong Huu Thai, Director of IVAC said that the Covivac vaccine has been researched and developed since May 2020. IVAC aims to successfully produce the vaccine meeting international standards and having an affordable price within 18 months.
Timely treating cases displaying severe reactions
On March 15, more 4.260 people in Vietnam were administered the Covid-19 vaccine, raising the tally of recipients to 15.865.
The vaccine has been given to people in 12 provinces and cities including Hai Duong, Hanoi, Hung Yen, Bac Ninh, Bac Giang, Hai Phong, Ho Chi Minh City, Gia Lai, Long An, Da Nang, Hoa Binh, and Khanh Hoa.
The prioritized groups receiving the vaccine are medical workers directly treating Covid-19 patients, those involve in taking samples, testing, contact tracing, members of Covid-19 community groups, and members of the Steering Committees for disease prevention and control.
On March 15, the vaccination sites only recorded cases with common post-vaccination reactions such as fever, swelling and pain at the injection site, rash, muscle pain, headache, diarrhea, etc.
Earlier, on March 14, Vietnam reported two more cases displaying severe reactions after being injected with the vaccine.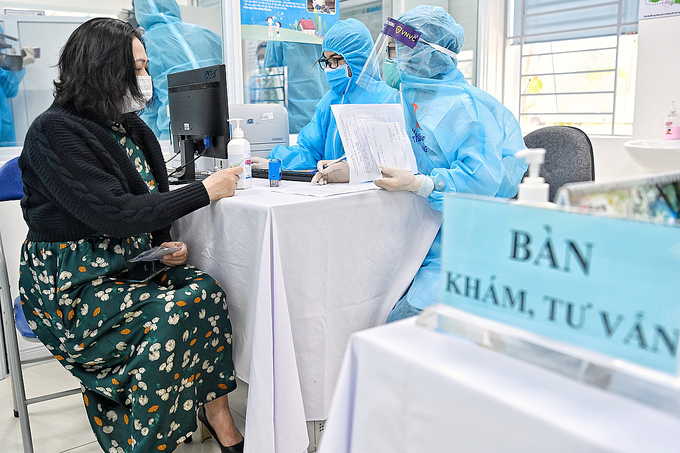 A person is consulted before inoculation. Photo: Vnexpress
One case suffered from dizziness, restlessness, and discomfort 30 minutes after injection. Another case was diagnosed with degree 3 anaphylaxis with initial signs of fever, tremors, cramps, and numbness in hands appearing 8 hours after inoculation.
Both of them were timely treated and now in stable health conditions.
Dang Duc Anh, Director of the National Institute of Hygiene and Epidemiology earlier on Monday said that around 26 percent of those vaccinated against Covid-19 globally experience normal side effects and that around 0.7 percent would experience severe reactions. In Vietnam, the rate of people with severe side effects is about 0.1 percent.
"There is always a certain chance of suffering the side effects following the injection. That chance is within the expected level as determined by vaccine producers, World Health Organization (WHO) and other relevant entities," he stressed.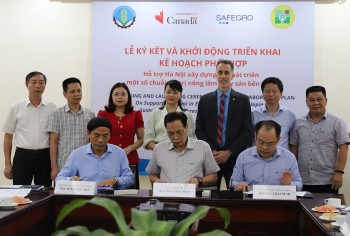 Make in Vietnam
As Vietnam furthers its international intergration, building agro-forestry-fishery high value chains is crucial for the sustainable development of the agriculture sector.