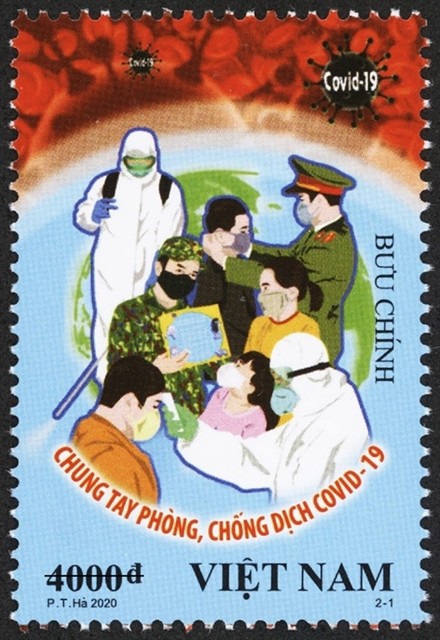 The stamp which features pandemic fighting forces (Photo: VNS)
The collection, which includes two stamps measuring31x46 mm, is designed by artist Pham Trung Ha with a hope to convey messages of solidarity, according to VNS.
The VND4,000 (US$0.16) stamp features pandemic fighting forces, namely health workers, soldiers and policemen in addition to normal citizens pushing the pandemic back.
The VND15,000 (US$0.63) stamp depicts images of scientists, physicians and doctors as research vaccines, preventive medicines and medical treatment needed to fight the virus.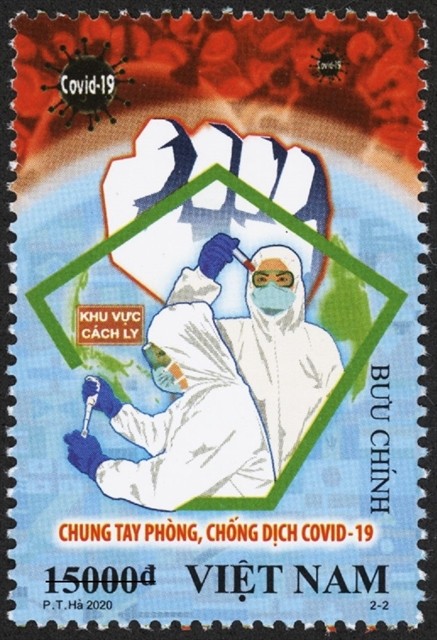 The stamp which features research personnel (Photo: VNS)
The collection will be available at 63 postal offices nationwide and will be used in the Universal Postal Union's 192 countries and territories from March 31 to December 31 officially.
Vietnam Post also provides other supplies such as postcards and envelopes with the same theme.
COVID-19 related stamps are also available in other parts of the world. Iran issued a set of stamps about COVID-19 March 17. China and Sri Lanka are also planning to launch new stamps about the pandemic this month.
Teaching online? 5 ways to make it great

As COVID-19 takes hold, universities are closing worldwide. Instructors therefore have to move to teach virtual classes. Here 4 experts share their great tips for ...
Jasmine Le