Vietnam mulls over vaccinating 12 graders against coronavirus
The proposal is made as thousands of test takers across the country are scheduling to sit for the national high school graduation examination in early July.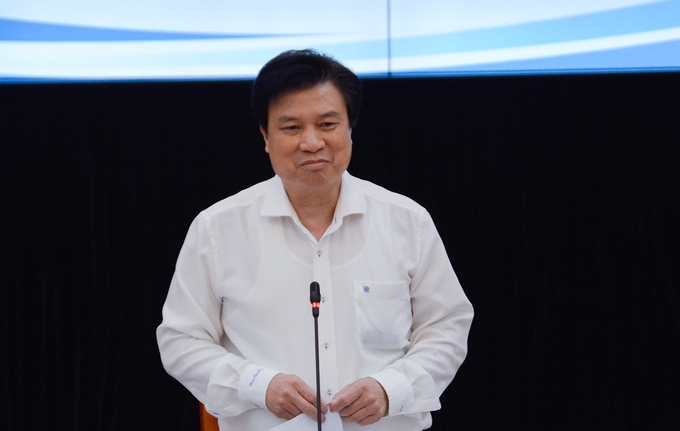 Nguyen Huu Do, deputy minister of the Ministry of Education and Training at the meeting on May 27 afternoon (Photo: VNE)
The Ministry of Education and Training at the virtual meeting Thursday initiated immunizing all exam officers and 12 graders from pandemic-hit localities to ensure health safety and examination results.
Nguyen Huu Do, deputy minister of the ministry asked all localities to conduct thorough screening for teachers and students having close or indirect contact with Covid-19 patients. According to the deputy minister, the People's Committee of Covid-infected provinces and cities must quickly devise vaccination plans for 12 graders. Exam officers should also get the injections in the soonest time.
"The 5K formula and vaccine would ensure the highest level of safety for the national exam," Do said.
For his part, Minister Nguyen Kim Son said everyone must stay vigilant against the pandemic to reach the dual goal of attaining a nationwide exam of no cheating and the highest safety level to test takers and organizers.
The education ministry would work with the health ministry to issue guiding documents to every province and city.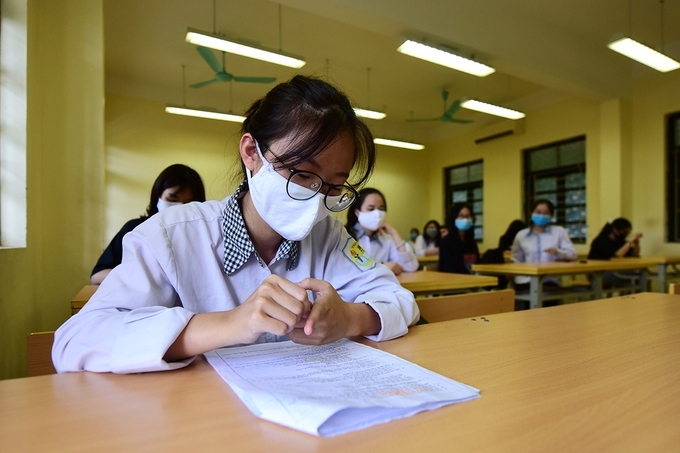 One 12 grader in the national high school exam last year (Photo: VNE)
The northern province of Bac Ninh, one Covid-19 hotspot in Vietnam, has prioritized 12,000 doses of AstraZenca vaccine to its teachers and exam officers in charge of the coming graduation examination. Other localities heavily affected by the virus are also mulling over such a program.
To date, there have been 18 12th graders who contracted the coronavirus. Meanwhile, 394 other students are under centralized quarantine. Most of them are from four provinces Bac Giang, Bac Ninh, Ha Nam, Dien Bien. The education ministry said it was trying to have the examination taken place on July 7,8 as planned. In places with high numbers of students designated as F1 and F2, the ministry would consider organizing a second exam at a suitable time.
May 15 witnessed the first time Vietnamese students of all levels in many localities "enjoyed" an early summer break without finishing their school year. The remaining curriculum will proceed at in-person classes when the pandemic abates. Schools that have yet to organize final exams are advised not to do it virtually.
High school students, however, continued with virtual classes which they have been sticking to since May 3.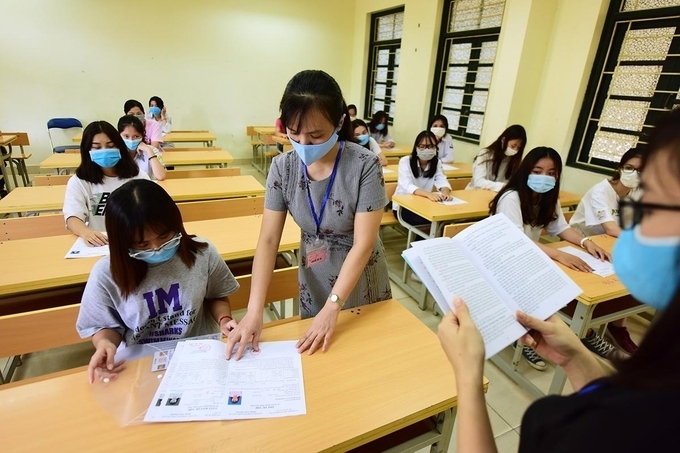 All students wear face masks while doing the exam last year (Photo: VNE)
Education disruption has been common in Vietnam since the start of the Covid-19 pandemic. In early May, educational facilities across the country switched to distance classes following the surge in new cases. Foreign language, computer, and other training centers had also been told to close.
The fourth wave which started in the country on April 27 has spread to 30 provinces and cities, affecting 3,335 people, raising the nation's tally since last year to 6,396 cases. 47 deaths have been reported.
It has been predicted as more prolonged and complicated. However, it has basically been put under control as most of the new cases are either under quarantine or from blockaded areas. Infection sources have also been effectively traced.