Vietnam pushes the country's smart healthcare system
After the Prime Minister on June 3, 2020 approved the national digital transformation program to 2025, with the vision until 2030, more hospitals in Vietnam have begun using high technologies for digital transformation, which is expected to radically reform the healthcare sector.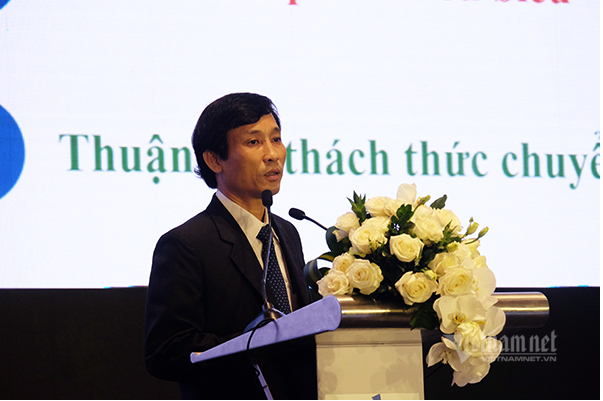 Dang Thanh Hung from Children Hospital No 1
A plan on digital transformation for the healthcare sector is based on the national program. It is expected that 100 percent of online public services in the sector will meet level 4 by 2025, and will be integrated into the national portal.
Under the plan, 90 percent of people and 100 percent of healthcare officers will be digitally identified, 60 percent of healthcare services will be paid under electronic payment methods, 20 percent of medical examination and treatment will be implemented from a distance, and 50 percent of registrations for medical examination will be implemented online, according to the vietnamnet.
Nguyen Truong Nam, deputy director of the IT Application Agency under the Ministry of Health (MOH), said that digital transformation is a gradual process of integrating and utilizing digital technology, such as Big Data, Cloud Computing, IoT and AI in the healthcare sector's fields. Digital transformation will change the face of Vietnam's healthcare sector.
It will change the way of management and working of individuals and units in the sector, and provide healthcare services in a quick, effective way to people on the digital platform.
It is expected that by 2030, digital technology application will be made in most activities and services to form a smart healthcare sector. Electronic medical records will be used instead of paper records.
Through these operations, MOH aims to build a high-quality, fair and internationally integrated healthcare system, where people can easily access information to use services, and have lifelong healthcare services.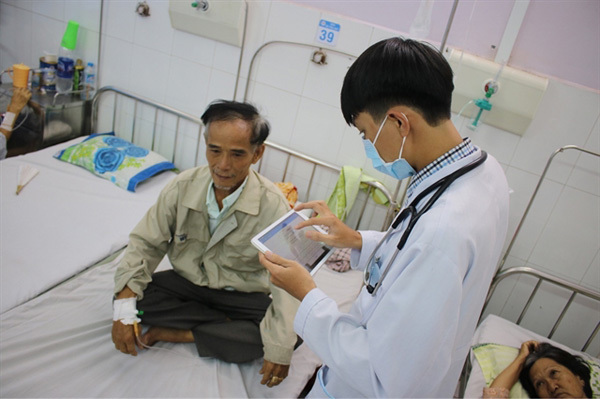 A doctor in Thu Duc District, HCM City, checks the electronic medical records of a patient. Photo: VNA
The idea of building a comprehensive database of electronic medical records has been nurtured for many years. Deputy Prime Minister Vu Duc Dam has instructed the Ministry of Health to speed up the development of a database for all Vietnamese citizens from birth until death.
Resolution 20 of the Party Central Committee, which was signed on October 25, 2017, emphasized the need to strengthen healthcare and protection for all Vietnamese citizens both physically and spiritually. It also sets a goal that by 2030, 95 per cent of the Vietnamese population will have electronic healthcare records; 100 per cent of commune/ward healthcare centres will be able to perform their assigned tasks relating to preventive healthcare; and 100 per cent of communes nationwide will have primary healthcare centres.
Each Vietnamese citizen will be given an E Health Book which they will keep for life. The books will give doctors comprehensive knowledge about their patients when they seek medical help. More importantly the E Health Books will help modernise the national health service, particularly in the context of the 4th Industrial Revolution.
The agency launched new software on June 14 designed to compile a comprehensive database of electronic medical records.
The MOH plans to trial the software in eight provinces and cities before expanding the system nationwide in July next year. The aim is to have complete medical records available at the touch of a button for every citizen.
Electronic health records will help medical staff monitor people's health, particularly the elderly and people with serious diseases as they are vulnerable to the SARS-COV2 virus. Effectively monitoring these groups of people will help them to avoid catching these diseases, and reduce the fatality rate from COVID-19.
Acknowledging the importance of providing good healthcare for the elderly, particularly those with chronic diseases, Deputy Prime Minister Vu Duc Dam has given instructions to localities nationwide to launch a campaign to build electronic health records for all Vietnamese citizens.
According to the Ministry of Health, Vietnam has already established 1,000 telehealth points between big hospitals nationwide, including clinics in remote mountainous regions and islands. Thanks to the operation of these telehealth points, patients living offshore or in remote mountainous regions can receive the care they need.
Challenges
Children Hospital No 1 in HCM City has been actively going ahead with digital transformation. This is a first-class pediatric hospital, in charge of 13 cities and provinces in the Mekong Delta.
Dang Thanh Hung, head of the IT division, said the hospital began applying IT and digitizing its activities very early. The biggest challenge of digital transformation is the lack of IT staff.
In 1994-2003, the hospital digitized patients' information and treasures. In 2004, it began digitizing inpatient examination cost recording. In 2006-2014, some chronic medical records and professional records were digitized.
Some outstanding products of the digital transformation process of the hospital include smart drug bidding software and IoT application in drug warehouse management.
Friendship
On March 25, the 92nd anniversary of the founding of the Ho Chi Minh Communist Youth Union took place at the Russian Presidential Academy of National Economy and Public Administration (RANEPA) in Moscow.