Vietnamese American won a scholarship of 1 million pounds to Harvard University
Xuan Nguyen, 18, a Vietnamese-born who is living in one of the most disadvantaged areas in London, won a scholarship worths one million pounds from the prestigious Harvard University.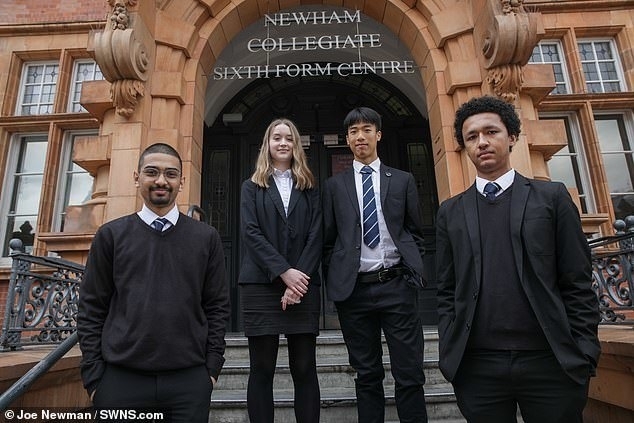 Xuan Nguyen (second from right) and his friends (Photo: SWNS)
With the scholarship, all tuition and accommodation fees Xuan should pay for the coming 4 years at Harvard University, which amounts to around one million pounds, will be fully covered. His journey to Havard University is an inspiration for those students from low-income families.
Xuan had earlier participated in the American Foundation Course organized by his high school, which included a free tour around the colleges belongs to Ivy League – one of the oldest and most prestigious university systems in the US.
To prepare for the application documents required, Xuan had done his utmost and scored 790/800 on the standardized SAT Subject Test Math 2.
The Vietnamese American student has long been dreaming of studying at the Civil Engineering Department, Harvard University. He hopes that the university will impart him with enough knowledge and skills to focus on solving global environmental problems.
Xuan is currently living in eastern London with his parents. His father is a 55 year-old-man who works as a mechanic in a factory while his mother, 56, is a housewife.
He attended Newham Collegiate Sixth Form Center (NCS). Founded in 2014 by a former lawyer, the center aimed at helping deprived children pursue their dreams.
NCS only had one student admitted to Oxford or Cambridge University in 2014. The number jumped to 25 in 2018, of which 20 students started school in the autumn. This year, NCS reported the record number of 41students since its foundation.
Most of the students are from ethnic minority communities. Two-thirds of them are the first member of their family to attend college. Half of them receive free school meals.
Harvard Medical: Q&A on coronavirus

The new COVID-19 disease is spreading rapidly worldwide. Below you will find a number of answers to the questions regarding coronavirus by Harvard Medical School.

Economy
HCM CITY, VIETNAM - Media OutReach - 2 December 2022 - The HCM City Development Joint Stock Commercial Bank, or HDBank, is seeking shareholders' approval to issue convertible bonds worth US$500 million to international investors. HDBank is also seeking approval to increase the foreign ownership limit from 18 per cent to 20 per cent.