Vietnamese-Americans Unworried by Omicron Variant
Ethnic Vietnamese living in the U.S. are not too worried about the new Omicron strain of Covid, but not letting their guard down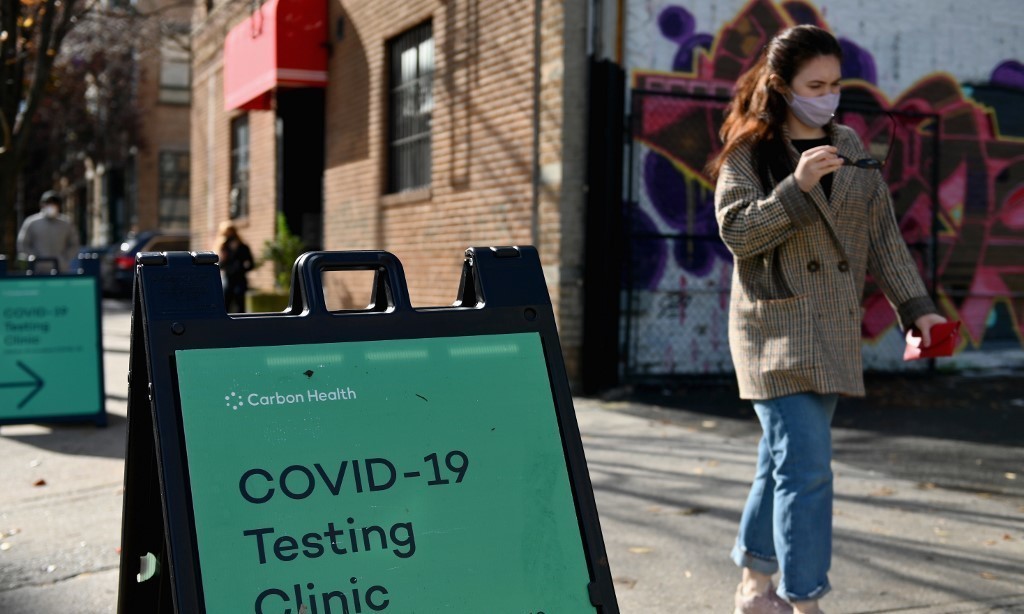 A woman walks past a Covid-19 testing clinic in New York, U.S., on December 1, 2020. Photo: AFP
"I am worried about the spread of the Omicron variant but not too stressed", Vu Ngoc, who lives in Washington DC, says when asked about the new Covid strain.
She can work from home besides which the capital has a low population density, she told VNE.
But Vu says people around her seem to be more anxious now than before Omicron appeared, and many are rushing to register for a booster dose.
She and her husband had to wait for two weeks before getting the third shot at the end of November.
She has noticed that announcements in the subway encouraging passengers to wear masks regularly and properly have been more frequent since December 7. They are told that the Covid situation is becoming increasingly unpredictable, and those who need masks can get them from staff, she says.
She is also reassured by the facts that most people wore masks in the subway connecting Washington DC, Virginia and Maryland before the new variant was recognized, and the U.S. now requires people entering the country to have a negative Covid test within 24 hours rather than the earlier 72 hours, which indicates the risk of virus transmission is lower.
Also, at the beginning of this month the government urged all adults above 18 years to get a booster shot. Earlier only people in high-risk groups were asked to do so.
Pham Thuc of Maryland says he was anxious when he first heard about Omicron but no longer since scientists have said it is less dangerous than the Delta variant.
Local governments in many places are urging masks again and a third shot.
Pham sees people in his area are not worried about the new strain and are going out as usual.
In New York, Duong Khanh says she is relieved to hear on the media that the new variant is not life-threatening.
"Coronavirus is becoming weaker and there will be a time when it becomes like the seasonal flu virus."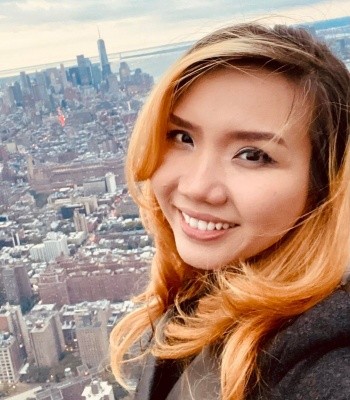 Duong Khanh in New York in December. Photo courtesy of Duong Khanh/ via VNE
Though there are some cases of Omicron infection, she finds that people do not worry much since they are fully vaccinated. They plan to take the booster shot to make things even better for Christmas and New Year.
The city mayor requires citizens to wear masks again in indoor places.
Le Khoa and his family members have had the third jab, which is easy to access, and so he goes out as usual.
He says authorities are increasingly campaigning for the booster shot on TV and online, but the public reaction is varied, with some wearing two masks in the subway and some none, but the majority have at least one.
Gary Thang Nguyen of Washington State says he is "a little worried" about the new strain, and so refrains from going out unless necessary despite getting the third shot.
"I find it as frustrating as others around me that there are constantly new strains. I expect to see higher vaccination rates in future."
Duong Hai of Missouri says his family is not bothered by the Omicron strain after getting the booster vaccine. His kids are going to get the first shot soon.
He sees people do not noticeably react to the new variant and most do not wear masks unless they are high-risk.
In public spaces such as supermarkets, employees wear masks and customers are asked to use hand sanitizers, he says.
Local authorities require the public to follow guidance from the CDC, he adds.
No relax
Duong has always believed he will be safe if he follows safety measures, especially sanitizing hands.
"I hope people do not become complacent when they are told to live with the pandemic."
Vu says she is waiting for her kids, both above 16 years, to get booster shots amid the new development.
She is aware that vaccines for children are still insufficient and so is the vaccination rate for this demographic.
Pham has been scrupulously complying with recommendations to protect himself and his family though he agrees there are no "extra effective measures" for people to avoid viruses.
Le says he wears a mask even in the gym while most others do not.
Duong Khanh in New York and Nguyen highlight the need for strengthening the immune system and limiting contact with strangers to be safe since Covid remains a threat.
In the meantime, Vietnamese Covid-19 survivors in South Africa also stay positive despite the new variant.
Cao Thi Duyen is a Covid-19 survivor living in Cape Town City, South Africa. She said that life in her place is Cape Town city (the second most populated city in South Africa) is still going normally. Since the government has not announced a lockdown or social distancing, she still runs her business everyday with a calm attitude.
"My store is still open. The staff here also has a mild fever and has been off since November 29. At first, I was also worried because the possibility of transmission was up to 500%. After all, I myself survived Covid-19" said Duyen.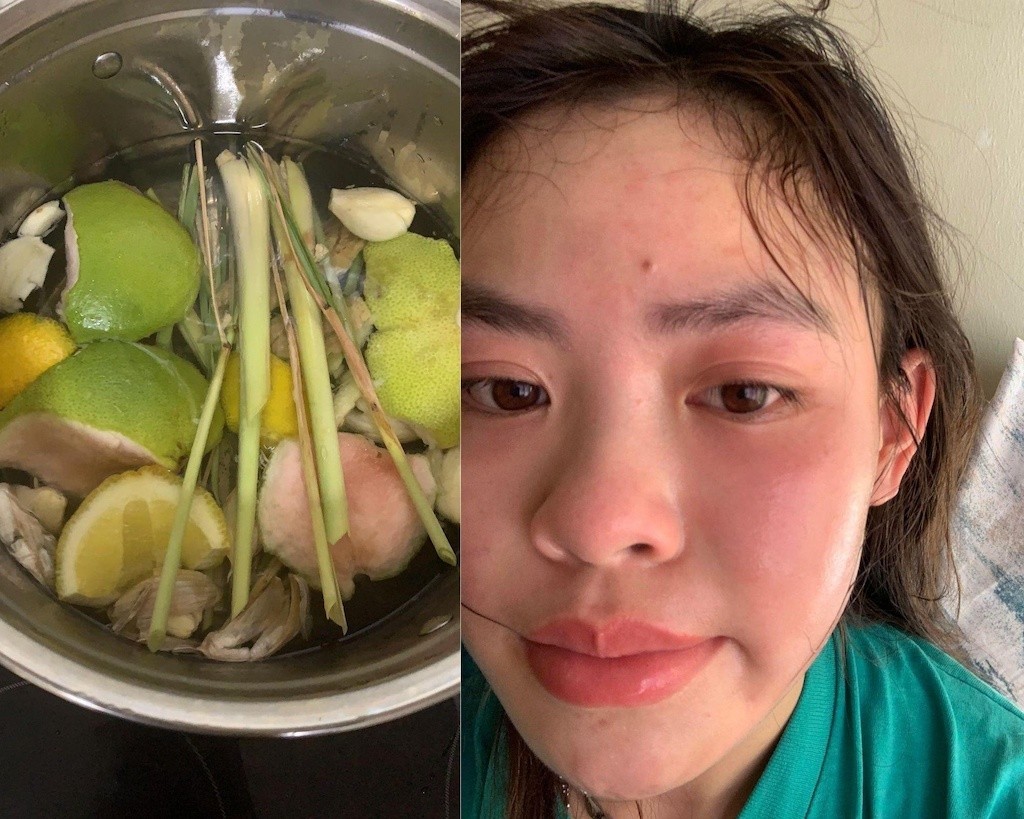 Duyen treated herself by traditional Vietnamese herbal medicine. Photo: Thanh Nien Online
Recalling the time she was infected with Covid-19, Duyen couldn't help but shiver in fear.
Duyen started showing mild symptoms in early September 2021. "The first three days, I had a fever of 41 degrees.
On the 4th day, she lost her taste and on the 5th day she had a nosebleed and cough with phlegm. As the symptoms got worse, Duyen thought of going to the hospital but then deciđe to self-medicate at home. She lives alone and took care of herself for nearly a month, Thanh Nien Online reported.
She relied on traditional Vietnamese medicine and treatment by inhaling steam once every 2 days from special herbs. The cost of this home treatment for 23 days, meals included is about VND 35 million VND (US$ 1,541) in total.
"I don't go to the hospital, because it will cost more. Most expats living here try to self-medicate at home if they can". Duyen shared. She believed that she was able to overcome this disease because she has a nerve of steel and the emotional support from her family. They are the source of strength for her to not giv up and put on a fight with Covid-19
The young girl has outrun Covid-19 so she has experience if it happens again with the new variant, she recommends regular disinfecting and practicing social distancing. She is always wearing masks and keeping personal hygiene.
New Normal: Vietnamese businesses are not panicking over Omicron
Omicron seems to put a pause on world economic normality. Hence, Vietnamese businesses in South Africa must make some adjustments.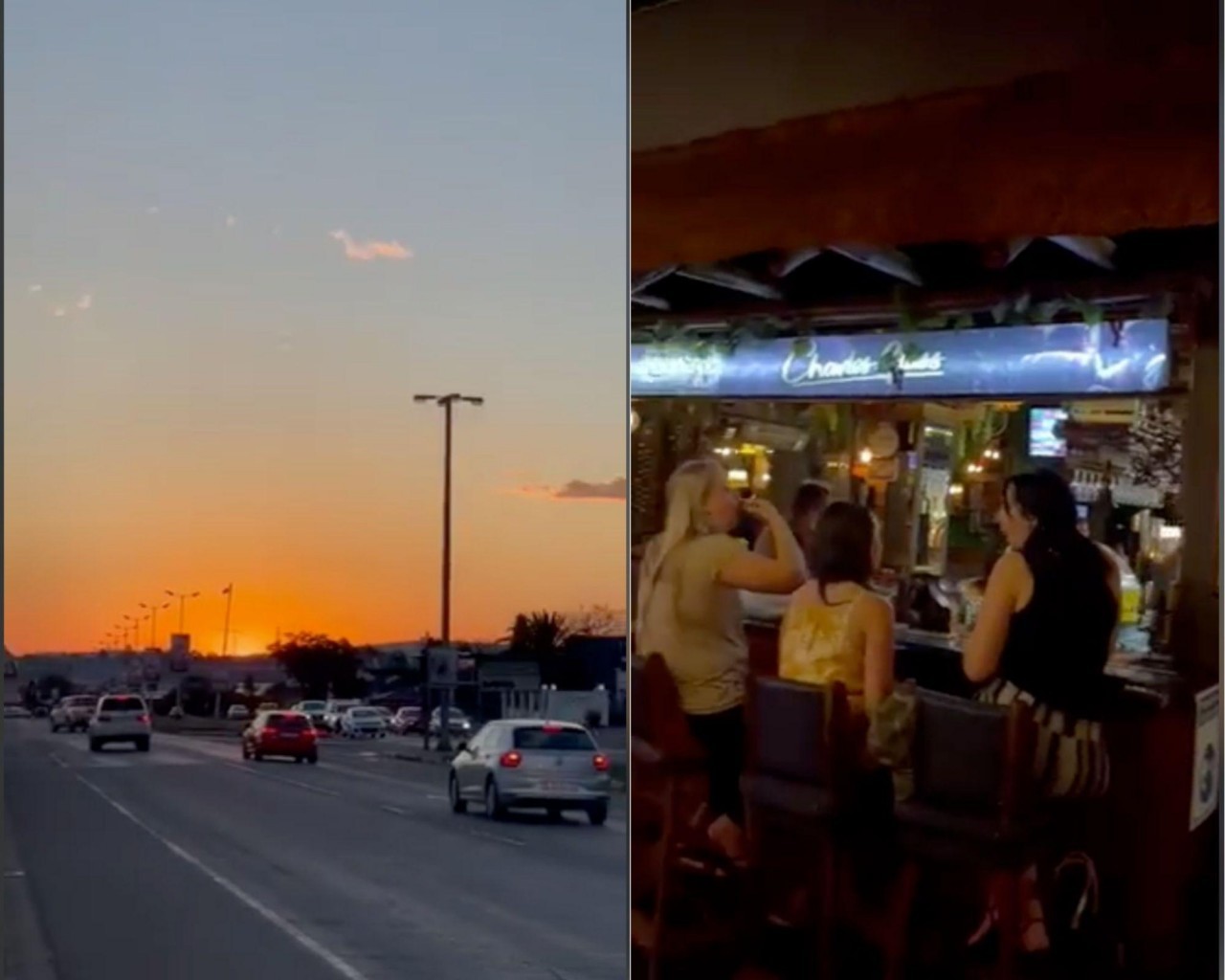 The regulations on epidemics have not changed in South Africa. Photo: Thanh Nien Express
Nguyen Nam went to South Africa to live with his family for a few months when the Covid-19 pandemic broke out so he has to make a lot of changes in his original plan. Before the pandemic, he plans to open a restaurant selling Vietnamese food and coffee. But currently, he has switched to selling Vietnamese cakes online.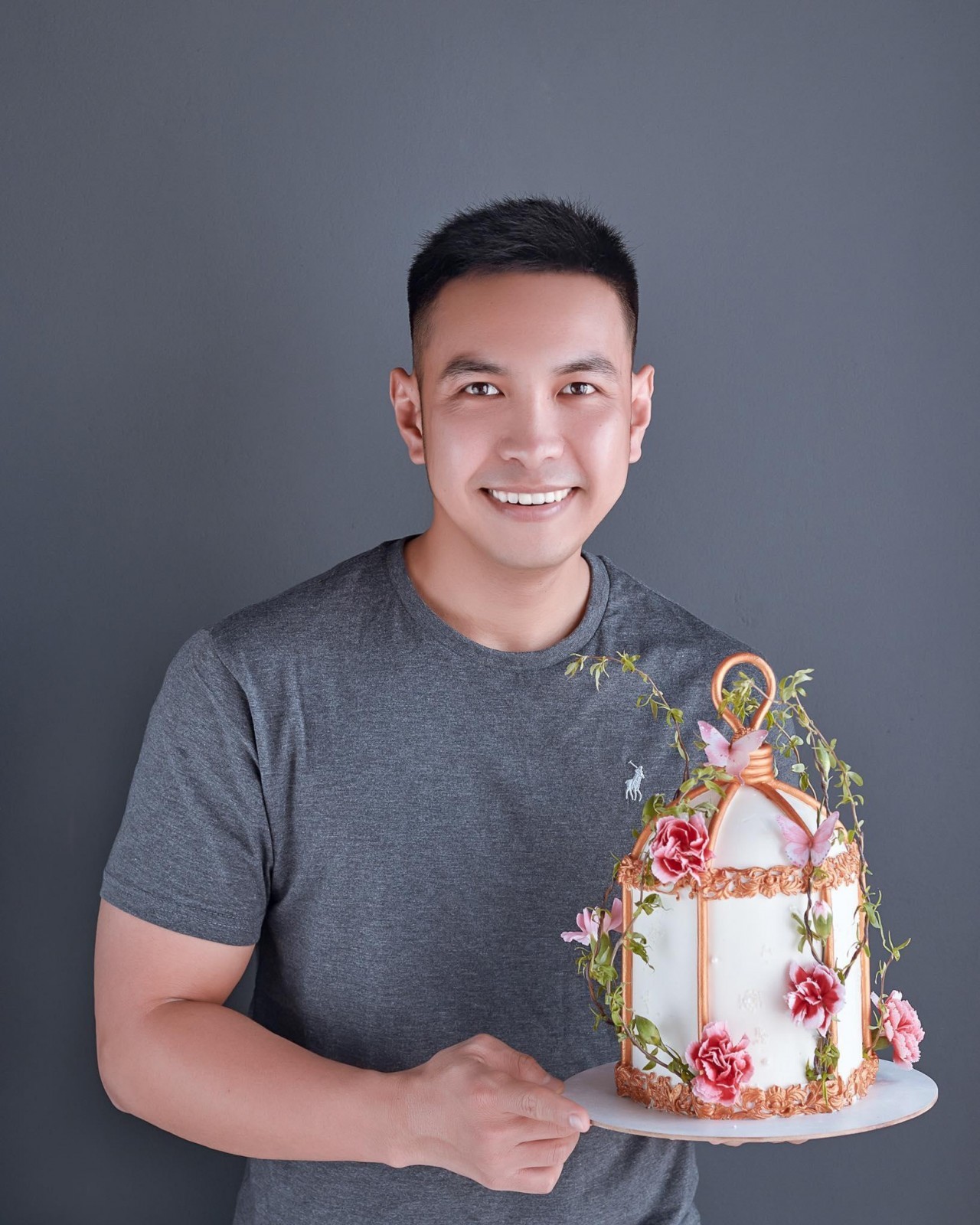 Nam has been selling Vietnamese cakes online in South Africa. Photo: Thanh Nien Online
Nam shared: "Everything is going normally. Currently, the regulations on epidemics have not changed even in the most crowded cities. Still, everyone is being extra careful, wearing a mask when going out and constantly disinfecting.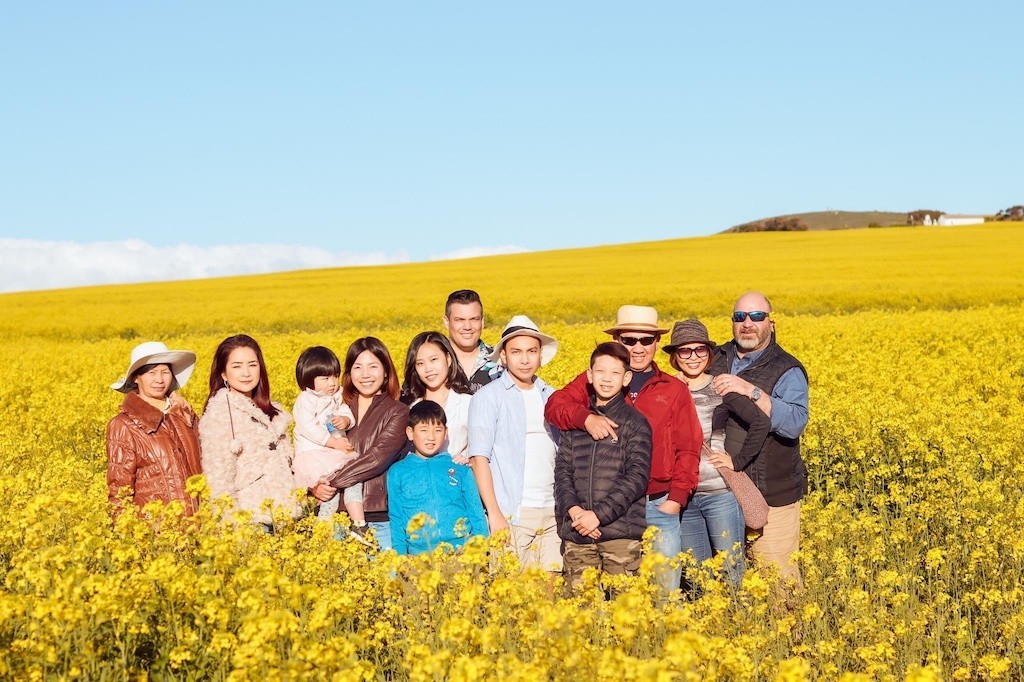 Nam has been selling Vietnamese cakes online in South Africa. Photo: Thanh Nien Online
For him, for the past 2 years, life is very difficult and he has to tighten his budget even though he has big plans for his business and his personal life like traveling with family. He looks forwards for the time when the epidemic is under control and the economy to be better.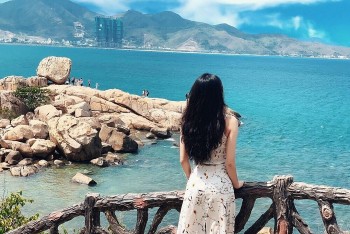 Travel
A British writer shared her experiences while visiting Hanoi, Ho Chi Minh City and Nha Trang city, the central coastal province of Khanh Hoa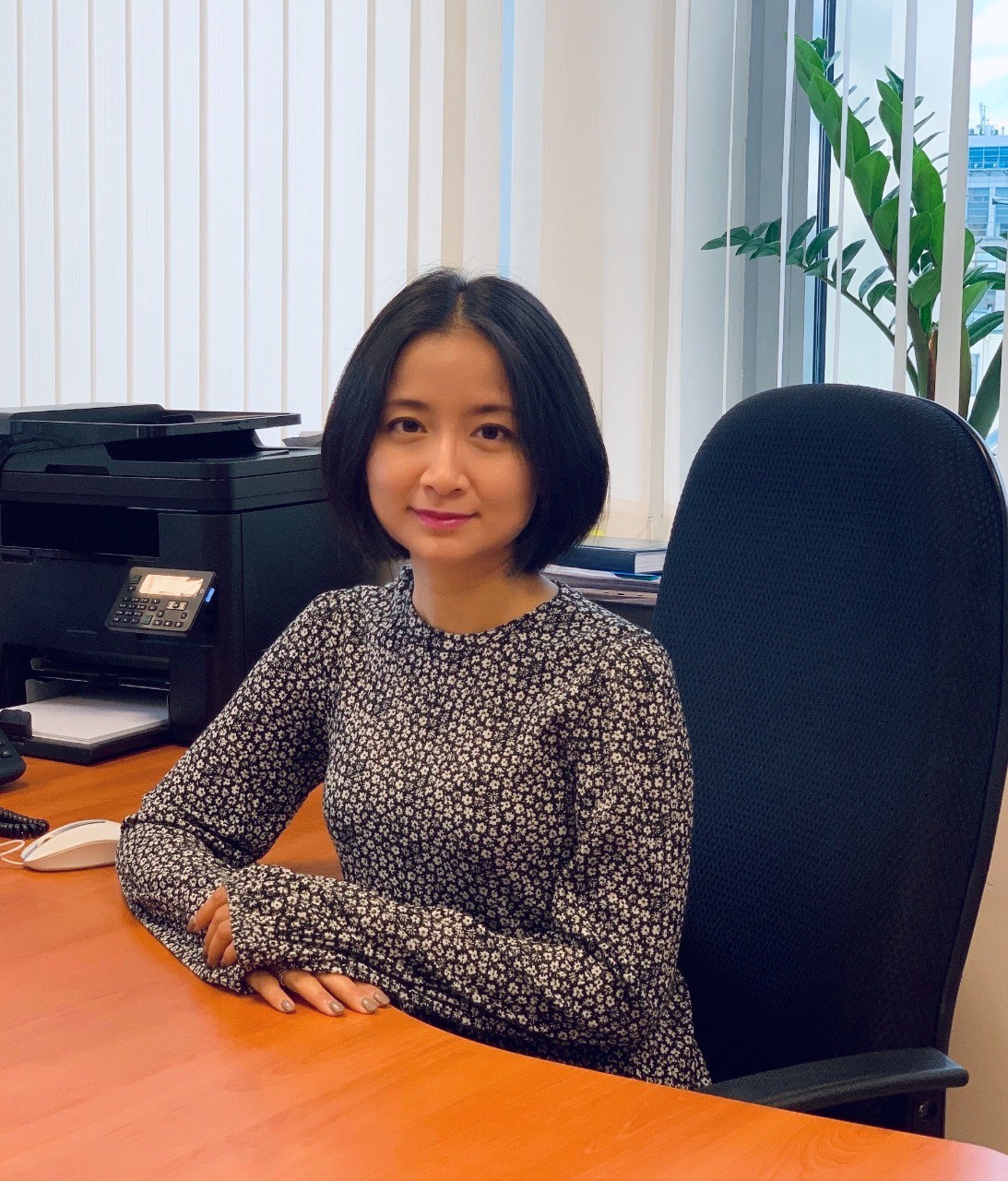 Overseas Vietnamese
Doan My Linh (born in 1990) is currently a lecturer at the Faculty of Marketing, Russian Economic University, Plekhanov. In addition to teaching, she spends most of her free time on activities to support Vietnamese students.
November 13, 2022 | 06:58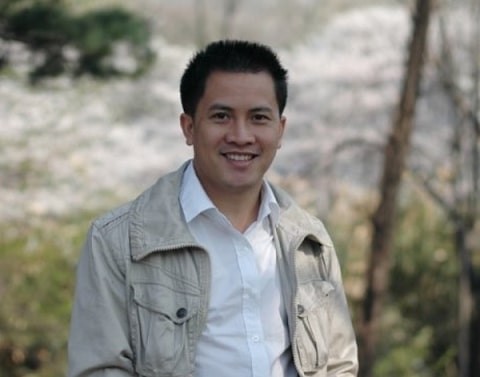 Viet's Home
The research results on the application of AI technology by doctor Truong Van Tien have been published in two prestigious journals and many magazines in the US.
November 12, 2022 | 08:12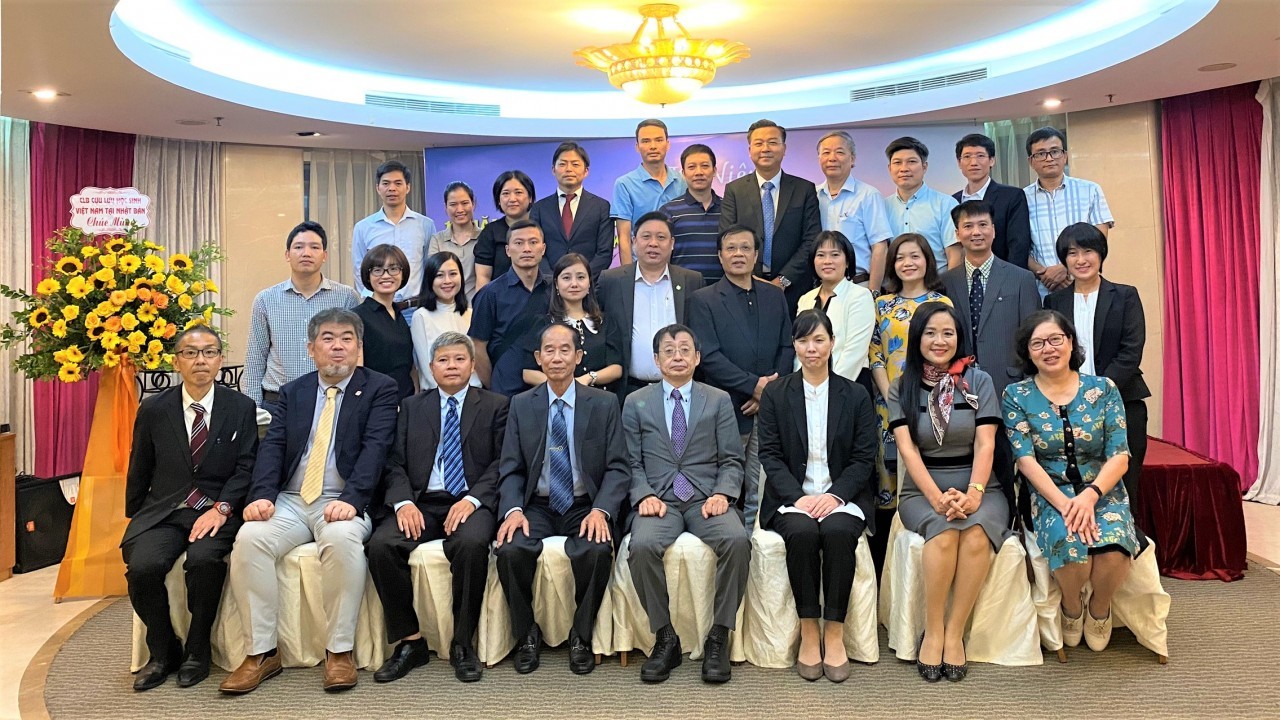 Overseas Vietnamese
The Vietnam Alumni Club in Fukuoka, Japan (FVAJA) just celebrated its 10th anniversary.
November 10, 2022 | 07:13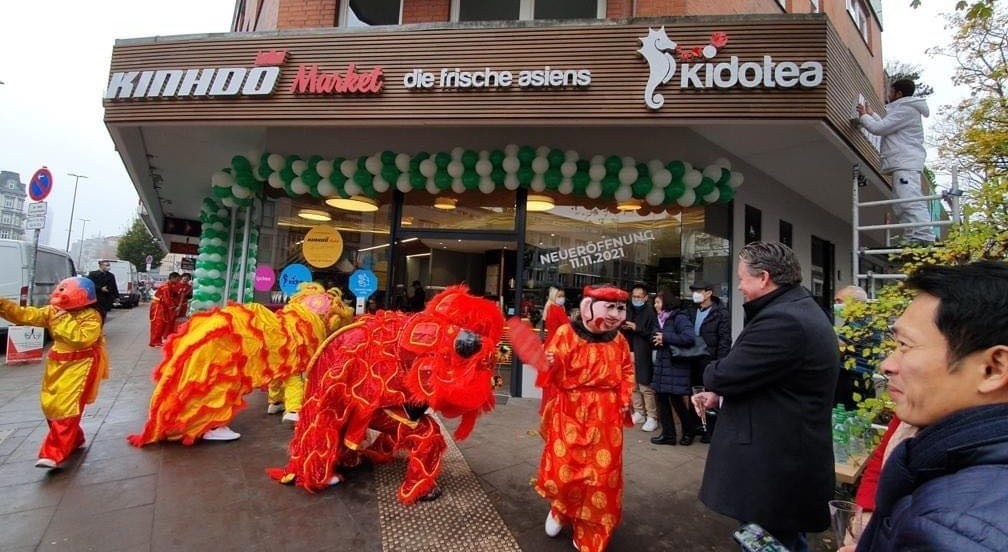 Overseas Vietnamese
After over a year of selling traditional Vietnamese dishes in Hamburg (Germany), Lam is happy that not only overseas Vietnamese in Germany but many Germans are also enjoy banh mi. This dish has quickly become a "best seller" and the pride of this restaurant.
November 07, 2022 | 08:13