Vietnamese Community In Australia Makes Chung Cake To Raise Charity Fund
A group of Vietnamese families living in Sydney has made chung cake (sticky rice cake) and other Lunar New Year traditional dishes to raise a VND100 million (USD 4,348) fund for poor children in Vietnam.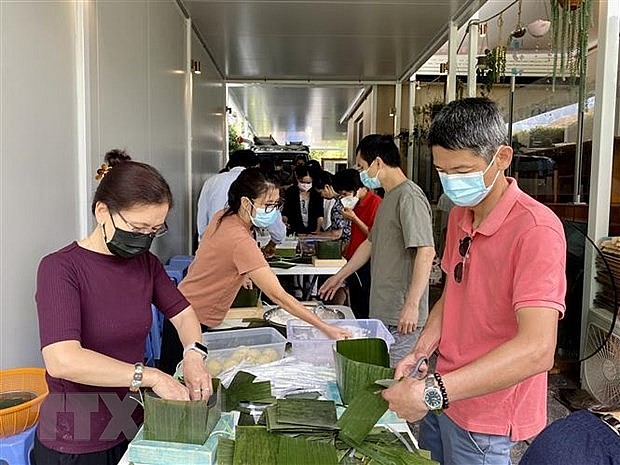 On January 22, members of the New Sunlight for Children group gathered to make chung cake to raise a fund for poor children in Vietnam. Photo VNA
On the morning of January 22, 30 Vietnamese people from New Sunlight for Children, a volunteer group, gathered at the house of Tuan Anh Bui and Khanh Hoang in the North Turramurra area to make the traditional Vietnamese cake.
Each small group was in charge of one process from preparing leaves, pork, beans, to wrapping and boiling the cake.
Khanh Hoang, a member of the group, said it was not easy to gather everyone during the pandemic.
"The activity has a special meaning to myself and other Vietnamese families. All of us look forward to putting the traditional cake on our ancestors' altars during the Lunar New Year holiday," she said.
Chau Phan, another group member, said "We try to make chung cake as similar to those in Vietnam as possible. Traditional ingredients are available in Sydney markets. However, in Australia, there are no dong leaves and bamboos strings to tie the cake so we replace them with banana leaves and plastic strings."
"Boiled banana leaves are easy to tear so we must use a mold instead of wrapping by hands," he said.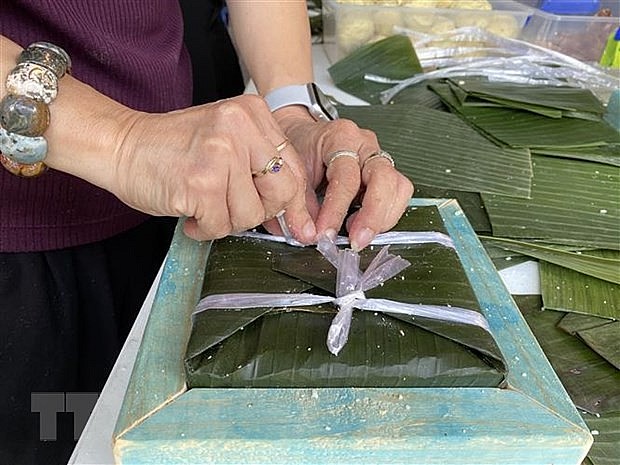 Chung cake is wrapped by banana leaves and tied by plastic strings. Photo VNA
The group also made spring rolls to raise the charity fund since December 2021.
Phuong Phan, one of New Sunlight for Children group founders, said "We have made plans from preparing ingredients to taking Covid-19 safety measures. We finished making spring rolls early on January 15."
She said 144 boxes of spring rolls and 240 chung cake had been made.
The fund raised from selling the food was more than VND100 million (AUD6,000 - USD4,348) and will be sent to children living in disadvantaged circumstances in Vietnam.
"Gathering and making traditional dishes together to raise a fund for Vietnamese poor children is a wonderful experience to overseas Vietnamese living far from home like us," Phuong Phan said.
It is also an occasion for their children who were born and grew up in Australia to learn traditional customs of their homeland, she said.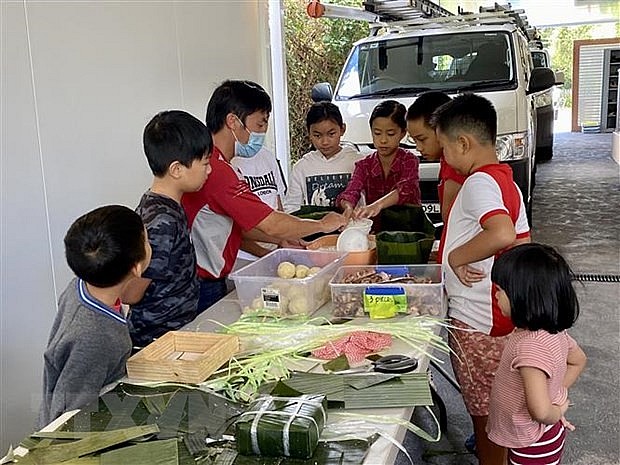 Children learn how to make chung cake. Photo VNA
For many years, the New Sunlight for Children group has connected the community of Vietnamese families living and working in Australia through activities of preserving Vietnamese cultural traditions.
The group has also supported students with disabilities in Vietnam.
In 2021, in spite of the pandemic, the team launched initiatives such as making New Year dishes, walking, or handmaking New Year calendar.
The group raised nearly 14,000 AUD (about VND230 million) and granted 79 scholarships worth VND2 million each to children with extremely difficult circumstances in 12 provinces and cities in Vietnam.