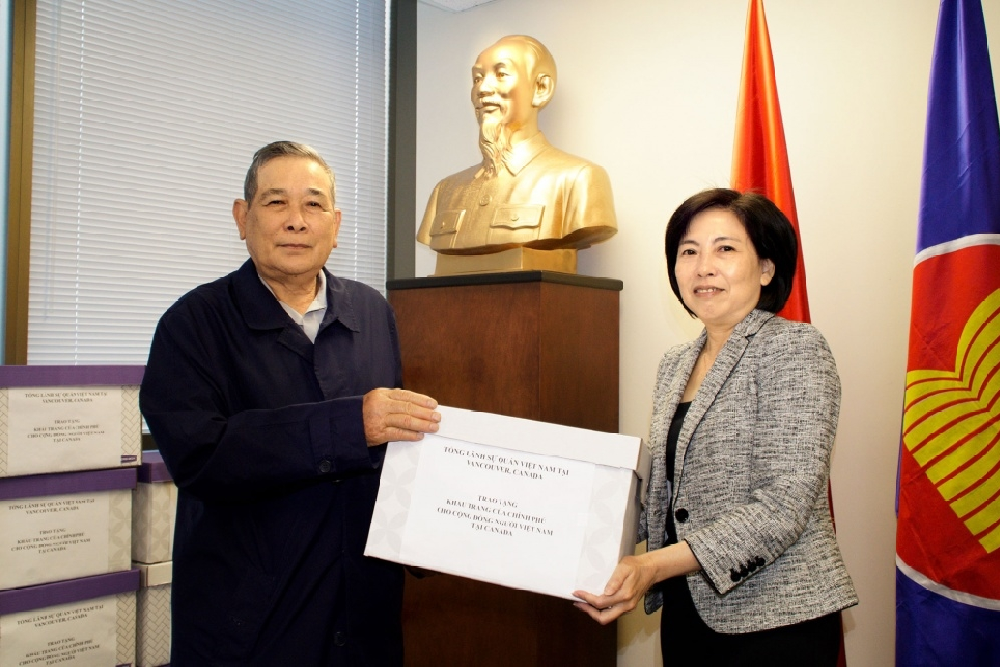 Photo: baoquocte
The Vietnamese Government has presented face masks to the Vietnamese community in western Canada amidst the outbreak of the COVID-19 pandemic.
Speaking at a recent hand-over ceremony, Vietnamese Consul General in Vancouver Trinh Tu Lan reviewed Vietnam's successes in the pandemic combat, and commended Canada's efforts in this regard, expressing her belief that the host country will drive back the disease.
Lan noted her sympathy over difficulties and severe effects caused by the epidemic on Canada and Vietnamese in the country in particular.
"The face marks are the sentiments of the Government and people at home towards overseas Vietnamese," she said, calling on the Vietnamese community to seriously observe local regulations and support each other during the hard time.
Photo: baoquocte
Some representatives of the Vietnamese community said they were delighted at the home country's successes in fighting the pandemic, which have helped Vietnam improve its position and prestige in the international arena.
Hai Tam, a Vietnamese in Vancouver, told the press that she and her countrymen can feel the sentiments of the Vietnamese Government and people at home through the face masks.
"Vietnamese in Canada always look towards the homeland," she affirmed./.
At least 606,970 people globally have died from COVID-19 and more than 14.6 million have been infected by the novel coronavirus that causes it. The virus has now reached 220 countries and territories. 192 of those have reported fatalities.
Meanwhile, Vietnam marked the 96th straight day without COVID-19 community transmission on July 21.
Up to 244 of the 384 confirmed patients are imported cases who were quarantined upon arrival.
On July 20, three more patients were declared to have recovered, bringing the number of recoveries to 360, and there are no related deaths.
Most of the remainders are in stable condition, including four negative for the virus once and another at least twice.
Some 11,697 people having close contact with confirmed cases or coming from pandemic-hit areas in quarantine at present./.
Rosy Huong