Vietnamese enterprises not allowed to import COVID-19 vaccines without authorities' consent
Companies and enterprises in Vietnam are not allowed to import COVID-19 vaccines from foreign manufacturers and administer the injection themselves, the Ministry of Health said Tuesday.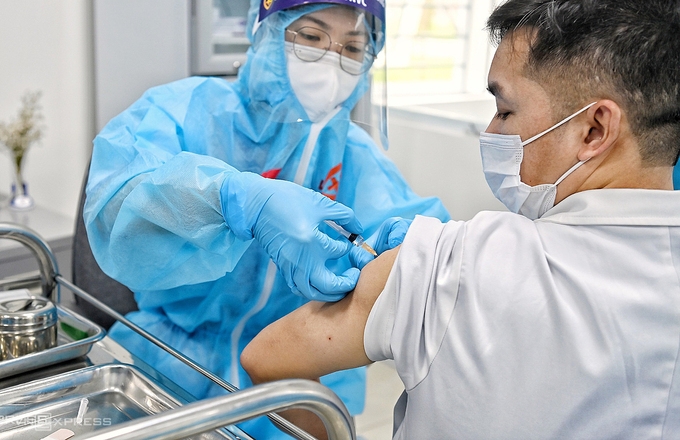 One medical staff in Ho Chi Minh city getting AstraZeneca vaccine on March 8 (Photo:VNE)
The Government has tasked the Health Ministry to coordinate with relevant ministries, agencies, and localities to purchase, import, receive, finance, manage and use COVID-19 vaccines, a representative from the Health Ministry said in a statement at the Standing meeting of the National Steering Committee for COVID-19 prevention.
In other words, without consent from authorities, local enterprises are not allowed to import COVID-19 vaccines on their own.
Vaccine manufacturers worldwide whose candidates are authorized for use must directly contact with Vietnam Ministry of Health for the importation. Meanwhile, in Vietnam, only enterprises entitled to the procedure can import the vaccine. All the vaccination procedures in the country must follow the Ministry's general coordination, VNE reported.
The representative further stressed that Vietnam would proceed with its vaccination plan with AstraZeneca vaccines even though many countries had stopped or halted their rollout following blood clot complications. Vietnam has been conducting the vaccination in a careful and safe manner from day one. Recipients' health conditions are carefully checked prior to and post-injection, which, according to the Ministry, is part of the plan to issue Vietnam's "vaccine passport".
Vietnam is expecting 60 million doses of AstraZeneca vaccines, including 30 million aided by the global COVAX campaign, 30 million in purchase.
Vietnam kicked off its vaccination campaign on March 8 in Ha Noi, Hai Duong, Ho Chi Minh City. Frontline medical workers are among the first to get the AstraZeneca jab. To date, over 34,000 people across 16 provinces and cities have been administered the first dose.
The country is also negotiating with the US's Pfizer biopharmaceutical company for 30 million doses of Pfizer-BioNTech vaccine in 2021, Health Minister Nguyen Thanh Long said last week. In his statement at the governmental meeting, Long also said along with Pfizer vaccine, the Health Ministry is also negotiating for more vaccines from Johnson & Johnson, Moderna, Russian Direct Investment Fund (RDIF), in an attempt to diversify the source of COVID-19 vaccines in Vietnam.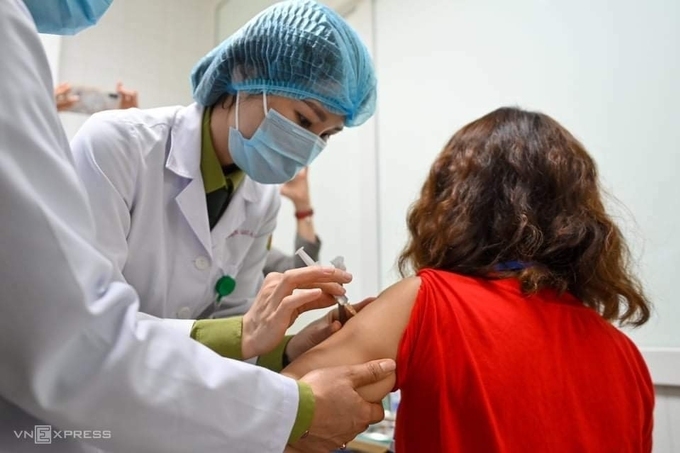 First volunteer to get the homegrown Nanocovax vaccine in Hanoi on February 26 (Photo: VNE)
Meanwhile, the Ministry is expediting the research and development of homegrown vaccines, including Covivac and Nanocovac, which are expected to be rolled out in 2022.
The Minister emphasized that Vietnam's mass vaccination in 2021 has been deployed in a speedy and urgent manner. However, the fight against the pandemic is yet to end, given the advent of new dangerous coronavirus variants.
The COVID-19 situation in Vietnam has been basically put under control, however, there's always imminent risks of new outbreaks, especially in big cities, not to mention possible imported infections from trespassings.
The Health Ministry, therefore, is determined to continue with the 5 anti-epidemic regulations set out at the early stage of the pandemic: "prevention, detection, isolation, zoning and suppression"; strictly control border entry.
The country itself is also proactively trialing its local-made COVID-19 vaccines. On March 15, six volunteers have received the first dose of the homegrown Covivac vaccine. The first one is NanoCovax which is produced by Nanogen Pharmaceutical Biotechnology JSC and entered the second phase of human trial. The Ministry of Health said that it purchased insurance worth VND 40 billion (US$ 1.7 billion) for all volunteers taking part in the Covivac vaccine trial.
According to Thuan, if Covivac is successfully produced, along with the Nano Covax vaccine, Vietnam could take the initiative in COVID-19 sources and export abroad in late 2021, early 2022.
Vietnam has recorded no new cases in the last 24 hours, marking 5 days in a row that no community cases were recorded, according to the Ministry of Health.
The Ministry of Health also informed that from March 24 to 28, inspection teams would be formed in 5 high pandemic risk provinces and cities: Quang Ninh, Hai Duong, Ha. Noi, Ho Chi Minh City, Tay Ninh to deploy vaccination plans. The team would the training, preparing, storing, transporting works in each vaccination site to ensure safety.