Vietnamese expert inspires 100 Japanese technology students
Nearly 100 students from 10 universities in Japan attended the Industry Lecture recently organized by FUNiX Japan.
Le Viet Gia Khanh, Developer Advocate from Google Japan.
In the first issue of the series of events, speaker Le Viet Gia Khanh, Developer Advocate from Google Japan brought interesting sharings about Edge AI's application at Google. In particular, his own inspirational story: From a physics student, through self-study, he entered the world of technology and became an engineer at Google, after graduating from Tokyo University. He is currently an expert in machine learning, web/app development and ERP. In addition, he is an active Machine Learning speaker of "Tensorflow", a channel YouTube with over 3 million subscribers.
During more than an hour of talking with students of FUNiX Japan, Khanh confided valuable principles and work.
According to Gia Khanh, each person needs to think and have an opinion and a firm stance or else they will be swept up in the opinions of others. This helps you to make the right, appropriate decisions that only you can properly evaluate.
"After graduating from Tokyo University, most of my classmates went on to graduate school. In the face of pressure and opposition from those around me, I still maintained my point of view, clearly defined what I wanted to do at that time and decided to apply for a job instead of a higher education path. After 9 years looking back, I have never regretted that decision,'' Khanh said.
Nearly 100 students from 10 universities in Japan participated in the lecture.
Citing the results of a scientific study that said that it takes about 100,000 hours for people to master a certain skill, Khanh mentioned his own experience in his career, such as hours of studying and practicing Japanese to achieve flunecy. Now he can deliver speeches in front of Japanese audiences. He has worked hard to go from an inexperienced person to a Google Developer advocate. However, efforts are not enough, need to be "smart" - know how to apply technology to work to get fast and accurate results.
"I think that later, in the same job, the results between those who can apply technology and those who cannot apply technology will have a marked difference. Students, whether they are studying engineering or not, should equip themselves with programming knowledge," he advised.
When discussing the benefits of self-discipline, Khanh said that regularly self-studying and updating knowledge helps you quickly catch up with work in any environment, any project.
"It is recommended to study in English so as not to fall behind. Websites that update a lot of new knowledge like Coursera are a reasonable self-study source for anyone," said the speaker.
Suggesting learning and working advice for those who follow the direction of a programmer, Khanh said that it takes the average person about a month to learn the most basic knowledge about a programming language, three months of practicing to be able to do it.
Industry Lecture is FUNiX Japan's major event series this summer, held for Japanese technology students and open to an audience interested in new technologies such as AI, Machine Learning, IoT, Data Science, Blockchain. The program is accompanied by the GTI Consortium and FPT Japan.
The program is organized in the form of a lecture and an exchange between a speaker (an industry expert) and an attendee. Unlike conventional lecture programs, Industry Lecture focuses on providing knowledge and information on how new technologies are being applied in the real world of businesses. At the same time, this is also a bridge to create opportunities for Japanese students in general and FUNiX students in particular to connect with leading technology experts. The series of events is expected to be held every 2 weeks, lasting from May to July 2021.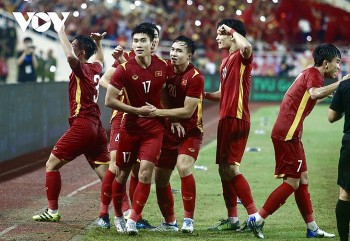 Viet's Home
The Vietnamese football team, both male and female, played their best, devoted themselves, united, and promoted the collective spirit, successfully defending their SEA Games champion title.