Vietnamese in the United States "loyal" to face masks despite loosened regulation
Many Vietnamese people in the United States still wear face masks to protect themselves although the U.S Center for Disease Control (CDC) has allowed those receiving two Covid-19 vaccine shots to remove face masks in most public spaces.
"Of course everyone is happy to take off face masks after a long time," said Xuan Quynh, a Vietnamese student at Boston University in Newton City in Massachusetts. "However, my friends and I feel quite confused with the new CDC's guidance."
The U.S CDC on May 13 updated its guidance on permitting those fully inoculated to remove face masks in most public spaces. Receiving two Moderna vaccine shots, Quynh is eligible not to wear mask.
Nevertheless, Quynh still feels confused and worried because CDC didn't issue specific instructions and regulations on how to distinguish between those vaccinated and yet vaccinated.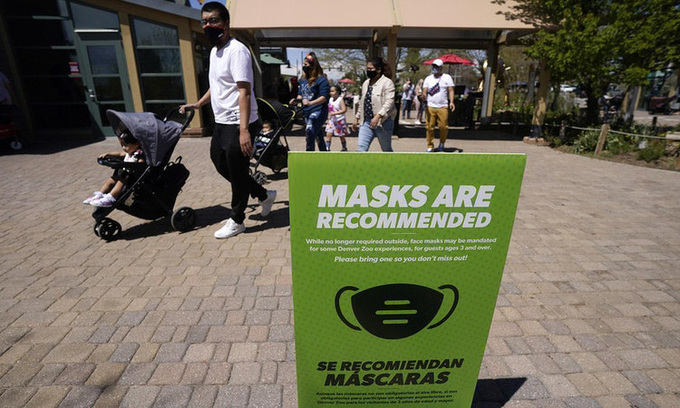 Visitors wear masks even though it is no longer mandatory at a zoo in Denver City, Colorado. Photo: AP
"I feel nervous because there is still a small percentage of those yet vaccinated spreading the disease to those vaccinated. I think public spaces such as restaurants or supermarkets only should allow people with vaccination certificates to take off face masks," Quynh told VnExpress.
Quynh added that CDC was hasty to change the regulation on wearing face masks because the United States hadn't given vaccine to all of its citizens.
"Children haven't been injected. It will be hard to force them to don face masks while their parents can remove," Quynh said.
Quynh asserted that she would continue wearing mask when communicating with others, except those who got vaccinated she knew well.
More than 160 million Americans (about 48% of the population) have been administered at least one vaccine dose and nearly 127 million people (about 38% of the population) have completed the inoculation, according to CDC. People vaccinated against Covid-19 still may be infected with the virus. As of May 10, the United States has recorded 1.359 Covid-19 cases among 115 million people who got vaccinated.
Several experts emphasized the new CDC's guidance was issued based on the increasing effectiveness of vaccines. Three vaccines licensed in the United States include Pfizer, Moderna and Johnson & Johnson have shown highly effective against SARS-CoV-2 strains and protect patients from getting critically ill and dying.
Henry Walke, a member of CDC, said the vaccine's effectiveness and the decline in Covid-19 infections have proved the CDC's decision "right and timely."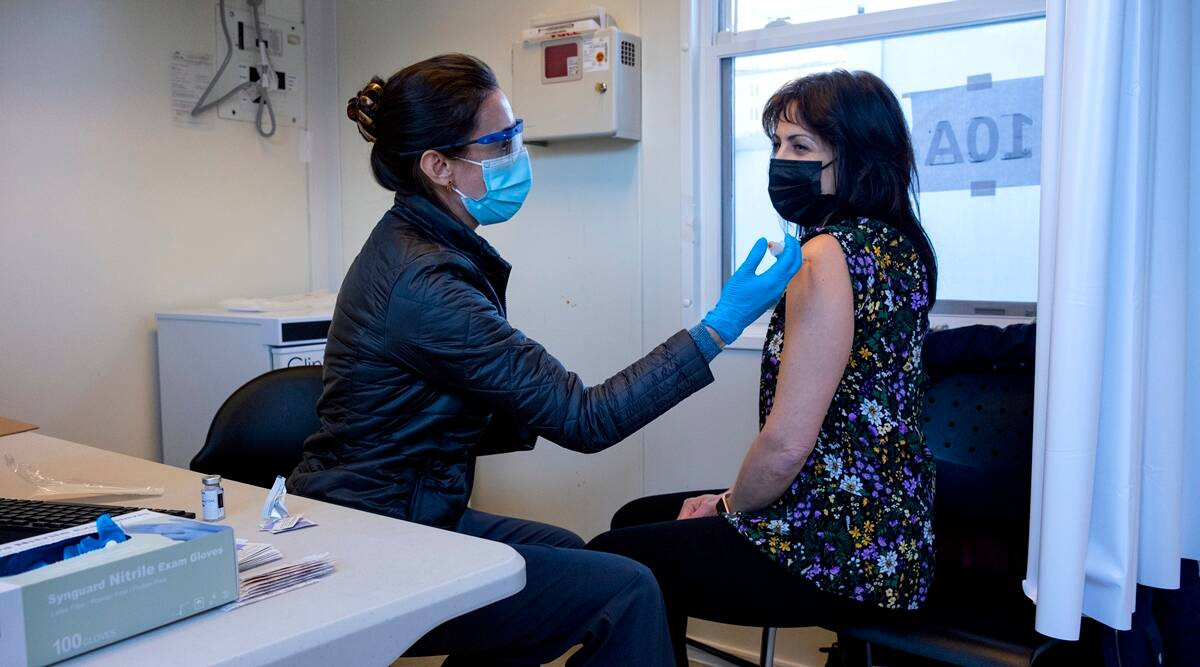 A person in the United States receives Covid-19 vaccine. Photo: AP
Nevertheless, many Americans and Vietnamese expats in the country said they would "loyal" with wearing face masks.
"In spite of new CDC's decision, my family and I still wear face masks and maintain a safe distance when going out," said Thu Trang, a master's student in English language teaching at Michigan State University (MSU) in East Lansing City.
Thu Trang and her husband were injected Pfizer Covid-19 vaccine which is believed to be 90% effective against Covid-19. Trang feels quite secure after receiving vaccine, but, she is still concerned about the virus variants.
Despite arousing controversy, the new CDC's regulation on wearing face masks is considered a major turning point in Covid-19 fight in the United States.
About a 15-minute drive from Houston in Texas, Phuong Nguyen, an insurance worker in Sugar Land City, said wearing masks mainly depended on each individual's awareness. He added that even during the Covid-19 time, many regions could not force their residents to wear face masks.
Having to come into contact with many people, Phuong said he "had no choice but wearing mask" every day.
Phuong added after receiving two Pfizer vaccine doses, he felt more secure and confident when meeting clients whether they were wearing masks or not.