Vietnamese international student becomes billionaire in the U.S
As a Vietnamese international student, Pham Dinh Quoc Vuong (30 years old) is currently the CEO of an American business with a turnover of up to 10 million per year.
Pham Dinh Quoc Vuong left his hometown when he was 16 years old, and studied abroad in the cold state of Minnesota in North America. He had no money, few English skills, and had to stay at his uncle's house. But after 5 years, Vuong felt confident enough to start his business.
By the end of 2020, Fastboy Marketing Company (headquarter at Houston City, Texas), Vuong's business is ranked 834 among the top 5,000 fastest growing enterprises in America.
Early Success and a Run-in with the Law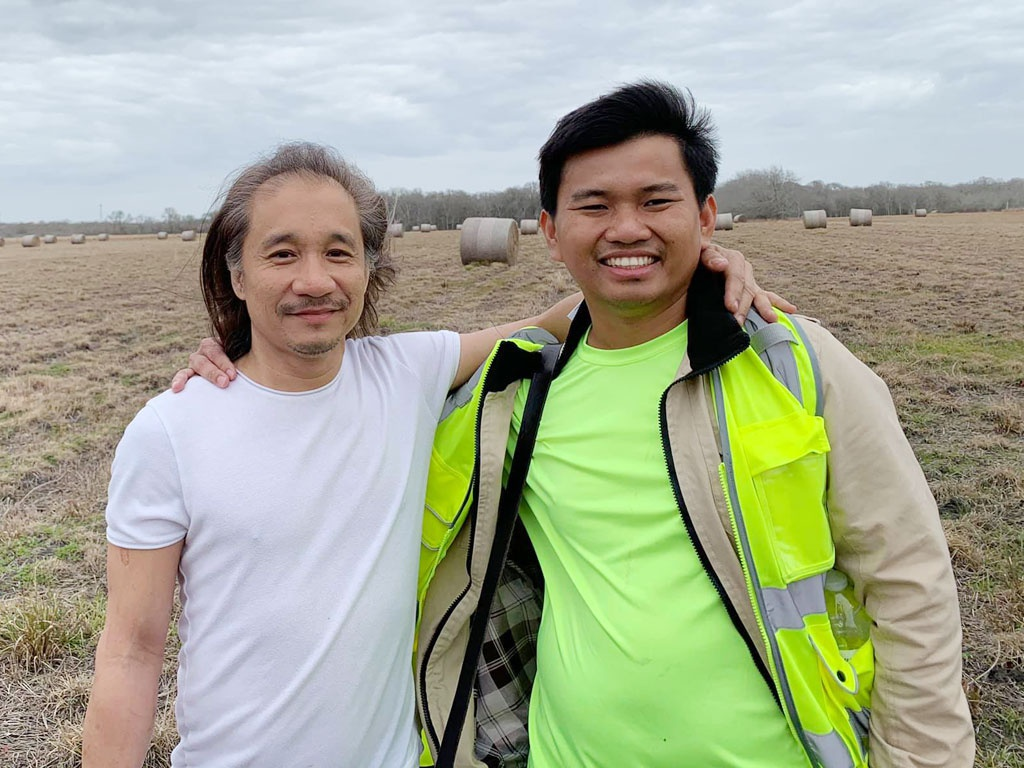 Vuong and billionaire Charlie Ton Quy at Vuong's farm (Photo: Thanh Nien)
From his first days living in the U.S, Pham Dinh Quoc Vuong love exploring the secrets of business on the Internet. One day, his cousin asked Vuong to sell an old video game on eBay, and Vuong could sell it at any price he liked, just remembered to give him back USD 5. Vuong sold it at a price of USD 36. He was surprised that an old item could be sold at such a price.
The idea of opening a business began to bloom in the young boy's head. Vuong asked his brothers to buy all the old PC gamings at school. After that, Vuong made a profit of nearly USD 5,000. After the old video games, Vuong continued to sell other items as well, or stuff that people bought but not used. A whole new opportunity opened before his eyes.
"After mastering how to buy and sell items online, I actively looked for different suppliers, ordering straight from the original sources, and selling the items online. The profit that I had from them could be much higher than the original prices", he recalled.
Graduating from high school, in the first year of university, Vuong kept on both studying and doing business… But when everything began moving smoothly, Vuong got himself into trouble. Since he did not understand the laws, Vuong did not pay the tax even though he had high income and still withdrawed money from the bank in a large amount. Until one day, he received a call from the police, telling him that he had violated many laws, paralyzing the young entrepreneur in fear.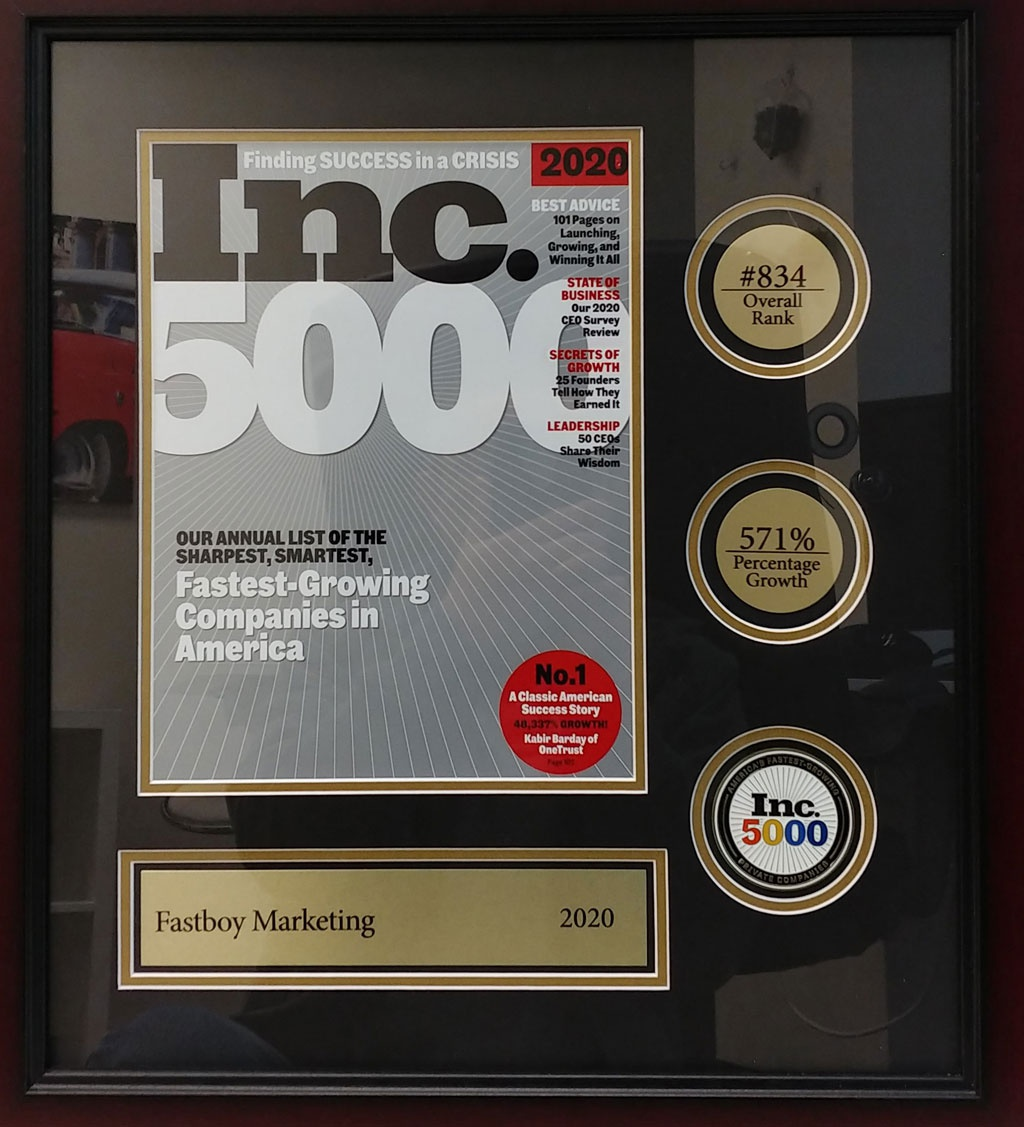 Vuong's business is ranked 834 among the top 5,000 fastest growing enterprises in America. (Photo: Thanh Nien)
Following that was a long and painful process of working with the lawyers and law agencies, which interrupted his study and business. Making matters worse, all of his bank accounts were locked. It felt like the world was crumbling around him. Fortunately, Vuong's story has a happy ending.
"The lawyers help me getting out of the worst case. And those stormy days have taught you a lot about American business law," Vuong shared.
"Growing together"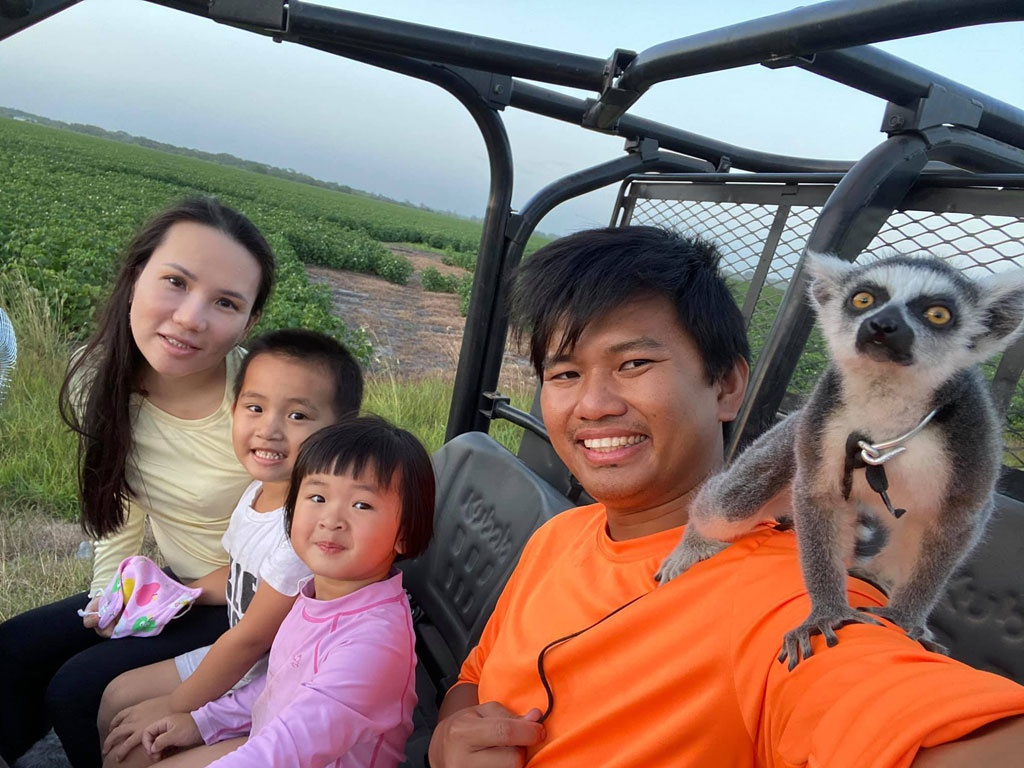 Vuong with his wife and the two children (Photo: Thanh Nien)
Apart from daily working, Pham Dinh Quoc Vuong is very modest and humble. He does not enjoy drinking alcohol or any expensive hobbies. Vuong owns many farms that are hundreds of hectares in length, with forests, lakes and rivers, and swamps. He loves his farms and enjoys this lifestyle since it is a reminiscence of his childhood memories of his hometown in Vietnam. Every weekend, Vuong and his family play in the fields and go fishing together. He teaches his kids to love and respect nature at an early age.
During a meal with his staff, Vuong quietly took out his favorite food – Caramelised silver perch in the clay pot, complimented with boiled cabbage and white rice – familiar Vietnamese plates that are always present on his dinner table.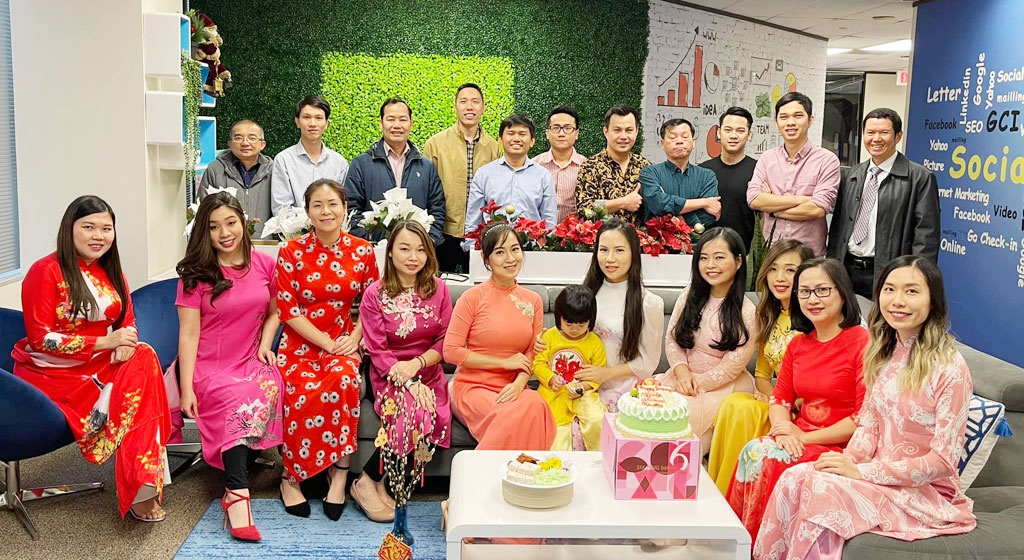 Vuong and his employees celebrating Tet holiday (Photo: Thanh Nien)
After working long, tiring hours, Vuong's favorite activity is reading. There is a large bookshelf in his office with multiple types of books, from novels to sci-fis that he brought with him when he left Vietnam. To Vuong, books not only bring useful knowledge but also save him from breaking down in the hardest moments in his life.
Vuong also has his own Youtube channel (www.youtube.com/user/vpham022012) where he shares all of his tips and lessons in doing business, even his failures. It is followed by a lot of young people because of his friendliness and humble that came from his years of experience.
When asked about his life motto, he shared: "Years ago, I moved to America with two bare hands, no money, I just wish I could go to school and have a stable job. Now when I finally achieve this life, I want to share it with other people. Young employees who applied to my company will be helped and given the opportunity to grow and have a better life. Our goals in the future are to further bring our technology, marketing strategies and promote our business to Vietnamese companies, so we will all grow together".
Vuong often helps people in difficulty, giving them a temporary place to sleep. He has several mobile homes across his farms, and those homes can be a safe place for an old driver, a chef, or even an immigrant family,
Every year, Vuong visits his hometown with his family, doing charity and sharing his work with the community. When asked about this, ever-modest Vuong simply shook his head: "There is nothing to tell".
Spent USD 10,000 on… a stray dog
Vuong loves dogs, and he rescues stray dogs on the streets and brings them home. One time, Vuong saw an injured stray dog on the road, with its eyes blinded and its legs were broken. He immediately took it to the vet, and the price for treatment was high, but he was determined to save the poor animal. Finally, he brought the dog home to his farm, with a USD 10,000 vet bill!