According to Youngster (thanhnien), on August 19, social networks stirred up the image of a man carrying a large cobra sitting on the emergency bandage. It is reported that this man was bitten by a snake and took it to the hospital for further treatment recommended by doctors.
When it comes to this case, Dr. Nguyen Thai Binh (Deputy Director of the General Hospital of Tay Ninh province) confirmed the authenticity and revealed that the patient has been transferred to Cho Ray Hospital (HCMC) for further treatment. The snake attacking him was identified as a 3-meter-long king cobra with 4.5 kg in weight.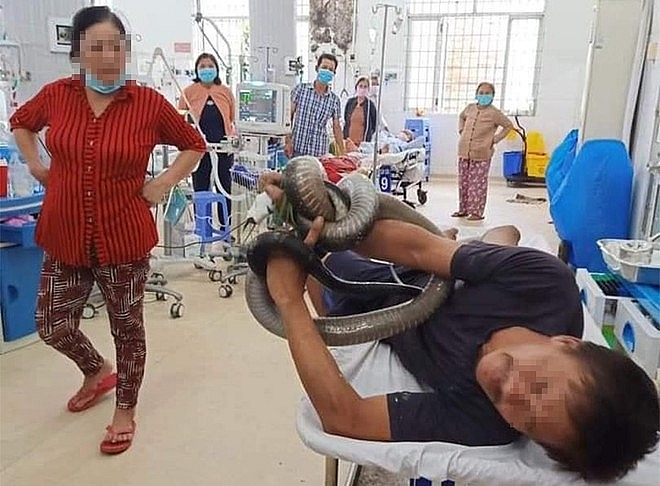 Mr. T and the snake at the emergency room. Photo: Screenshot.
The patient named P.V.T, 38 years old, lives in Tan Loi, Tan Hung commune, Tan Chau district, Tay Ninh province. He was taken to the emergency room by his family at the General Hospital of Tay Ninh province at 8:00 am on August 19. Initially, officers noted that Mr. T. was bitten by a king cobra in his right thigh. The patient self-rotates above the snake bite before being admitted to the emergency room.
Dr. Binh also added that the patient was admitted to the hospital in a state of consciousness, steady breathing but his right leg turned purple and bleeding. Doctors basically treated and cleaned the wound.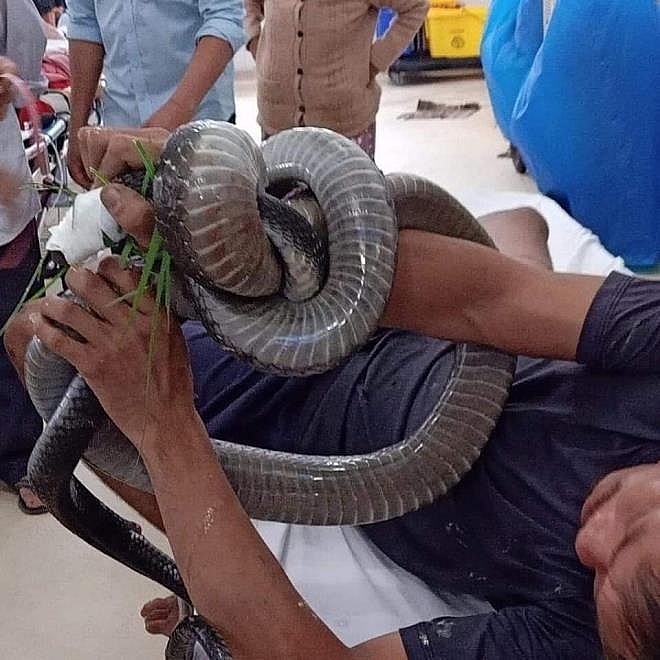 The snake caught in patien's arms. Photo: VTC News.
Dr. Binh also added: "Initially, the patient was very awake, but he quickly bore shortness of breath and needed mechanical ventilation. Diagnosis showed that he suffered from respiratory failure due to the bite of a king cobra. He was immediately transferred to Cho Ray Hospital".
According to the patient's family members, about 7:30 a.m. on August 19, when working in a garden in Suoi Da commune, Mr. T. discovered the snake and decided to catch. However, the snake suddenly turned and hit Mr. T.'s right thigh. After the occurrence, he caught the snake's head and informed his family to take him and the snake to the hospital.
Ruby Lee