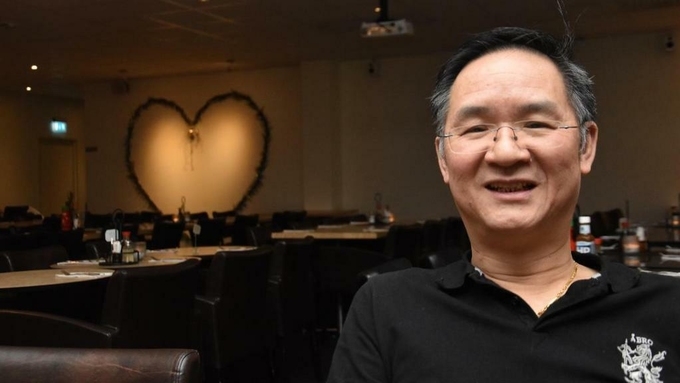 Mr. Sang Phan in his restaurants in Smaland (Photo: Smålands Tidningen)
His wife, Phuong Pham lives in Nassjo city, Smaland province, southern Sweden, told Smålands Tidningen that Sang fell ill on April 10 after suffering from dry cough for a long time.
She had called 1177, the Swedish medical hotline number to report her husband's health situation including fever, cough, and shortness of breath. However, the medical staff turned him down and asked Sang to isolate himself at home until all the symptoms gone, according to VNE.
"He did really want to see the doctors as he was in pain, but he couldn't", Phuong told Social News, adding that her husband didn't want to resist. He followed the recommendations from the medical service and isolated himself in a private room upstairs.
"I went up the stairs everyday to check on his situation, but on April 14 morning, I was startled awake by the ambulance's sound. He had seemingly called the 112 services from his room before he took his last breath", Phuong recalled. "When the ambulance crew came in, he had passed away".
Local press Smålands Tidningen reports one doctor in Hogland hospital confirmed that Sang died from COVID-19.
Sang moved to Sweden 40 years ago and owned a chain of restaurants in Nassjo, including the famous Matlyckan restaurant. He and his wife have been together for the last 16 years.
"It sucks you cannot get any treatment when you desperate for it", Phuong referred to her husband. Yet, she still thanked the ambulance crew for being with her husband for the entire 2 hours and had done their best to save him.
"They even called me and asked how I feel afterward", she said, adding that she would close the restaurant chain as she cannot run it on her own.
Sweden currently has 18,177 infections and 2,192 deaths. Swedish government is handling to COVID-19 pandemic in a very "unusual" way. Sweden has left its schools, gyms, cafes, bars and restaurants open throughout the spread of the pandemic when the novel coronavirus was evading many countries in Europe. Instead, the government has urged citizens to act responsibly and follow social distancing guidelines.
Sweden's prime minister announced in March that public gatherings of more than 50 people are banned as of with violators subject to fines or even imprisonment. The ban is much tighter than the country's previous restriction on groups over 500, but looser than limits imposed elsewhere in Europe.
Sweden's prime minister Stefan Löfven announced in a press conference on April 16 that the entry travel ban in Sweden will be extended for another 30 days, as it was due to end this week. Löfven also urged to do the same on the upcoming Labour Day bank holiday of May 1.
WHO approves made-in-Vietnam Covid-19 test kits

The World Health Organization (WHO) has recognized made-in-Vietnam "LightPower iVA SARS-CoV-2 1st RT-rPCR" test kits manufactured by the Military Medical University and Viet A Corporation ...
Jasmine Le