Vietnam's fried breadsticks and Pho in the journey the conquere taste
If dry pancake makes a perfect side-dish in central Vietnam, "Quay"- fried breadsticks, fried dough or finger-shaped souffle, however, is a must-have to savor with the iconic Pho in Hanoi. A simple stick of crunchy cruller has long been living in the culinary world of the capital for decades.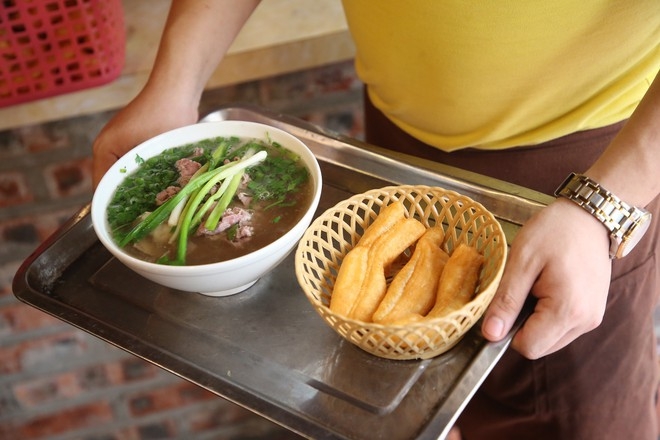 Cruller is a perfect side-dish to eat with Pho (Photo: Thanh Nien)
No one knows exactly when cruller (known as quẩy in Vietnamese) first appeared, but it's apparent that the easy-made fried breadstick was already widely served in the 1970s, 1980s. Today, there's hardly any Hanoians who doesn't know about cruller.
According to Ngo Thi Thu, 67, owner of a notable heirloom Pho restaurant in Hanoi, for many diners, some pieces of crullers are an ideal "starter" to eat while waiting for the hotly-severed broth to cool down.
The right way to eat, according to Thu, is to dip the crullers into the broth. Some eat crullers before starting with the noodle and the broth, others prefer to enjoy all the cruller, beef, noodles, and broth in one bite. A few people, however, "save the best for the last". Once done with all the noodles and beef, they would dip all the crullers into the broth and enjoy a whole "bowl of cruller". Squeezing some lime or chili sauce and try the food like eating a snack is also recommended.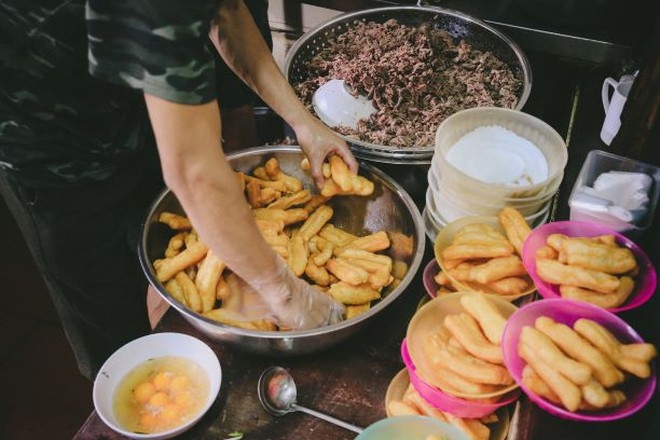 If dry pancake makes a perfect side-dish in central Vietnam, the cruller, however, is kind of a must-have food eaten with the iconic Pho in Hanoi (Photo: Thanh Nien)
"Most of my customers are blue-collar workers who would call a large portion of cruller to eat with Pho. Given the strenuous working nature, a bowl of Pho only might not be enough for them. Couples of crullers, thus, would make them full until late afternoon", Thu explained.
Each cruller stick is reasonably priced, sold at only VND 3,000 – 5,000. Diners normally order from 3-5 sticks at a time, but it's totally up to you regarding how many crullers you want to order.
The ubiquity of cruller is not only apparent in Pho. Cruller is a must-have food for many other watery dishes such as Bun, Mien, (vermicelli), porridge, etc. The stick is also sold as a yummy, crunchy snack in many corners.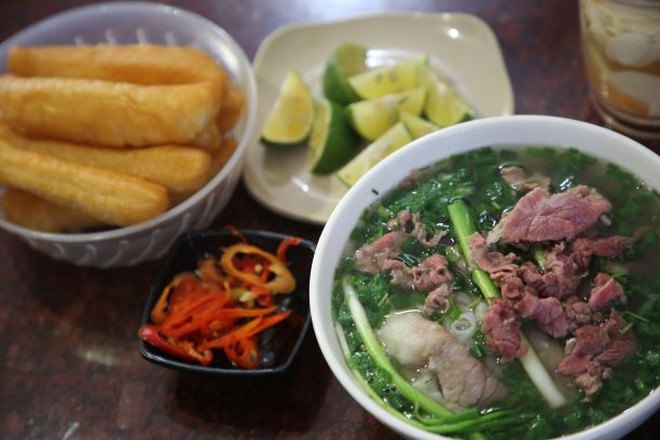 Photo: Thanh Nien)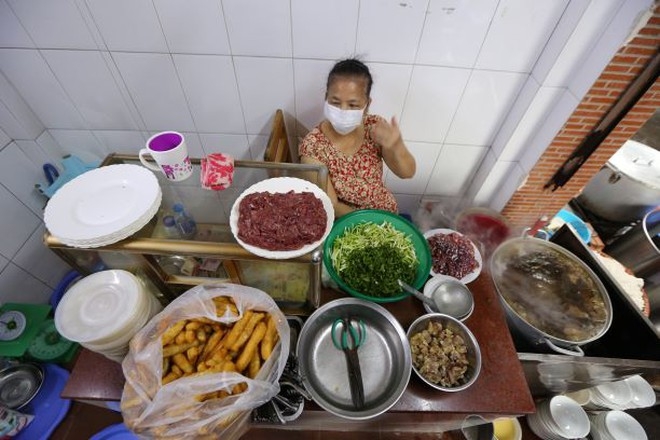 A Pho restaurant in Hang Giay, Hoan Kiem, Hanoi has a large bags of crullers ready to serve (Photo: Thanh Nien)
Flavorful specialties in Central Vietnam

Bridging the North and the South, Central Vietnam is both the paradise of stunning landscapes and diverse cuisine, which will surely touch every tourist's heart.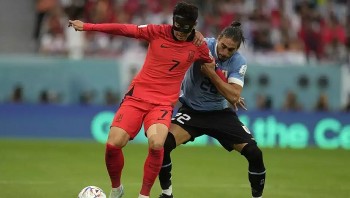 World
Both South Korea and Ghana are searching for their first wins at this year's World Cup. Ghana are facing the prospect of an early elimination from World Cup 2022 Group H when they travel to the Education City Stadium to face South Korea on Monday.