Vietnam's gorgeous cities from a bird-eye view
Vietnam's panoramic stunning landscapes of modern and picturesque cities at night were caught by a Vietnamese photographer while he traveled across the S-shaped country.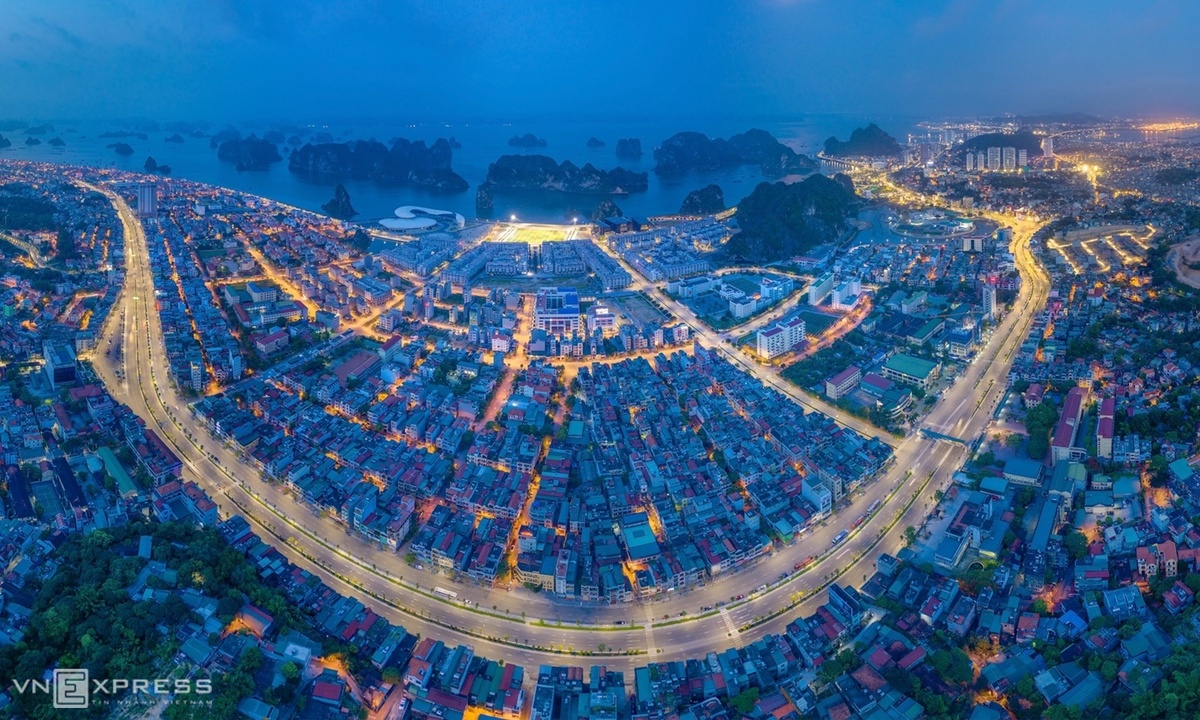 Panoramic view of Ha Long City with Quang Ninh Exhibition of Planning and Expo Center (known as Dolphin Center because from above it looks like a giant dolphin is playing with waves). Photo: VNExpress
Ha Long City is located on the northern coast, with a coastal line of 50 kilometers and the city's Ha Long Bay recognized as a World Heritage Site by UNESCO. One of the city's alluring features is the Tran Quoc Nghien Ring Road Expansion Project (starting from Bai Tho Bridge to the connecting point of Ha Long – Cam Pha Ring Road). The expanded road, stretching 4.7 km, is upgraded to 6 lanes from 4 current lanes. It was inaugurated on May 24, 2020, and got a total investment of more than 600 billion VND.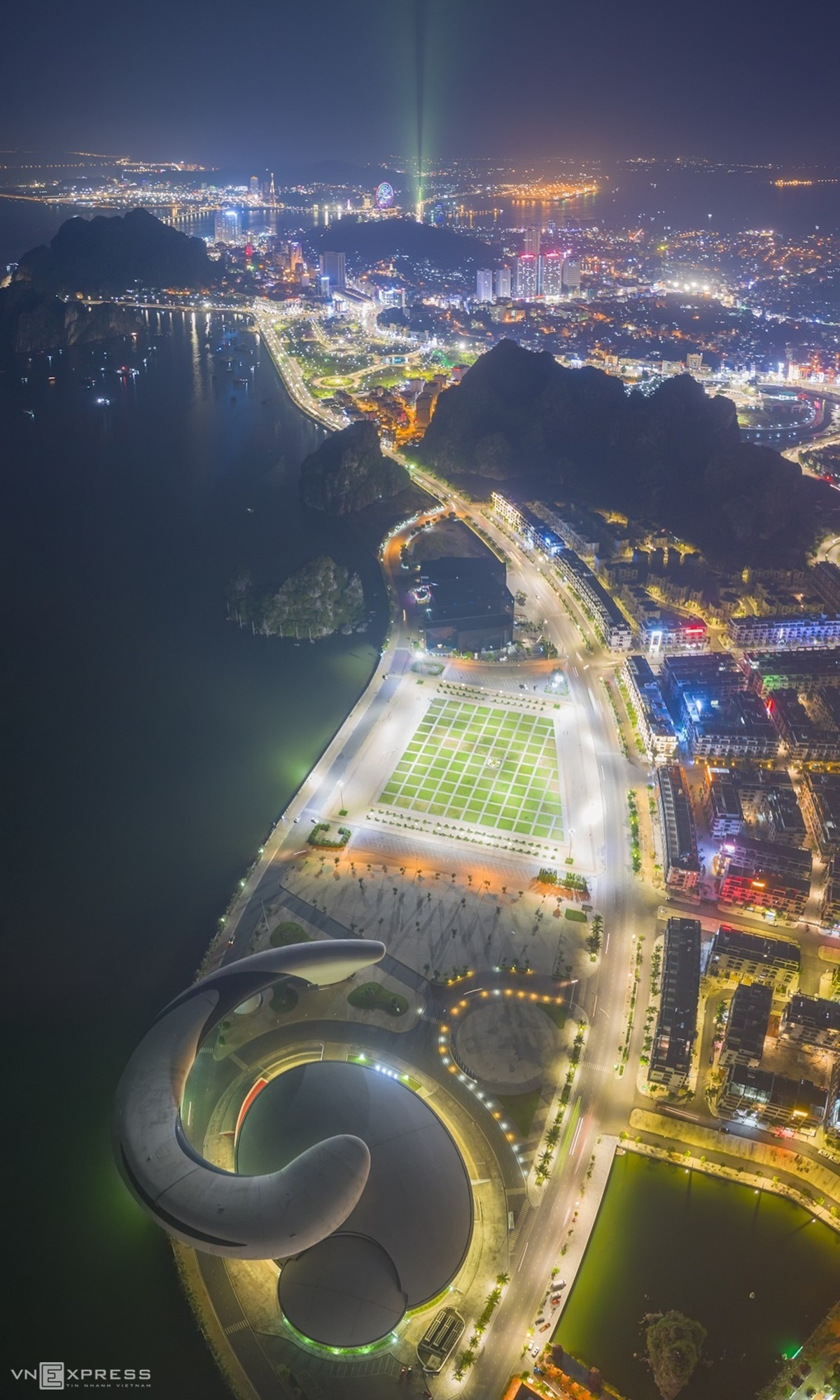 Dolphin Center in Ha Long city (Photo: VNExpress)
Dolphin Center "plays with waves" on the bank of Ha Long Bay. Situated on Tran Quoc Nghen road, Dolphin Center along with the cluster of Museum – Library and 30/10 Square creates stunning and unique scenery.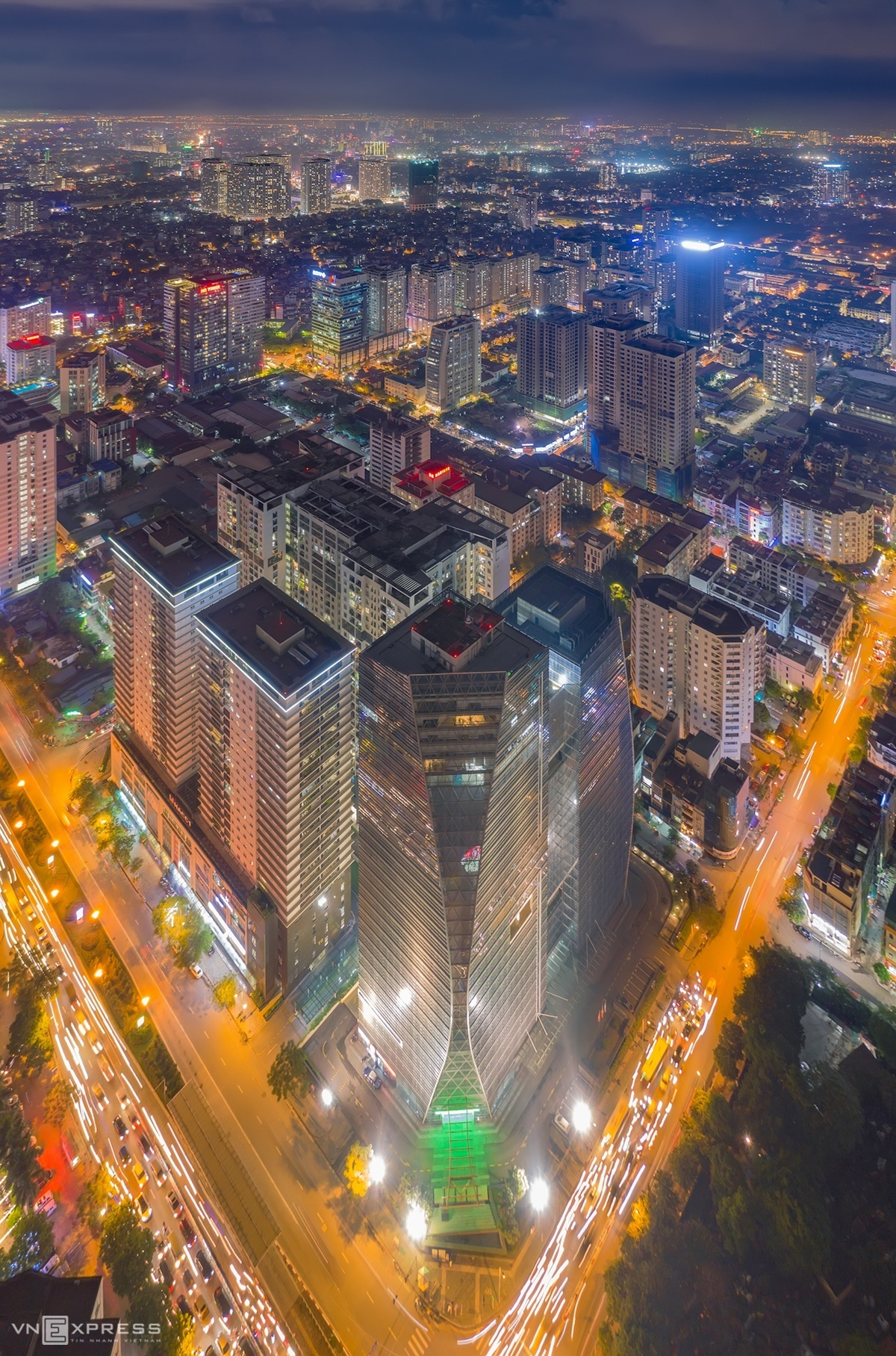 Skyscrapers in Thanh Xuan district, Hanoi (Photo: VNEpress)
Vietnam currently has 5 central-level cities namely Hanoi, Hai Phong, Da Nang, Ho Chi Minh City, and Can Tho, of which Hanoi and Ho Chi Minh City are special cities and Hai Phong, Da Nang, Can Tho are first-class cities.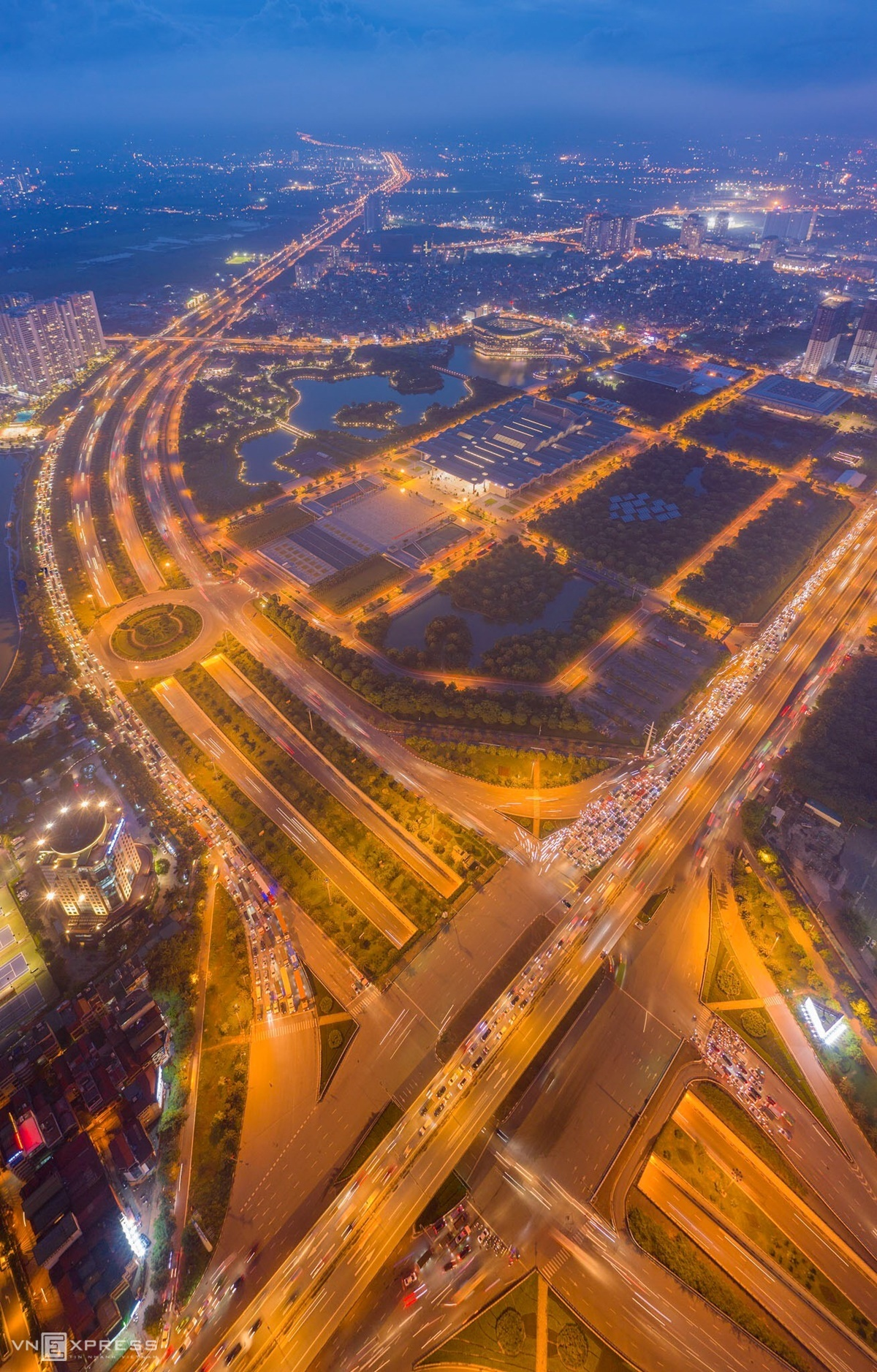 The splendid view of Thang Long Boulevard and the National Convention Center, Nam Tu Liem District at night (Photo: VNExpress)
Thang Long Boulevard is nearly 30 km long, inaugurated in 2010 on the occasion of Hanoi's Millennial Anniversary. Meanwhile, the National Convention Center has the "East Sea wave" shape and built based on the idea of Ha Long Bay cultural heritage by German architect Meinhard Von Gerkan.
As reported by VNExpress, the photo belongs to the series "Beauty of Vietnamese cities from above" by Pham Huy Trung, a photographer of Socom Media. He has spent years traveling from the South to the North capturing landscape of Vietnamese cities and villages.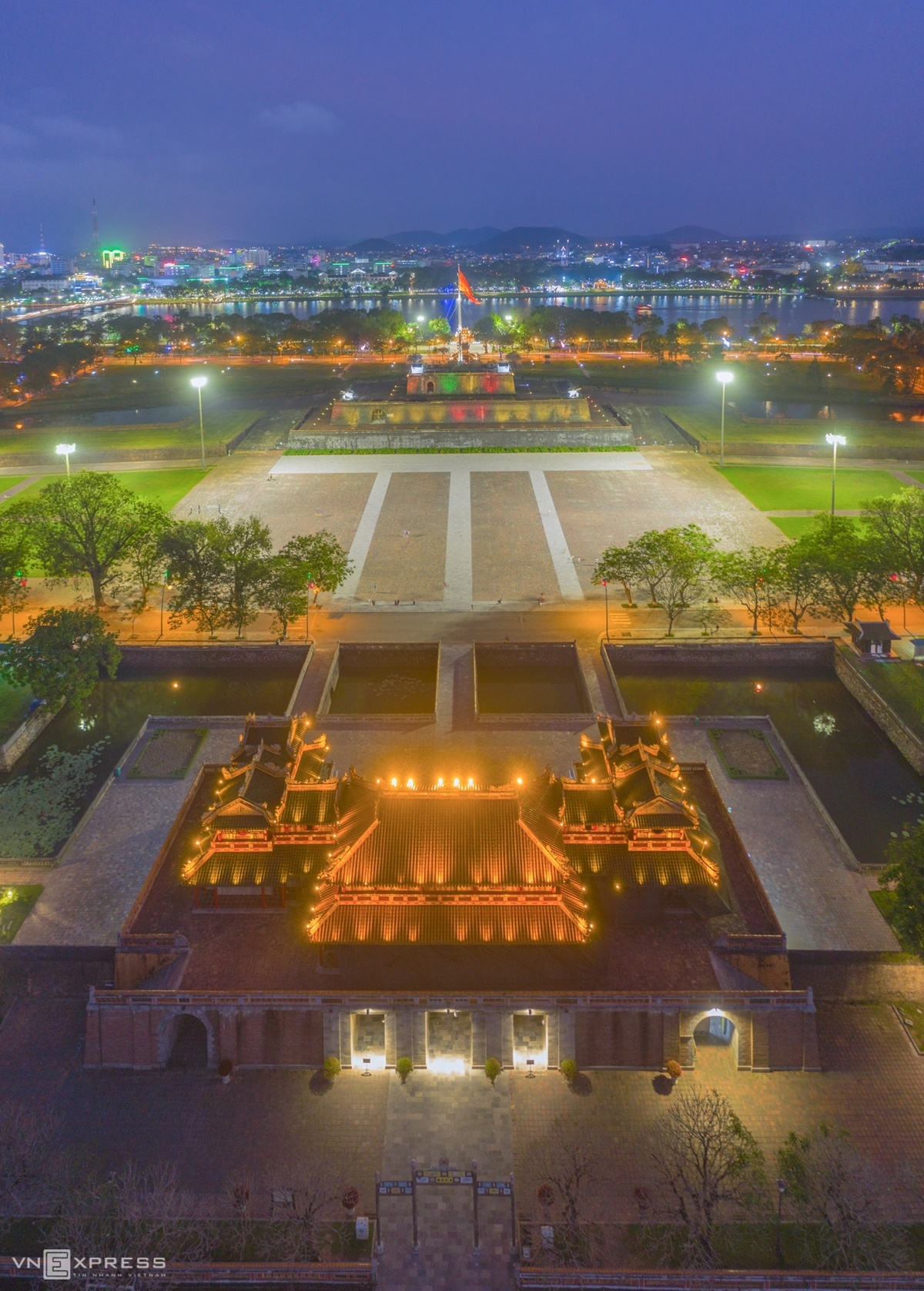 The Imperial City of Hue (Photo: VNExpress)
The Imperial City of Hue (the common name for Imperial Citadel and Tu Cam Thanh) is the most famous tourist attraction of Thua Thien Hue province. It becomes more shimmering under the nightlights.
Hue was regarded as the first-class city in 2005. Hue has diverse natural sceneries such as Huong River, Ngu Binh mountain, Vong Canh hill, and numerous historical and architectural monuments, notably Hue Monuments Complex.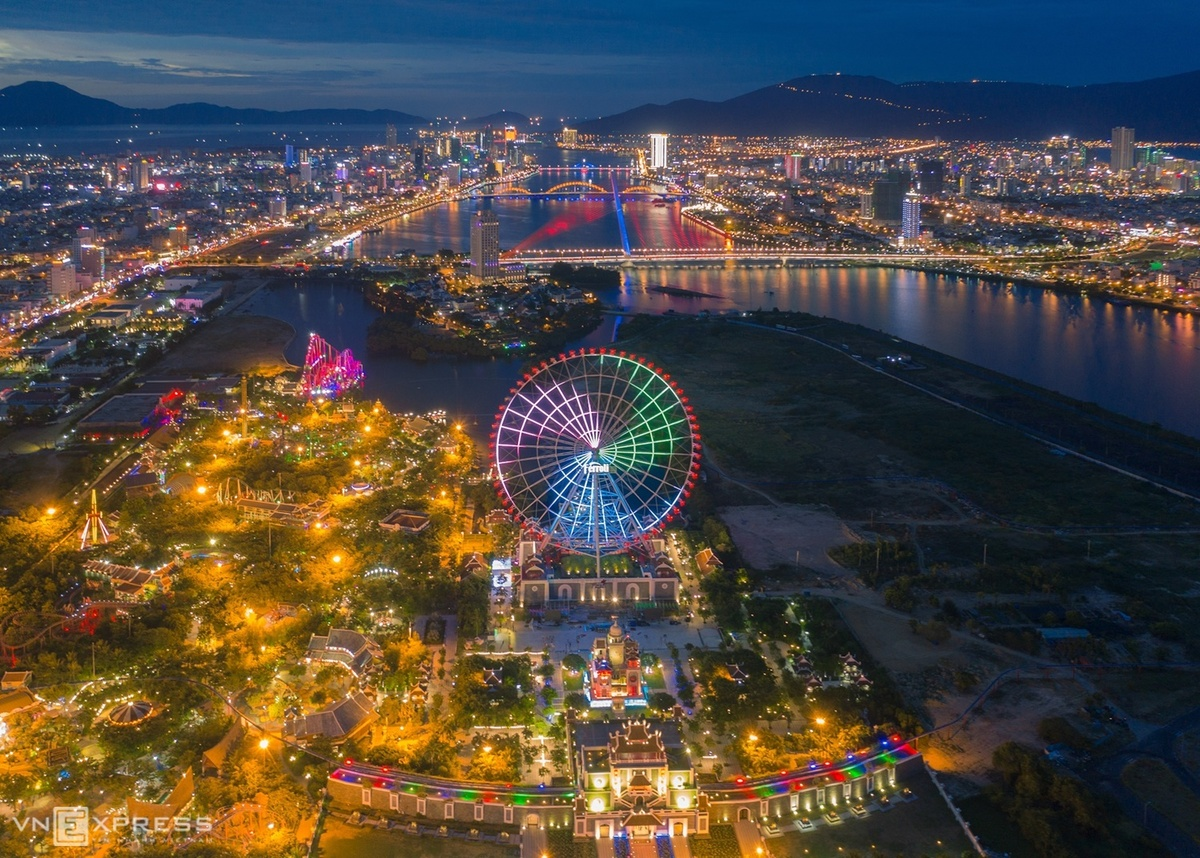 Da Nang is incredibly brilliant at night with the Sun Wheel, buildings, and resorts (Photo: VNExpress)
Da Nang is regarded as "the city of bridges" with Han River Bridge, Dragon Bridge, and Thuan Phuoc Bridge. The Sun Wheel is one of the largest wheels in the world, belonging to Asia Park. Sitting on the cabin, tourists have the golden opportunity to catch the whole view of Da Nang city, added VNExpress.
Da Nang was officially classified into the first-class city in 2003 and the center of the South Central Coast with well-known tourist destinations like My Khe Beach, Golden Bridge, Ba Na Hills, and Asia Park.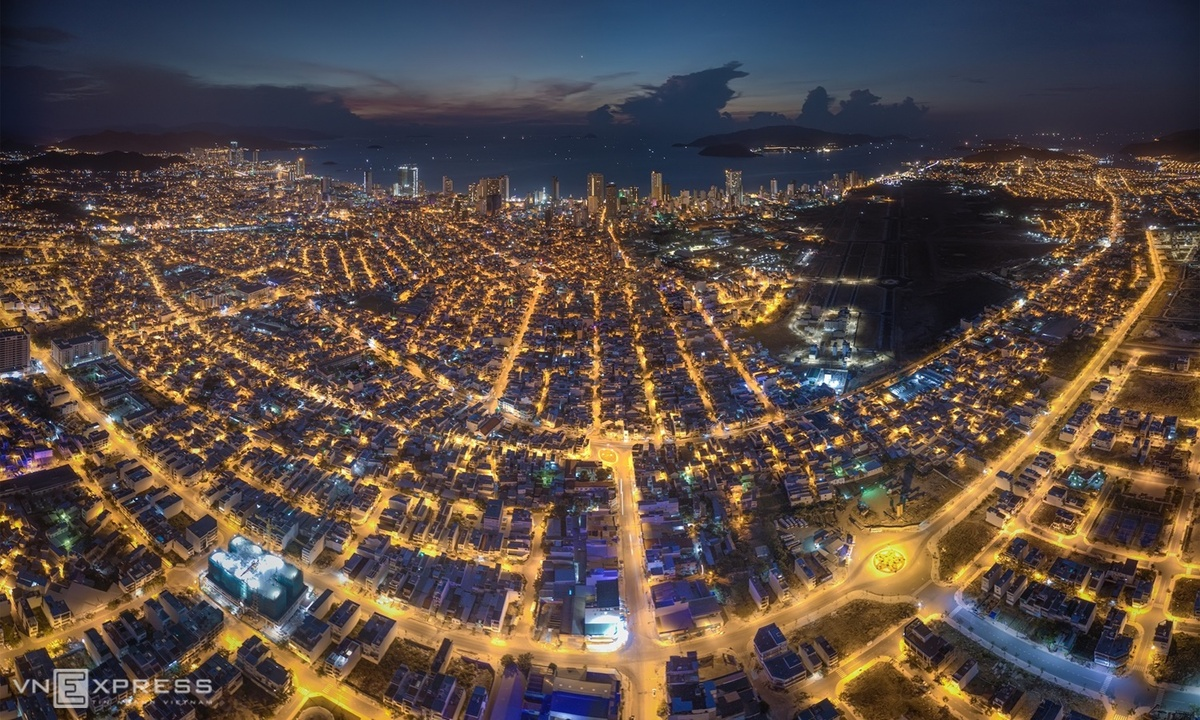 The scenery of Nha Trang city from a bird-eye view (Photo: VNExpress)
Nha Trang is considered as "Pearl of the East Sea" or "one of the most beautiful bays in the world". It is famous for a wide range of pristine beaches, modern entertainment centers, and fresh seafood.
Nha Trang is the capital of Khanh Hoa Province and bounded on the north by Ninh Hoa district, on the south by Cam Ranh town and on the west by Dien Khanh District. On April 22, 2009, Prime Minister Nguyen Tan Dung recognized Nha Trang City as the first-class municipal city.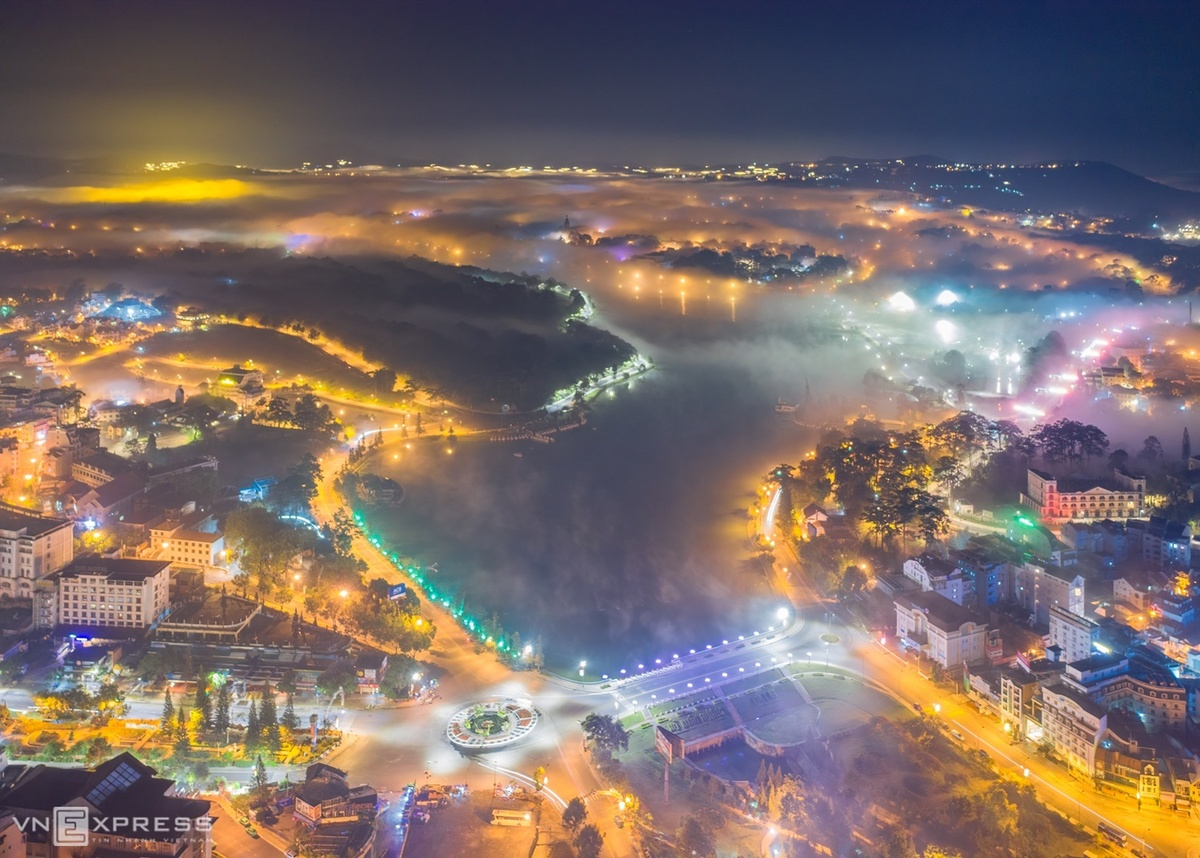 A corner of Da Lat city (Photo: VNExpress)
A corner of Da Lat city around Xuan Huong Lake is extremely twinkling under the evening lights and mist. Da Lat, a city directly under Lam Dong province, was listed as the first-class city in 2009 and sits approximately 1500m above sea level on Langbiang Plateau. Da Lat is renowned with numerous names for instance "the city of flowers", "the city of love" or "the city of fog", revealed VNExpress.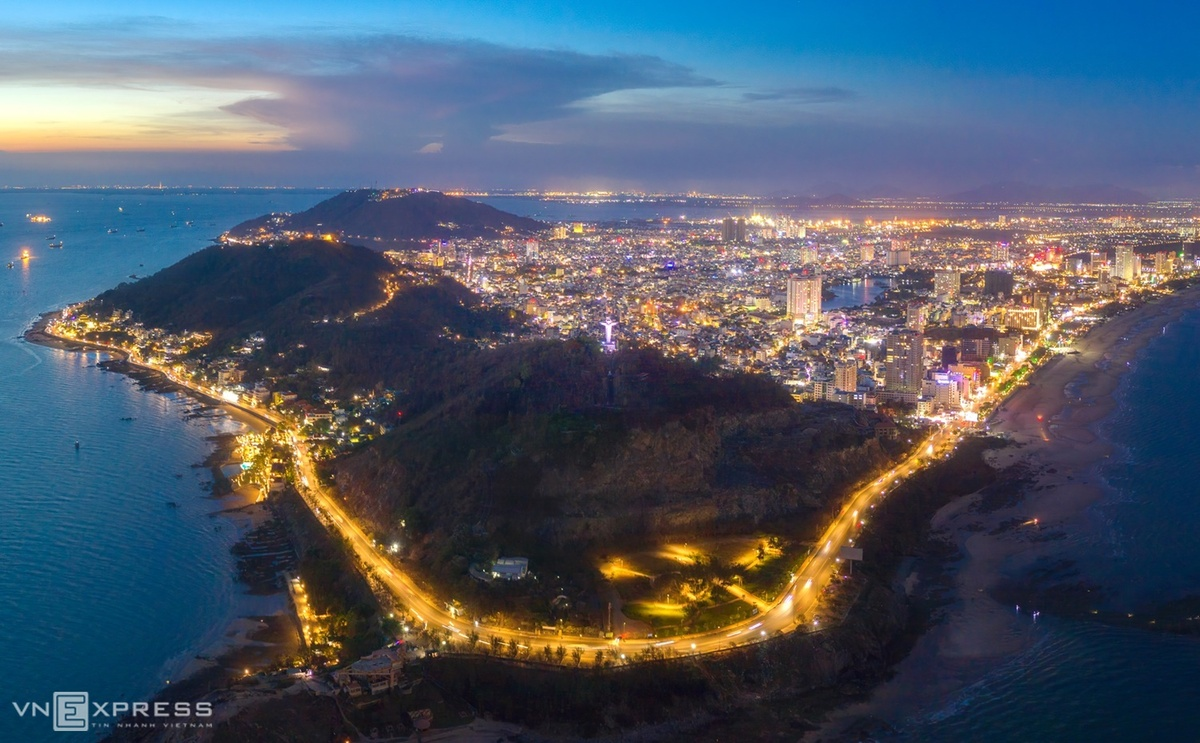 Vung Tau coatal city (Photo: VNExpress)
Jesus's status standing on Nho Mountain (also known as Tao Phung Mountain) is one of the highlights of Vung Tau. It is 32 meters high with two outstretched arms spanning 18.3 meters and completed in 1993.
It is true that Vung Tau is naturally endowed of magnificent beaches for example Bai Truoc (Front beach), Bai Sau (Back beach), and cool climate all year round.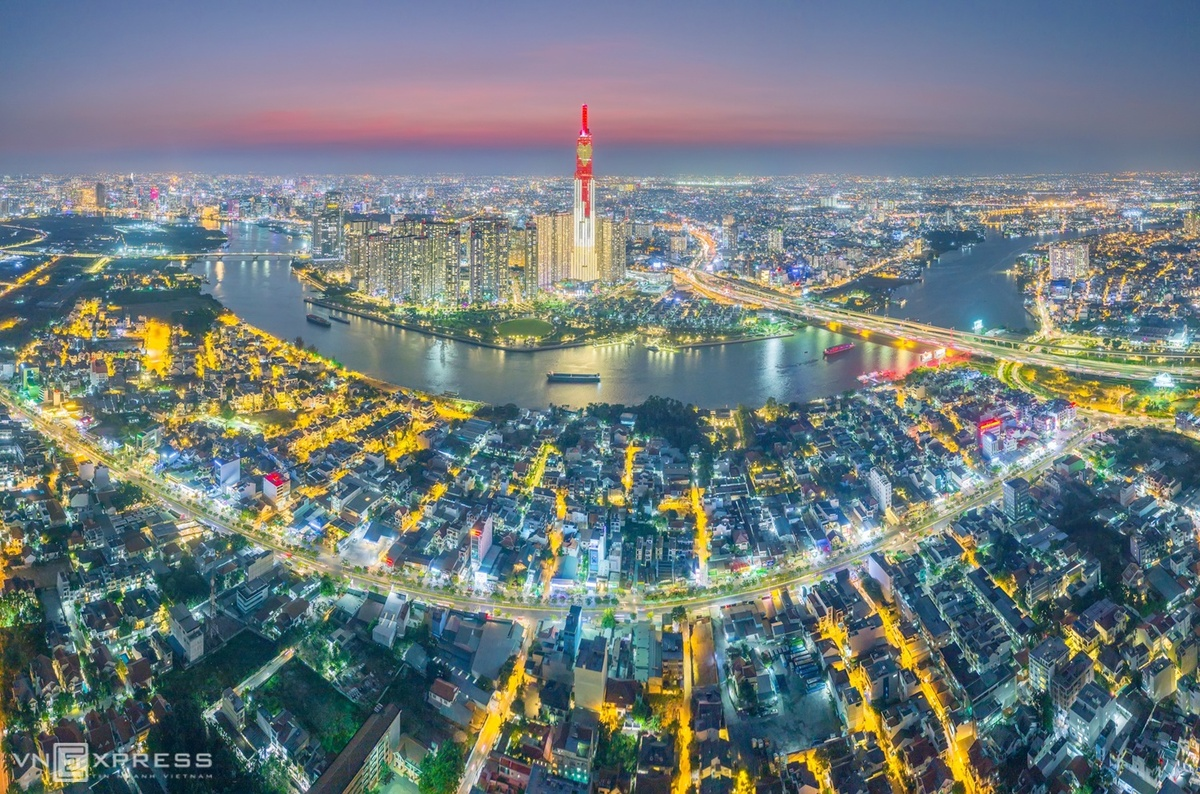 Ho Chi Minh City looks from Binh Thanh district with the 81-story Landmark building (Photo: VNExpress)
With the area of more than 2000 square kilometers, Ho Chi Minh has made considerable advances in urban infrastructure.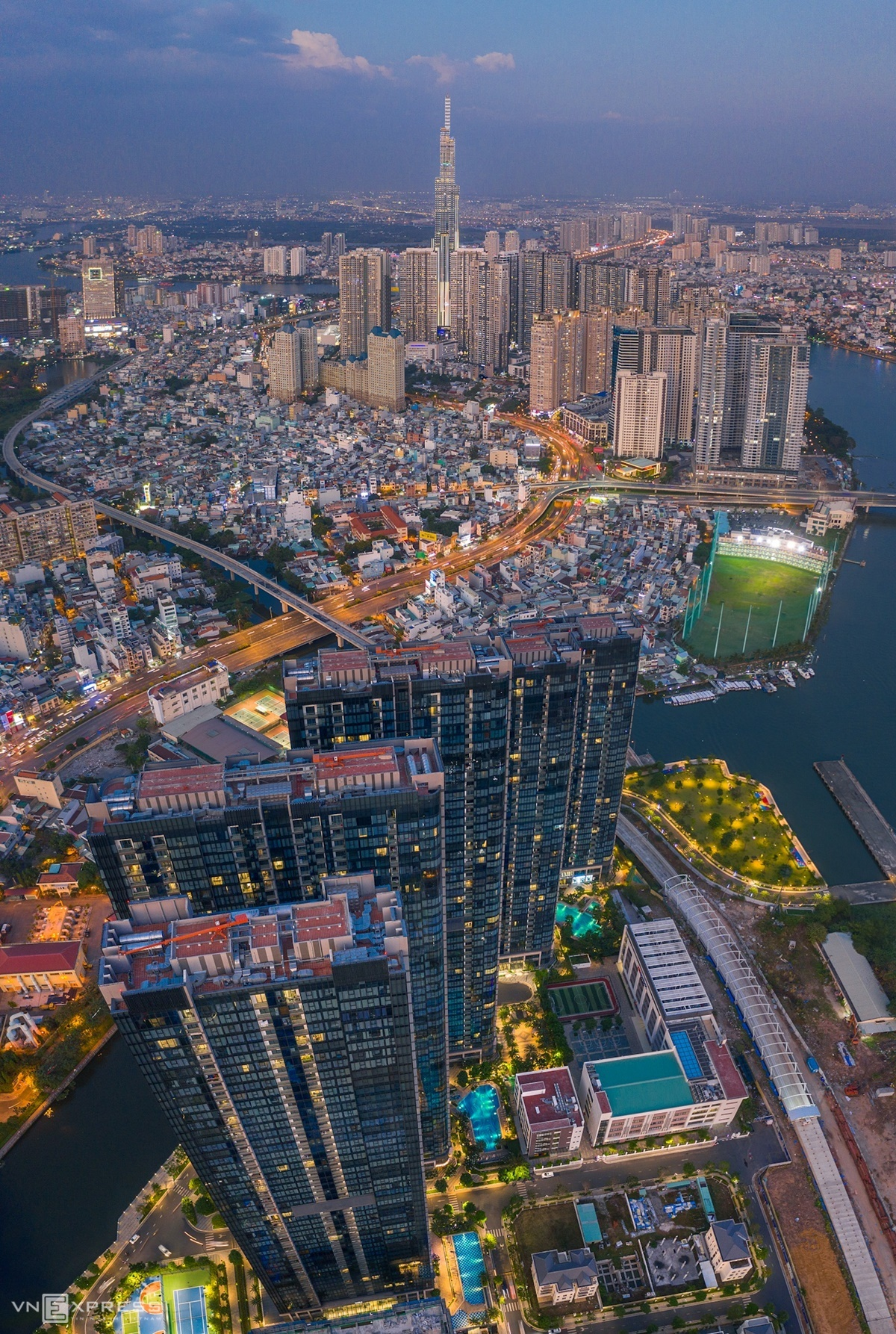 A corner of Binh Thanh district (Photo: VNExpress)
Sai Gon is really modern and bustling. It is the business and financial hub of Vietnam, with a prominent history going back hundreds of years. Opera House, Central Post Office, Nha Rong harbor, Independence Palace, etc are must-see destinations when coming to Sai Gon.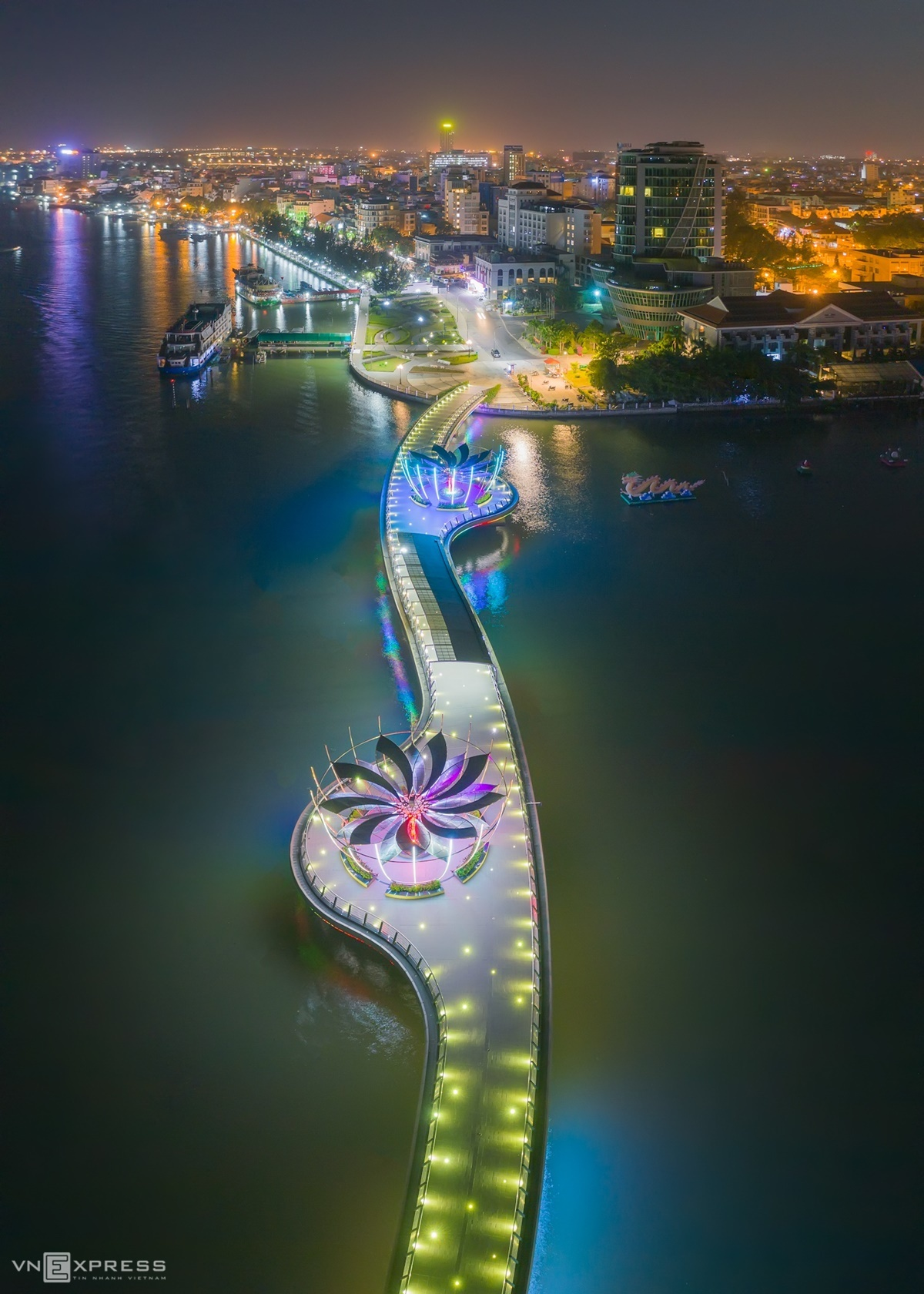 Ninh Kieu pedestrian bridge in Can Tho city (Photo;VNExpress)
Inaugurated and used on February 6, 2016, Ninh Kieu pedestrian bridge(Can Tho) has attracted the attention of both local residents and tourists. It is 199 meters long, 7.2 meters wide, and curved S-shape. The bridge's body is expanded with two lotus flower statues.
According to VNExpress, Can Tho is the biggest city of the Mekong River Delta, identified as the first-class city in 2009. Going to the "white rice and clear water" region, travelers can visit Ninh Kieu wharf, Cai Rang floating market, Binh Thuy ancient house, and enjoy different kinds of fresh fruits at the gardens.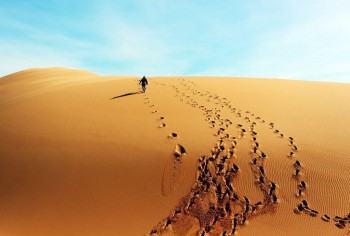 Multimedia
Hoa Thang is a famous tourist destination in Binh Thuan, consisting of many beautiful sand dunes. It is considered to be Vietnam's largest desert.