Vietnam's Localites get Supported in Covid-19 Fight
The Covid-19 pandemic is a global threat that does not recognize borders. It will only be overcome through coordinated global action.
The outbreak of the Covid-19 pandemic has seriously affected the socio-economic life of people, especially children in difficult circumstances. Faced with this situation, many sides have extended a helping hand to support those who are facing hardship due to the pandemic in Vietnam.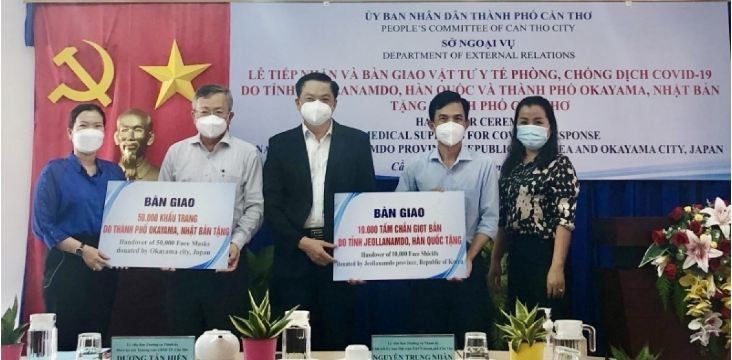 At the hand-over ceremony. Photo: VOV
Jeollanamdo province of the Republic of Korea and Japan's Okayama city on Jan. 4 have presented medical supplies to Can Tho.
The gifts, comprising 60,000 face shields and masks worth about VND 470 million (US$ 20,655), will be transported to the municipal health department and the Vietnam Fatherland Front in Can Tho to serve the work.
Speaking at the hand-over ceremony held virtually, Vice Chairman of the city People's Committee Duong Tan Hien said the donations demonstrate the solidarity and friendship of the RoK and Japan towards Vietnam, and between the countries' localities in particular.
Jeong Jong Gyun, chief representative of Jeollanamdo in Ho Chi Minh City, said Can Tho and Jeollanamdo have maintained their friendship since they reached an agreement in 2012.
According to Can Tho's Department of Foreign Affairs, since the fourth wave of Covid-19 broke out last April, the city has received medical supplies from many countries and territories with a total value of around VND 1.7 billion (US$ 74,692).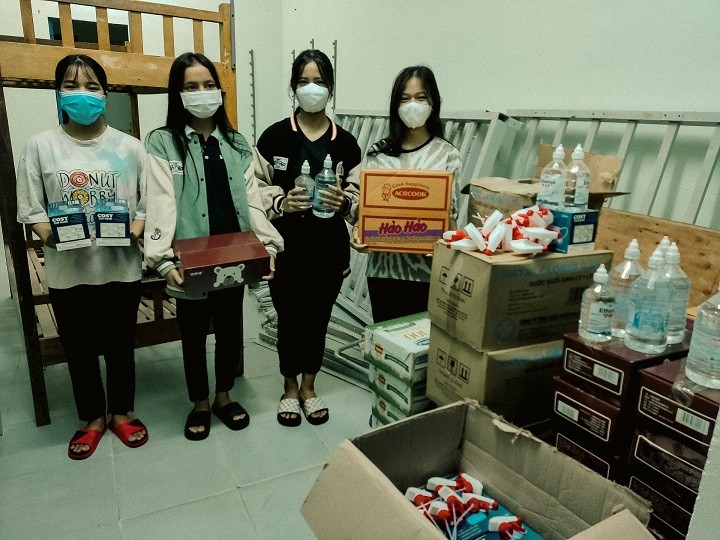 Phuoc Son District in the central province of Quang Nam received the gift package including: 750 protective bodysuits, 20 boxes of medical gloves, 100 face shields, 60 packs of medical masks, 15 packets of physiological saline, 50 bottles of sanitizer, 422 tubes of toothpaste, brush, and face towel, 61,392 batches of fresh milk, 50kg of pork, 2,076 packages of bread, 30 boxes of instant noodles, 33 boxes of cakes and other toiletries for girls. Source: World Vision Vietnam
World Vision Vietnam recently has joined hands with the Education and Training Department of Phuoc Son District (Quang Nam province), the Management Board of project communes, and schools, to support 639 children and 74 teachers who are in quarantine, relief package of necessities and medical equipment, as well as other toiletries for girls.
With a total value of almost US$ 6,000, these supports of World Vision Vietnam contribute to the joint efforts of people and the local authorities to prevent the spread of the Covid-19 pandemic.
The organization also joined hands with the People's Committee of Binh Chanh District (HCM City) to distribute protective equipment and food to families with difficult circumstances, where live 448 vulnerable children (including 143 children infected with Covid-19) in Le Minh Xuan, Pham Van Hai and Tan Nhut communes.
With a total value of US$ 31,053, the aid package, sponsored by the German Consulate General in HCM City, included: 400 protective suits, 13,440 kg of rice, 896 cartons of fresh milk and 896 bottles of 2L cooking oil.
This activity is part of World Vision Vietnam and partners' series of efforts to support the community to respond to and recover from the impacts of the Covid-19 pandemic. Up to now, more than US$ 2,894,152 has been disbursed to repair the damages caused by the pandemic on people's lives in World Vision Vietnam's project sites nationwide.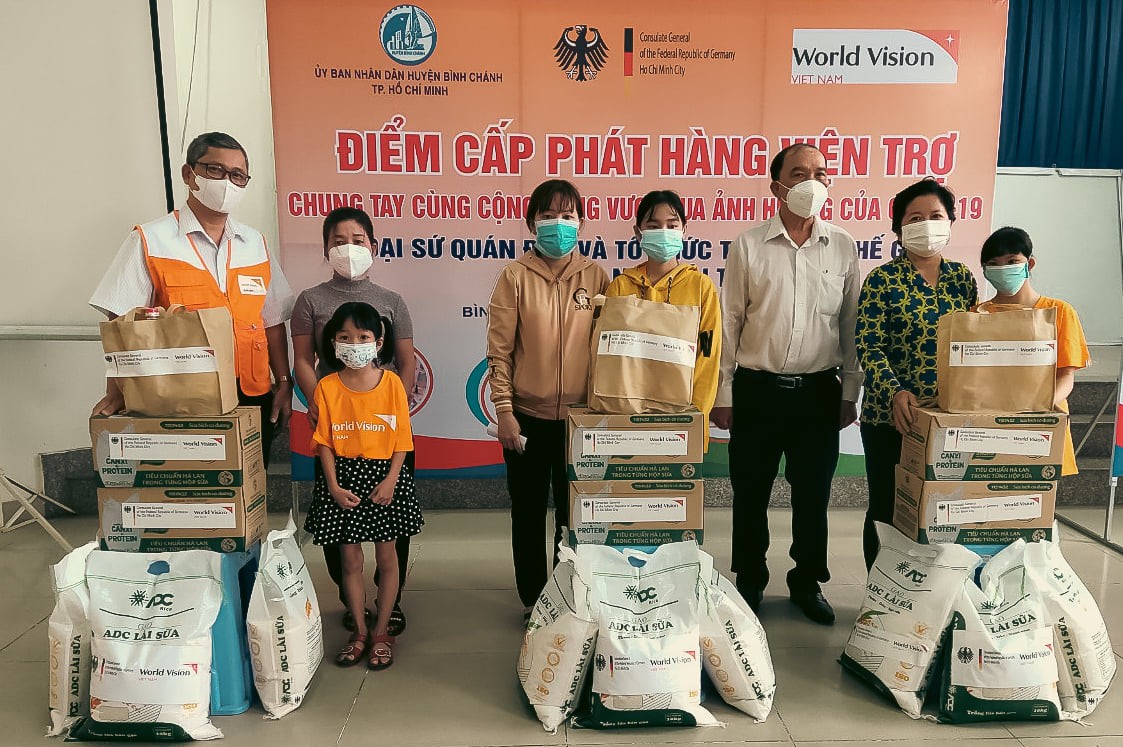 Ho Chi Minh City has seen marked decreases in the numbers of Covid-19 cases, deaths and hospitalised patients over the past weeks. Source: World Vision Vietnam
More than 180,800 labourers have been affected by the pandemic, accounting for 46.88% of the total number of employees in HCM City , reported VNA Tuesday, citing the city's Centre of Forecasting Manpower Needs and Labour Market Information (FALMI).
According to a representative of FALMI, the Covid-19 pandemic has had an enormous impact on economic growth and social life. However, as the Covid-19 have been under control, enterprises have gradually resumed production, making recruitment plans to meet the business demand in the new situation.
Currently, HCM City is continuing to implement many policies to support businesses and workers who face difficulties due to the pandemic. The city administration is also adopted measures that helped control the pandemic and restore the economy.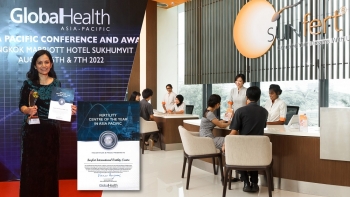 Economy
Sunfert International Fertility Centre (Sunfert) garnered the 'Fertility Centre of the Year in Asia Pacific title at the recent GlobalHealth Asia-Pacific Awards 2022.