"Vietnam's train pushes back COVID-19" the special prize winner of children painting contest
A sixth grader's painting which depicts Vietnam's relentless and uniting efforts on curbing COVID-19 has been granted special prize in a painting contest.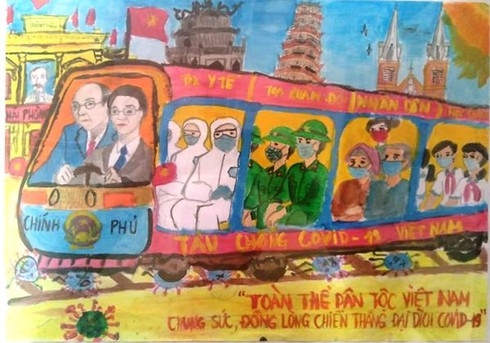 "Vietnam's train pushes back COVID-19" that helps Dam Tran Mai Le win the highest prize (Photo: Bao Moi)
The little "artist" is Dam Tran Mai Le, a sixth-grade student living in Hai Phong, northern Vietnam.
Her painting "Vietnam's train pushes back COVID-19" (or Chuyến tàu Việt Nam đẩy lùi COVID-19 in Vietnamese) is commented as outstanding, meaningful and deserves the highest award.
She has won over 91,000 contestants in the "Health protection and COVID-19 prevention" contest even though there are many creative, impressive paintings, Bao Moi reported.
The drawing portrays the spirit of community solidarity in the novel coronavirus (COVID-19) fight, from the entire political system, citizens, and students.
In the picture, Prime Minister Nguyen Xuan Phuc and Deputy Prime Minister Vu Duc Dam head the train, followed by doctors, soldiers, Vietnamese citizens and students. On the background are the Notre Dame Cathedral in Ho Chi Minh City, Thien Mu pagoda in Thua Thien Hue, Hanoi's Turtle tower and Hai Phong community house in Le's hometown. Le describes those iconic places of interest as places the train has gone past to offer encouragement to all citizens in the battle.
"I came up with the idea myself. I associate the solidarity of Vietnamese people as a train, one carriage after another, all join hands to curb the novel coronavirus", Le told Bao Moi.
The contest was originally launched by the Ho Chi Minh Young Pioneer Organization in co-ordination with Thien Long Group aiming to to help raise awareness among children to battle against the potential spread of the COVID-19.
The competition was first launched on March 18 and attracted 91,379 entries, with the winner of the special prize receiving a cash prize of VND10 million.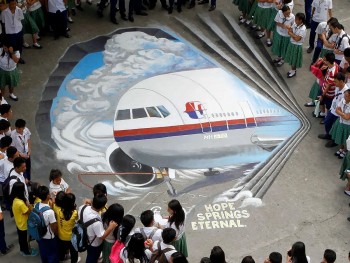 World
The world might never know what really happend when these planes went off the radar. Let's take a look at some of the unsolved mysteries of aircraft disappearances.