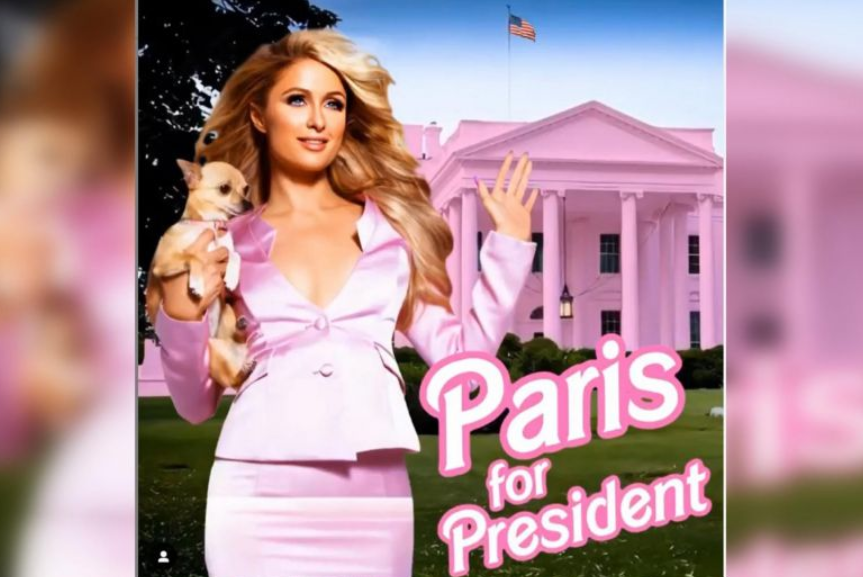 Hilton's slogan for the race (Photo: The Straits Times)
On Monday (06 July), the 39-year-old American media personality and socialite Paris Hilton posted a picture of herself in a pink dress with her dog and the White House in pink in the background with the words, "Paris for President" in Barbie pink font. She also announced her campaign slogan would be "Make America Hot Again", taking a dig at "Make America Great Again", the campaign slogan of US President Donald Trump in 2016.
Paris Hilton: From multi-millionaire heiress to one of Hollywood's most famous socialites
Before the Kardashians took over the world of reality TV more than a decade ago, there was one star who had already invented the art of "being famous for being famous." Paris Hilton, who singlehandedly paved the way for the Kardashian-Jenner clan and their insane success in showbiz, is then and now considered as one of the most Hollywood's most famous socialites.
Paris Whitney Hilton is an American celebrity, businesswoman, and entrepreneur. Her great-grandfather founded the Hilton Hotels, which makes her an heiress, receiving part of the Hilton Hotel fortune which her family runs. Given the childhood nickname "Star" by her mother and grandmother, Hilton was born into acting stock.
Paris Hilton began her career as a teenager model (Photo: Hurriyet Daily News)
Hilton, who began modeling as a child at charitable functions, signed with Donald Trump's modeling agency, T Management, at age 19. In 2006, she created Paris Hilton Entertainment, a multi-billion-dollar company consisting of 45 branded stores throughout the Middle East and Asia selling handbags and other consumer products. Since 2004, Hilton has released 23 fragrances, grossing more than $2.5 billion. In 2011, Variety declared Paris Hilton as a "Billion Dollar Entrepreneur" in recognition of her successful business and global brand.
The hotel heiress caught the media's attention after the release of a sex tape in 2003. After starring in The Simple Life, Paris earned a Teen Choice Award for her portrayal in the film House of Wax, and her first book, Confessions of An Heiress, landed on the New York Times best-seller list. She has since made her way in and out of the headlines through her romances, music ventures and television shows like The World According to Paris and Hollywood Love Story.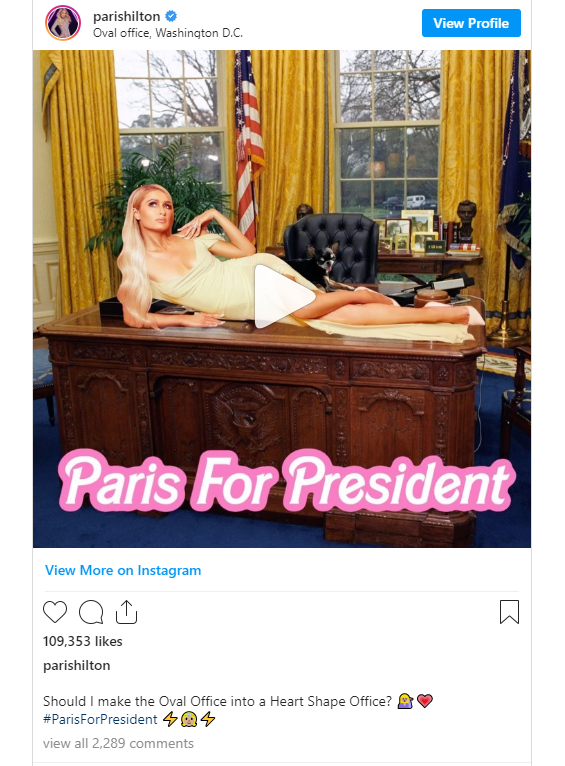 Paris Hilton posted a video to announced her presidential campaign (Photo: The Straits Times)
Paris Hilton's presidential slogan: Make American Hot Again
Hilton posted a video "Paris for President" which featured her being interviewed and said that she would pick singer Rihanna as her running mate. The Hilton Hotels heiress shared a photoshopped picture of herself saying "I've decided the Oval Office needs some redecorating and a woman's touch." In another tweet, she expressed the desire to turn the Oval office into 'Heart Shape Office'.
According to The Week, whether Hilton is making a serious run remains a question since Rihanna has not commented on being named Hilton's running mate. Some commented that her post was a joke at Kanye's expense. Given her significant expertise in branding (Hilton has been dubbed the 'original influencer'), it may well be a publicity-bid for her merchandise empire, which includes multi-million dollar businesses in perfumes, hospitality, clothing and more.
"The Simple Life" - Paris Hilton's most famous TV series (Photo: Entertainment Weekly)
In the meanwhile, The Straits Times confirmed that she is just joining in the fun when announcing cheekily on social media that she too is throwing her hat in the presidential ring.
It is obvious that there is limited room left for additional candidates since both the Republican and Democratic nominees for the 2020 presidential election have already been decided. Those who still insist on taking the chance can run as independent candidates in states that allow them to, but the deadline to run has already expired in six states.
As stated by The Republic World, while Kanye and Paris have the chance to get on the ballot, it would require huge spending and manpower as they will also have to get thousands of signatures to show they have support. In case they fail to get on the ballot, the only option that still remains for them is to depend on 'write-in candidates'. In some US states, voters are allowed to write the name of the candidate they want to vote for on the ballot sheet.
According to The Week, while the 2020 presidential elections are essentially a Donald Trump vs Joe Biden showdown, the candidacy of Kanye West could end up splitting the vote-base for Biden. While West had openly supported Trump in the past, even donning a red 'Make America Great Again' hat and meeting Trump in the Oval Office, he grew quieter about this over time.
Valerie Mai