With assests rising sharply, more tycoons join Vietnam's top richest list
The assets of the richest people in Vietnam have risen sharply in recent times, as any tycoons have earned huge recently.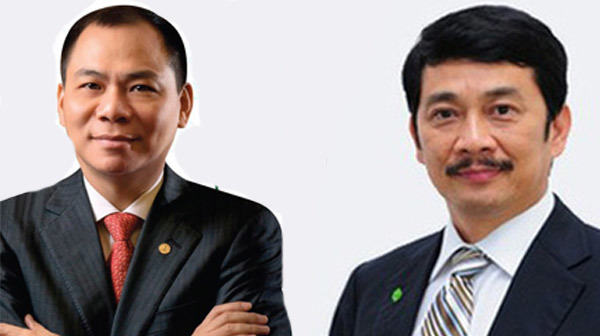 Vingroup Chairman Pham Nhat Vuong (left) and Novaland Chairman Bui Thanh Nhon. Photo: Vietnamnet
In over a month, NVL shares of Novaland Group jumped 70% from VND80,000 to nearly VND136,000 per share. The sharp increase in stocks increased assets attributed to NVL shares of Bui Thanh Nhon by over VND12 trillion (over $500 million) to VND29.5 trillion (nearly $1.3 billion), Vietnamnet said.
With this strong breakthrough, Novaland Chairman Bui Thanh Nhon is now among the top three richest people on the Vietnamese stock market, just behind billionaire Pham Nhat Vuong, Vingroup chairman and billionaire Tran Dinh Long, chairman of Hoa Phat Group.
This is only the value of the shares directly owned by Nhon. This tycoon also holds a large amount of shares through other companies. In total, Nhon's family owns about 65% of NVL shares, worth roughly $4 billion.
Although his assets have reached billions of US dollars, Nhon has not been named on the list of the world's billionaires of the Forbes magazine yet. Nhon, the boss of one of the largest real estate corporates in Vietnam, is quite a secretive person.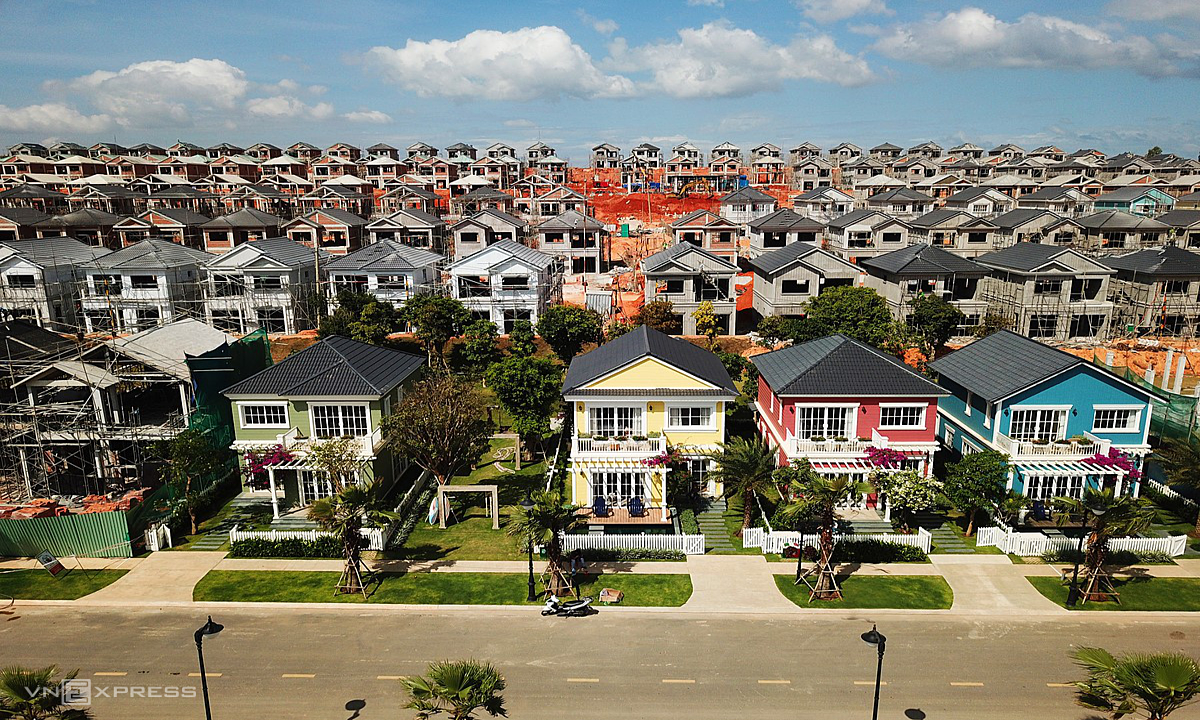 A housing project in the central province of Binh Thuan developed by Novaland. Photo: VnExpress
Tycoon Nguyen Duc Thuy, the boss of Thaigroup, recently revealed a large fortune after his Thaiholdings was listed and he became a key leader of LienVietPostBank.
After recent great deals and his investment in the financial sector, it is likely that Thuy will become the next USD billionaire in Vietnam.
Currently, with nearly 86 million shares of Thaiholdings (THD) and more than 31.3 million shares of LienVietPostBank (LPB), Thuy's assets are worth VND16.9 trillion.
Thuy is known as the most famous businessman in Ninh Binh. Born in 1976, he used to be very famous in the football field, as the owner of Xuan Thanh Saigon FC. Thuy is also known for successfully acquiring Kim Lien Hotel, which is located on a "golden land plot" in Hanoi's center.
With the current assets, Thuy is rated after the six USD billionaires of Vietnam, ranked by Forbes - Pham Nhat Vuong, Tran Dinh Long, Nguyen Thi Phuong Thao (Vietjet Chairwoman), Tran Ba Duong (Truong Hai Group's Chairman) Ho Hung Anh (Chairman of Techcombank), Nguyen Dang Quang (Chairman of Masan Group) and three others - Bui Thanh Nhon (Novaland Chairman), Pham Thu Huong (Pham Nhat Vuong's wife) and Nguyen Van Dat (Chairman of Phat Dat Real Estate Group).
Chairman of Phat Dat Real Estate Group Nguyen Phat Dat also witnessed a breakthrough in assets recently and is considered a potential name in the future list of USD billionaires of Vietnam. Dat holds more than 266 million shares of Phat Dat Real Estate Group, worth nearly VND18.9 trillion. The share increased sharply from VND30,000 six months ago to VND70,000 per share at present.
Vietnam scores a Forbes high with six billionaires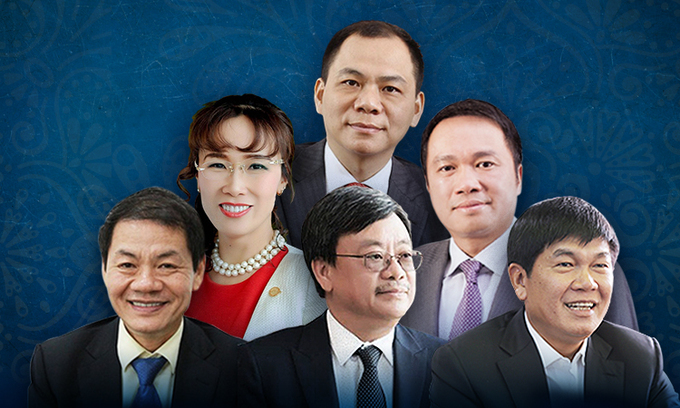 (From L), front row: Thaco Group Chairman Tran Ba Duong, Masan Group Chairman Nguyen Dang Quang, Hoa Phat Group Chairman Tran Dinh Long; second row: Vietjet CEO Nguyen Thi Phuong Thao, Techcombank chairman Ho Hung Anh; back: Vingroup Chairman Pham Nhat Vuong. Photo designed by VnExpress
The annual Forbes list of the richest people in the world has the highest number of Vietnamese citizens in it, with six billionaires making the cut.
The five men and one woman have a total net worth of $16.7 billion, according to VnExpress.
Pham Nhat Vuong is on the list for the ninth consecutive year. He remains Vietnam's richest man with a net worth of $7.3 billion (up $1.7 billion compared to 2020) and ranked 344th in the world. Vuong first made the list in 2013, when he was ranked 974th with a net worth of $1.5 billion.
Nguyen Thi Phuong Thao made the list for the fifth time with a net worth of $2.8 billion, ranking 1,111th. Thao is currently the vice chairwoman of HDBank, vice president and CEO of VietJet Air.
Tran Ba Duong has been in the Forbes list since 2018. His current net worth is $1.6 billion and he is ranked 1,931st in the world. Thaco initially sold only automobiles, but gradually expanded to car assembly for foreign brands like Kia, Mazda and Peugeot, as well as manufacturing Vietnamese branded buses and trucks.
Ho Hung Anh is on the list for the third time. His net worth is the same as that of Duong.
Nguyen Dang Quang has returned to the list after being absent last year. His net worth is $1.2 billion.
Tran Dinh Long also re-entered the Forbes list after his first appearance in 2018. He is worth is $2.2 billion and ranked 1,444th in the world.
Forbes has said it created the list by evaluating an individual's assets based on the stock price and exchange rate as of March 5, 2021.
The richest person in the world this year is still Amazon founder and CEO Jeff Bezos, with a worth of $177 billion. Tesla CEO Elon Musk is second with $151 billion, followed by LVMH chairman and CEO Bernard Arnault ($150 billion) and Microsoft co-founder Bill Gates ($124 billion)./.