The proposal for permanent fencing comes weeks after a pro-Trump mob attacked the Capitol (Photo: CNN)
Proposal to build permanent fence around the Capitol meets resistance
A recommendation from the acting chief of the US Capitol Police for permanent fencing and other enhanced security measures around the US Capitol in the aftermath of the January 6 insurrection has been met with resistance from lawmakers on both sides of the aisle and from the mayor of Washington.
Acting chief Yogananda Pittman proposed permanent fencing in a statement provided to reporters Thursday, but DC Mayor Muriel Bowser quickly slammed the idea and said the city will not "accept extra troops or permanent fencing as a long-term fixture in DC."
The proposal for permanent fencing comes weeks after a pro-Trump mob attacked the Capitol, leaving five people dead and extensive damage to the property, CNN reported.
"In light of recent events, I can unequivocally say that vast improvements to the physical security infrastructure must be made to include permanent fencing, and the availability of ready, back-up forces in close proximity to the Capitol," Pittman said.
She continued: "I look forward to working with Congress on identifying the security improvements necessary to ensure the safety and security of the Congress and the U.S. Capitol."
Queen Elizabeth likely to host Joe Biden at Buckingham Palace
Britain's Queen Elizabeth II is expected to host US President Joe Biden at Buckingham Palace ahead of the G7 summit scheduled between June 11 and 13, according to a media report on Sunday.
Prime Minister Narendra Modi is also expected to participate in events in the lead up to and during the summit in the coastal region of Cornwall after India was invited as a guest country to join the Group of Seven the UK, Canada, France, Germany, Italy, Japan and the US by UK Prime Minister Boris Johnson.
According to The Sunday Times', the Foreign, Commonwealth and Development Office (FCDO) is keen for the royal family to have a strong presence as part of a pre-summit and post-Brexit charm offensive of world leaders.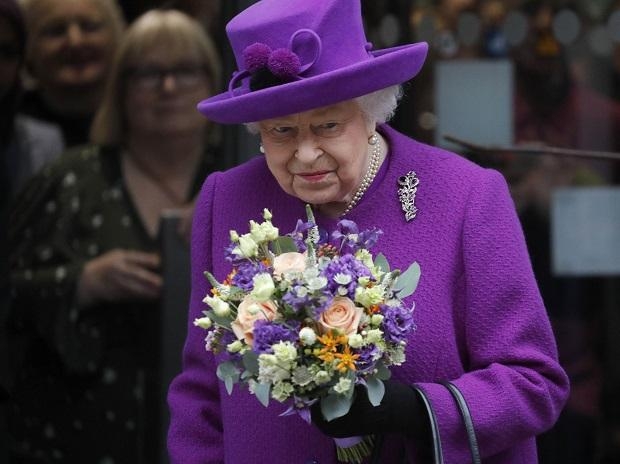 Britain's Queen Elizabeth II is expected to host US President Joe Biden at Buckingham Palace (Photo: Business Standard)
There is a desire from the Foreign, Commonwealth and Development Office to have a very strong royal presence before G7 events, and all senior members of the royal family will be part of what happens, the newspaper quoted a senior royal source as saying.
A one-on-one meeting between the monarch and the new US President is set to be her first significant diplomatic engagement after she returns to London.
The Queen sent the new US President a private message ahead of his inauguration on January 20.
According to royal aides quoted by the newspaper, Charles has already written to Biden to congratulate him on his appointment and is said to be delighted with a series of executive orders signed by the new president which address climate change and the environment, overturning many of Donald Trump's policies, Business Standard reported.
WHO team visits Wuhan market where Covid-19 first detected
A World Health Organization-led team of experts investigating the origins of Covid-19 have visited Huanan market, the now shuttered wholesale seafood centre in the Chinese city of Wuhan where the virus was initially detected.
The team arrived at Huanan amid heavy security, with additional barricades set up outside a high blue fence surrounding the market, and left in a convoy after about one hour. The experts did not take questions from journalists.
Since being released from a two-week quarantine on Thursday, the team has visited hospitals and markets, as well as an exhibition commemorating Wuhan's battle with the virus, which included a 76-day lockdown of the city of 11 million.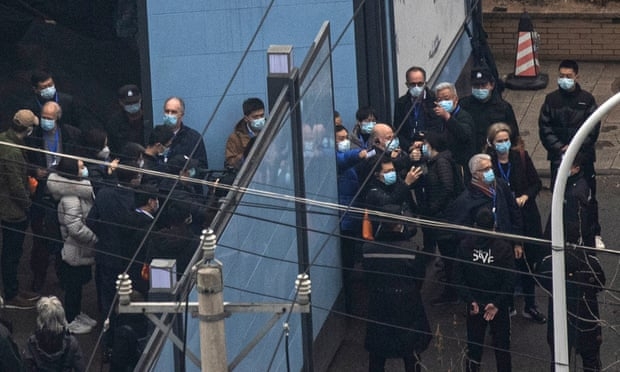 WHO investigative team visit Huanan seafood market in Wuhan on Sunday (Photo: Getty Images)
"Very important site visits today – a wholesale market first & Huanan Seafood Market just now. Very informative & critical for our joint teams to understand the epidemiology of Covid as it started to spread at the end of 2019," team member Peter Daszak said on Twitter.
The WHO, which has sought to manage expectations for the mission, said on Friday that team members would be limited to visits organised by their Chinese hosts and would not have any contact with community members, because of health restrictions, as reported by The Guardian.
Russia detains more than 5,000 at protests backing jailed Kremlin critic Navalny
Riot police broke up protests across Russia on Sunday in support of Kremlin critic Alexei Navalny, detaining more than 5,000 people who had braved the bitter cold and the threat of prosecution to demand he be set free, according to Reuters.
In a massive show of force, police imposed a sweeping security lockdown in the heart of Moscow, sealing off streets to pedestrians near the Kremlin, closing metro stations and deploying hundreds of riot police as snow fell.
At one point, a column of protesters marched towards the prison in northern Moscow where Navalny is being held, chanting "Let him go!". In another scene, people in a crowd raised their hands above their heads in front of a row of riot police and chanted "we're not your enemies".
Police said protesters could face criminal prosecution for attending or calling for an unauthorised demonstration and warned they could spread COVID-19.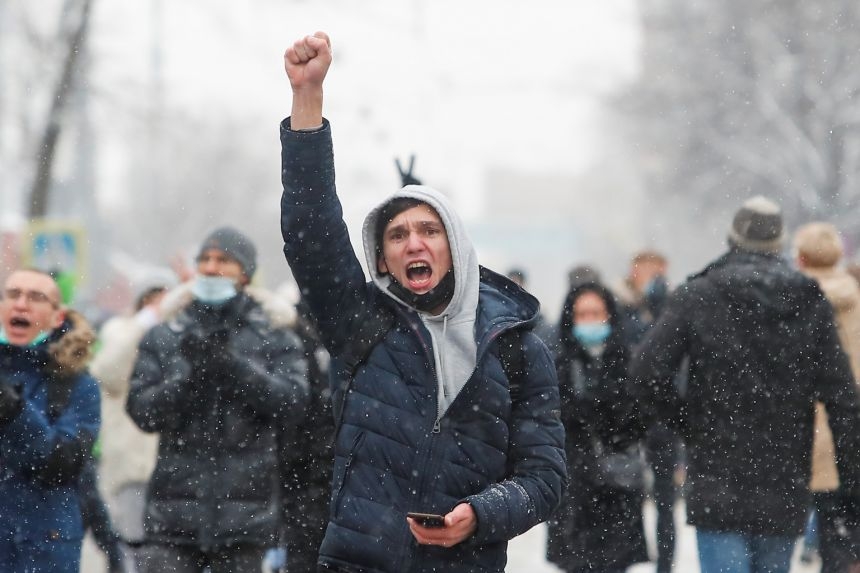 (Photo: Strait Times)
Navalny's allies used social media to repeatedly change the location of their rally, scattering the crowds over different parts of Moscow and making it harder to disperse.
Police put turnout at Sunday's Moscow protest at around 2,000 people. Reuters reporters estimated crowds of several thousand, smaller than last weekend.
At least 5,021 people were detained nationwide, including 1,608 in Moscow, according to OVD-Info, a protest monitoring group.
The protest is a test of Navalny's support after many of his prominent allies were targeted in a crackdown this week. Several, including his brother Oleg, are under house arrest.
Gold price forecast: gold markets stabilizing
Gold markets went back and forth during the course of the week to form a neutral candlestick. We currently see the market hanging around in a $100 range.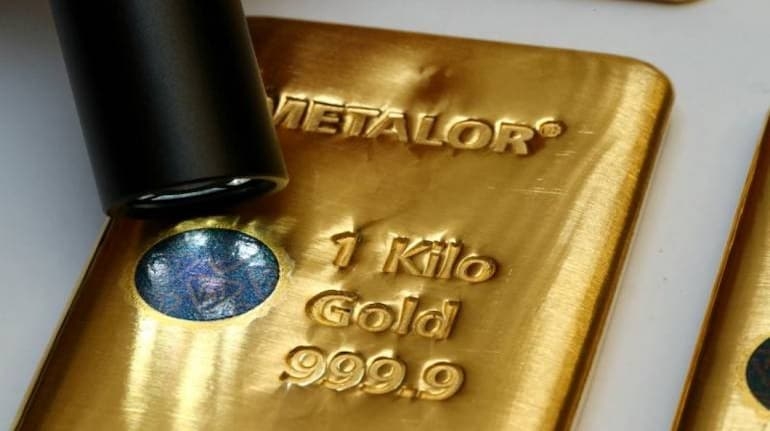 (Photo: Money Control)
Gold markets have gone back and forth during the course of the week, showing signs of indecision as we see support underneath at the 50 week EMA, which is also backed up by the $1800 level. That being said, the market is likely to see a bit of base building in this area, and I think that given enough time we will probably go looking towards the $2100 level over the longer term. To the downside, I see the 50 week EMA as support from a longer-term perspective as well, as you can see clearly on the chart, according to FX Empire.
Gold is going to continue to get a boost from a shrinking US dollar and perhaps more importantly the fact that we will continue to see central banks around the world throw liquidity around, thereby devaluing currencies. I think that given enough time we will probably see not only the $2100 level had above, but probably a break above there to make fresh highs. I also anticipate that gold will rally against other currencies, not just the greenback.
Jasmine Le