World news today: Betty Wright passed away at 66, some Mother's Day dinners turned into nightmares
World news today May 11 sees the soul, funk and R&B singer Betty Wright succumbed to cancer Sunday at the age of 66. Meanwhile, some Mother's Day dinners turned into nightmares on Sunday night after dozens of Red Lobster patrons were sent home without their food.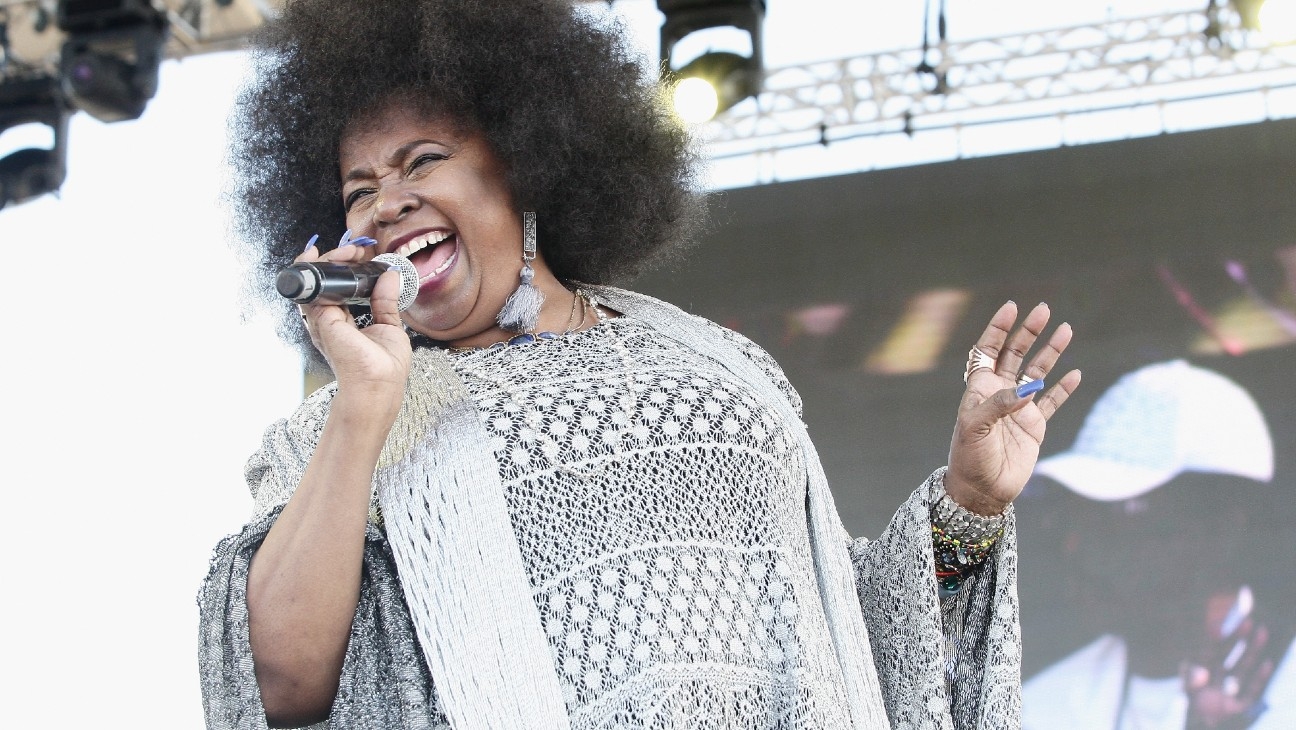 Betty Wright (Photo: Hollywood Reporter)
Betty Wright, US soul, funk and R&B singer, dies aged 66
The soul, funk and R&B singer Betty Wright, celebrated across pop genres for her remarkable vocal prowess, has died aged 66 from cancer Sunday at her home in Miami, Billboard reported.
Greenberg, who collaborated on several recordings with Wright, called her "one of the most significant women in the history of R&B music, period."
Wright is perhaps best known for her 1971 hit song "Clean Up Woman". The song's signature guitar riff would go on to be a favored sample used by the likes of Afrika Bambaataa, Sublime and Chance the Rapper, according to NPR.
In recent decades, she also found herself serving in a mentor role to younger artists, including Jennifer Lopez and Joss Stone. She earned a Grammy win for "Where is love" in 1975, and became the first woman to have a record on her own label achieve gold status a decade later.
Tributes to the fallen songstress were widespread Sunday with many recalling her gifts for both singing and teaching, as reported by CNN.
"She was an incredible writer, producer and mentor to young artists," Greenberg, who had worked with Wright on projects said, adding that she was a great inspiration to upcoming performers.
Dozens Of Red Lobster Patrons Sent Home Without Their Orders
Some Mother's Day dinners turned into nightmares on Sunday night after dozens of Red Lobster patrons were sent home without their food, CBS Pittsburgh said.
The parking lot of the Red Lobster along with McKnight Road was packed with close 100 people and their cars waiting for their orders. However, many of them did not get the food they paid for.
Some of the people in the parking lot were food delivery drivers trying to keep in contact with their customers. Others were waiting for online orders.
However, the long wait turned into an outright denial when police arrived and a manager came outside to tell the crowd they wouldn't be fulfilling any more orders. Patrons left frustrated and without food.
"I blame Red Lobster," said John Morrison. "They took way more orders than they could possibly fill. I put mine in at 10:30 this morning."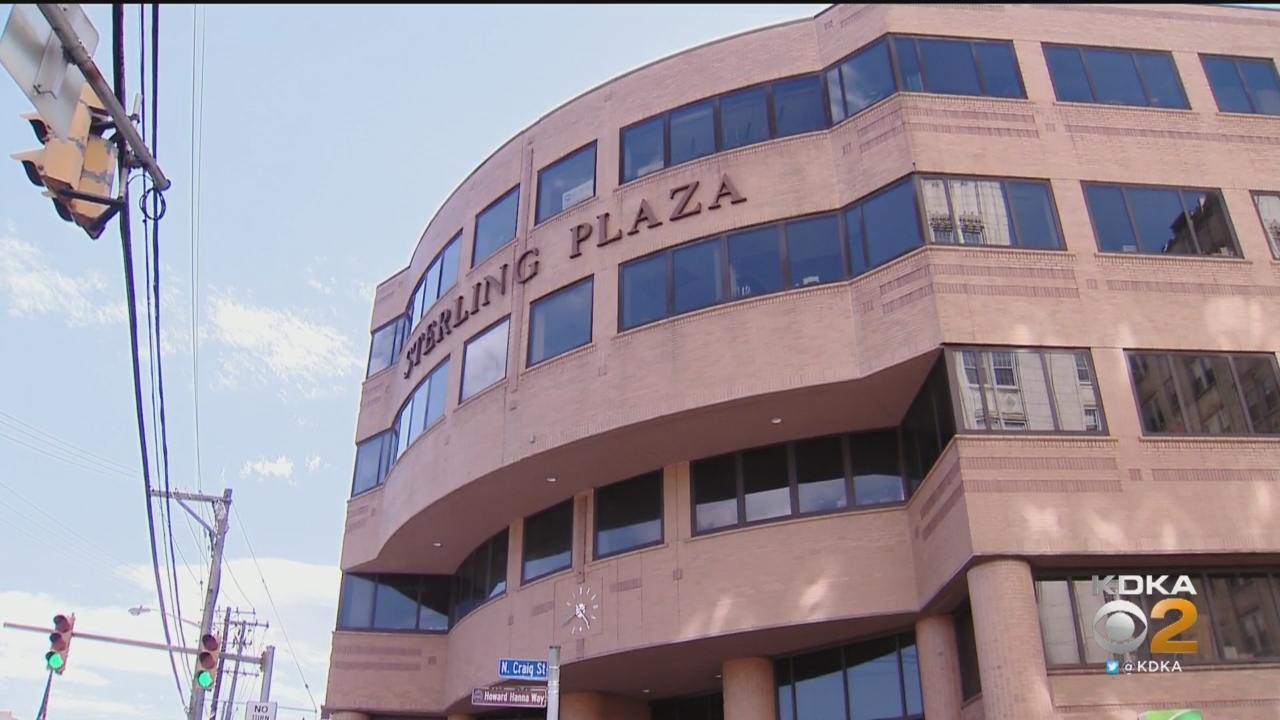 (Photo: CBS Pittsburgh)
Red Lobster replied in an email:
"During these unprecedented times, we are grateful for our guests who continue to want to celebrate with Red Lobster. It's always our goal to provide our guests with a great seafood experience, while also maintaining high standards for health and safety, including social distancing. We apologize that some of our guests experienced longer than anticipated wait times and crowds today and in some cases may have chosen not to wait for their orders. To Go orders placed on RedLobster.com that were pre-paid and not fulfilled will be refunded. Guests who placed an order through a third-party and would like to request a refund should reach out to the company through which the order was placed."
Trump charges Obama with 'biggest political crime in American history'
President Donald Trump on Sunday repeatedly lashed out on Twitter at former President Obama, days after reports that Obama had expressed concern over the Justice Department's decision to drop the case against former national security adviser Michael Flynn.
Trump spent much of his Mother's Day tweeting and retweeting various accounts, with many of the posts aimed at his predecessor. In one tweet he simply wrote "OBAMAGATE!" In another post, in which he retweeted a supporter's declaration that Obama was "the first Ex-President to ever speak against his successor," Trump wrote, "He got caught, OBAMAGATE!"
Earlier on Sunday, Trump retweeted conservative commentator Buck Sexton, who claimed that "the outgoing president"—an apparent reference to Obama—"used his last weeks in office to target incoming officials and sabotage the new administration." Trump in his retweet wrote, "The biggest political crime in American history, by far!" Sexton is a former employee of Hill.TV.
The president also retweeted multiple accounts that posted memes taking aim at Obama, including one account that posted a graphic of Obama over the slogan, "Watergate will look like a parking ticket."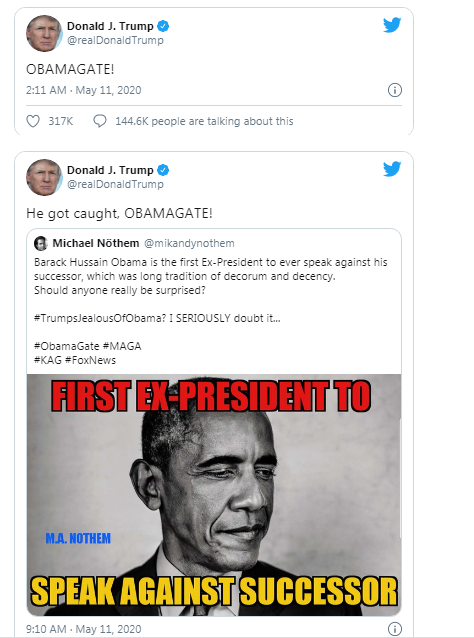 (Photo: Captured)
His tweetstorm came after his administration's controversial move to drop charges against Flynn, who had been accused of lying to the FBI about his contacts with Russia before Trump took office. The decision, led by Attorney General William Barr, was met with swift condemnation by Trump's critics, as reported by The Hill.
Obama became ensnared in the unfolding drama after a private phone call between the former president and members of his administration were leaked to Yahoo News on Friday.
Five guests in your home: Victorian restrictions eased
Victorians will be allowed to have five visitors in their homes, who should be family and friends, under an easing of the state's lockdown restrictions, Premier Daniel Andrews has announced.
However, he urged people to remain cautious about close contact.
Chief Health Officer Brett Sutton urged Victorians to continue observing strict social distancing measures when visiting other households.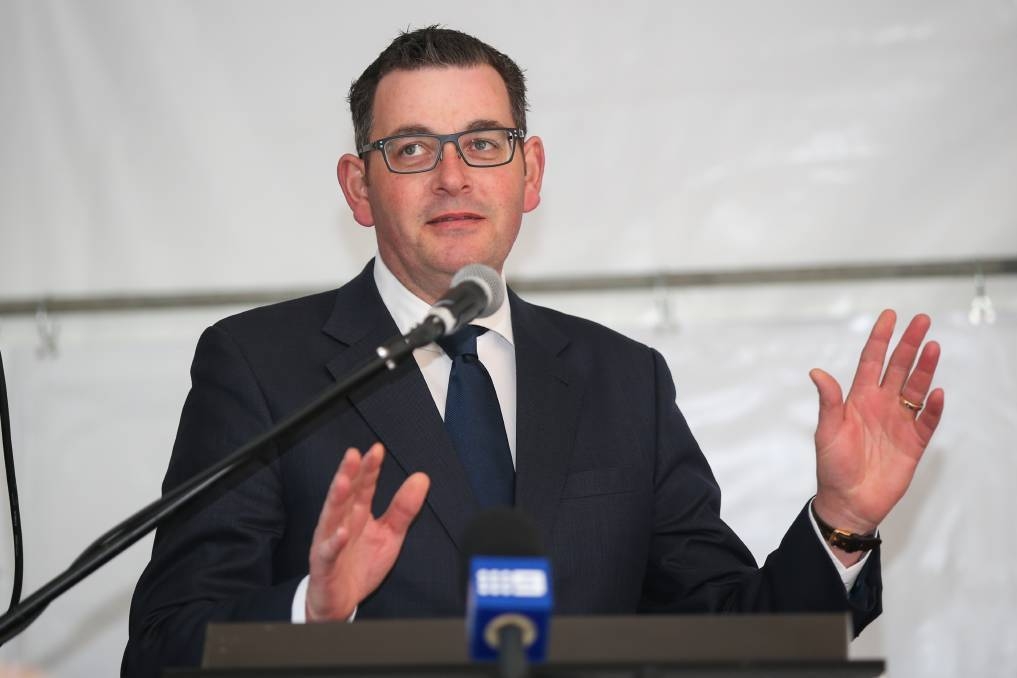 (Photo: The Standard)
He warned against shaking hands and hugging but said there was no outright ban on those expressions of affection.
Weddings with up to 10 guests will now be allowed, as well as funerals of up to 20 people indoors, or 30 outdoors, according to The Age.
The government is close to announcing plans to return children to classrooms after telling parents that the remainder of term two would be taught remotely "for the purposes of certainty".
B.J. Armstrong: Michael Jordan showed what it means to truly love something
With "The Last Dance" dominating the minds of the basketball world for the past few weeks, just about everyone has come out with something glowing to say about Michael Jordan.
B.J. Armstrong was Jordan's teammate for several years, including during the Bulls' first three-peat, and took it to the next level with what he said to Scott Van Pelt on SportsCenter on Sunday after Episodes 7 and 8 of "The Last Dance" aired.
"I saw an artist at work," Armstrong said of Jordan. "I saw someone that brought creativity to the game of basketball and I saw someone that dedicated their life to the game and I don't know if trying to be the best or trying to be the GOAT was ever the goal, but I saw someone who was committed and has that much respect for the game of basketball that just allowed me to see what it really, truly means to love something.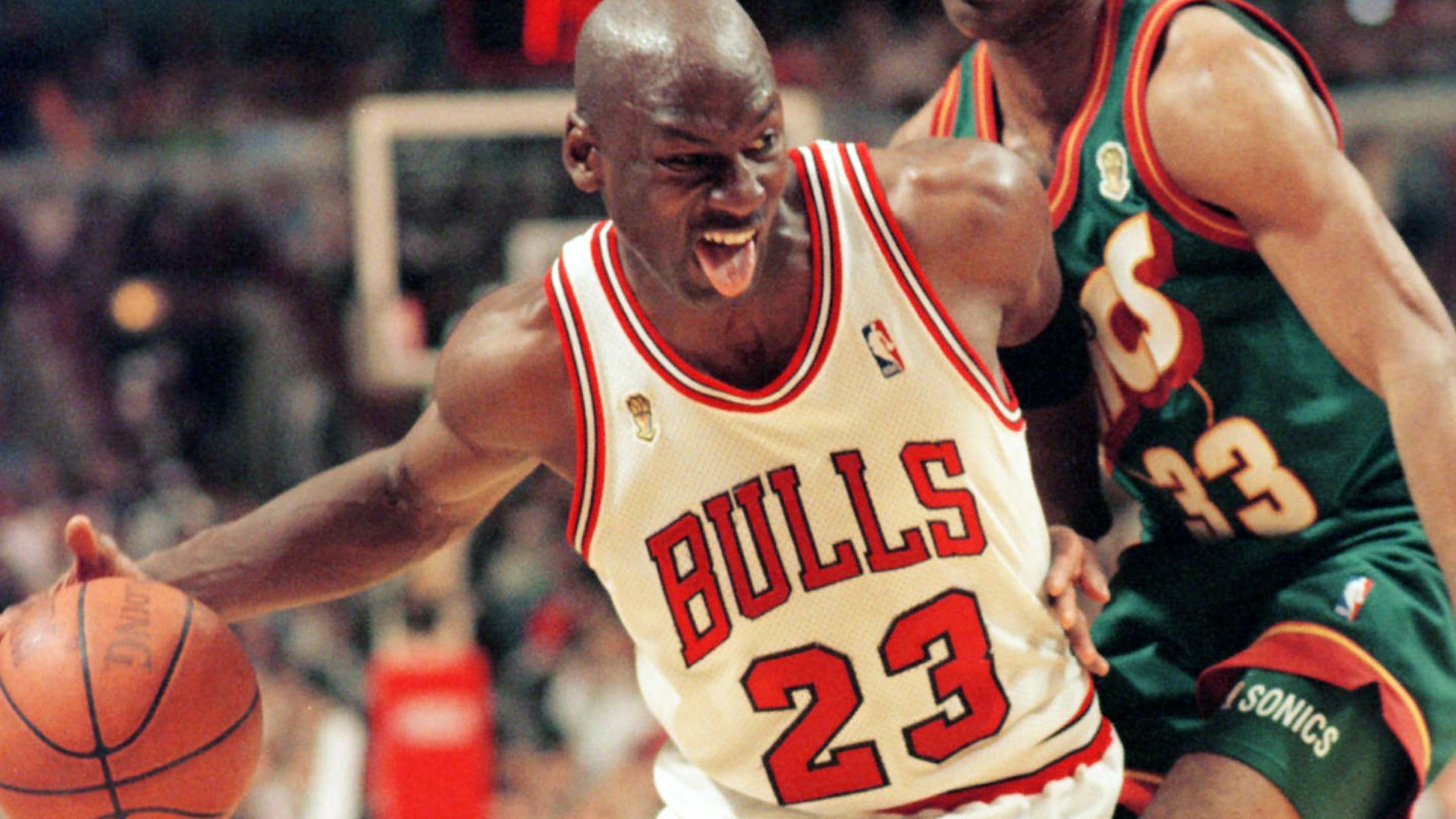 (Photo: NBC Sports)
"He had an incredible amount of talent, but I tell you what, what he did with that talent was the most impressive thing I've ever seen and what I'll always cherish as I tell my own kids how committed you have to be to if you want to be good at anything in life."
There's not really much else that can be said to add to that. Jordan's competitive nature has been on full display throughout the documentary, which has served as a reminder (or in some cases, a teaching tool) of what made Jordan great. In anticipation of the documentary's release, Jordan was quoted as saying people would not think he was a nice person by the end of the series.
Armstrong used that insanely competitive nature to be an example of what it takes to be great, NBC said.