World's tallest building illuminated with Vietnamese flag
Dubai's Burj Khalifa, the tallest tower worldwide on Wednesday lighted up with the red color and a golden star in the middle to commemorate Vietnam's National Independence Day.
The 21-sec-long video posted on the official Twitter account of the Burj Khalifa skyscraper in Dubai
"In celebration of Vietnam's 75th Independence Day, #BurjKhalifa lit up in their flag. We wish the people of Vietnam growth and success," the official Twitter account of the Burj Khalifa skyscraper in Dubai, UAE, captioned its video on Thursday. In the 21-sec-long video, the image of a fluttering Vietnamese flag could be seen cover the entire building at night.
Within hours after its circulation on the Internet, the video garners thousands of views and hundreds of shares. Along with congratulations from international Internet users, many Vietnamese netizens expressed their gratitude towards Dubai and UAE authorities for such a nice display.
A similar view was reposted by the official Twitter account of the UAE Embassy in Vietnam later on Friday morning.
Burj Khalifa is the tallest building in the world with 164 floors, measures 828 meters high. The tower is shaped like a straight needle rising towards the sky, boasting the highest and fastest elevator the world over.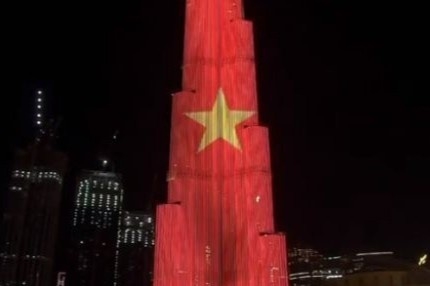 (Photo: Captured)
Projecting the national flag of a country to their proud Burj Khalifa tower on significant events is a ceremony performed by the Dubai and UAE authorities to show respect for partners they deem special.
Just one day earlier, the tower also displayed the national flag of Uzbekistan in commemoration of their Independence day on September 1. The national flags of certain nations, including the US, Russia, Japan, etc, used to appear on the tower.
The UAE is Vietnam's largest trading partner in the Middle East and Africa, while Vietnam is considered the country's leading gateway to the ASEAN market, according to VNE. The two countries' bilateral trade turnover advanced to around $6 billion in 2019, with Vietnam having an export surplus of around $5 million. The two countries aim to raise bilateral trade turnover to $10 billion in years to come.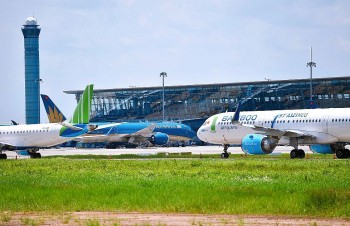 Economy
Vietnam Business & Weather Briefing (August 9): Vietnam's economic growth is expected to reach 7.5% in 2022, new securities accounts hit a near two-year low in July.