34 Chinese citizens illegally enter Vietnam
Police in the Mekong Delta province of An Giang have recently discovered 34 Chinese citizens who illegally entered Vietnam.
The steering committee asked the local authorities to continue their investigation and contact tracing efforts linked to these illegal immigrants, VietnamPlus reported.
Earlier, at around 9 p.m. on March 4, the local police found a car transporting seven Chinese citizens in the province's Chau Doc City. They were suspected of preparing to enter Cambodia illegally. The car, with plate number 60AQ-799.92, was driven by Bui Van Duong, a 31-year-old resident of Ca Mau Province.
The Chinese nationals admitted that they intended to find jobs in Cambodia and were advised to do so by entering Vietnam illegally for transit to Cambodia.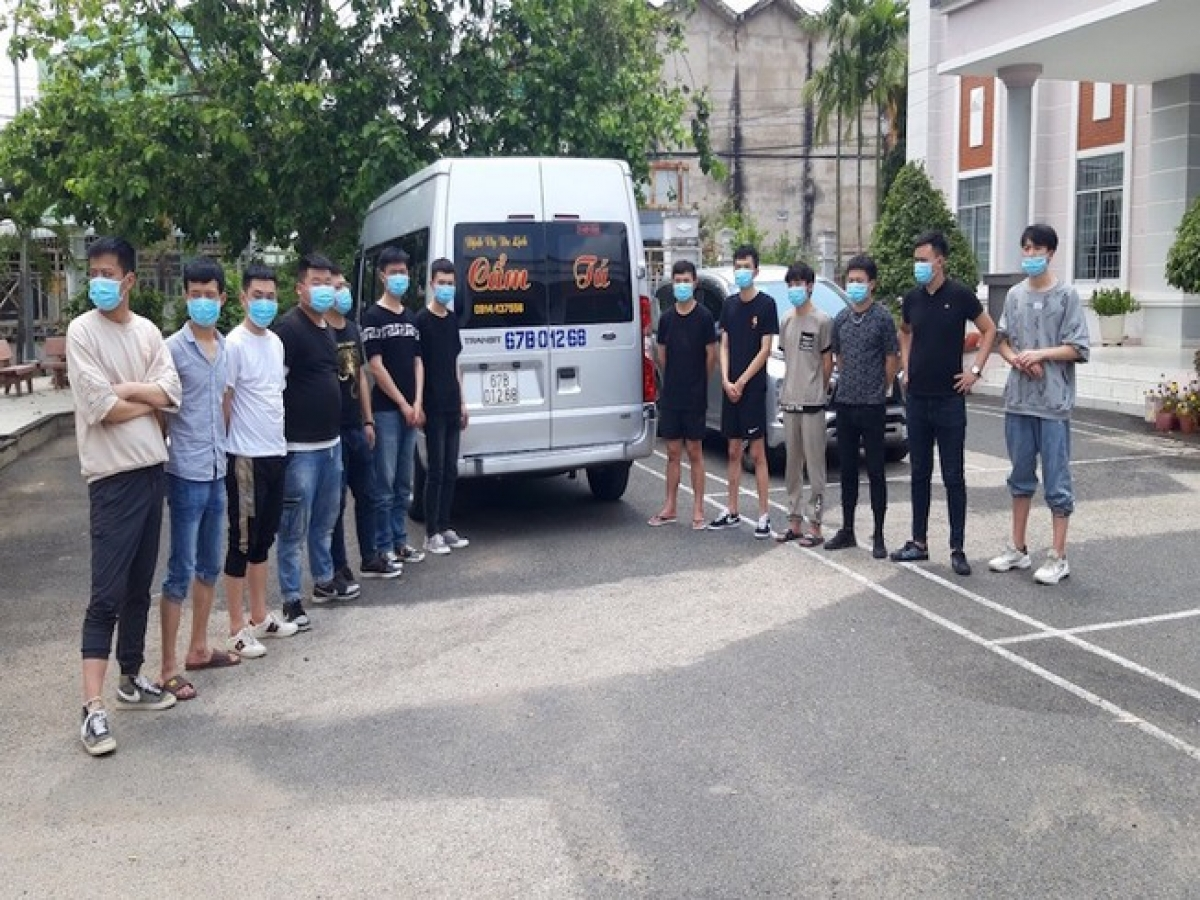 Chinese nationals who entered Vietnam illegally. Photo: VOV
Similarly, at around 9 p.m. on March 6, local competent forces discovered two cars carrying 14 Chinese nationals en route from Chau Doc City to HCMC. The two drivers were identified as Ton Trung Manh, a 44-year-old resident of Dong Nai Province, and Nguyen Minh Canh, aged 50 and residing in An Giang Province.
The forces then took the 14 Chinese people and the two drivers to a local medical center for further questioning.
However, as they were uncooperative, the competent agencies could only ascertain their personal information and are still working on finding out further information about their travel history.
On March 7, the local police in Chau Doc City found another car carrying 13 Chinese nationals who were suspected of illegally entering Vietnam in an attempt to leave for Cambodia.
Given the illegal entry of foreign citizens amid the pandemic, the steering committee requested the local authorities and residents to stay vigilant over similar cases and ramp up efforts to fight Covid-19.
Earlier, Ho Chi Minh City authorities also quarantined 30 Chinese and five South Korean nationals who were suspected to have entered the country illegally, said Vnexpress.
The foreigners were found staying in a four-story hotel on Ly Tu Trong Road in Ben Thanh Ward when the police inspected the establishment, said ward Chairwoman Nguyen Thi Quynh Trieu.
They then tested negative for the novel coronavirus.
The hotel was disinfected and shut down temporarily. More details were not available at the time of publishing.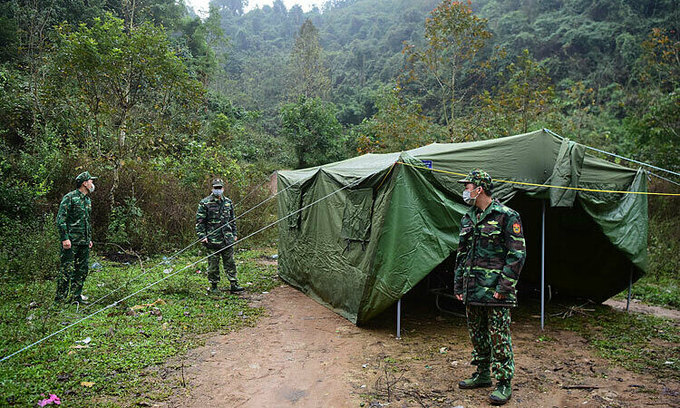 Border guards in Lang Son Province which borders China. Photo: VnExpress
Over 31,000 illegal entrants caught entering Vietnam in 2020
Border troops detained 31,460 people who tried to illegally enter the country last year as the government stepped up efforts, including border closures, to combat Covid-19.
They included 25,000 people entering from China and the rest were from Laos and Cambodia, Major General Nguyen Xuan Kien, director of the Department of Military Medicine, said at a meeting held on Friday to review the Covid-19 fight.
Vietnam has a land border of more than 5,000 km, 117 border gates and 88 crossings with China, Laos and Cambodia.
It closed its borders in March last year and stopped the entry of foreign nationals except those with diplomatic or official passports or are high-skilled workers.
But a large number of people were found illegally entering the country through unmanned paths and trails, exposing the country to higher risks of community transmission, Kien said.
Border guards also investigated 153 individuals for "organizing illegal exit from and entry into Vietnam."
The national count of COVID-19 cases stands at 2,526, of which 1,587 are locally-transmitted.
Some 45,090 who had close contact with COVID-19 patients or came from pandemic-hit areas are under medical monitoring nationwide, with 498 at hospitals, 15,045 at other State-designated quarantine establishments, and 29,548 at home.
The number of recoveries reaches 2,004, while the death toll remains 35.
Among the active patients, 48 have tested negative for the coronavirus SARS-CoV-2 once, 42 twice and 118 thrice.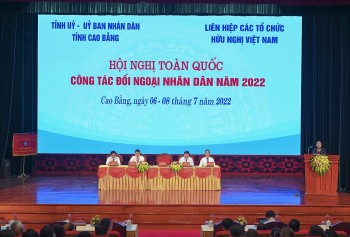 Friendship
During the event, many important issues will be discussed, and constructive suggestions and solutions will be provided to promote more effective people-to-people diplomacy operations.