3 Vietnamese prosecuted for bringing Chinese nationals illegally enter Vietnam
The Hanoi police have prosecuted three Vietnamese people for smuggling Chinese nationals illegally enter Vietnam.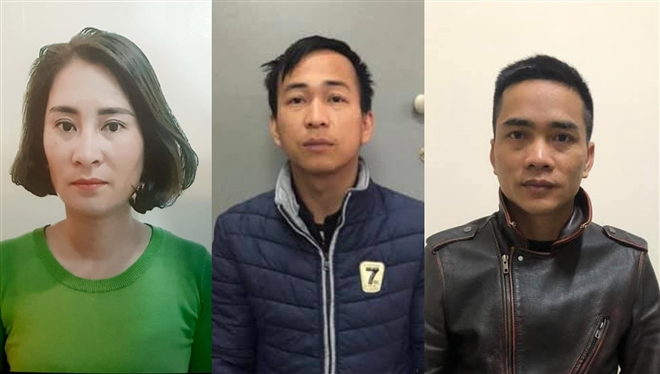 Three defendants from left to right: Truong Thi Quyen, Nguyen Huu Trung and Nguyen Van Dung. Photo: VTC
The Hanoi police decided to prosecute Truong Thi Quyen (35, Quy Hop, Nghe An province), Nguyen Huu Trung (32, Gia Lam, Hanoi), and Nguyen Van Dung (41, Gia Lam, Hanoi) for organizing and brokering for other people to illegally exit from and enter into Vietnam or illegally stay at Vietnam, VTC News reported.
Previously, on January 5 afternoon, the police of Gia Lam district discovered two Chinese citizens without entry visas at the Ninh Hiep industrial area.
The duo admitted that they illegally entered Vietnam through the northern border, in order to travel to Cambodia to find work.
The Gia Lam district then, in coordination with Hanoi City police to summon two suspects namely Nguyen Huu Trung and Nguyen Van Dung.
Dung and Trung confessed that in early January 2021, Quyen contacted Trung to carry two people from Cao Bang to Hanoi with an agreed price of VND 3.8 million (US$ 166.1). On the way, Trung and Dung recognized these two people are Chinese illegal entrants to Vietnam but they still deliberately transported them and asked Quyen to pay more. Upon arriving in Gia Lam district, Trung rented accommodation for two Chinese nationals. While waiting for Quyen to pick up them, Trung and Dung were discovered and detained.
Truong Thi Quyen admitted since December 2020, she hired Trung to pick up Chinese people many times. Quyen also illegally exited and directly organized to bring some Vietnamese to illegally enter China.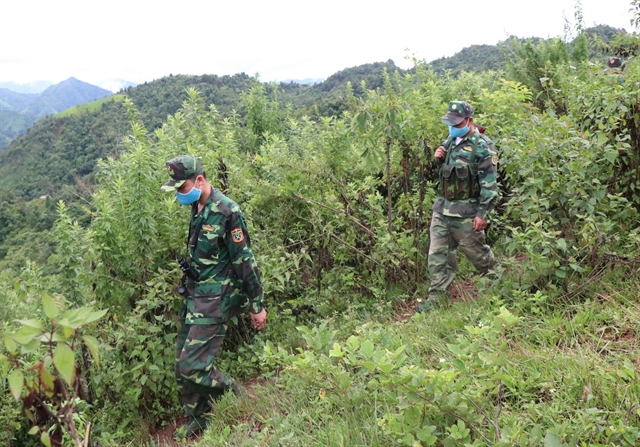 Border guards in northern mountainous Dien Bien Province patrol to prevent illegal migrants from entering Vietnam. Photo: VNA/VNS
Border troops detained 31,460 people who tried to illegally enter the country in 2020 as the government stepped up efforts, including border closures, to combat Covid-19, according to VNExpress.
They included 25,000 people entering from China and the rest were from Laos and Cambodia, Major General Nguyen Xuan Kien, director of the Department of Military Medicine said at a meeting to review the Covid-19 fight.
Border guards also investigated 153 individuals for "organizing illegal exit from and entry into Vietnam."
Vietnam has a land border of more than 5,000 km, 117 border gates, and 88 crossings with China, Laos, and Cambodia.
Vietnam has closed its borders since late March to keep out Covid-19. Everyone allowed to enter must remain in quarantine for 14 days.
Vietnam has recorded 1,985 Covid-19 cases so far and 517 of them are active. A total of 35 have died from the disease, many being elderly patients with underlying conditions like diabetes or kidney failure.