"Are you Vietnamese?" - How humble Vietnamese built up national brand
During his 10 years living in France, Nguyen Kan and his wife were sometimes asked "Are you Vietnamese" by a French at the gas station, supermarket, hospital, or coffee shop. Most of the questioners were of middle age.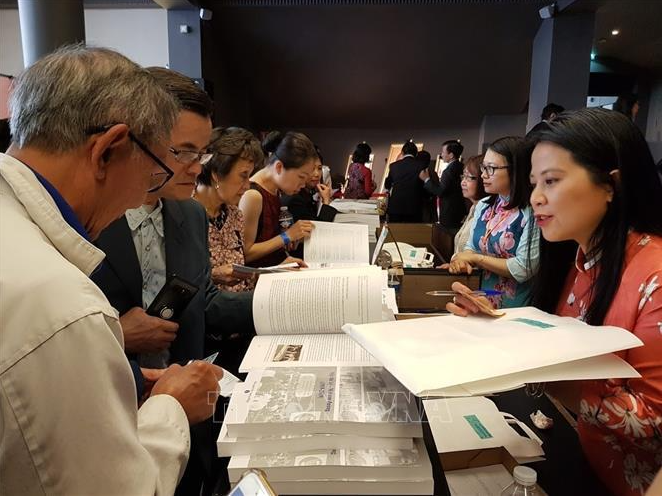 The Vietnamese Association in France introduced the book "One Century - One Road (1919-2019)" on patriotic activities of many generations of overseas Vietnamese over the past 100 years. (Photo: VNA)
After receiving his nod, they cheerfully said that they loved Vietnam so much and kept telling him the memories they had in Vietnam, about places that they went to, experiences they had, and how friendly the people they met. Then, they ask Nguyen Kan about his life in Vietnam and in France, about the similarities between him and them in the memories of Vietnam. None of them wanted to hear these words: "We left our country because of so hard life there".
Earning peace in a foreign land
The most recent time Nguyen Kan received that question was when he took his mother to the hospital. His mother was seriously ill and was preparing to undergo the second major surgery in France. The first question the doctor gave them when he entered the room was: "Are you Vietnamese or Chinese?" When he learned that Kan was Vietnamese, he looked at Kan fondly and said: "I understand Vietnamese culture very well. I keep Vietnam in my heart".
Just by those words, the doctor made Kan's mother, who did not understand much about French culture and did not speak French, felt peaceful in the foreign land. In the discussion about his mother's illness and the upcoming surgery, the doctor asked Kan again about his family, his job, his life in both Vietnam and France, just like everyone else and he kept reminding Kan how much he loved Vietnam.
Writing to Vietnamnet, Kan said "When I was in Vietnam, I seldom thought of such concepts as "national spirit", "national pride". They are too profound for a humble individual like me. I have no achievements, I cannot dream of a future where the country will "stand shoulder to shoulder with the powers of the world". I am just nobody. But the chance to encounter this doctor has changed my mind."
Kan said it turned out that foreigners who came to Vietnam fell in love with the country firstly thanks to the humble people they had met on their trips, that they treasured the openness, friendliness, hardworking and resilience of the Vietnamese. Those people might be scientists, artists, business people, students, waiters, or rubber forest workers. Somehow they have contributed to creating sympathy for Vietnam in the French people Kan has met.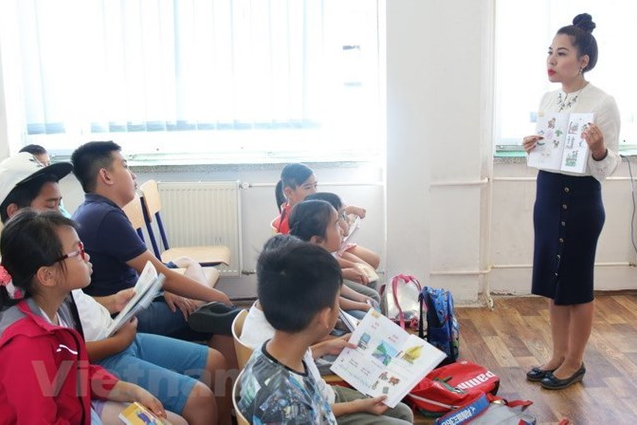 A Vietnamese class for Vietnamese children in Prague, Czech Republic. (Photo: Vietnam Plus)
"If we keep Vietnam in our hearts"
The Vietnamese people are the most precious and the most prominent source for building the national brand. For many years, many individuals and units have discussed the strategy of building a national brand. They have also identified Vietnamese people as the focus for brand development. In the digital age, with the development of the knowledge economy, human value is a strong soft power.
"The further I go, the more I absorb this value. I realize that every time I face a foreigner, I myself, in addition to representing myself, also represent the national values ​​that I inherited. With that in mind, I always try to live a kind life and raise my children to be kind people, wherever I live and whatever I do. It is not necessary for me to be any significant individual to represent Vietnam or to promote my hometown image with international friends. Anyone can do that if we keep Vietnam in our hearts", said Nguyen Kan.
"I am very grateful to the Vietnamese people who have left a good impression on the French people I have met. They made me feel proud and confident when I recognized myself as a Vietnamese. I don't know what they did, but it must have been the kind things. As a result, I have more French friends who love Vietnam, and sometimes, I also receive little favors at work. I am grateful for the kind things they did. Patriotism, or national spirit, I think, starts with such extraordinary little things".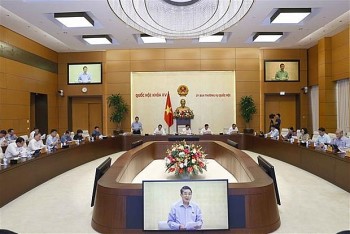 National
The National Assembly (NA) Standing Committee examined the draft revised Law on Protection of Consumer Rights on August 15 as part of its monthly session.