Attitude, core values of employees appreciated and recognized in Tan Hiep Phat -Tran Ngoc Bich
One of the points that Tan Hiep Phat highly appreciates is how to make our employees realize that their work results clearly assessed and recognized, Tran Ngoc Bich said in an interview with Vietnambiz.
Tran Ngoc Bich, Deputy CEO of Tan Hiep Phat Beverage Group. Photo courtesy of Vietnambiz.
Laborers always pose a question: "What happens if my boss or my senior doesn't recognize my efforts?". However, at THP, the group considers each employee's efforts and rewards them based on their efforts.
THP's rating system recognized that employees who made a high effort but haven't yet achieved have same performance ranked as same as those with high achievement but a less positive attitude.
THP highly appreciates attitude, especially core values. The surrounding community values you for your core values, leading to an increase in your rating. Since then, bonuses and career prospects at THP are also raised accordingly.
In particular, in the THP, the superior managers have the same degree of influence on assessment results as those around them, not a decisive factor.
THP believes that employees working well would be realized more than superiors do by their co-workers. Even though the superiors are at close contact, they only see around 60%. The things done well by you not known by your superiors will be recognized by others.
When evaluating working result of a person, colleagues were invited to speak up about their experiences with him/her. It is this way making THP be highly appreciated by the award committee.
Tan Hiep Phat family: Ms Tran Ngoc Bich, her father Tran Quy Thanh (the Founder and CEO of the THP Beverage Company) and her older sister Ms Tran Uyen Phuong (right). Photo: Vietnambiz.
The way is still the same, the evaluation will be done by both the manager and surrounding colleagues. Therefore, in case your boss like or does not like you, the people around you still evaluate fairly based on your core values to ensure the assessed results objectively.
In addition, in order to minimize emotional or prejudice, THP's rating system is designed to take note of the actual situation, not based on opinions.
Second, the assessment only applies to situations happening in the assessment period, not bringing back stories of years ago.
Third, the rating system and the criteria, the basis were announced in advance from the beginning of the year, publicized, and applied to all members.
THP's review board is run by a neutral party, the human resources department. Surrounding members such as colleagues, customers will be invited to share their feedback. And the employees will be ranked according to general criteria.
Graduating Finance Management from Manchester University in the United Kingdom, Tran Ngoc Bich is currently holding a position as CEO of Number One Ha Nam Ltd and Deputy CEO of Tan Hiep Phat Beverage Group.

She is honored to receive awards from the Ministry of Industry and Trade, Chairman of Ha Nam's people committee, Chairman of Binh Duong's people committee, Award from Vietnam Beer Alcohol Beverage Association, etc. for great contribution to business development and positive contribution to social and economic development.
So when someone has a low rating, they will know exactly why they did not achieve it.
This also creates motivation, incentives for the the employees to strive, and behave according to core values.
At THP, leaders commit that members can rest assured to work in the corporation, complete their work, and serve customers. They will be recognized and rewarded by the company when they gain good result.
The evaluation system must first rely on their beliefs, then on the general principles of professional performance assessment.
For a long time, THP has cooperated with A.T. Kearney to design the rating system. In fact, THP has invested a lot of time and money into building this system.
Founded in 1994, Tan Hiep Phat Beverage Group ("THP") is Vietnam's largest private wholly-owned FMCG (Fast-moving Consumer Goods) company. THP develops and supplies three of Vietnam's national brands including Dr Thanh Herbal Tea, Zero Degree Green Tea, Number 1 Energy Drink to all of Vietnam's 63 provinces, and to an additional 16 countries internationally. The wider beverage portfolio also includes sport drink, soya milk, purified water and many others. THP recently invested more than $250 million in Aseptic filling lines to increase the production of nature-based products such as Dr. Thanh Herbal Tea. People, from their consumers, business partners to employees, are always positioned at the heart of their business.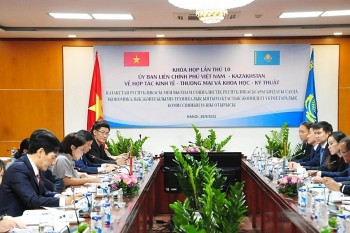 Friendship
The 10th session of the Vietnam-Kazakhstan Intergovernmental Committee on economic-trade and scientific-technical cooperation was held in Hanoi on September 26.