Bac Giang's industrial parks to resume production amid Covid-19 wave
Authorities in Bac Giang Province are preparing to resume the operation of four industrial parks which have been closed recently due to a large Covid-19 outbreak.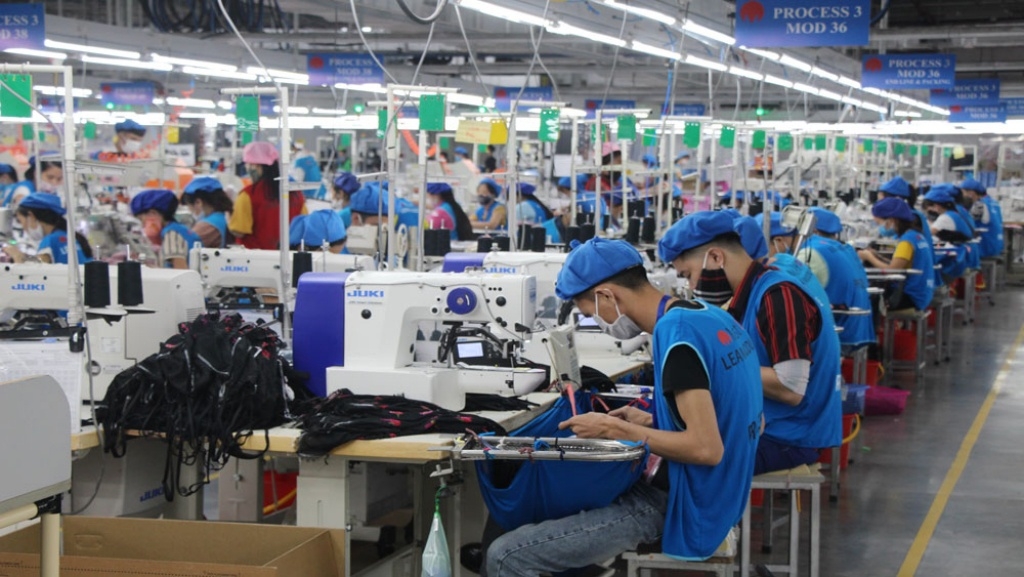 Textile workers at Van Trung industrial park. Photo Thanh Nien
Bac Giang, the Covid-19 epicenter of Vietnam, is preparing to resume the operation of Dinh Tram, Quang Chau, Song Khe-Noi Hoang and Van Trung industrial parks from Friday.
The goal is to ensure manufacturing goes on, jobs are not affected and supply chains remain unaffected since many companies in the industrial zones are key global suppliers, province officials said on Monday.
Eight companies will first resume operations on May 28, including auto parts manufacturer Sanwa Vietnam and electronics components manufacturers Fuhong Precision Component Bac Giang and New Wing Interconnect Technology.
"The resumption of manufacturing will be done step by step and staggered. Enterprises must meet pandemic prevention and control requirements to resume their operations," Nguyen Nguyen Thai, deputy director of the Bac Giang Industrial Park Investment, said.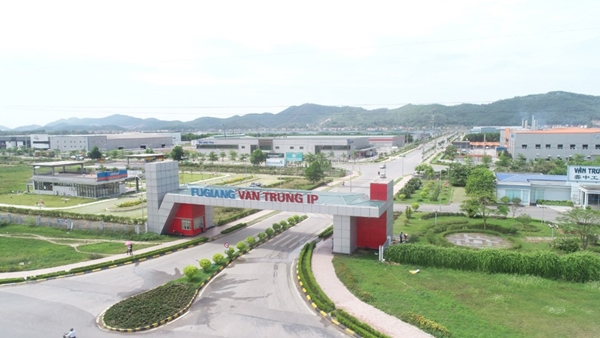 Van Trung industrial park in Bac Giang province will be reopened on May 28. Photo Netnews
From May 23, teams have been inspecting some enterprises and assessed that some are eligible for resumption.
The reopening of the four industrial parks will be divided into two stages: producing amid the complicated developments of the pandemic and returning to a new normal state after the pandemic is brought under control.
In the first phase, firms can only use workers that have tested negative at least twice and been approved by the local authorities from May 9. They must be tested negative one day before returning to work. Firms must arrange a separate living area or dormitory for the employees who were asked to limit direct contact with other people outside of their homes and workplaces.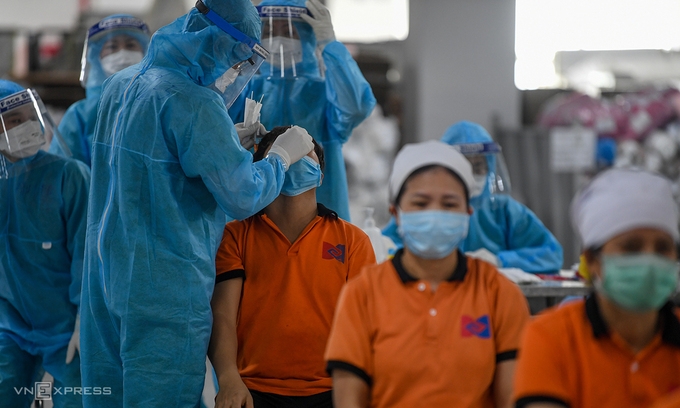 Taking testing samples on workers in Bac Giang province. Workers must be tested negative one day before returning to work. Photo VnExpress
Firms at industrial parks will transport employees to their new living spaces and test all of them at least three days before resuming operation. Any newly-employed workers must fill in medical declaration forms and be tested twice before starting work.
Firms must also have Covid-19 prevention teams to respond to emergencies and a quarantine room for suspected cases.
In the second stage, workers who test negative for Covid-19 twice will return to work and enterprises must conduct random tests on 10 percent of their employees before the 15th of the month.
Bac Giang is home to many large factories in global supply chains, including 13 suppliers of accessories for Samsung and many partners of Foxconn and LuxShare.
The province has six industrial parks with some 240,000 workers. It is the largest pandemic hotspot in the country in the current Covid-19 wave.
The spread of COVID-19 has wreaked havoc in Bac Giang province and forced many businesses in industrial parks and export processing zones with thousands of workers to suspend their operations.
As of Thursday morning, 1,543 community Covid-19 cases have been reported in Bac Giang Province since the resurgence of the pandemic in late April, with the vast majority linked to industrial parks.
Many businesses in Bac Giang's industrial parks nationwide have also taken measures to prevent the transmission of the virus to prevent possible disruption in the production and supply chains.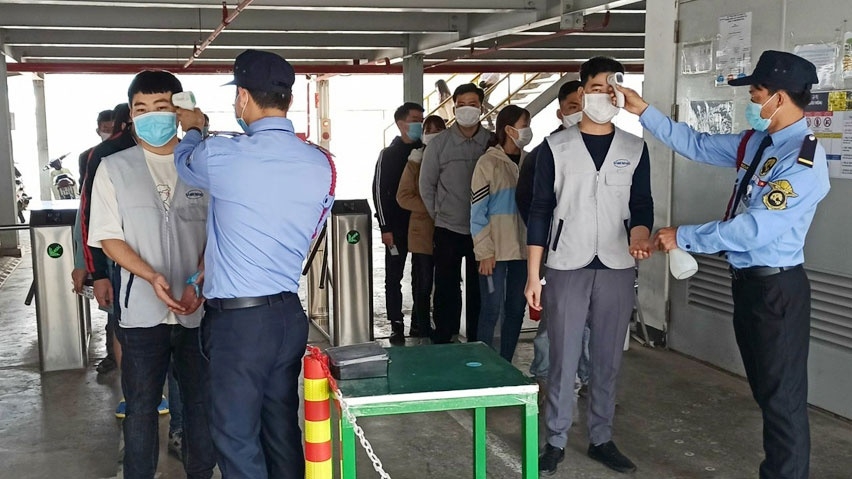 Employees at Samkwang Vina Company in Bac Giang province have body temperatures checked before entering the workplace. Photo Thanh Nien
Crystal Martin Vietnam located in Quang Chau industrial park in Viet Yen District of Bac Giang Province has built a smartphone app for its employees to update information. The company's cleaning staff disinfect twice a day and spray with a chloramine-B solution once a week. Besides that, there are always staff on duty to measure body temperature, instruct workers to disinfect hands, make medical declarations, and keep a safe distance.
The company aims to maintain operations as normal.
At JA Solar Vietnam Company also located in Quang Chau industrial park, the spraying of disinfectants is carried out regularly in the lobbies, offices, and warehouses. In addition to inspections, at the main gate, medical staff regularly measures the temperature of the staff and workers to promptly detect any suspected cases.
To date, the company has maintained operations and even has plans to expand the module manufacturing facility, so is recruiting new employees.
Authorities of industrial parks in Hai Phong, Quang Ninh, and Hai Duong have also been taking measures to keep workers safe and maintain business and production.
The Ministry of Planning and Investment has sent a document to the People's Committees of provinces and cities to strengthen pandemic prevention measures in industrial parks and export processing zones.
Management boards of industrial parks and export processing zones were asked to strictly monitor the entry of foreign workers and experts to stop any illegal entrants working in industrial parks and export processing zones.
Vietnam now is home to 369 industrial parks and border-gate economic zones and export processing zones with a total number of 3.8 million labourers, and 700 operating industrial clusters employing 600,000 employees. As they gather a large number of people and have a closed manufacturing environment, it is one of the top priorities to ensure their safety./.