Bac Giang Province shuts down 4 industrial parks as Covid-19 worsens
With workers accounting for 80 percent of all Covid-19 cases so far, Bac Giang Province has decided to shut down four industrial parks until further notice.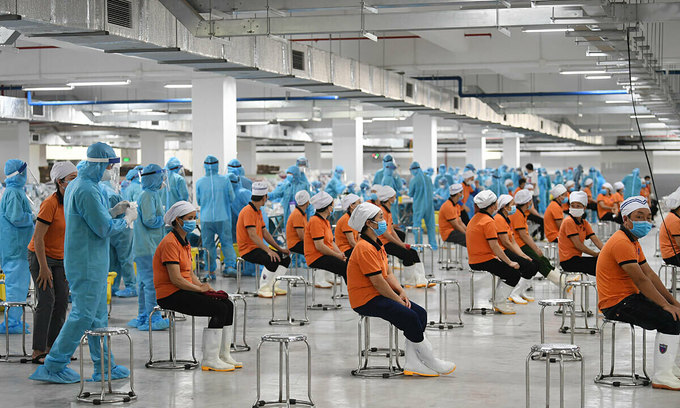 Medics take samples of workers at Quang Chau Industrial Park in Bac Giang Province for coronavirus tests, May 15, 2021. Photo by VnExpress/Hoang Phong.
The parks, Van Trung, Quang Chau, Dinh Tram in Viet Yen District, and Song Khe – Noi Hoang in Yen Dung, with hundreds of companies and 136,000 workers have all recorded cases of infection, VnExpress reported.
Speaking at an online meeting with companies in the four parks on Monday night, the province's chairman, Le Anh Duong, said the Covid situation had never been so complicated.
Since the new wave of local transmissions began in the country three weeks ago, Bac Giang has registered 411 cases, including 326 in industrial parks.
It is currently quarantining more than 6,000 people for having been in direct contact with infected people and medically monitoring 30,000 others.
It is also speeding up mass testing of all workers and people living around the four industrial parks.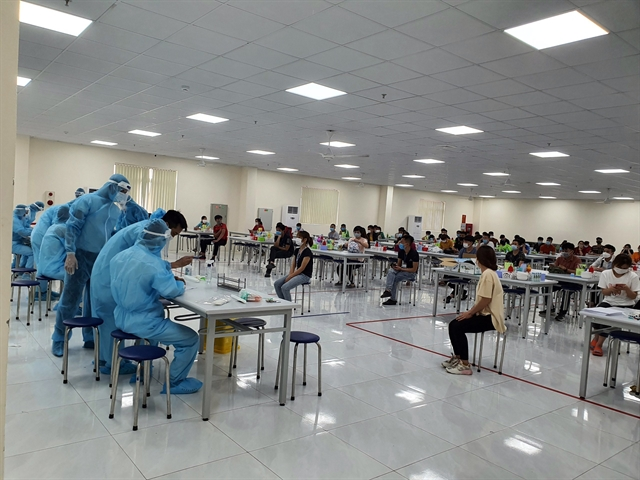 Taking samples at Van Trung Industrial Park in Bac Giang Province. Photo: Vietnamnews
"To put out the hotspot thoroughly, companies might have to stop operations for one to two weeks," Duong said, warning that otherwise, the risk is serious.
Most companies said they do not want such a closure, saying it would cause them significant losses and their customers leave them. But some agreed, saying it is necessary to have a long-term view.
The provincial authorities promised that once the outbreak is brought under control, they would have clear plans to support businesses by preventing further infections and guaranteeing safety so that they could safely resume operations.
Bac Giang Province has six industrial parks with more than 240,000 workers, all situated near residential areas and national highways and thus posing a major threat of spreading infection.
Leading medical experts from the health ministry were dispatched to lend a hand to Bac Giang on Saturday night after the northern province reported rapid transmission of COVID-19 over the weekend, according to Vietnamnews.
The working group included leaders of the Institute of Occupational and Environmental Health, National Institute of Hygiene and Epidemiology, Department of Preventive Medicine, Department of Health Environment Management and Hanoi's Bach Mai Hospital.
Also on Saturday, more than 200 medical workers from Vietnam-Sweden Uong Bi Hospital and the health department of northern Quảng Ninh Province were sent to help Bac Giang.
On May 17, about 300 mobile policemen were also sent to Bac Giang. They have assumed responsibility for preventing and handling violations in the fight against Covid-19 in the province.
Hanoi also sent 20 anti-pandemic medical experts to help Bac Giang in the fight against Covid-19.
Besides, the city also will support Bac Giang Province to take more than 10,000 samples for Covid-19 testing, assist the pandemic region for the epidemiological investigation, tracing, zoning and testing biological products at Van Trung Industrial Park with nearly 100,000 workers, ensure environmental hygiene and spray disinfectant in the industrial park.
Eighty-six new cases of Covid-19, including one imported and 85 domestic infections, were documented over the last six hours to 12:00 pm on May 18, according to the Ministry of Health.
The imported case was a 67-year-old man from the Republic of Korea arriving in the south-central province of Binh Dinh on May 16. He was immediately put under quarantine in central Da Nang city upon his arrival.
The domestic cases include 63 in Bac Giang, six in Hanoi, four in Dien Bien, three in Bac Ninh, three in Hai Duong, two in Da Nang and one each in the Vietnam National Cancer Hospital's Tan Trieu facility, Hai Phong, Hung Yen and Ha Nam. All were detected in quarantine sites and locked-down areas.
No new outbreak was reported.
So far, the national tally reached 4,464 Covid-19 cases, with the number of local infections since the fourth Covid-19 wave hit Vietnam on April 27 totaling 1,424.
The death toll remained at 37. The recoveries now stand at 2,668.