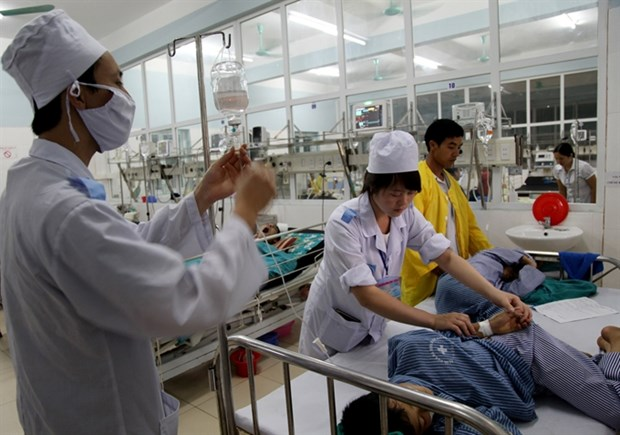 Doctors take care of patients at Ha Giang province's General Hospital. Photo: VNA
Vietnam has made impressive progress toward universal health coverage (UHC) in the past decade while prioritizing different dimensions, said Brookings Institution, a non-profit public policy organisation based in Washington DC.
The institution cited a recent study as saying that Vietnam provided a generous benefit package that is more equitable for all, and the country has made sizeable gains in population health.
Vietnam's strong political commitment can be seen in large government subsidies for health insurance, especially for the poor and the vulnerable, and the enacting of laws, policies, and decrees to establish and promote health insurance schemes.
Vietnam established health insurance for employees in the 1990s, but it wasn't until 2003 that the government began taking more financial responsibility for the poor. That was when it increased coverage, though incrementally.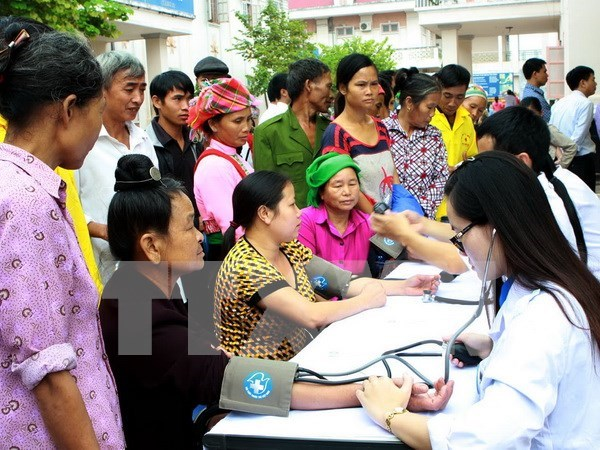 Vietnam's strong political commitment can be seen in large government subsidies for health insurance, especially for the poor and the vulnerable. Photo: VNA
Vietnam achieved impressive increases in population coverage over the span of 13 years through the critical policies/laws/decrees they enacted, the institution said.
Vietnam's pro-poor design focused on stabilizing the most vulnerable populations, so those uninsured are assumed to have some form of financial capacity.
However, it noted that Vietnam still faces great challenges, including aging population and shifting disease burdens are putting a lot of pressure on the financial sustainability of their health insurance systems.
Cross subsidization, provider payment reform, and cost-effective benefit packages have to be carefully designed and implemented to improve the efficiency, equity, and affordability of health insurance systems. Though the future is uncertain, Vietnam's prospects look promising as they continue to customize their designs to their realities, it added./.
Universal health coverage (UHC) means everyone – all individuals and communities – having access to quality, needed services that are affordable. The spectrum of services includes health promotion, prevention, treatment, rehabilitation, and palliative care. UHC serves as the overarching platform for achieving the health-related Sustainable Development Goals (SDGs). UHC is not just about health financing – it reflects the importance of having equitable access to good quality health services and realizing the right to health, especially for vulnerable populations.
Globally, countries monitor UHC through the service coverage delivery index (SDG target 3.8.1) and financial protection (SDG target 3.8.2) indicators, among other qualitative and quantitative measures.
Vietnam is committed to accelerating UHC and strengthening primary health care as the foundation for UHC, especially when faced with emerging challenges of the rise of non-communicable diseases and increasing ageing population. It continues to make progress on addressing the needs of vulnerable populations, including the "missing middle", according to the WHO.
Rosy Huong