In the email, the US CDC's representative, Doctor Drew Posey wrote: "We would like to congratulate Cho Ray on the successful treatment of Patient 91, the Scottish pilot infected with the coronavirus in February. In the midst of much bad news about the pandemic, it is wonderful to see Cho Ray receive such positive international press attention".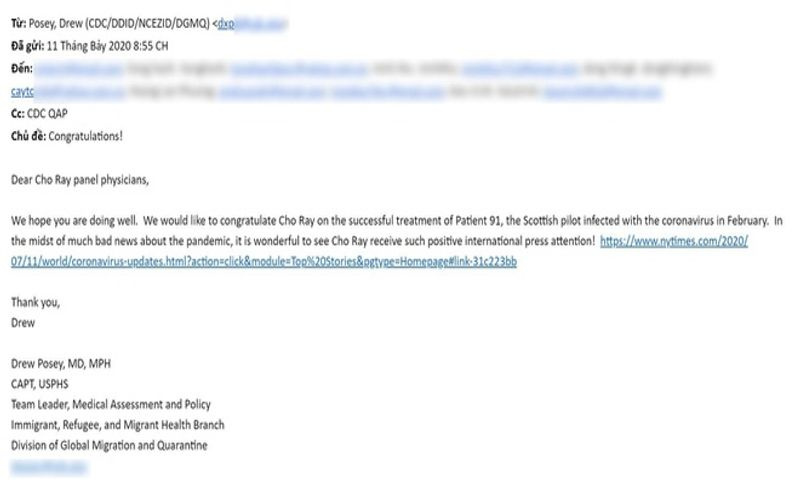 US CDC congratulates Cho Ray Hospital for successful treatment of British pilot COVID-19 patient Photo: Bao Moi
The doctor also attached a link to an article titled "A Scottish pilot who became an emblem of Vietnam's virus fight leaves the hospital" which was published on the New York Times on the day when Patient 91 was discharged from the hospital.
Doctor Nguyen Tri Thuc, the Director of Cho Ray Hospital said "We are so glad to receive congratulation from US CDC. The success in treating for patient 91 is efforts not only of Cho Ray Hospital but also of the Vietnamese health sector.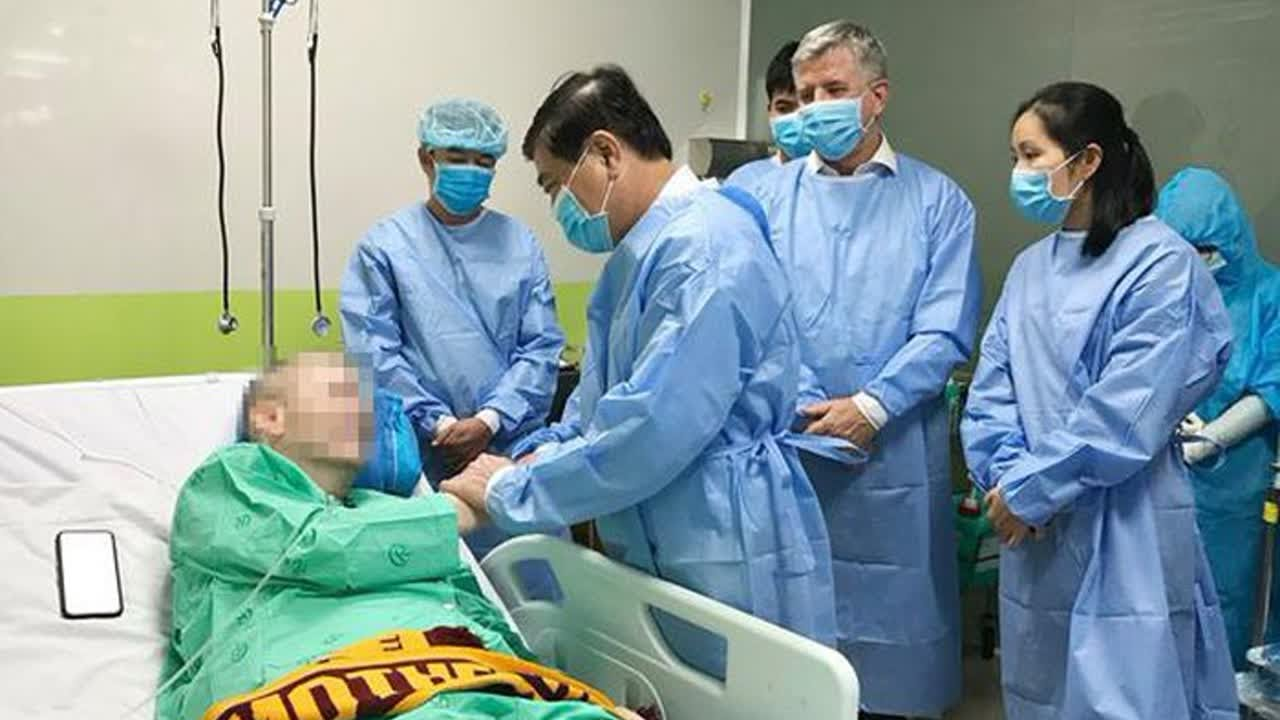 The Patient 91 shakes hands with HCMC Chairman Nguyen Thanh Phong at Cho Ray Hospital on June 17, 2020. Photo courtesy of Cho Ray Hospital.
Cho Ray Hospital held a ceremony to discharge him on the morning of July 11.
Earlier, the Ministry of Health hosted a final consultation to conclude that the British pilot was free of the SARS-CoV-2 virus, and thus eligible for discharge from the hospital and repatriation.
The British pilot boarded a flight from Ho Chi Minh City to Hanoi on the evening of July 11, and then took another flight to the UK at midnight the same day. Three Vietnamese doctors accompanied Cameron throughout the trip, according to Nhan Dan.
The pilot has miracle recovery Photo: Bao Moi
The 91st patient, Stephen Cameron, 43 was the most critical patient in Vietnam, who underwent the longest treatment in Vietnam including 65 days of curing at Ho Chi Minh Hospital for Tropical Diseases and 51 days of intensive care and rehabilitation at Cho Ray Hospital in Ho Chi Minh City. He was considered the "unprecedented case ever in Vietnam" and he was Vietnam's last patient in the ICU.
To keep his alive, Vietnam Ministry of Health had gone all out, mobilizing all leading experts in the fields of infection, respiration, resuscitation, hematology, rehabilitation among others. Beside many national-level consultations, the medics almost made supreme efforts and resources to save the patient "from the hand of the Dead".
Vietnam has reported a total of 372 coronavirus infections, no death related. Vietnam has gone 88 days without community transmission. All recent cases are people who were infected abroad and the patients were placed in the government's centralized quarantine facilities upon their arrival in Vietnam.
Malie Nguyen