Coronavirus live update today: World's infections surpasses 2 millions, New York's total cases highest worldwide
Coronavirus today update April 16 sees over 2 millions patients have contracted the novel virus worldwide. Meanwhile, with 203,377 cases, New York's COVID-19 patients number is now higher than Spain, the second hardest-hit country globally.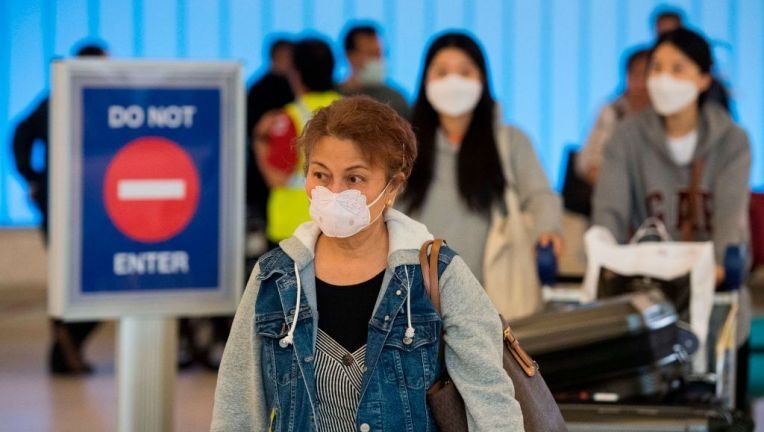 New York's total infections is now higher than any other countries outside the US (Photo: Fox 10 Phoenix)
Coronavirus today updates: 2,017,939 people worldwide have been diagnosed with COVID-19, the disease caused by the new respiratory virus, according to data compiled by the Center for Systems Science and Engineering at Johns Hopkins University.
The actual numbers are believed to be much higher due to testing shortages, many unreported cases and suspicions that some governments are hiding the scope of their nations' outbreaks.
The US: A global pandemic of the novel coronavirus has now claimed the lives of more than 126,800 people around the world.
Since the first cases were detected in China in December, the U.S. has become the worst-affected nation, with more than 614,000 diagnosed cases and at least 26,064 deaths.
Coronavirus today updates: With 203,377 cases, the number of infections in New York state alone is higher than in any single country outside the U.S.
The state also has 10,842 deaths in total, according to data from Washington Post.
The second hardest-state in the country is New Jersey, with 68,824 infections and 2,805 deaths in total.
Louisiana, the third state with largest infection cases has 1,013 deaths, 21,518 infected patients have been reported.
Connecticut has a total of 13,989 cases, and 671 deaths.
CDC: More than 9,000 health workers have tested positive for coronavirus
At least 9,282 health care workers in the U.S. have contracted the coronavirus in a two-month period, leading to 27 deaths, according to a report released Tuesday by the Centers for Disease Control and Prevention (CDC), The Hill reported.
However, the CDC said the figures in the report should be considered on the lower end since many cases have likely gone "unidentified or unreported."
Trump announces suspension of funding to WHO
US President Donald Trump said the funding would be suspended while an investigation was conducted into the WHO's handling of the coronavirus pandemic. The US president said funding would be on hold for 60 to 90 days and accused the global body of "severely mismanaging and covering up" the threat. Meanwhile, the US registered a record 2,228 deaths in the past 24 hours.
UN secretary general António Guterres said in a statement that now "is not the time to reduce the resources for the operations of the World Health Organization or any other humanitarian organization in the fight against the virus", according to The Guardian.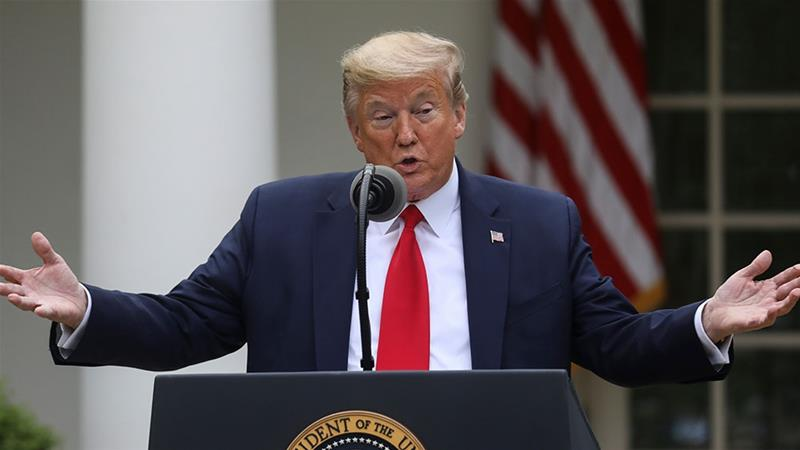 Trump addresses the daily coronavirus taskforce briefing in the Rose Garden at the White House (Photo: Leah Millis/Reuters)
Coronavirus live updates: Russia: reports record new infections within 24 hours, raising total cases to 24,490.
There are a total of 198 lives have been claimed, 28 cases higher than yesterday. 1,986 patients have recovered. As of April 16, COVID-19 has spread to 84 localities in the country, only the Altai Republic remains virus-free.
Moskva health officals confirmed another 1,774 new infections, raising total to 14,776, of which 106 have died. Moskva still suffers the most from COVID-19 pandemic in Russia.
Spain: There are 324 new deaths reported, slightly lower than yesterday, raising total deaths to 18,579. Meanwhile, with 3,573 new infections, Spain's confirmed patients is raised to 177,633.
Health officials said Spain had passed the peak of the epidemic, after recording the highest number of deaths per day at 950 on April 2. However, they recommend not to relax the measures to restrict movement of people.
The UK: UK death toll nears 13,000 after another 801 tragic losses
Today there has been some positivity however, with British veteran Captain Tom Moore, 99, raising a staggering £6million in donations and counting after pledging to walk 100 laps of his garden in support of NHS workers.
The veteran hit the milestone after the Government's Care Minister was slammed for laughing during a 'car crash' coronavirus interview with Piers Morgan on Good Morning Britain earlier today.
Iran: With 1,512 new cases, Iran has 76,389 infections in total, 4,777 deaths, making it the second hardest-hit in Asia, and come up 8th on global scale.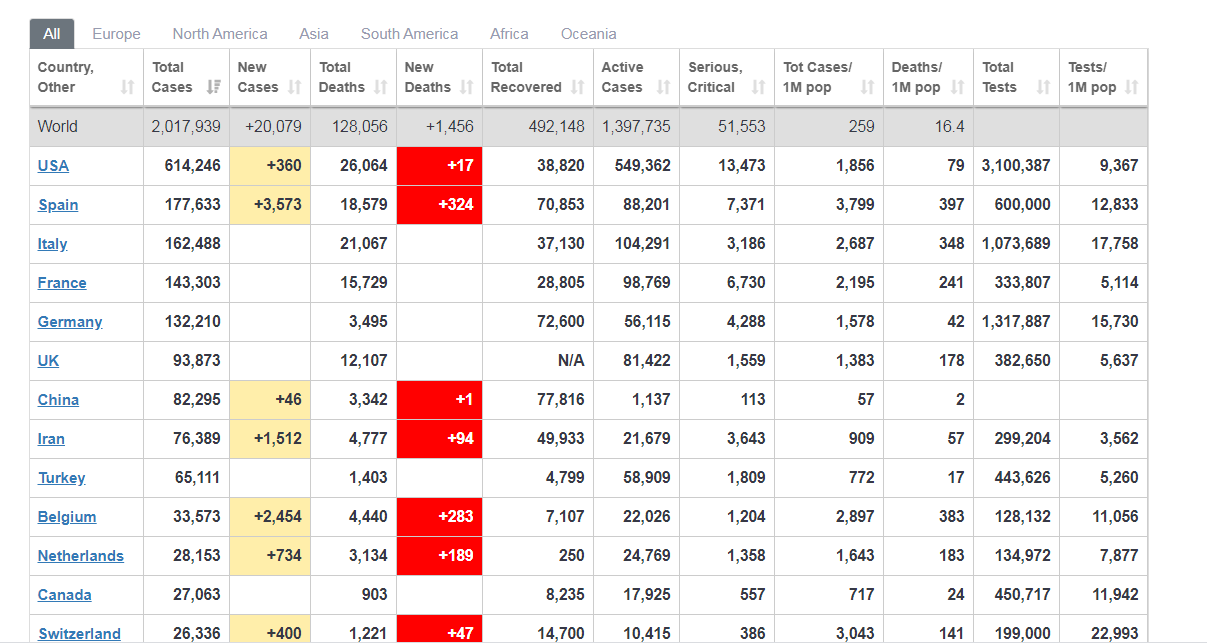 (Photo: WorldOMeters)
Coronavirus live updates: Japan has 215 new cases, total infections raised to over 8,000 cases. 146 deaths are reported.
Potentially even more alarming is the increasing number of instances where authorities have been unable to track patients' infection routes, writes the JT's Magdalena Osumi. Tracing the source of infection is vital in curbing the outbreak, but some Japanese experts are concerned that the situation in Japan may spiral out of control as it has in other countries across the globe.
Retailers in Japan are struggling to continue operations more than a week after the government declared a state of emergency over the outbreak, with shop employees facing overwork due to labor shortages and stress associated with infection risks.
And while convenience stores, supermarkets and drugstores, exempt from the government's business closure requests, are benefiting from changing consumer behavior amid the pandemic, analysts say the new consumption pattern won't lift the economy out of a slowdown, Japan Times reported.
In a bid to stave off economic doldrums, the government is examining other ways of pumping up the economy, including giving cash benefits of ¥300,000 to households if a person other than the head of a family suffers a sudden decrease in income amid the epidemic.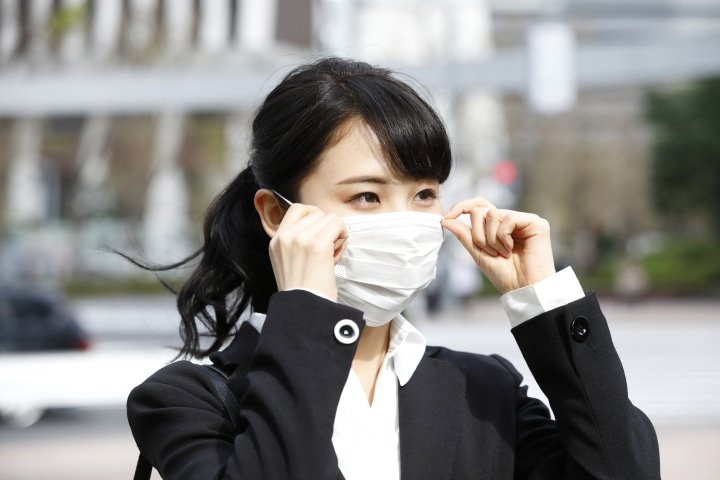 (Photo: Matcha-JP.com)
Saudi Arabia has 493 new cases, followed by Singapore (334), Pakistan (341), Israel (282), the Philippines (291).
China, India, Korea, Japan reports meager increase, which are 89, 88, 27, 27 respectively.
Coronavirus today updates: ASEAN countries has over 22,000 infections in total
ASEAN countries report a total of 22.180 nCoV patients, an increase of over 1,000 cases within 24 hours. 958 lives have been claimed.
On April 16, the Philippines has been the No.1 country in the region with the highest total infections for three consecutive days. Its infections stand at 5,463, an increase of 291 new cases.
Malaysia comes second in the list with 5,072 cases. Indonesia's infections come pretty close with only some 60 cases fewer than Malaysia. Singapore reports 3,252 cases, with 334 new cases. Thailand reports 2,643.
Vietnam, Brunei, and Campuchia are the three ASEAN countries with three-figures cases, which are 267, 136, 122 respectively.
Timor-Leste has the lowest infection number of the region, with 6 cases detected.
Regarding death tolls, Indonesia has the highest (469), the Philipines (349), Malaysia (83), Thailand (43), Singapore (10).
The Philippines reported the highest new deaths (14), Indonesia to coming next (10), both are seeing a significant reduction compared with yesterday's number.
Four countries with no deaths reported are Vietnam, Campuchia, Laos, and Timor-Leste.
Leaders of ASEAN countries today warned that the regional economy could suffer heavy losses due to COVID-19, calling for re-opening of trade routes to ensure employment, food supply as well as medical equipment storage.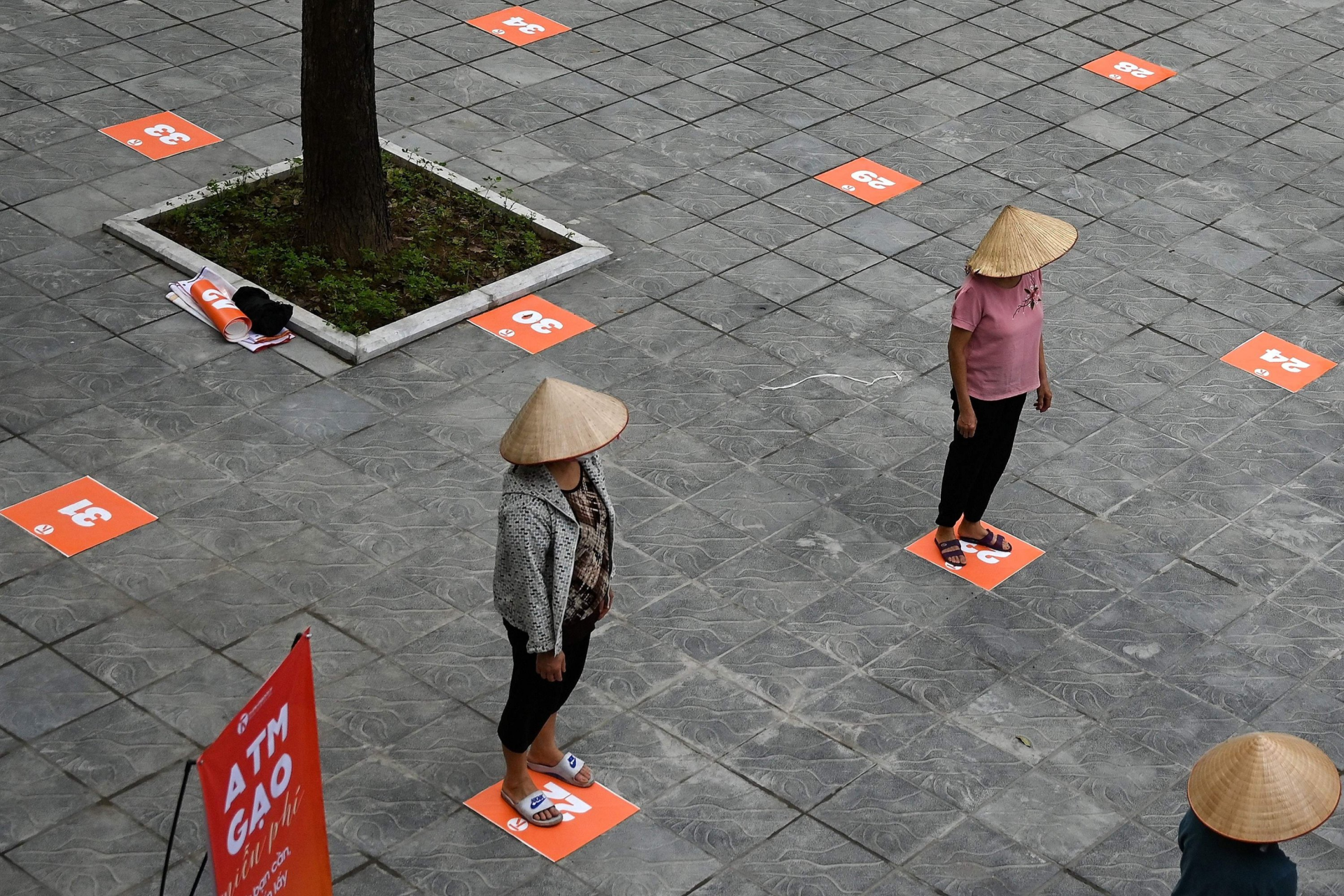 Residents wearing face masks practice social distancing as they wait in a queue for free rice, Hanoi, April 11, 2020. (AFP Photo)
Coronavirus live updates: no new death reported in Vietnam on April 15, total cases remains at 267.
Prime Minister Nguyen Xuan Phuc on Apri 15 has decided to extend social distancing order on some localities in Vietnam including two biggest cities Hanoi and Ho Chi Minh City at least until April 22.
The decision was made during the online meeting of the government with health ministry officials this afternoon.
Accordingly, Deputy Health Minister Nguyen Thanh Long proposed the government to divide 63 provinces and cities into three groups including high- risk, low-risk and deem to having risks according to some criteria such as traffic hubs, circulation density, borders, where people had contact with foreigners, population density, numbers of factories and industrial zones among others.
As many as 12 localities including Hanoi, Ho Chi Minh City, Bac Ninh, Binh Thuan, Danang, Khanh Hoa, Lao Cai, Ninh Binh, Quang Nam, Quang Ninh, Ha Tinh, Tay Ninh will continue to follow the government's Directive 16, which requires people to stay at home, avoid unnecessary activities outdoor among others until April 22 or longer depending on the situation of the epidemic.
The high-risk group is required to follow strictly the social distancing order, however, keep paying attention to the manufacturing, infrastructure building, creating favorable conditions for goods transportation for people.
The other 15 provinces and cities that deems to have risks, as well as the remaining localities of the low-risk group, do not need to extend the social distancing order, according to Long.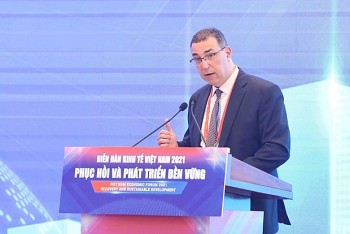 National
Vietnam News Today (December 6): Vietnam records 14,312 new Covid cases; Vietnam-Lao special relations continue to be nurtured; Vietnam's economy showing signs of recovery; Hanoi changes face-to-face learning plan at last minute.