Coronavirus live updates: New York's infections highest worldwide. Canada imposes tougher quarantine rules
Coronavirus today updates April 15 see New York state confirmed 203,020 COVID-19 cases, over 30,000 cases higher than Spain, world's second hardest-hit country. Meanwhile, after the confirmation of nearly 1,400 new cases and 123 more deaths, Canada decided to toughen its quarantine rules.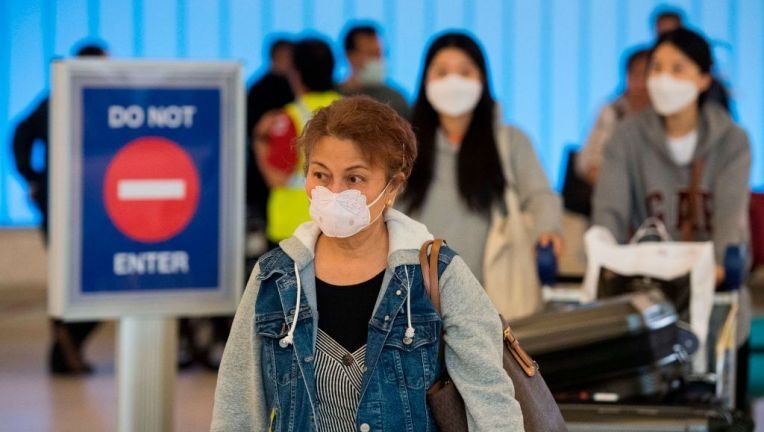 (Photo: Fox 10 Phoenix)
Coronavirus today update: the US
A global pandemic of the novel coronavirus has now claimed the lives of more than 126,800 people around the world.
2,005,214 people worldwide have been diagnosed with COVID-19, the disease caused by the new respiratory virus, according to data compiled by the Center for Systems Science and Engineering at Johns Hopkins University. The actual numbers are believed to be much higher due to testing shortages, many unreported cases and suspicions that some governments are hiding the scope of their nations' outbreaks.
Since the first cases were detected in China in December, the U.S. has become the worst-affected nation, with more than 614,000 diagnosed cases and at least 26,064 deaths.
Coronavirus today updates: With 203,020 cases, the number of infections in New York state alone is higher than in any single country outside the U.S.
The state also has 10,842 deaths in total, according to data from Washington Post.
The second hardest-state in the country is New Jersey, with 68,824 infections and 2,805 deaths in total.
Louisiana, the third state with largest infection cases has 1,013 deaths, 21,518 infected patients have been reported.
Connecticut has a total of 13,989 cases, and 671 deaths.
Trump announces suspension of funding to WHO
US President Donald Trump said the funding would be suspended while an investigation was conducted into the WHO's handling of the coronavirus pandemic. The US president said funding would be on hold for 60 to 90 days and accused the global body of "severely mismanaging and covering up" the threat. Meanwhile, the US registered a record 2,228 deaths in the past 24 hours.
UN secretary general António Guterres said in a statement that now "is not the time to reduce the resources for the operations of the World Health Organization or any other humanitarian organization in the fight against the virus", according to The Guardian.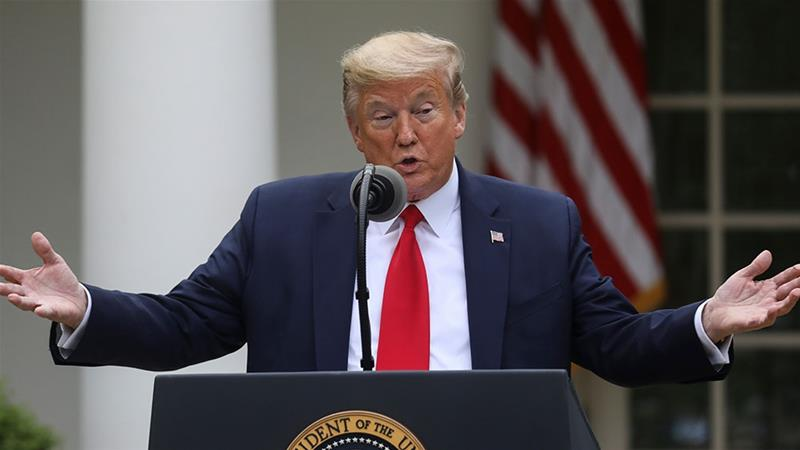 Trump addresses the daily coronavirus taskforce briefing in the Rose Garden at the White House (Photo: Leah Millis/Reuters)
Trump wants to declare country open by May 1 — but the reality will be much slower
A scramble is underway inside the White House to determine how to stagger a reopening of the economy amid the novel coronavirus pandemic while also protecting Trump from any political fallout.
Within Trump's circle, officials say, there is acknowledgment that it will not be possible for the president to simply flip a switch. A return to normal likely would take many months, administration officials said, and should be orchestrated methodically and guided by medical data. For instance, officials are considering beginning with areas deemed to have the lowest risk of a major outbreak, Washington Post reports.
Coronavirus updates today: Canada
Canada has now reported 27,063 confirmed cases of COVID-19, including 903 deaths.
The country's new numbers come amid a total of 1,383 newly confirmed cases, as well as 123 new deaths reported by provincial health authorities on April 15. At least 8,200 out of Canada's total cases have also recovered from the virus as well.
The new death toll marks the highest daily increase in fatalities since the first death in Canada was reported on March 9.
Deaths in senior care homes have made up the brunt of Canada's overall death toll, especially in the hardest-hit province of Quebec — which reported a total of 75 deaths in a single day as a result of the virus.
To date, the province has a total over 14,300 confirmed cases and 435 deaths as of April 15, according to global news.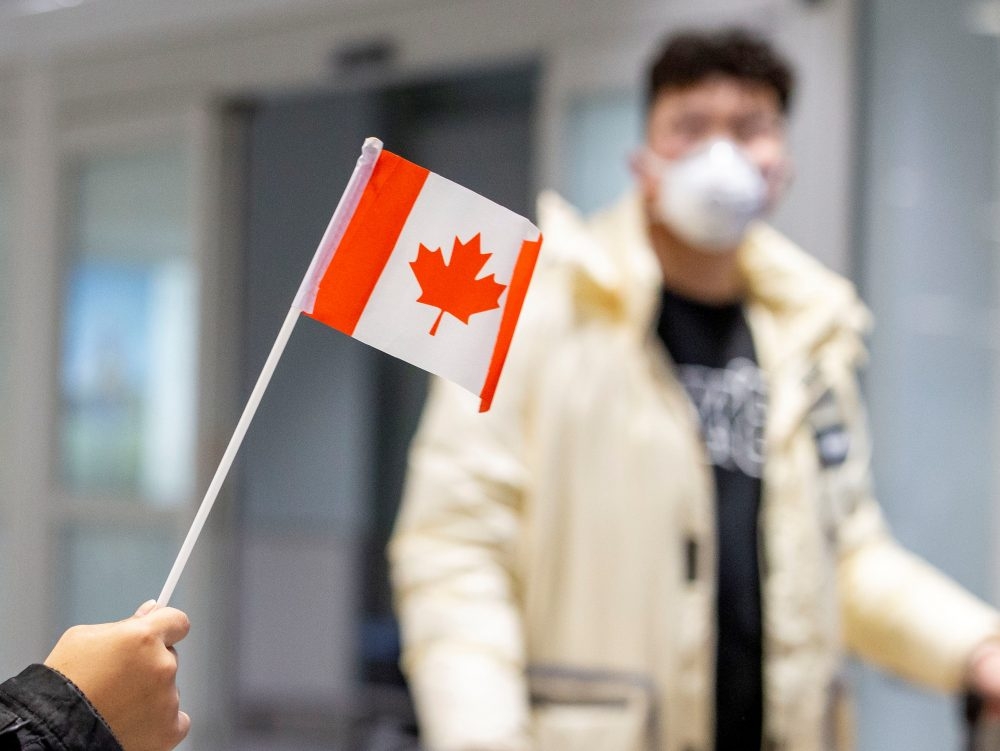 Canada is tightening its quarantine rules (Photo: National Post)
Coronavirus updates today: Canada-U.S. border likely to remain closed for weeks, PM says in imposing tougher quarantine rules
Prime Minister Justin Trudeau says shutdown of the Canada-U.S. border to all non-essential travel is likely going to be one of the suite of public health restrictions set to remain in place for weeks. This comes as the federal government imposes tougher mandatory quarantine measures for returning travellers.
Over the last month, COVID-19 has considerably shaken up Canadians' lives and Trudeau said Tuesday that it will be "a while still" before governments can consider getting the economy and other aspects of society back up and running, including allowing international visitors on Canadian soil. Though, talks are underway with the provinces about the best way to reopen things such as schools and businesses in phases in the weeks ahead.
The prime minister also announced on Tuesday that effective at midnight, anyone who is returning to Canada from abroad has to have a "credible quarantine plan" or they will be forced to spend 14 days in isolation in a "quarantine location", CTV news reported.
Last update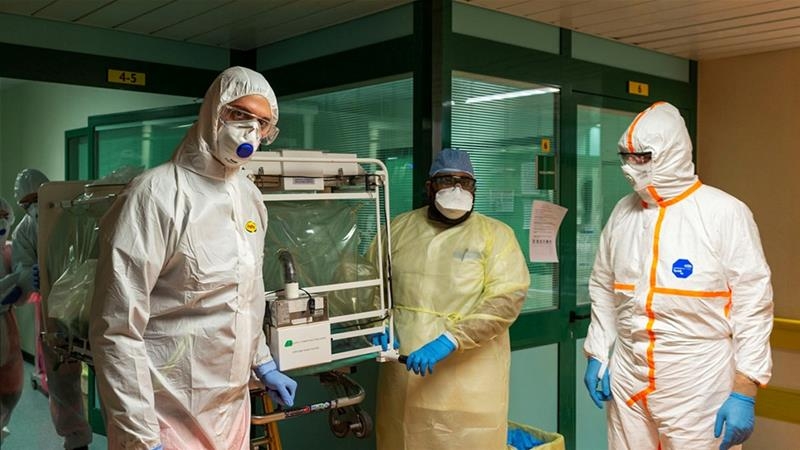 Over 5,000 medical staff at NHS contracted the virus (Photo: AI Jazeera)
Coronavirus today updates: The US is "nearing the peak right now," according to the DCD director. Confirmed infections topped 613,886, including more than 26,047 deaths.
The country is still the No.1 country in the world to be hit by nCoV. Its total infections is three times higher than Spain's, the second hardest-hit country, and only around 40,000 cases lower than North America's and some 320,000 cases lower than all European countries' total.
Hot spots have erupted in a few places with large outbreaks, none direr than in New York, where at least 195,749 cases have been reported and at least 10,058 have died since March 14. New Jersy comes in second, followed by Michigan and Louisiana.
The UK: sees a surge in new infections within 24 hours (over 5,250 new cases) and 778 more patients succumbed to the disease.
Such development makes the UK become the world's sixth-highest infected country, with 93,873 infections and 12,107 deaths reports.
A third of NHS staff and key workers reported positive for nCoV, new British government data shows.
According to figures released Monday, 16,888 people who fall into the category of "key workers and their households," and who have shown symptoms or live with symptomatic people, have been tested. So far, 5,733 -- or 34 percent -- were confirmed to have the virus, CNN reported.
The government has been under intense pressure to ramp up testing for NHS workers and their families and to improve their access to appropriate personal protective equipment (PPE).
Monday was supposed to be the day when Britain might have started to lift its lockdown, but with no sign yet that the epidemic there is abating, the government is expected to leave the restrictions in place until well into next month.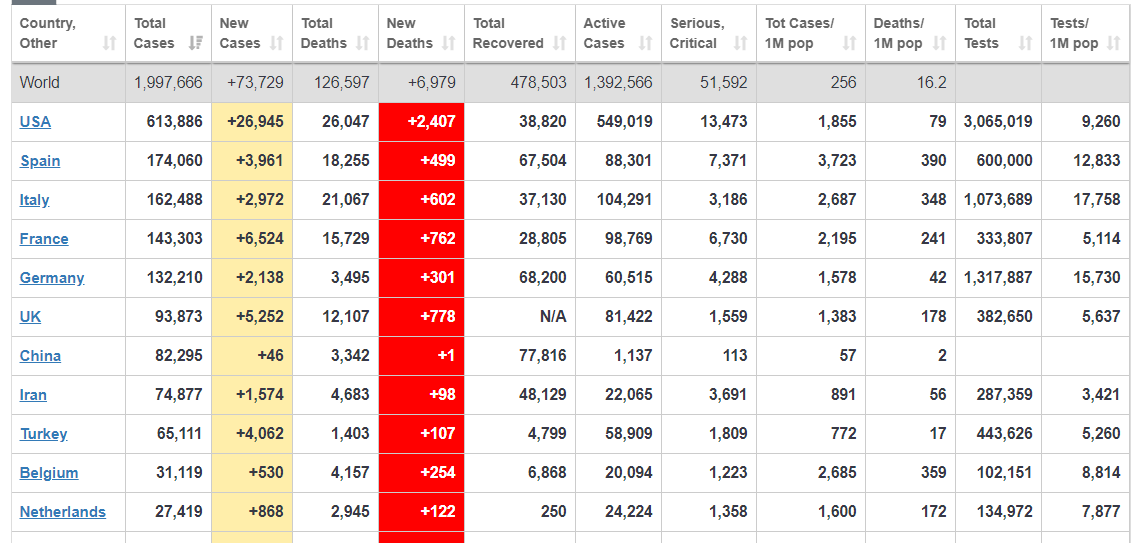 World's report (Photo: WorldOMerters)
The UK is expected to extend lockdown into May as its tally of confirmed cases surpasses China's
When Prime Minister Boris Johnson imposed the lockdown on March 23, he said the government would review it on April 13. But officials have signaled it is too soon to ease the measures.
The latest death figure was smaller than those reported late last week, but numbers are typically lower on the weekend because of a lag in reporting.
The number of known infections and fatalities is rising faster in Britain than anywhere else in Europe, putting it on track to reach the death totals in Italy and Spain.
Jeremy Farrar, a leading British medical researcher who is director of the Wellcome Trust, told the BBC on Sunday that Britain is "likely to be one of the worst, if not the worst, affected countries in Europe."
Spain: reports nearly 2,500 new infections and 300 new deaths. Around 30% of patients have recovered, meanwhile of the remaining 86,981 active cases, over 7,370 patients are in critical condition.
Italy: the word third-biggest epicenter has nearly 160,000 cases on April 15. 20,465 have been reported. Even its total infection is only one-third of the US's, its death tolls is only some 3,000 cases smaller.
Russia: recorded an additional 2,800 new cases of nCoV, the highest daily increase since the outbreak, bringing the country's total cases to more than 21,000.
The number of infections and deaths increased to 21,102 and 170 respectively. Nearly 1,700 people have recovered.
Of the new infections, nearly 1,500 cases have been reported in Moscow, the most heavily affected and considered the country's epicenter.
Moscow's health system, in particular, was under growing strain, and state television reported hours-long lines of ambulances waiting to admit suspected coronavirus patients into hospitals. The authorities tightened their lockdown on the city of 13 million people, directing residents to apply online for permission to leave their homes.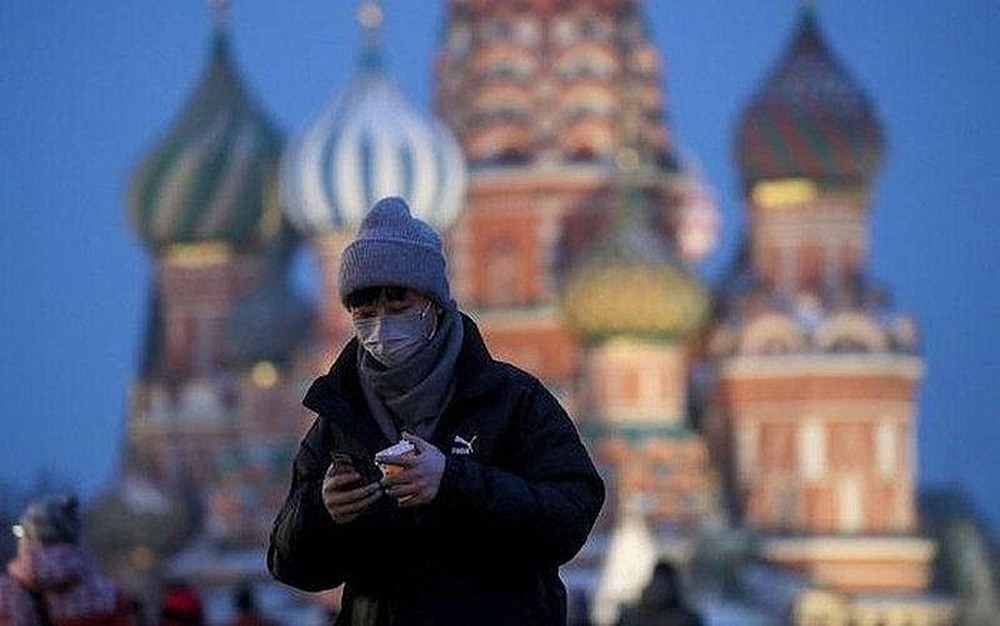 Moscow is the hardest-hit region in Russia (Photo: Baomoi)

Iran: is the only country has four-figure new infections. With 1,574 new cases, Iran has 74,877 infections in total, 4,683 deaths, making it the second hardest-hit in Asia, and come up 8th on global scale.
Coronavirus updates: Asia's total cases approach 82,300, more than 3,340 deaths reported.
Saudi Arabia has 435 new cases, followed by Singapore (334), Pakistan (341), Israel (282), the Philippines (291).
China, India, Korea, Japan reports meager increase, which are 89, 88, 27, 27 respectively.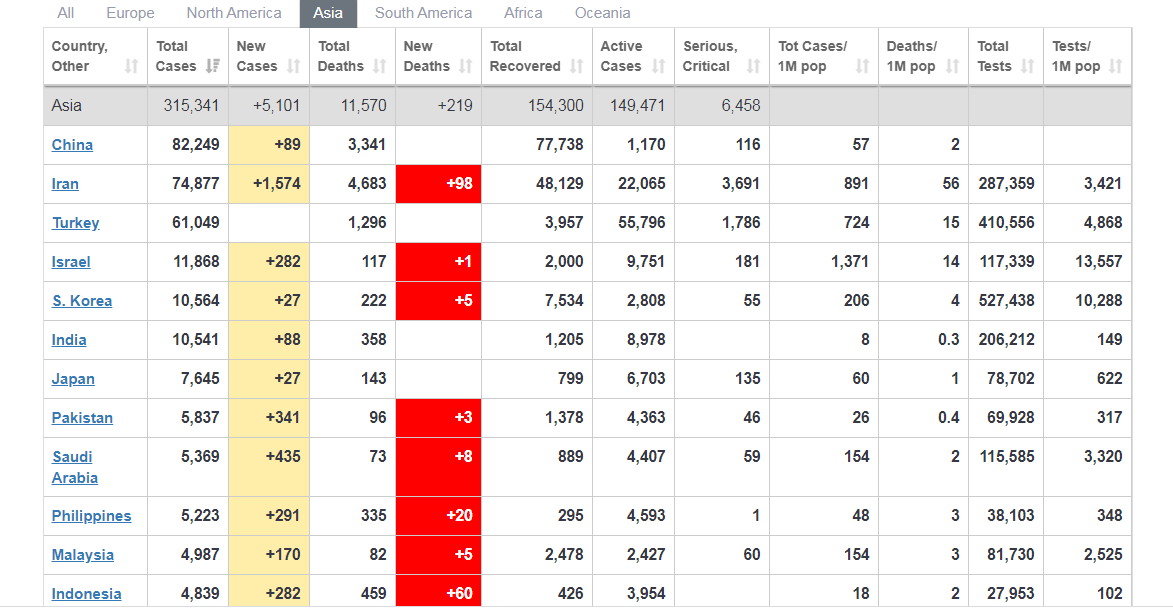 COVID-19 reports in Asia (Photo: WorldOMeters)
Coronavirus today updates: ASEAN countries has nearly 1,000 deaths in total
ASEAN countries report a total of 21,365 nCoV patients, an increase of 1,364 cases within 24 hours. 931 lives have been claimed.
On April 15, the Philippines have overtaken Malaysia's No.1 place as the country with the highest total infections. With 291 new cases today, the Philippines' total cases stand at 5,223 meanwhile Malaysia comes second in the list with 4,987 cases. Indonesia's infections come pretty close with only over 100 cases fewer than Malaysia. Thailand reports 2,613, Singapore reports 2,918.
Vietnam, Brunei, and Campuchia are the three ASEAN countries with three-figures cases, which are 266, 136, 122 respectively.
Timor-Leste has the lowest infection number of the region, with 4 cases detected, the same as April 14.
Regarding death tolls, Indonesia has the highest (459), the Philipines (335), Malaysia (82).
Indonesia reported the highest new deaths (60), the Philippines to coming next (20).
Four countries with no deaths reported are Vietnam, Campuchia, Laos, and Timor-Leste.
Leaders of ASEAN countries today warned that the regional economy could suffer heavy losses due to COVID-19, calling for re-opening of trade routes to ensure employment, food supply as well as medical equipment storage.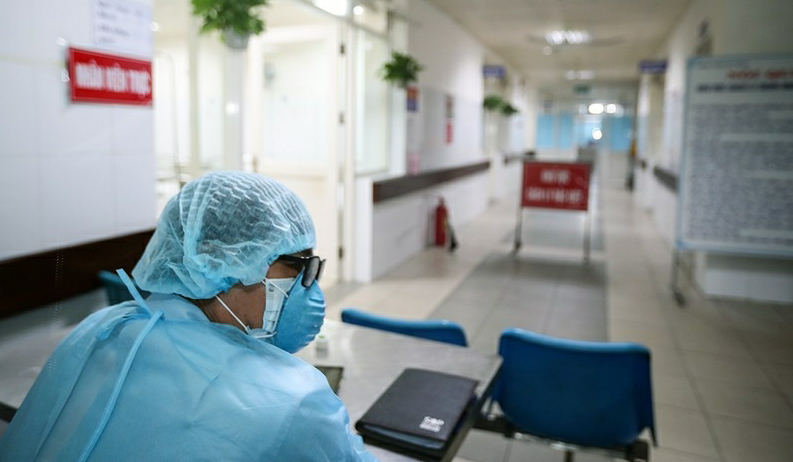 With one more patient, Vietnam now has 266 cases in total (Photo: VTV)
Coronavirus today updates: Vietnam confirmed two new case April 15 morning, raising total to 267, no death reported.
Patient 266 is from Hanoi's Thuong Tin district. The 36-year-old woman took care of her mother at Bach Mai hospital, home of an outbreak of COVID-19 last month, from March 8 to 10. She was quarantined at home from March 30 and had samples taken for testing on April 12. The patient is now hospitalized at the second branch of the Central Hospital for Tropical Diseases in Hanoi.
A man in a family with two Covid-19 patients in Hanoi's Ha Loi Village has made the latest new coronavirus infection in Vietnam. The latest patient has brought the infection tally at Ha Loi to 13 and the nation's count to 267.
By 17:00 on April 14, another COVID-19 patient was declared cured at the general hospital at Cau Treo international hospital, the central province of Ha Tinh. Thus, the total number of COVID-19 patients given the all-clear has risen to 169.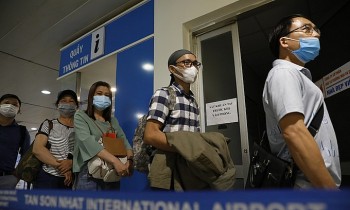 Focus
Over 55.5 million people in Vietnam have now been fully inoculated, while more than 73.8 million people have received at least one dose of Covid-19 vaccine.