Coronavirus live updates: The US and European countries top the chart, China continues report meager new cases
Coronavirus live updates April 12 sees a total of 1,779,099 cases and nearly 108,770 deaths. The novel virus has been affecting 210 countries and territories, and 2 international conveyances.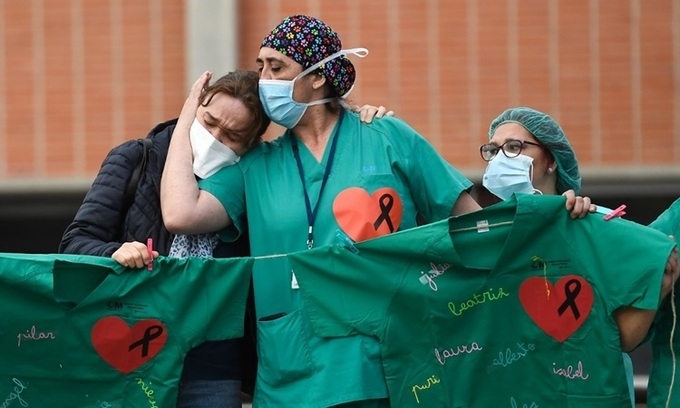 One Spanish medical staff consoles the woman whose husband passed away due to COVID-19 (Photo: AFP)
Coronavirus today updates sees the US: is still tops that chart with the highest infections worldwide (532,879), which comes close to the infection tally of North America (568,949) and Europe.
The figure is over two times higher than Spain's, the second-highest epicenter of the world (163,027)
Spain: the European country with the most reported coronavirus infections, has confirmed 525 new deaths, the lowest daily toll since March 23, when the World Health Organization (WHO) declared the coronavirus outbreak a pandemic. Total deaths stand at 16,606.
Meanwhile, with nearly 162,000 infections, Spain is still the number one country in Europe with total cases.
Italy: has both total cases and death tally standing slightly lower than Spain, only some 20,000 and 2,000 cases respectively.
France and Germany: the two countries' total cases are only at around 4,000 distance, with France: 129,654 and Germany 125,452.
Despite the small gap in total infections, France's death tolls (13,832) is around six times higher than German's (2,871).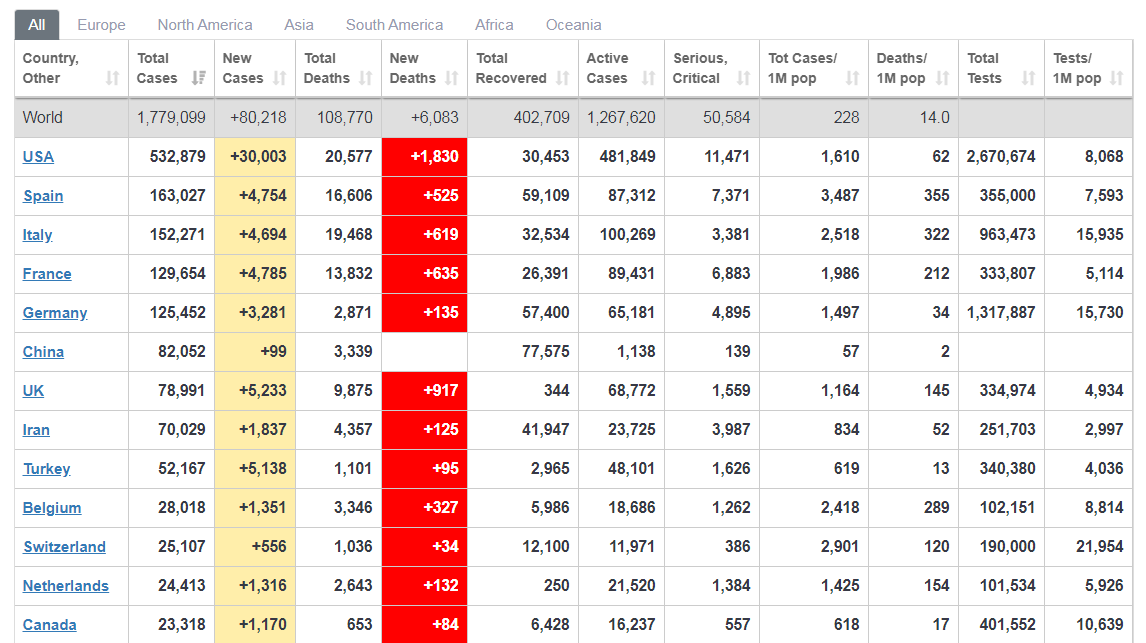 (Photo: WorldOMeters)
The UK: continues to witness a surge in new confirmed infections and death tolls. With 5,233 new patients and 917 lives have been claimed, the country's total cases and death tolls are drawing near 79,000 and 10,000 respectively.
Meanwhile, Prime Minister Boris Johnson who contracted the virus two weeks ago has finally been able to go for short walks as his condition improves after being transferred from the intensive care unit to a ward in a London hospital, Sky News reported.
"The prime minister has been able to do short walks, between periods of rest, as part of the care he is receiving to aid his recovery," the government said.
Johnson had been rushed to the ICU after his condition worsened earlier this week so he would be near a ventilator should he need one, which he did not, officials said.
Iran: the second worst-hit country in Asia has nearly 2,000 new cases and 125 deaths reported within 24 hours, raising total infections to over 70,000 and death tolls to nearly 4,500.
China and Korea: Both countries witness low added cases, with 99 and 30 new cases respectively. Korea reported 3 new deaths today.
Coronavirus today updates in ASEAN countries: total infections approaching 18,000 cases, around 700 deaths have been reported.
Malaysia still has the highest number of infections (4,530), followed by the Philippines (4.428), Indonesia (3,842), Thailand (2,518), Singapore (2,108). Timor-Leste has the lowest infection number of the region, with only 2 cases detected.
Regarding death tolls, Indonesia has the highest (327), the Philipines (247), Malaysia (73).
Four countries with no deaths reported are Vietnam, Campuchia, Laos, and Timor-Leste.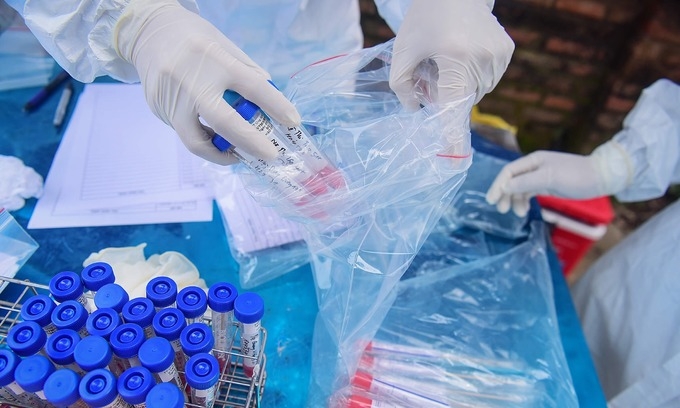 Vietnam total infections number has reached 258 (Photo: VNE)
Coronavirus today updates in Vietnam: 258 infections, no death reported.
Vietnam confirms one more COVID-19 patient, who is a 47-year-old woman living in Hanoi capital, in the country on April 11, raising the tally to 258.
According to VnExpress, Ha Loi Village in Me Linh District has recorded six COVID-19 cases so far – Patients 243, 250, 253, 254, 257 and 258. The whole village, with 2,711 households and 11,077 people, has been isolated and all residents are being tested for the novel coronavirus.
The Health Ministry Friday sent a team of pandemic experts to Ha Loi Village to help locals tackle their new situation.
The nation has entered the third stage of the epidemic with several community transmission cases and some cases where the transmission source has not been detected yet. The situation requires strict social distancing, Deputy Health Minister Nguyen Truong Son said Tuesday.
Of Vietnam's 258 COVID-19 infections so far, 144 have been discharged from hospitals. Among 114 active cases, 12 have tested negative twice and 13, once.
National
Vietnam News Today (Jan. 20): Vietnam confirms 15,936 new local Covid cases; First Omicron infections in community reported in HCM City; Vietnam to facilitate procedures for foreign entrants; Hanoi capital cancels fireworks display on lunar New Year's Eve.