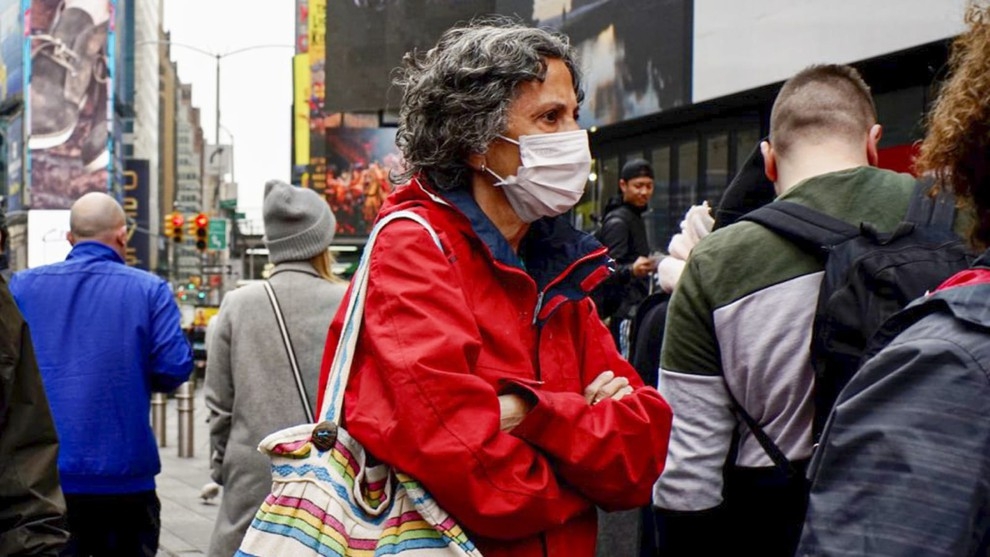 The US has 23,645 deaths in total (Photo: CNBC news)
U.S. deaths from the novel coronavirus topped 23,645, according to WorldOMeters, as officials said the worst may be over and the outbreak could reach its peak this week.
The United States, with the world's third-largest population, has recorded more fatalities from COVID-19 than any other country. There were a total of nearly 587,173 U.S. cases as of April 14 with nearly 2 billion reported cases globally.
Hot spots have erupted in a few places with large outbreaks, none direr than in New York, where at least 195,749 cases have been reported and at least 10,058 have died since March 14, when Gov. Andrew M. Cuomo (D) announced the death of an 82-year-old woman. Although it is a populous state, New York also leads the country in deaths per 100,000 residents, according to Washington Post.
New Jersey is the second hardest-hit by the novel virus. There are 64,584 cases and 2,443 deaths. New Jersey is followed by Michigan, where a total of 1,602 lives have been claimed, and 25,635 patients confirmed.
Hard-hit Louisiana's rate is high as well, with 21,016 cases and 884 deaths. The state is facing a shortage of ventilators and protective equipment for health-care workers, according to Gov. John Bel Edwards (D). A breakout in New Orleans may have been fueled by the month-long Carnival celebration that drew more than a million people to the city in February and culminated in a raucous — and crowded — Mardi Gras.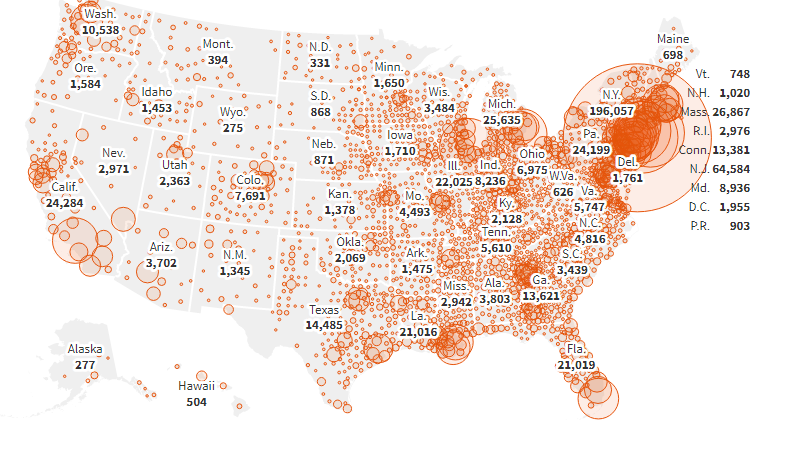 Distribution of COVID-19 cases in different states in the US (Photo: Reuters)
New York, California and other states plan for reopening as coronavirus crisis eases
Ten U.S. governors on the east and west coasts banded together on Monday in two regional pacts to coordinate gradual economic reopenings as the coronavirus crisis finally appeared to be ebbing.
Announcements from the New York-led group of Northeastern governors, and a similar compact formed by California, Oregon and Washington state, came as President Donald Trump declared any decision on restarting the U.S. economy was up to him.
New York Governor Andrew Cuomo said he was teaming up with five counterparts in adjacent New Jersey, Connecticut, Delaware, Pennsylvania and Rhode Island to devise the best strategies for easing stay-at-home orders imposed last month to curb coronavirus transmissions.
Massachusetts later said it was joining the East Coast coalition.
"Nobody has been here before, nobody has all the answers," said Cuomo, whose state has become the U.S. epicenter of the global coronavirus pandemic, during an open conference call with five other governors. "Addressing public health and the economy: Which one is first? They're both first."
The three Pacific Coast states announced they, too, planned to follow a shared approach for lifting social-distancing measures, but said they "need to see a decline in the rate of spread of the virus before large-scale reopening" can take place, according to Reuters.
Trump rages on criticism as governors craft their own plans to reopen the economy
In one of the most unleashed presidential crises ever captured on television, Trump's display on Monday flouted all notions of the commander-in-chief's calm leadership in the event of a crisis, fr24news reported.
He claimed powers never before provided for in the Constitution and insisted that his "total authority" to order states and cities to get back on their feet to get out of the frozen economy. His warning came as two blocks of eastern and western hot states joined in an implicit challenge to his wish to get people back to work soon, sparking a brewing confrontation over federal power.
When the category five presidential storm broke out, Trump offered no new direction on key issues – for example, the continued inadequacy of testing, which will hamper the country's economic opening. He promised that the economy would fire "ahead of schedule", but did not explain how, when many states reached or approached their peak infection rates. And he seemed to warn that he would try to force open public economies, including shops, schools and restaurants closed by governors and mayors. He also did not explain how he would convince the public to return to normal if people were not convinced that they were safe.
"The President of the United States is calling the shots," said Trump.
But after the briefing, New York's Democratic Governor Andrew Cuomo said he disagreed with Trump's interpretation of his powers, saying the president was not a monarch.
"We have no king. We have an elected president, "Cuomo said in an interview with Erin Burnett of CNN. "The Constitution clearly states that powers that are not specifically listed for the federal government are reserved for the states, and the boundaries between the federal and the state authority are at the heart of the Constitution – one of the great reports by force. "
The founding fathers "did not want a king or we would have had King George Washington," said Cuomo.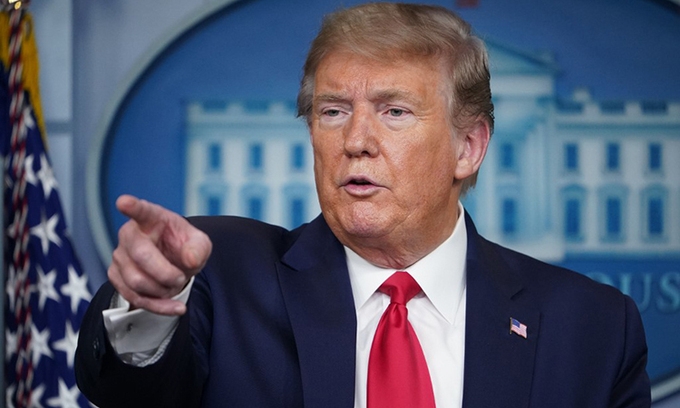 Trump rages on criticism as governors craft their own plans to reopen the economy (Photo: AFP)
Coronavirus live updates in Canada
Canada's number of confirmed COVID-19 cases has now surpassed 25,680, including 780 deaths, according to provincial figures released across the country Monday.
The new figures come amid 1,296 new cases of the virus announced on April 13, bringing the country's total to 25,663.
A total of 63 coronavirus-related deaths were also announced on April 14.
Of Canada's confirmed cases, 7,756 have recovered and at least 438,130 tests have been conducted, according to provincial health jurisdictions.
The provinces that saw the highest rise in infections on Monday were Ontario, which reported 421, and Quebec, which reported 711.
Quebec, the epicenter of the coronavirus outbreak in Canada, has now reported a total of 13,557 COVID-19 infections — accounting for more than half of the country's cases.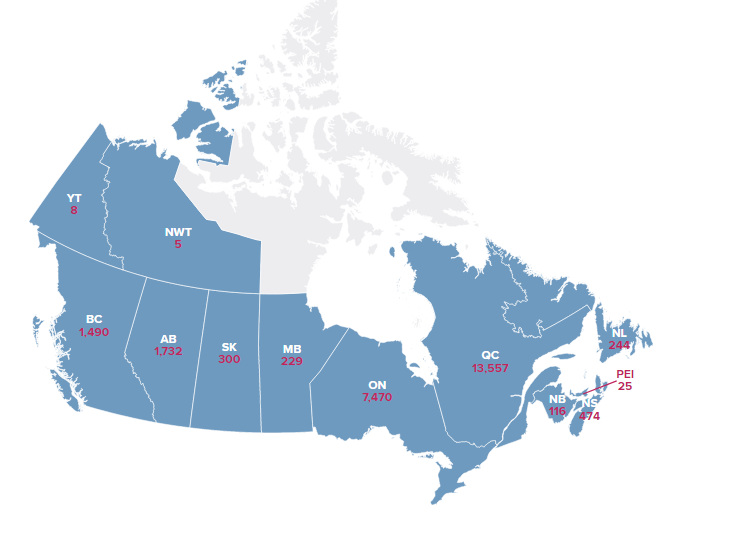 This map shows the locations of confirmed COVID-19 cases by province. The map will be continually updated as more data is made available. Updates may take up to 10 minutes to appear in the map. (Photo: Global News)
Premier François Legault on April 14 identified the province's long-term care homes, which have seen the majority of their COVID-19-related deaths, as a priority in fighting the outbreak.
Legault's announcement comes amid reports of an outbreak and "gross negligence" at a private long-term care facility in Dorval that has since resulted in 31 deaths.
Health officials across Canada, including chief public health officer Dr. Theresa Tam, warned of a "significant proportion" of the country's deaths stemming from long-term care homes — a number of which have since seen mass outbreaks in across the country.
During a press conference, Tam said that nearly half of all of Canada's coronavirus deaths were happening in long-term care homes, and that the number is expected to increase, global news reported.
Jasmine Le