Coronavirus Update: Hanoi to support 100,000 VND per day each isolated COVID-19 sufferer
Chairman of Hanoi People's Committee Nguyen Duc Chung decided to use the city's budget to support VND 100,000/day (US dollars 4.5) for each person isolated due to COVID-19 regardless of nationality, quarantine places. 
Chairman of Hanoi People's Committee Nguyen Duc Chung (Photo: Thanh nien)
The city will also take samples to test all F1 and F2 people at no charge.
If Hanoi previously put awareness-raising as number one priority, it is now focusing on monitoring the number of foreigners and Vietnamese people entering Vietnam, or returning from COVID-19-stricken places, at Noi Bai International Airport.
The Chairman also praised citizens in Nam Dong ward for reporting those quarantined cases who still go out.
As of March 13, Hanoi has five cases of COVID-19 infection who are being isolated and treated at the Central Tropical Diseases Hospital 2, while the country witnesses a total of 44 cases, 16 of which have recovered and discharged from hospital, the remaining 28 were being treated and quarantine. To continue the prevention and control of the epidemic, the city has continued to conduct zoning and reviewing cases related to the five confirmed cases.
The Covid-19 outbreak has thus far spread to over 120 countries and territories around the world, killing nearly 5,000 people.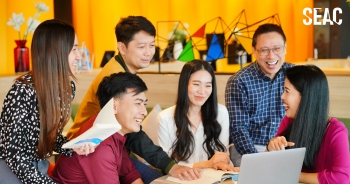 Economy
SEAC, a leading corporate and lifelong education innovator, is shaking up the Thai and ASEAN education market with significant investment to expand its SMART learning solutions across the ASEAN region.