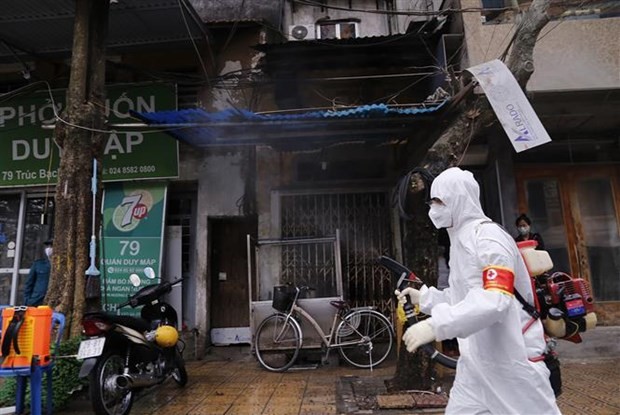 A medical worker sprays disinfectant to sterilise Hanoi's streets. (Photo: VNA)
Vietnam's Ministry of Health has reported five new cases tested positive for coronavirus on Thursday (March 12), raising the total number in the country to 44.
According to MoH, four out of five patients had contacted with the case 34.
The patient 40, 41, 42 are a two-year-old girl, two men aged 59 and 28 from hometown of Phan Thiet city, Binh Thuan province. They all have close contact with patient 34.
Patient 43 is a 47-year-old woman has close contact with patient 38 - the 34th patient's daughter in law.
The 44th patient is 13-year-old boy from Ham Thuan Bac district, Binh Thuan province. He also has close contact with patient 37, who is 34th patient's employee.
On February 22, the 34th patient flew from Vietnam to New York, transiting at Incheon Airport in South Korea.
On February 29, she flew from Washington to Vietnam, transiting at Qatar airport, and on the morning of March 2, entered Vietnam at Ho Chi Minh city-based Tan Son Nhat International Airport.
On the morning of March 9, the patient was admitted to Binh Thuan General Hospital.
After the 51-year-old woman identified as the 34th patient infected with COVID-19 in Vietnam, the Diseases Control Center of the south central province of Binh Thuan had tracked people who had contact with the patient, strictly monitor the health of all persons who had close contact with her.
On March 12, Pasteur Institute of Nha Trang received 56 samples collected by the Centers for Disease Control of Binh Thuan province. The samples were collected from 56 people who were in contact with the 34th patients in Binh Thuan province.
Among the samples, there are 5 tests which return positive for SARS-CoV-2.
Vietnam has successfully cured 16 cases of COVID-19 infection so far. However, the disease situation remains increasingly complicated as there have been secondary cases related to the 17th COVID-19 patient from Truc Bach district in Hanoi.
Many infection cases came from the same flight VN0054 with the 17th patient who traveled from London to Hanoi-based Noi Bai International Airport.
There were 11 foreign tourists boarding this flight infected with the novel coronavirus.
More than 126,100 people have been infected globally and over 4,600 have died, according to a Reuters tally of government announcements./.
VNF