Dak Lak mulls to eliminate elephant-riding tours
DaK Lak province mulls to remove elephant-riding service and supplant by more friendly ones such as bathing and feeding them.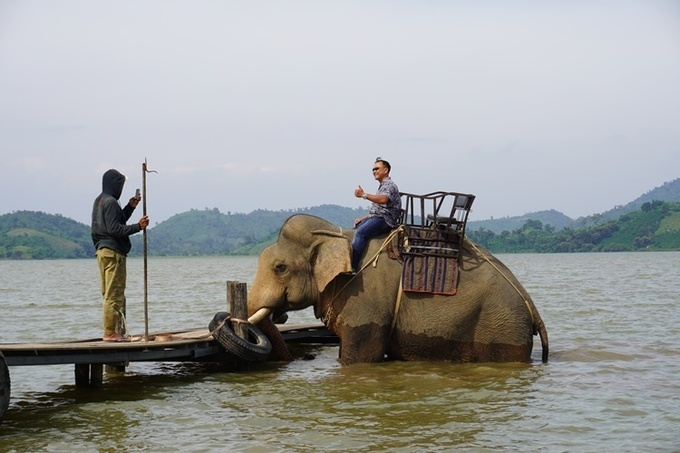 A tourist rides elephant on Lak Lake, 2019 Photo: Tran Hoa/ VNExpress
The information was given by Nguyen Thuy Phuong Hieu, Vice Director of the Dak Lak Department of Culture, Sports and Tourism at the seminar "Trade connection between Hanoi and Buon Ma Thuot to develop safe and attractive tourism between tourism businesses in the two localities" recently held in Dak Lak, translated from VNExpress.
The proposal for removing the elephant-riding tours came after many accidents happened related to elephants during the past time. In May, a man was attacked by an elephant; two months later, a tourist fell and was injured while riding elephant.
Huynh Trung Luan, Director of Dak Lak Elephant Conservation Center said "We will pilot new tourism services on four elephants and then mobilize the local people to join in".
In 1980 – 1990, the number of elephants in Dak Lak was more than 500, now it reduces to 45 (mainly in Buon Don and Lak districts). The poisoned food sources, narrowed habitat and especially exploitation for tourism purposes are among reasons leading to a sharp decline in the population of elephants, Luan added.
In 2019, the Angkor Archaeological Park in Siem Reap put a ban on riding elephants. Two among fourteen elephants were released to the Bos Thom forest.
In 2016, an elephant named Sambo died at Angkor Wat due to carrying visitors amidst the scorching heat.
According to World Wide Fund for Nature (WWF), the number of elephants in Asia decreased by 50 percent in just three generations.
Bathing elephants in Chiang Mai, Thailand. Video by Phong Vinh/ VNExpress