Daring armed daytime bank heist in Hanoi
According to the initial information, two armed robbers rode two scooters to the BIDV Bank branch at Huynh Thuc Khang Street, Dong Da District, Hanoi and threatened employees to rob 900 million VND ( US$ 39,000) . Gun fires and grenades are reported to be seen.
The robbery occurred at 10 am yesterday morning (July 27) at BIDV Bank. Head of the criminal police department of Dong Da district and leader of the Lang Ha ward police department stated that they are investigating the daring robbery.
As told by witnesses, after getting inside the bank, the two suspects suddenly pulled gun-like objects to threaten employees and stole a large amount of money.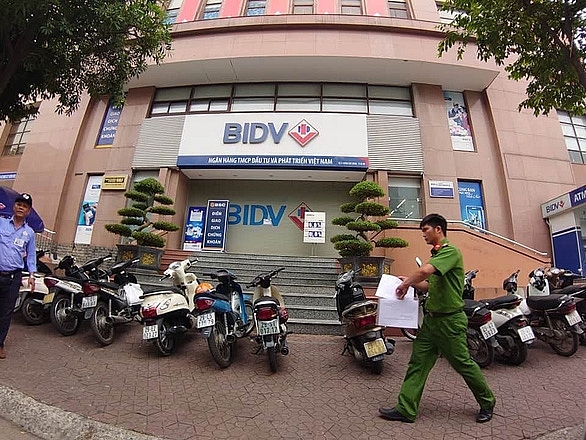 BIDV Bank, Ngoc Khanh branch closed after the robbery - Photo: NAM TRAN
"The two robbers stole about 900 million VND in cash and then robbed a motorbike of a person who was withdrawing money at an ATM in front of the bank to flee. Before fleeing, they threw grenades at the door but fortunately, they did not explode" - said the female employee presented at the bank at the time of the incident.
"The security staff of the bank chased after the bandits, but people were panicked so the robbers escaped. When they got out of the bank, the guns are still raised up high, so no one dared to approach them" - said a local who witnessed the incident.
According to a press release from BIDV Bank, two armed bandits wearing masks suddenly appeared and threatened everyone there with their guns then robbed a huge amount of monet while cashiers are working with transaction.
Currently, BIDV Ngoc Khanh and the police are working closely together for further investigation.
"All activities at BIDV Ngoc Khanh Branch has got back to normal now" – informed its representative.
Two suspects wanted
Police say the man holding the gun is between 1m65 and 1m68 tall. He wore brightly colored long trousers, a white cloth mask, a white baseball-cap helmet and dark shoes. The other, about 1m75 tall, has a slim body and wore dark trousers with sports shoes, according to Vnexpress.
Hanoi-headquartered BIDV is one of Vietnam's largest banks by assets, with the state holding a majority stake.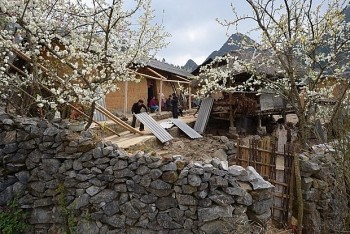 National
Vietnam News Today (Feb. 3): Vietnam and Trinidad & Tobago establish diplomatic ties; Severe cold spells expected to hit northern mountainous provinces late this month; Vietnam among top 10 best places to go for budget honeymoon; Hanoi, HCM City record highest disbursement of public investment capital in January.