Easy and nutritious snail recipes
Snails might not look great at first glance, but stir fried with sour bamboo shoots, deep fried with piper lolot leaves or marinated with spices and grilled and they are hard to beat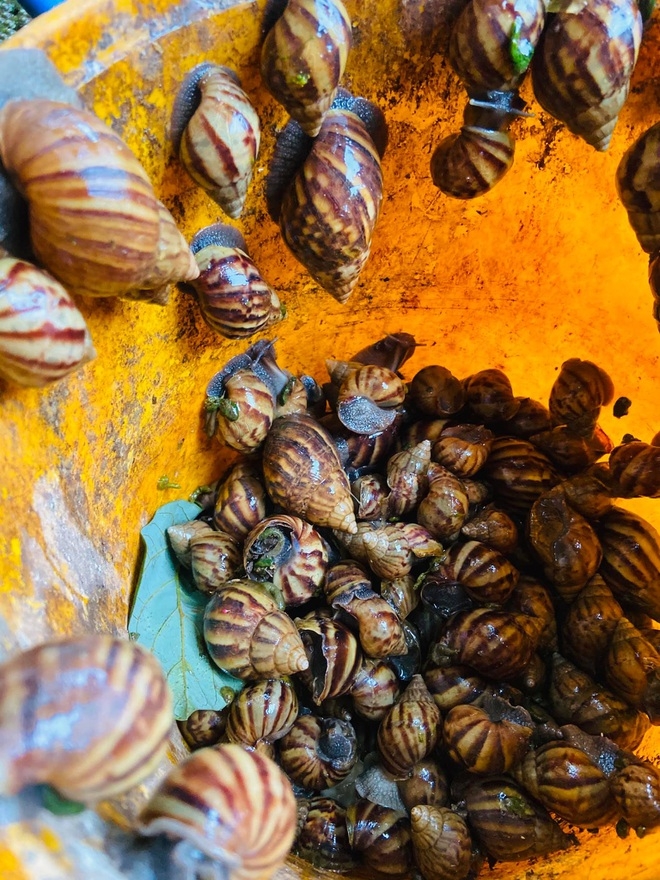 Snails are a rich source of nutrients and used for beauty and cooking purposes. Photo Dan Tri
Snails used to be a little-favored dish among Vietnamese. They eat young plant branches and leaves, live in moist soil environment and become active in rainy season, but they are proven to be a rich source of nutrients and used for beauty and cooking purposes.
Snails are omnivores so parasites and worm larvae are often found in their body. Therefore, they need to be cleaned carefully before being cooked.
A few days before cooking snails, we should keep them in a pot and feed them green leaves or herbs. This method helps slugs eliminate the dirt in their intestines.
Steps to clean and prepare fresh snails:

1. Half boil snails in boiling water.

2. Pull snail meat from their shells.

3. Add a little salt and sour water (vinegar, pickle brined, and sour bamboo shoot liquid) to the snail meat to clean it and remove the slime, black spots and bad smell.

4. Wash the snail meat a few times with clean water.
After the snails are free of dirt, they can be cooked. Mixing snails with sour sauces or typical spices helps them become more flavorful and boosts their crunchiness.
Snails are not only a favorite dish of beer drinkers but also a great source of nutrition. Each snail contains 15% protein but has only 2.4% fat. They can cure many diseases such as back pain and joint pain, according to scientists.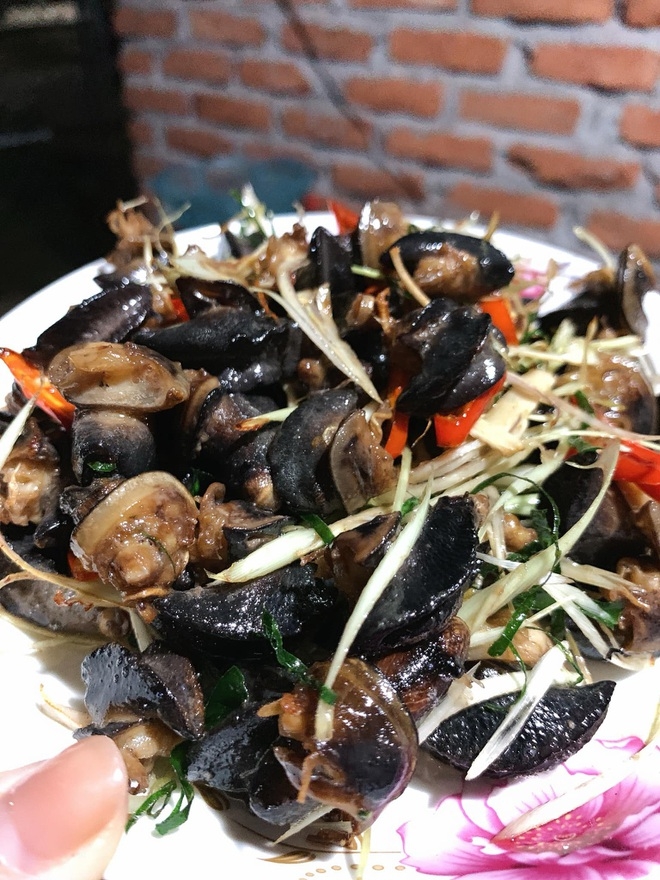 Dishes from snail can cure cure back pain and joint pain. Photo Dan Tri
In France snails are a specialty. If you have the opportunity to visit restaurants in France, you can find and enjoy unique dishes from snails such as snails baked with garlic butter, snail spaghetti, snail pizza, snail soup.
The most famous dish is an appetizer named the escargot, which is made from land snails. This is an expensive dish.
Four best snail recipes
1. Grilled snails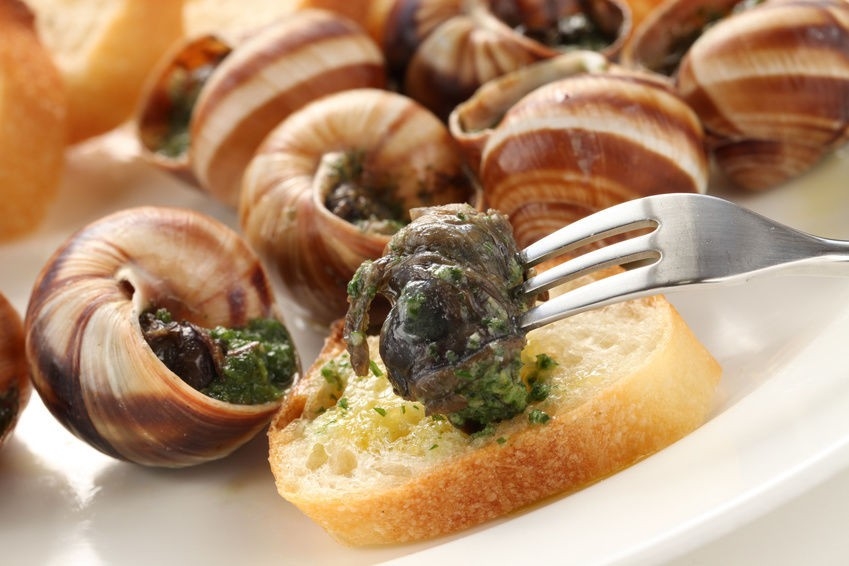 Photo Kien Thuc
Ingredients:
200g clean slug meat
Six snail shells
Bread crust
White wine
Brandy wine
Minced onion and garlic.
Butter, tomato, cilantro, salad, lemon, salt, pepper.
How to cook:
-Marinate snail meat with salt, pepper, white wine.
-Stir fry snail meat with onion, garlic for one minute, then pour half a cup of brandy in.
-Mix the bread crust with butter and finely-chopped cilantro.
-Put the stir fried snails into the shells, then cover the shell mouths with the bread crust mixture.
-Put the snail shells in a 120°C oven and bake for 15 minutes.
-Decorate the plates with lemon, salad, tomatoes and enjoy the dish.
2. Stir-fried snails with chilies and lemongrass
Ingredients:
1 – 2 kg snails
Lemongrass, salt, chili, chili powder, vinegar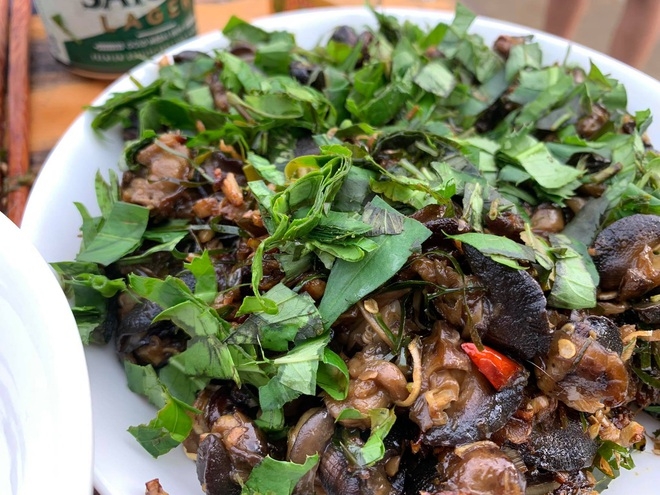 Photo Dan Tri
How to cook:
-Clean the snail, use small brush to scrape their covers carefully. Soak in water added a little chili/vinegar in two hours. Then, pour on basket and wait to dry. Mix with a little salt and chili powder, pour into pot.
-Peel off the harsh cover of lemongrass, cut into short pieces and smash well. Slice chili small.
-Heat the oil, add minced garlic, lemongrass and chili; fry until it is fragrant.
-Pour all snails into pot with a little salt, cover carefully in 5 – 10 minutes. Sometime, shake it gently to make sure all snails will be absorbed with spices.
-Turn off the heat, scoop into plate and we suggest you should eat when it is hot. It is more delicious on rainy days.
3. Snails stewed with pork
Ingredients:
300g snail meat
200g lean pork
Wine, salt, pepper, onion, ginger, broth from boiled pork, cooking oil.
How to cook:
-Marinate snails with ginger and wine. Cut pork into two finger sized pieces.
-Fry onion, garlic and stir-fry pork until it is dry. Pour the broth in.
-Add the snails in, simmer until the pork and snails get tender. Add salt and put the food in a bowl, sprinkle with pepper and enjoy.
4. Snail spring rolls
Ingredients:
500 gr fresh snail meat
200 ml water
30 gr Chinese black mushroom (chopped into small pieces)
One spoon of chopped garlic
One spoon of broth mix
One spoon of fish sauce
10gr lemon grass
100 gr pork paste
30 gr piper lolot leaves (chopped into small pieces)
One spoon of chopped purple onion
Pepper, refined white sugar, rice girdles cake.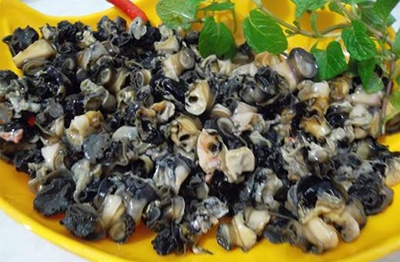 Photo Kien Thuc
How to cook:
-Snails bought from market should be put in water and cleaned many times with salted, chili (or rice washing water) so that all dirt and mud inside the snail are removed.
-Put 500gr snail to the pot and boil, take out the snail meat to cut into small pieces.
-Cut the snail meat moderately, not too small that the tough level and special flavor of snail meat can be lost.
-Put the paste to the bowl; add 100 gr of pork paste, 30 gr of Chinese black mushroom, 30 gr of piper lolot leaves with spices. Mix until the materials become a homogenous mixture.
-The rice girdle cake cut in to two triangle halves. Spread the rice girdle cake to a flat surface, put some water on the surface for easy rolling, put 1 small spoon of paste mixture and roll it round. Carry on until the past mixture is rolled out completely.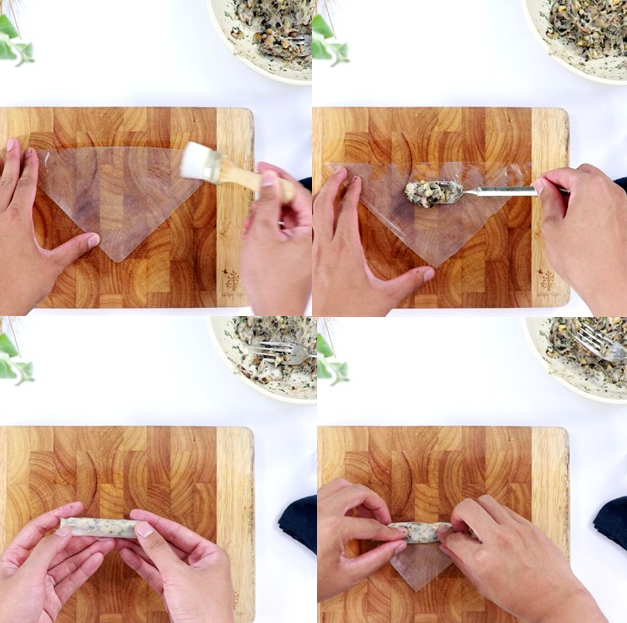 Photo dowhatuloves
-Prepare hot cooking oil pan (ensure the spring rolls are fried completely in oil, they will have yellow color and be evenly crispy).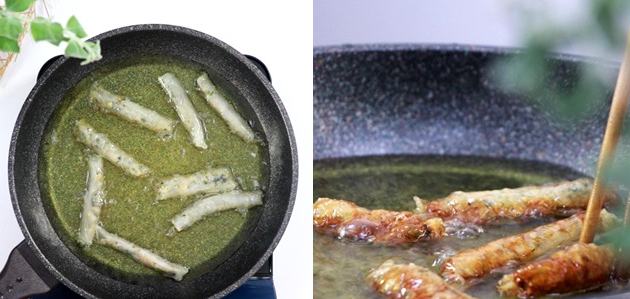 Photo dowhatuloves
-Put each spring roll to the pan and fry on a medium temperature, turn evenly iften, fry until the spring roll color turns dark yellow, tremove and put into dish lined with oil permeating paper.
-Oil the pan and heat evenly, fry food for half a minute, take out, drain the oil.
-Put a little excess oil in the pan, honey mixed in half a cup of water, add a little salt. When boiling, add the snails (fried) and stir well, beat the cornstarch, arrange on a plate.
-The remaining egg yolks are fried and thinly sliced, and arranged around the decorative plate.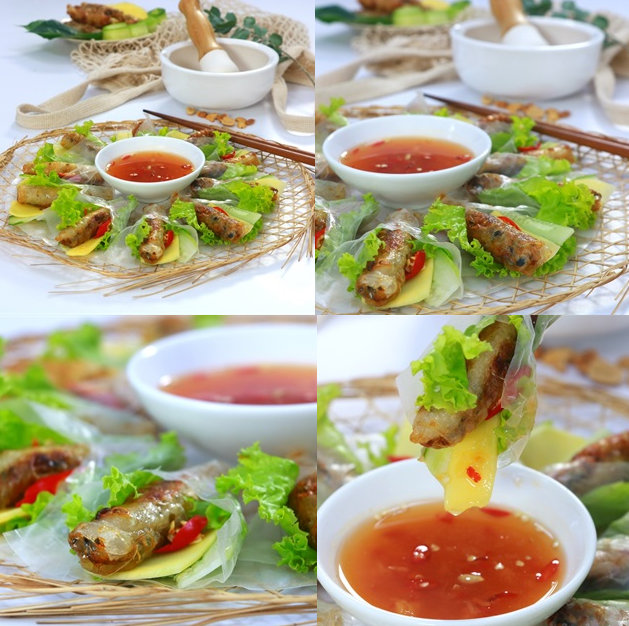 Photo dowhatuloves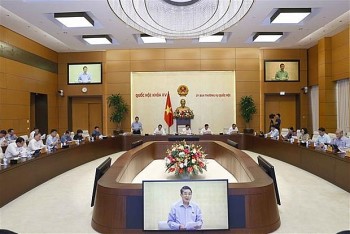 National
The National Assembly (NA) Standing Committee examined the draft revised Law on Protection of Consumer Rights on August 15 as part of its monthly session.