More Expats in Vietnam Get Covid-19 Jabs
More expats across the country are getting the Covid-19 vaccine as the governmentnt speeds up its effort to reach herd immunity
Covid-19 vaccination in Hanoi
Hanoi's Nam Tu Liem district on Sept. 11 morning gave the coronavirus vaccine to all foreigners living in the area. The vaccination campaign is part of Hanoi's effort "not to leave anyone behind in the Covid-19 fight", which promotes international solidarity spirit.
Foreign vaccine recipients were reportedly given thorough on-site guides from volunteers, including personal information declaration, coronavirus screening, and general health check.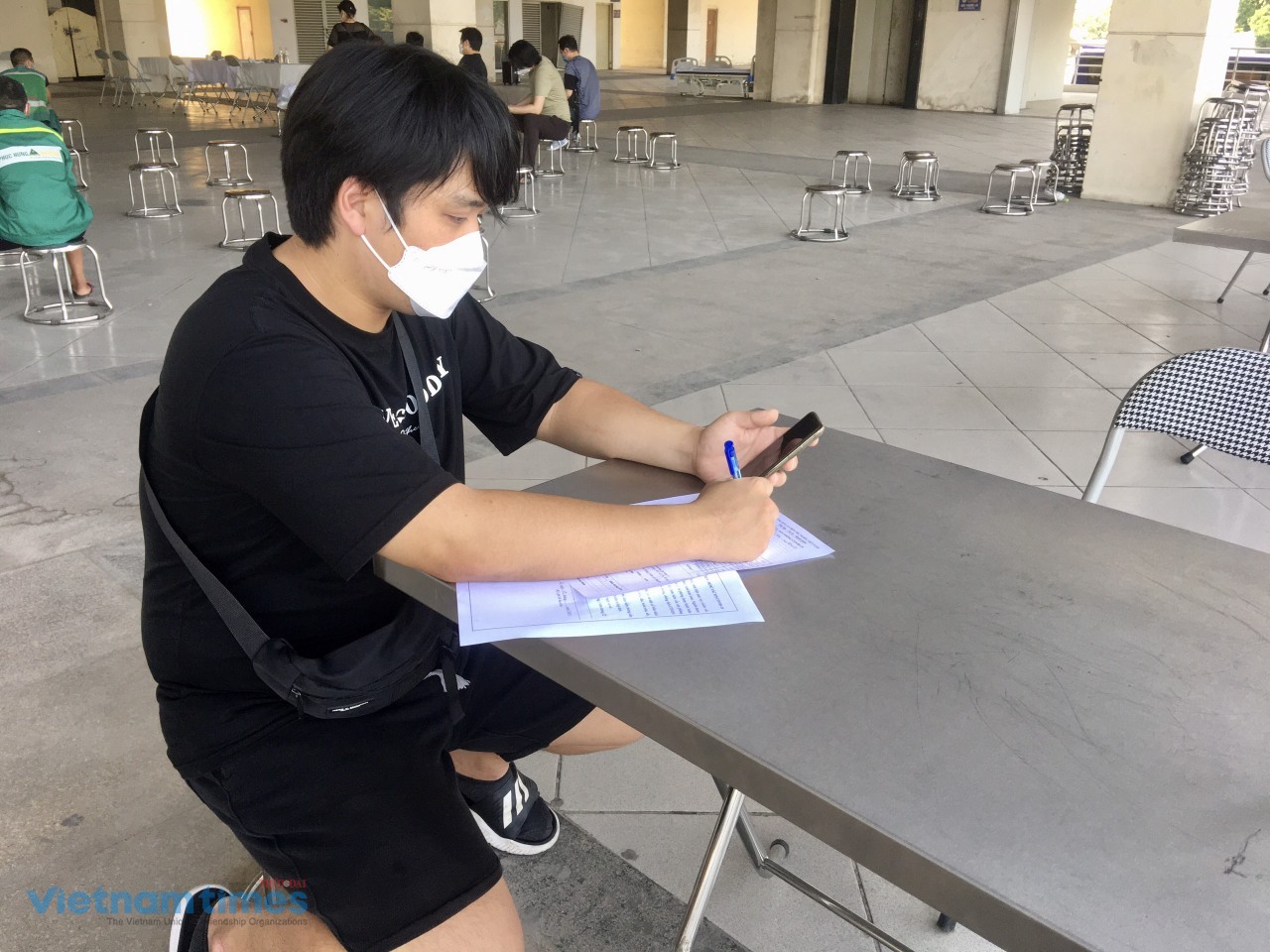 An expat declaring his personal information before getting the injection. Photo: Vietnam Times
Expats wait in line for their turn. Photo: Vietnam Times
"When the whole nation is joining hands to fight the coronavirus, we expats are not left behind. Local authorities still take care of us," Joshua David Kanda, a Nigerian student at FPT Univesity, told Vietnam Times. Kanda has been living in Vietnam for 8 years.
He expressed his gratitude to Vietnam for giving him the chance to get inoculated. "Hopefully the vaccine will take effect quickly, and Vietnam will soon return to normal."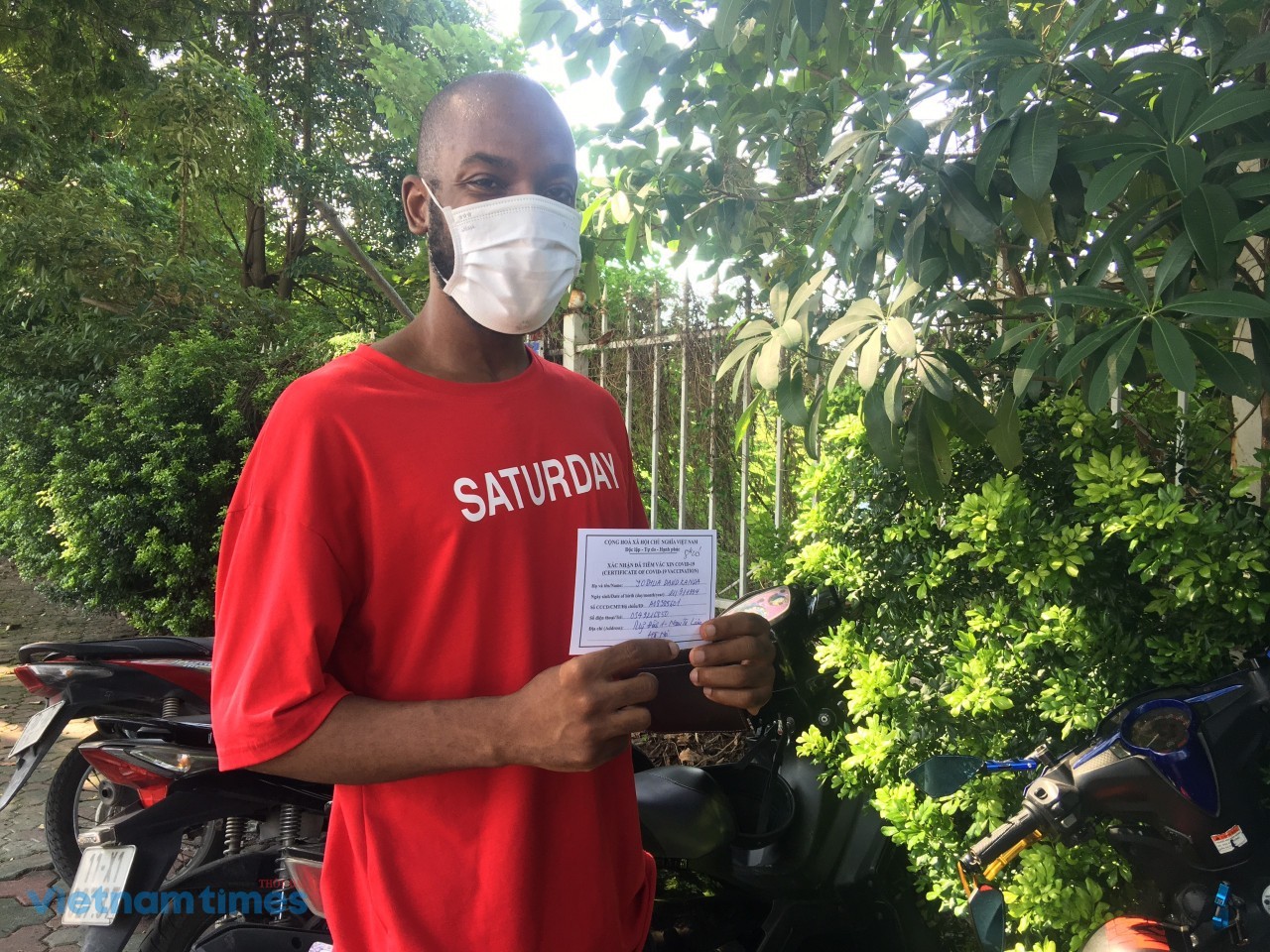 Joshua David Kanda shows his vaccination certificate. Photo: Vietnam Times
Meanwhile, Lee Hoa, a Korean expat of My Dinh 1 district, also got the vaccine Saturday morning. She said Vietnamese authorities had always given her proper care and support since the pandemic broke out.
"All Covid-related information, including that of vaccination, is updated on Zalo and Facebook page. We are able to stay informed. I also know about today's vaccination thanks to official notifications on social media," Hoa said. "I'm very grateful, satisfied and feel more reassured. Thank you for everything."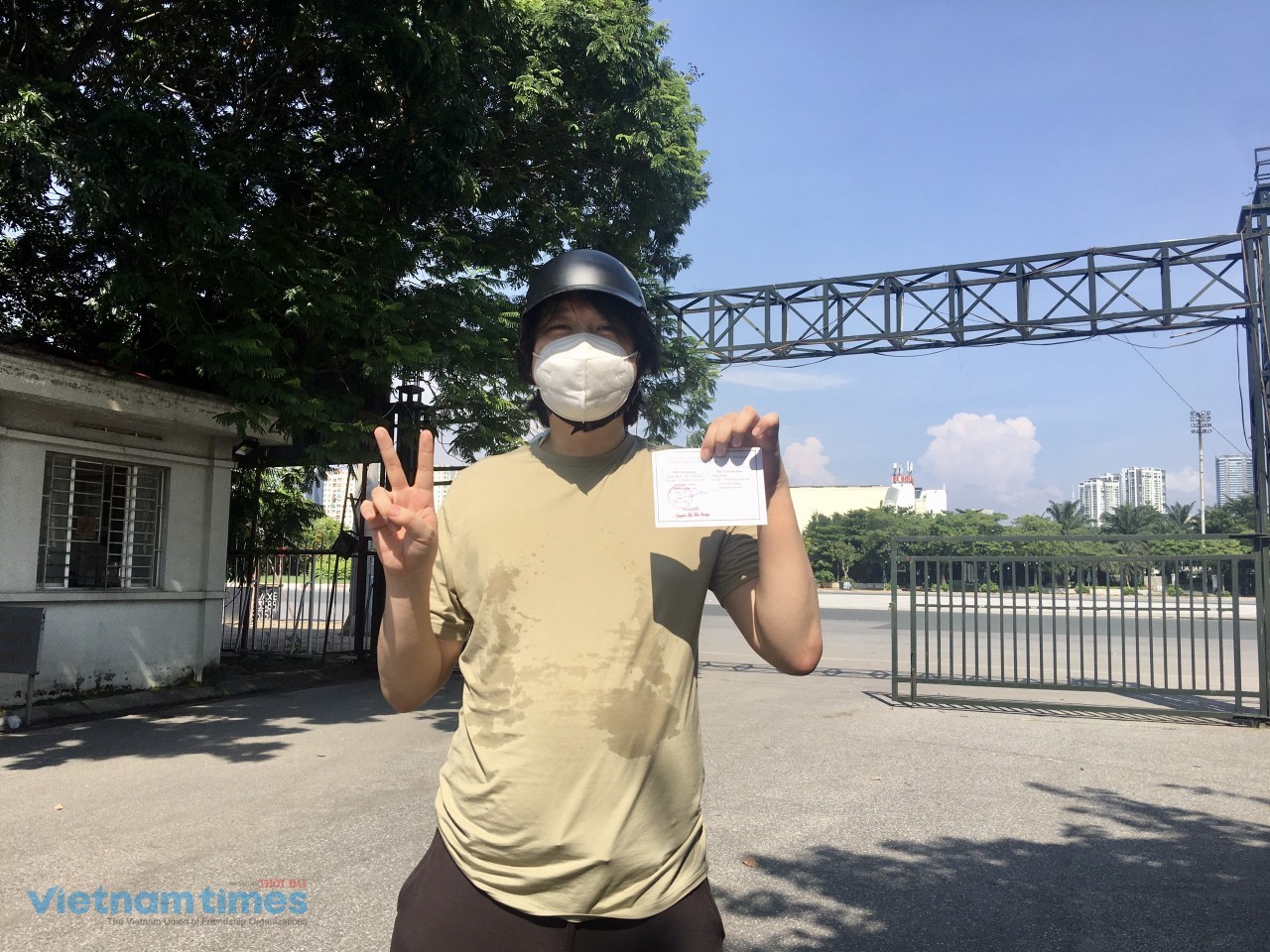 Lee Hoa looks happy after getting his first jab. Photo: Vietnam Times
Lamha Richard, from Guinea, was impressed with the quick procedure, which only took him half an hour from queuing to getting the jab. He said the staff gave him detailed guides.
"We are fortunate to be vaccinated today, which gives us a peace of mind during this complicated pandemic. Thank doctors, nurses, police, military personnel and volunteers for keeping everyone safe and healthy,' Richard was quoted.
Hanoi is undergoing its prolonged social distancing, which has lasted for 50 days. With small clusters appeared in the past weeks, the capital is speeding up its vaccination drive, aiming to give the first injection to 100% people aged over 18 by Sept. 15.
Its tally in the fourth outbreak reaches 3,957 patients.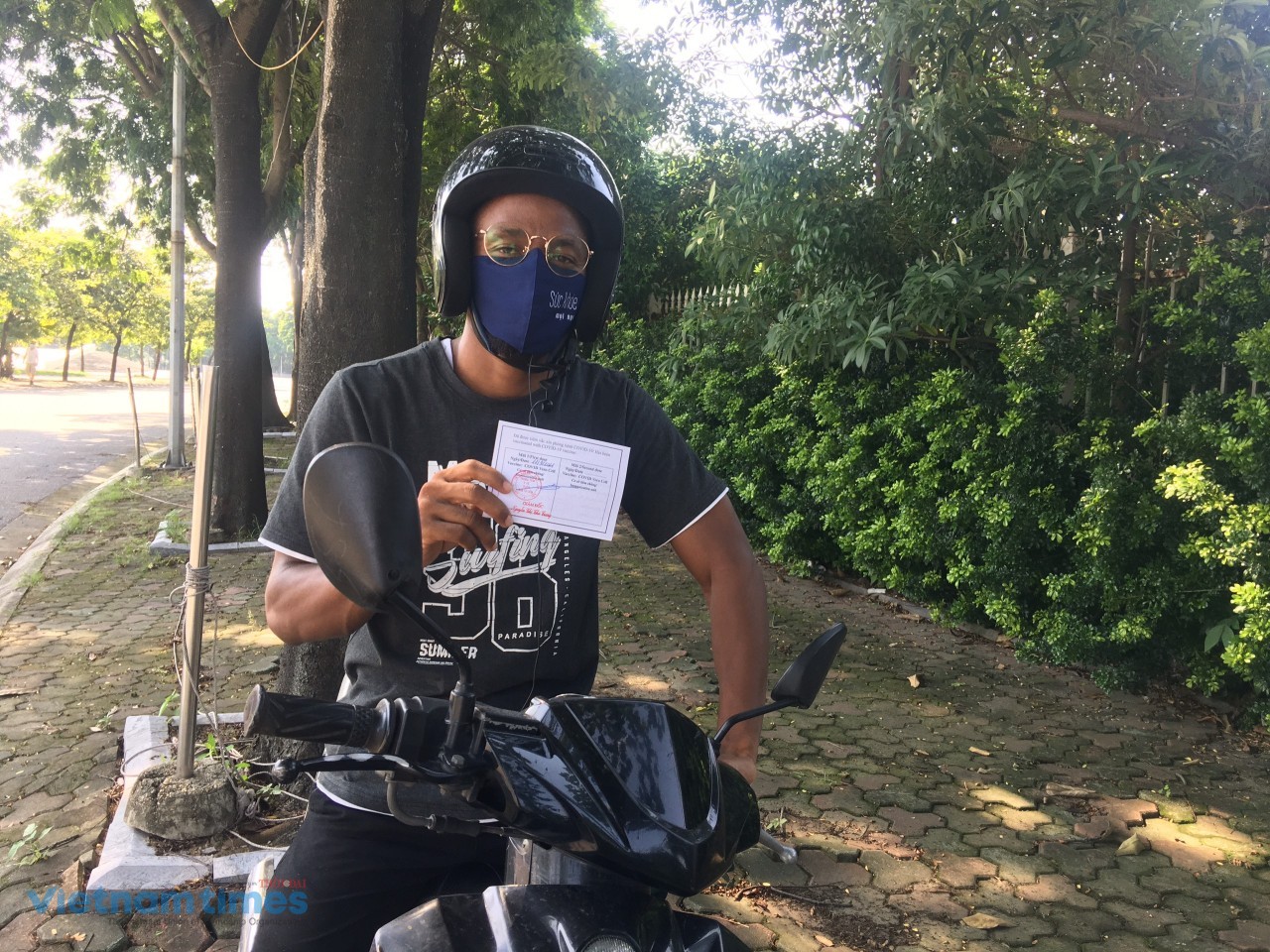 Lamha Richard. Photo: Vietnam Times
HCMC to vaccinate all expats
The municipal Department of Home Affairs on Saturday announced HCMC's plan to vaccinate all foreign city-dwellers starting Sept. 10. People's Committee of 21 affiliating districts and Thu Duc city will notify expats living in their area of the vaccination site and date via email or telephone. Expats in each district or city will get vaccinated at their local site and given favorable conditions for commuting.
Those wishing to get the injection must register via QR code or online forms ahead of the vaccination.
Covid-19 vaccination in HCMC
The vaccination effort has been also ongoing in HCMC – Vietnam's current biggest Covid-19 hotspot. In August, some expats were already inoculated, which they said was a ticket to return to normal life and a great source of encouragement.
Chuck Marion was among many foreigners in HCMC to be injected with the Covid-19 vaccine in the city's 5th nationwide vaccine rollout in early August.
"I'm super happy. I can't help but feel excited that I'm going to get the vaccine," he told Zing News. The American expat has been working in Vietnam for almost 10 years.
"I know the frontline workers or those with underlying diseases will be prioritized. Some of my friends who are teachers have also been immunized," Marion said. "I feel comfortable waiting. And now, it's my turn."
Marion walked out of the post-vaccination room in Thao Dien Special Education School, showing his vaccine certificate with a smile.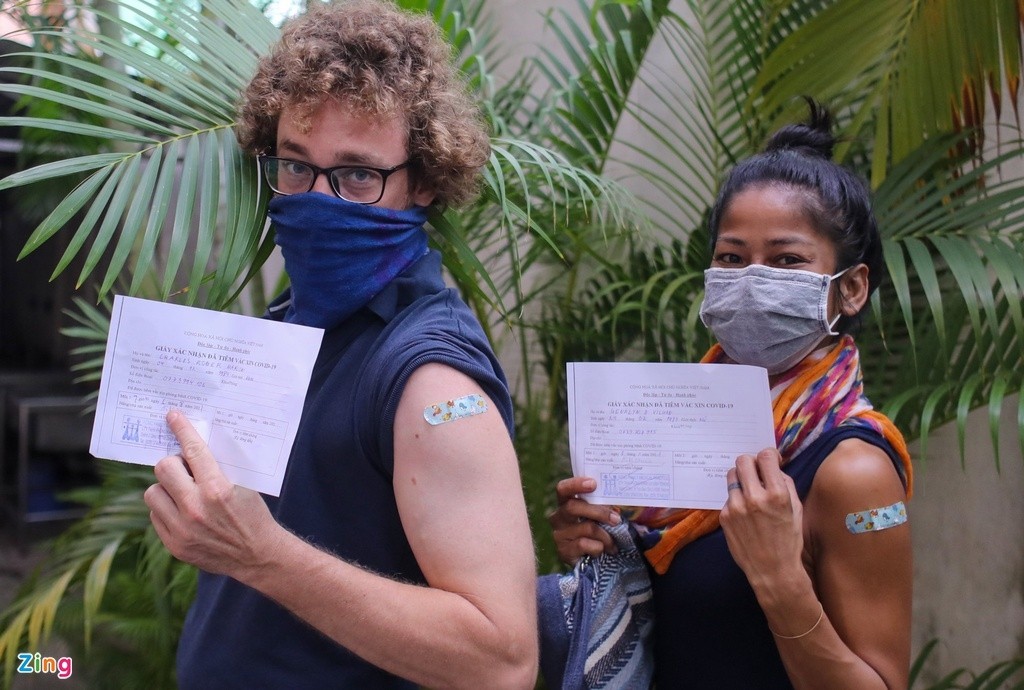 Chuck Marion and his girlfriend at the vaccination site. Photo: Zing
Other expats also showed excitement after they got the first injection. Some called their family to inform them of good news.
Simon Stansfield, from Australia, also got his first Covid-19 injection at the vaccination site in Thao Dien Special Education School.
"I've been waiting for the shot for a long time. I have cardiac problems, therefore the sooner I'm vaccinated, the better," Stansfield said.
The expat moved to Vietnam eight years ago and is managing a chain of coffee shops at airports across Vietnam. His business, however, was heavily affected by the Covid-19 pandemic. Many of his business trips were canceled because he wasn't vaccinated.
"It's a relief I finally get the vaccine. I could protect myself, my family, and get back to work," he said. "I appreciate the Vietnamese government and people for giving me such an opportunity."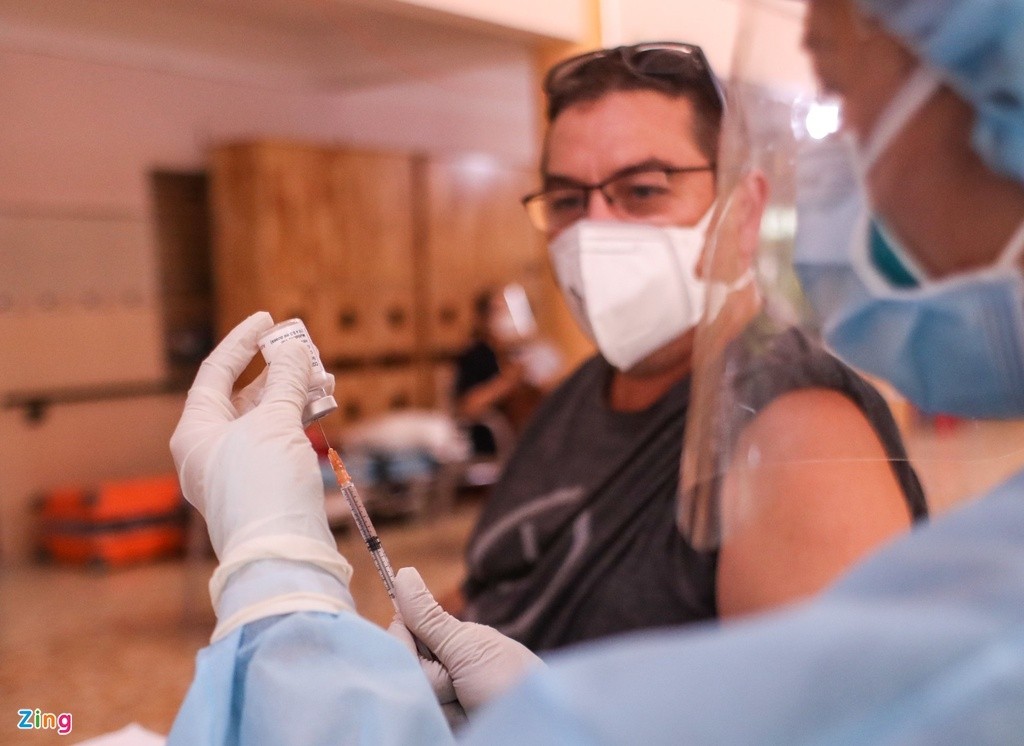 Simon Stansfield said he appreciated the Vietnamese government for giving him the chance to be vaccinated. Photo: Zing
Vietnam aims to receive 150 million doses of Covid-19 vaccines to inoculate 70 percent of its 96-million population in order to achieve herd immunity by April next year.
So far, almost 26 million people have been vaccinated, with over 4.46 million getting two doses
The country has been receiving more vaccine batches from other governments, the global COVAX scheme and via contracts with manufacturers.
A batch of 100,000 AstraZeneca doses gifted by Belgium and another 3 million doses from China add to the latest allocation Vietnam has received so far.
Expats Work Online During the Pandemic

The coronavirus pandemic has forced many people worldwide to transfer their skills online. For Vietnam's expat community, many found interesting ways to make a living ...