Female Deputy CEO and Author of "Compete with Giants" Stays Calm Piloting Amid Covid Storm
Uyen Phuong Tran, deputy CEO of Tan Hiep Phat Group and author of groundbreaking book "Compete with Giants," has refused to panic despite the Covid storm around her and her business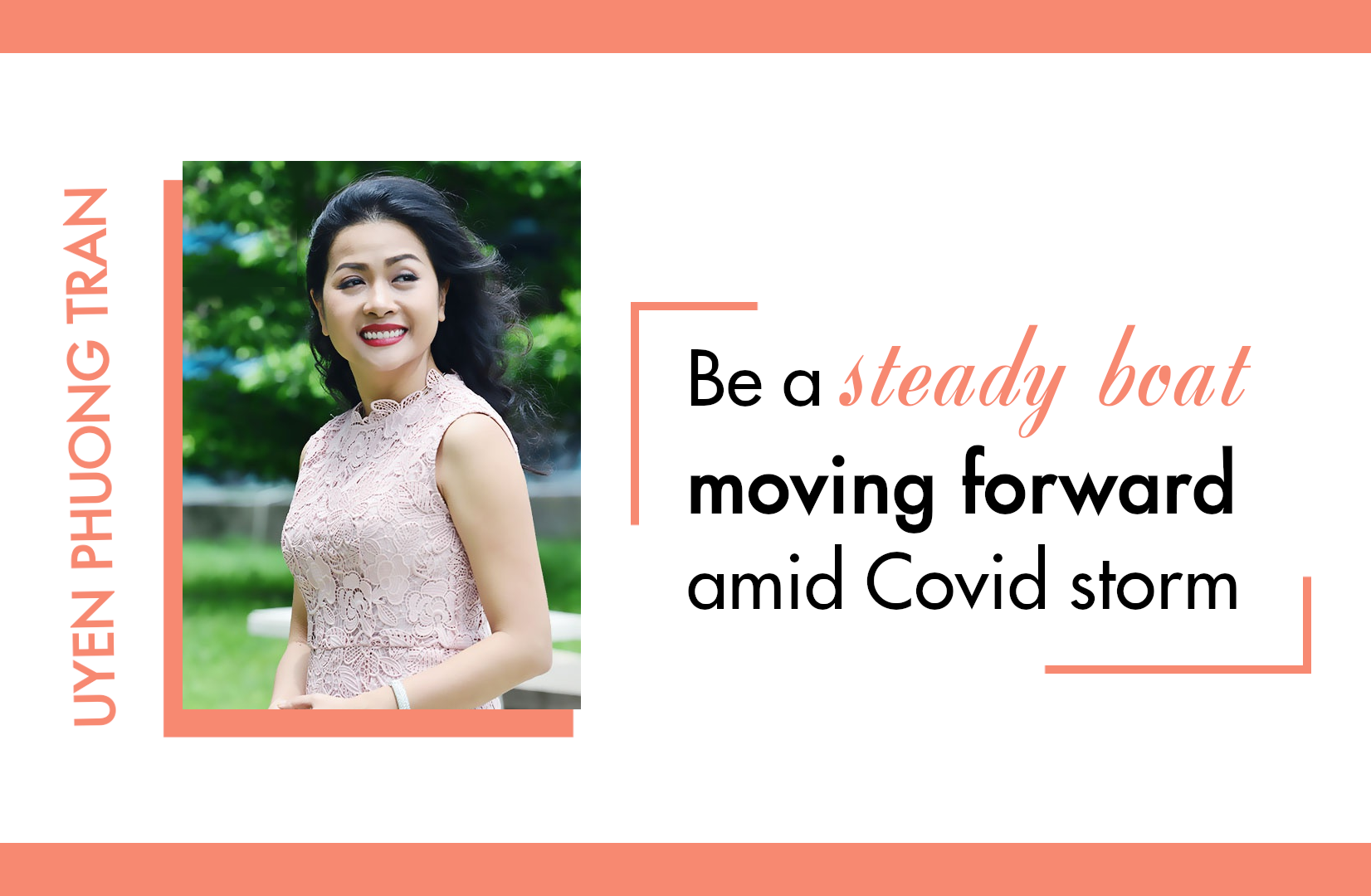 Photo: VNT
Covid-19 pandemic – Let's face it and deal with it
The Covid-19 pandemic has affected all economies, including the beverage industry. How does it affect Tan Hiep Phat?
When retail stores and restaurants – one of Tan Hiep Phat's biggest distribution channels – closed, the company was of course greatly affected. Product consumption now depends on home consumption, which has limitations due the infrastructure for online sales.
How online systems can replace millions of roadside vendors or small shops - that is a problem that each department, each unit of Tan Hiep Phat, is constantly dealing with.
Temperature checks for THP's employees. (Photo: CafeF)
In that context, what changes has Tan Hiep Phat made to adapt?
Tan Hiep Phat has a committee to handle information about the pandemic, but now, everyone is included in that committee. As the pandemic is affecting all activities, each day passes with a new piece of news, a new development.
However, instead of reacting either positively or negatively to the pandemic information, everyone at the company focuses on accepting it and finding a solution. Every day, we ask ourselves: "So, what solution will Tan Hiep Phat come up with?"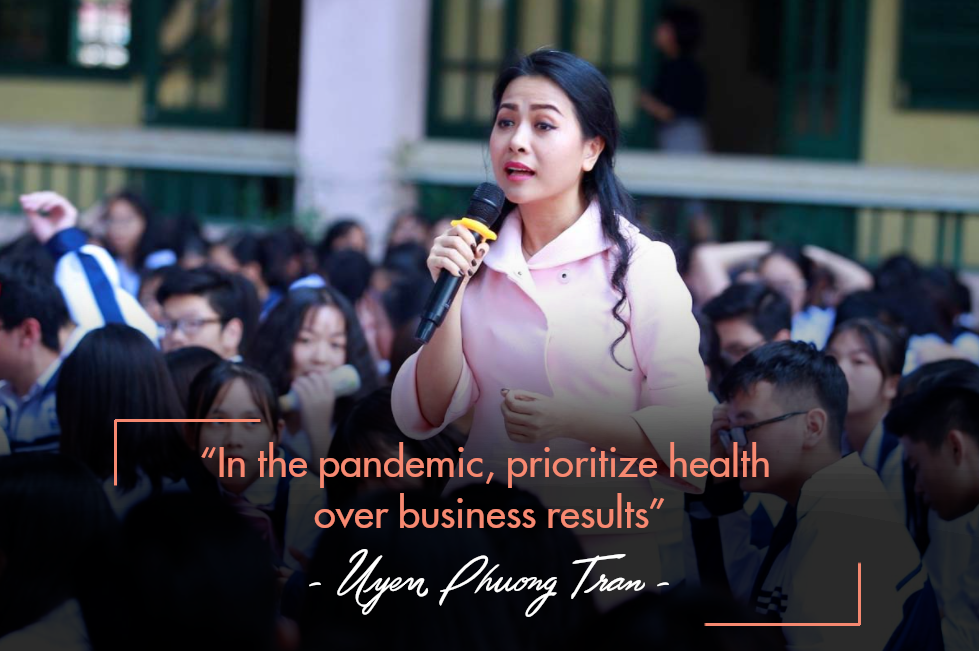 Photo: Thanh Nien
"In the pandemic, prioritize health over business results"
Fortunately, Tan Hiep Phat has just completed building a new office, which helps maintain all the company's activities. We have also learned more methods to prevent the pandemic from many other sources so that we can improve the company day after day.
Recently, in addition to applying 2 meters distancing during mealtime as recommended, we put stickers on the floor to remind everyone to keep their distance. All the company's departments and partners have also switched to online meetings.
Uyen Phuong Tran – Tan Hiep Phat's female deputy CEO, says that the first priority was not discussing business plans but setting up a quick response team to protect employees' health.
Phuong said that she thought back and forth about how to protect thousands of employees against being infected with nCoV every day during the 3 weeks of social distancing. She understood that if only one of them got infected, the whole system would be disabled.
"The most important thing to me at that time was not just sales but the health of employees, their families, as well as providing products are safe for consumers' health. If one person is infected, not only will the group itself will be severely affected but its customers will also fall into anxiety," said the daughter of the 'Dr. Thanh' family.
"For now, we build our backup principles and take them very seriously. For example, the company's risk prevention policy sets out a regulation that Bich and I (Tran Ngoc Bich, Deputy General Director of Tan Hiep Phat and Phuong - PV's sister) cannot go to meetings together. In case we both have to be present at a meeting, one of us must join virtually."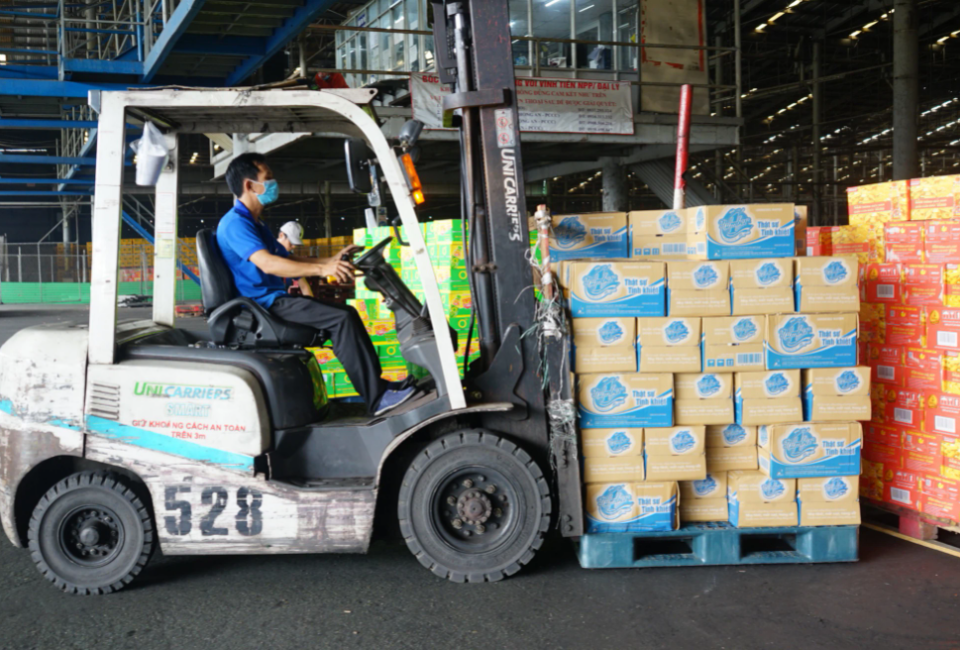 THP's employees wear masks while working. (Photo: CafeF)
Every person and company are talking about cuttin employees' wages due to the pandemic. What about Tan Hiep Phat?
We try our best not to cut anyone's salary or ask anyone to leave. It is quite delightful that all of Tan Hiep Phat's employees still go to work and keep coming up with good projects to maintain the company's activity.
For example, they came up with communication campaigns such as putting masks on Dr. Thanh herbal tea products or re-designing Tan Hiep Phat's logo. The logo normally shows two hands crossing each other, now the hands are put far apart, carrying our messages of "Let's comply with Covid-19 prevention guidelines."
They are all working with a spirit to maintain good output. No one thinks of cutting down. We are quite proud that right from the very beginning, we chose not only a beverage but also a health product. For example, herbal tea Dr. The bar contains three herbs that strengthen the immune system, including honeysuckle, licorice, and prunella vulgaris, which are essential for many people during the pandemic.
Trying to maintain the normal working pace is our responsibility, however, we can only keep trying as long as possible. If the pandemic complicatedly develops, what has to come will come.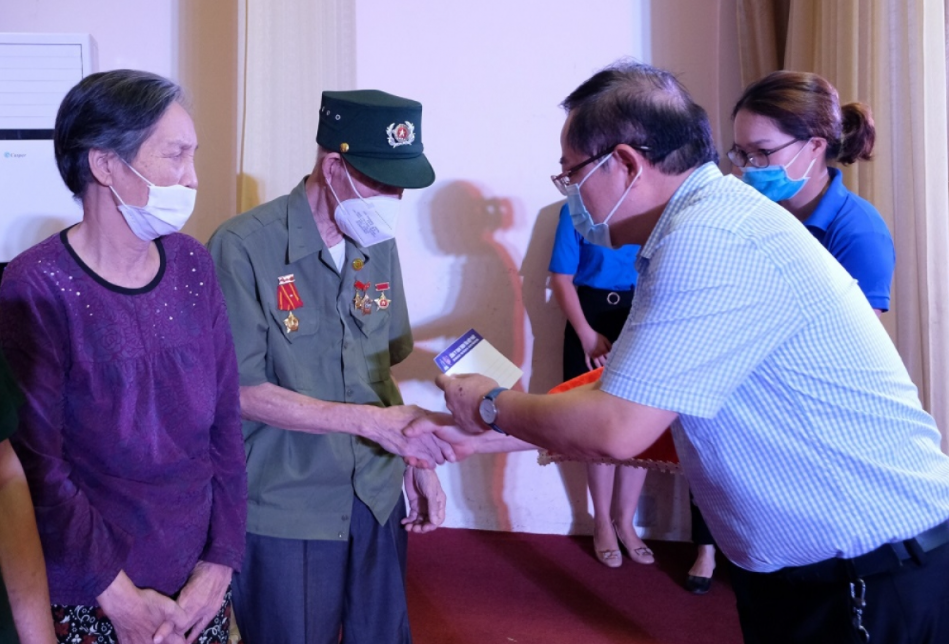 THP sends gifts to the poor. (Photo: VOV)
During Covid, do you see any opportunities for Tan Hiep Phat in particular and the beverage industry in general?
Dr. Thanh herbal tea and Zero degree green tea are different. Currently, their sales keep rising due to customer demands. Therefore, we still prioritize producing these two products. Refreshing ones such as the strawberry energy drink are not our priority.
I think that in the future, consumers will only choose the drinks they really need, drinks that meet their demands, because saving and spending reduction are still going to be important post-pandemic.