Giving back: Czech's Vietnamese help beat coronavirus
In the storm of infection and death sweeping Europe, Vietnamese citizens living in the Czech Republic have united for one goal: to help stop the COVID-19 pandemic, Malaysia's news website, The Star Online hailed.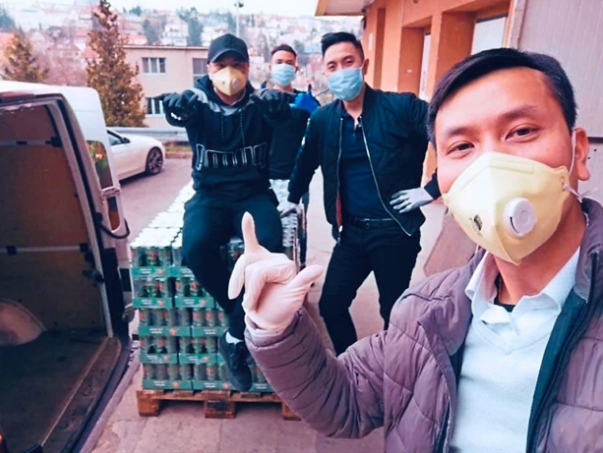 A Czech Vietnamese owned food delivery company providing energy drinks to a Prague hospital. Photo: Vietnam News/ANN
The Vietnamese community in the Czech Republic was preparing for the pandemic to arrive. Hearing about the outbreak from their families in Vietnam, they knew what was coming and spread the word: installing glass barriers in grocery stores to avoid direct contact with customers, purchasing hand sanitiser or wearing face masks.
They were responding to a widespread shortage of face masks, sorely needed in the country: as part of its emergency response to the COVID-19 pandemic, the government made the wearing of face masks mandatory on March 19.
However, it soon became clear that there were not enough masks for essential workers, such as health professionals, the police, and the fire brigade.
Within 24 hours, a grassroots initiative, the "face mask movement", sprang up, with people dusting off old sewing machines and putting them to use, spurred on by social media groups and websites.
The Vietnamese community took this as an opportunity to give back to the country which has become their second home, joining a nationwide initiative to manufacture face masks at home and distribute them to those in need.
Within days, the Czech Vietnamese were able to deliver thousands of cloth face masks to hospitals, retirement homes, and police stations across the country.
In many Vietnamese grocery stores, free face masks and gloves are made available in public spaces for to customers.
The help does not end there, with countless Vietnamese-owned stores across the country providing free coffee, drinks and snacks for those essential workers who continue to serve the public, including shop assistants, social workers, carers and medical professionals.
To make the servicemen and servicewomen aware of this, they mark their door with a big red heart – a symbol that is self-explanatory.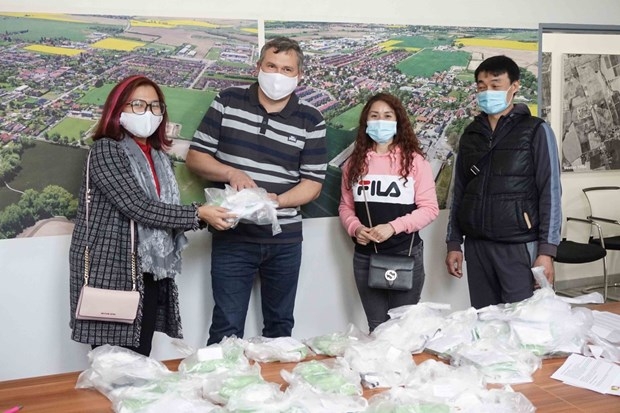 Vietnamese people hand over masks to Mayor of Vestec in Czech Svec Tibor. Photo: VNA
Nguyen Hong Dang, 27, is one of many Vietnamese restaurants offer free delivery. His beverage distribution company provided drinks to the leading Prague hospital dealing with the highest number of cases, as well as the police.
While it's mostly about spontaneous initiatives of friends and families, there is some level of coordination – whether it's on a community level, through social media, local associations of Vietnamese or NGOs – such as Lam Cha Me CZ (Being Parents in Czech).
The latter group was the first to respond to an urgent call for face masks from one of Prague's hospitals and organised a group of women to sew them.
Another great example of Vietnamese compassion is donations to municipalities or the case of the city of Ustinad Labem – one of the first cities to record COVID-19 cases in the country – where the local Vietnamese association called for a fundraiser to purchase a lung ventilator for the city hospital – a crucial machine to tackle the virus.
The Vietnamese community has also created a website named covidinfo.cz to provide regular updates on the situation and called on people to provide interpretation services for Vietnamese who do not speak Czech.
The Vietnamese community in the Czech Republic was recognised as an ethnic minority group in the East European country in 2013, now numbering about 70,000.
In Feruary, Vietnamese in Czech also raised funds and collect medical supplies and equipment as part of efforts to support people in the northern province of Vinh Phuc in the fight against COVID-19.
The Vietnamese Youth and Student Association collaborated with Vietnamese businesses and donors in the Central European country raised and purchased medical supplies worth over VND250 million (USD 10, 799), including 40,000 face masks, 10,000 pairs of gloves, 137 specialised clothes for doctors, 1,000 packs of disinfectant towels, 30 thermometers and 25 bottles of solutions.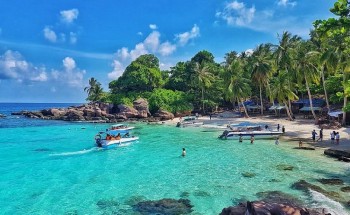 National
Vietnam News Today (Jan. 18): Vietnam confirms 21,691 new local Covid-19 cases; Logo marking 30 years of Vietnam-RoK diplomatic ties unveiled; Phu Quoc represents golden hope for Vietnamese tourism rebound; Int'l searches on Vietnam tourism reopening on the rise.