Domestic gold prices
After the increase of world gold price, domestic gold companies simultaneously raised the price of gold to nearly 60 million dong/tael (US$ 2.600).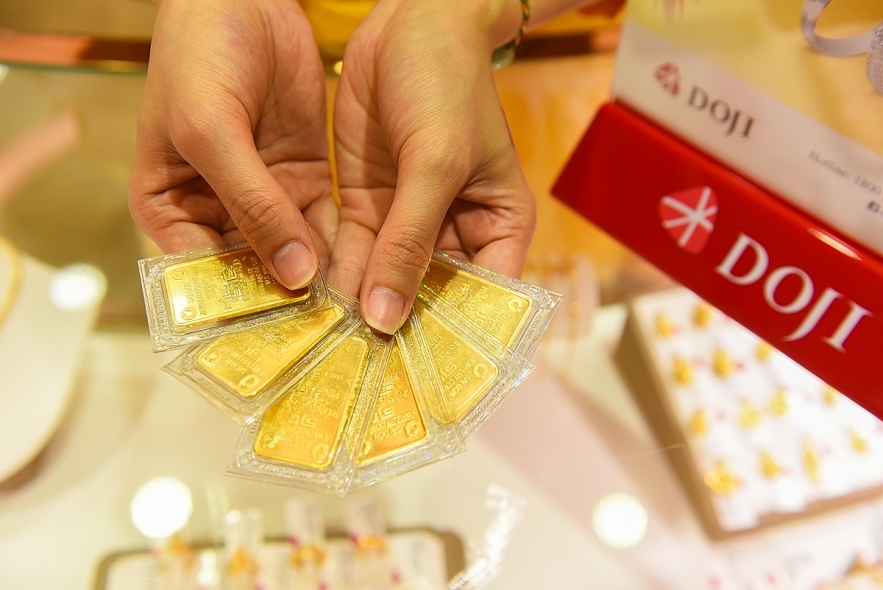 Domestic gold prices continue to rally. Photo: VnExpress.
Accordingly, this morning (August 6), Saigon Jewelry Company (SJC) gold price listed at VND 57.90 million/tael (US$2.500) on the buying side and VND 59.12 million/tael (US$ 2,558) the selling side.
DOJI Gemstone Jewelry Group (DOJI) listed the buying gold price in Hanoi at VND 58.00 million/tael (US$ 2.500) and sold at VND 58.90 million/tael (US$ 2,548). In Ho Chi Minh City market, DOJI listed the buying price at VND 58.00 million (US$ 2,500) and sold 58.95 million VND/tael (US$ 2,551)
Gemstone Jewelry Company Bao Tin Minh Chau listed the price of SJC gold for buying - selling transactions at 58.05 - 59.00 million VND/tael (US$ 2,512- US$ 2,553).
Phu Nhuan Jewelry Joint Stock Company (PNJ) listed the price of gold in both Hanoi and Ho Chi Minh City markets at VND 56.15 - 56.65 million/tael (buy-sell) (US$ 2,422 - US$ 2,443).
World gold prices
On the night of August 5 (Vietnam time zone), the world gold price stood at around USD 2,045/ounce.
The gold market continued to be supported by the negative effects of the Covid-19 pandemic, the constantly-escalating US-China tensions, the demand from ETF funds and the gloomy prospect of the US dollar.
According to CNN Business, the metal's spectacular rally is the result of a weakening dollar, which makes it cheaper for foreign investors to buy gold, as well as rock-bottom yields on other safe-haven assets like US Treasuries. Some investors also fear that trillions in unprecedented stimulus from central banks could feed long-dormant inflationary pressures, and are turning to gold for protection.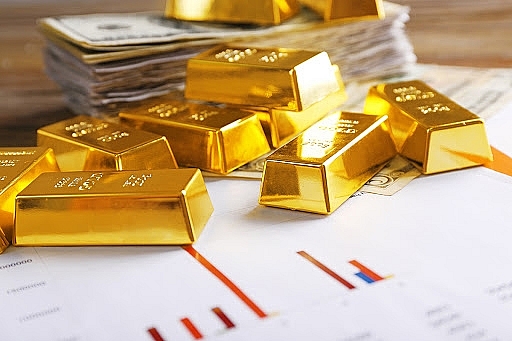 World gold prices passed USD 2,000/tael. Photo: SBMA.
Tensions between the US and China continued to escalate after Beijing unexpectedly wanted to stop Microsoft from buying Chinese video-sharing app TikTok and called the US a "thief".
According to China Daily, the Chinese government will not allow the US to "steal" its technology company. China does not accept the United States forcing ByteDance to sell the TikTok application to an American company - Microsoft.
US-China tensions for more than a year have been a major driver of gold's inflation.
The bad developments of the COVID-19 pandemic also contributed to pushing up the price of the metal product. Many forecasts indicate that the world is far from able to have a full vaccine to fight the COVID-19 disease.
The gold market is also supported by strong demand from the ETFs. According to Bloomberg, gold ETF holdings have been increasing for 26 consecutive days and the demand doesn't seem to decrease.
Since the beginning of the year, ETFs have net bought 25 million ounces, bringing the total amount of gold held to 107.9 million ounces.
After a sharp increase in 2019 and the first 7 months of 2020, the gold market may enter a new phase where there will be adjustment instead of one-way increase.
Even so, the long-term trend of gold is forecasted to continue and set new record highs, perhaps 2,500-3,000 USD/ounce as the economy recovers and inflation increases from huge debt liabilities, derived from economic stimulus packages for the epidemic.
Amy Nguyen