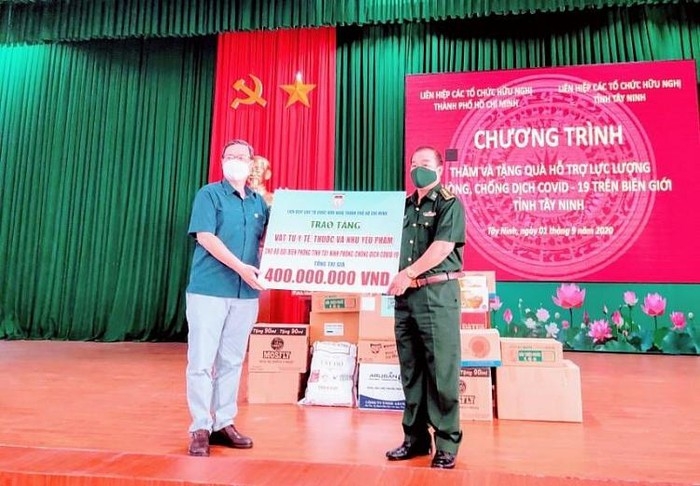 The Ho Chi Minh City Union of Friendship Organizations' Chairman presents medical products to Tay Ninh provincial Border Guard on September 1. Source: VOH
Accordingly, the HUFO has presented 15,600 face masks, 150 boxes of instant noodles, 4 tons of rice, 500 instant Pho packs, 15 barrels of instant coffee, 280 bottles of bug repellent, 800 bottles of insecticide, and 200 liters of antiseptic solution.
This Union of Friendship Organizations's good deed encouraged and assisted the border troops in the fight against the COVID-19 pandemic.
During the hand-over ceremony, HUFO Chairman Vuong Duc Hoang Quan acknowledged and hailed the great achievements of the provincial border guards, asking them to continue to protect national sovereignty and security as well as prevent and control the pandemic.
The gifts will help the border troops as well as forces on-duty in border areas overcome difficulties and fulfill their assigned tasks, especially the mission to fight against the complicated COVID-19 pandemic, he added.
He hopes that in the coming time, the Union of Friendship Organizations of Ho Chi Minh City will be able to call for more support from benefactors and domestic and international organizations to give timely assistance to frontline forces in need.
As an important economic, defense, and security province of Military Region 7, Tay Ninh has 240 km of border with three Cambodia's provinces: Svay Rieng, Pray Veng, and Tbong Khmun with two international border gates of Xa Mat and Moc Bai and 14 inland border gates.
The command has built 115 checkpoints along the borderline to manage and prevent illegal border crossings, contributing to curb the spread of COVID-19 pandemic.
Besides, the local border guard force has worked closely with the local police to effectively prevent and control the disease, crimes and smuggling, contributing to maintaining local social order and safety, and safeguarding national border sovereignty and security.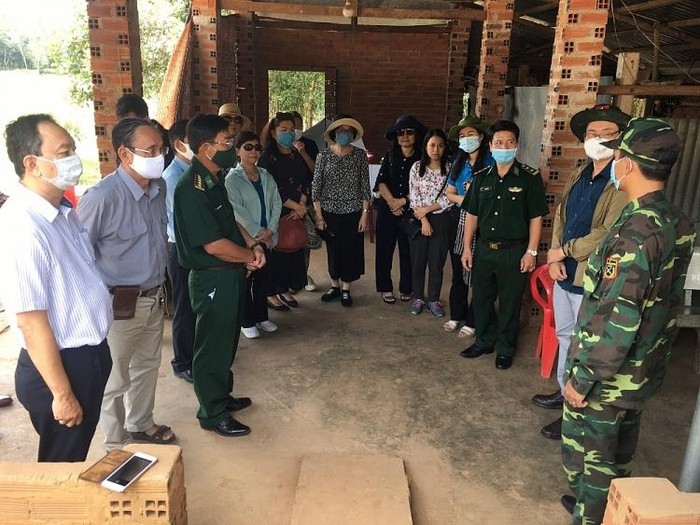 The Ho Chi Minh City Union of Friendship Organizations' delegates visit soldiers at mobile checkpoints and shared difficulties in the pandemic prevention. Source: VOH
Last month, the HUFO and the Union of Friendship Organizations of Tay Ninh province has visited and delivered the first batch of supplies to the border guard of Tay Ninh.
The gifts included 5,000 cloth masks, 5,000 medical masks, 100 health protection sets, two barrels of medical gloves, 1,000 wind medicated oil bottles, 80 boxes of instant noodles, 200 bottles of honey, 500 instant noodle packs, 80 barrels of mineral water, and 200 liters of antiseptic solution.
Since the beginning of the pandemic, the HUFO and many member organizations under the Vietnam Union of Friendship Organizations (VUFO) has coordinated with foreign NGOs and business associations in Vietnam in organizing fund-raising programs, present medical supplies, and make contributions for the fight against the COVID-19 both inside and outside Vietnam.
The aid illustrates Vietnam's continued willingness to assist other countries on a bilateral and multilateral basis to the best of its abilities even as it continues to remain cautious about managing its own coronavirus challenge at home./.
Hannah Nguyen